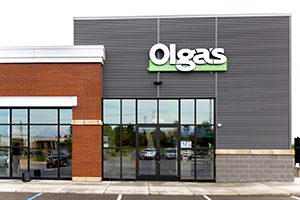 LIVONIA — Olga's Kitchen, an iconic Michigan brand owned and operated by Livonia-based TEAM Schostak Family Restaurants (TSFR), announced today it is launching a partnership with Goldbelly, the website that connects people with their greatest food memories and provides a platform for Olga's to be ordered across the country.
"For years we've heard from Olga's fans far and wide that they wanted a way to access their favorite menu items wherever they live. Our partnership with Goldbelly allows those fans to have the Olga's items they crave delivered to their doorstep while maintaining our standard of excellence," said Mark Schostak, executive chair of TEAM Schostak Family Restaurants. "Working with Goldbelly we will also gain unique insight on demand for Olga's nationally. From there, we can explore potential expansion opportunities while preserving the food and experience that has made Olga's Kitchen a beloved brand for generations."
Fans of the brand from all 50 states can now enjoy Olga's Snackers, The Original Olga, Peasant Soup, Spinach & Cheese Pies, Dessert Snackers and a Greek Dinner Kit at goldbelly.com. Menu items serve between four and eight people.
Goldbelly partners with iconic and unique regional brands to connect food lovers around the country with the flavors they love and the memories associated with those tastes. Goldbelly will also pave the way for a new audience to fall in love with Olga's Kitchen.
To learn more about Olga's Kitchen visit www.olgas.com and for more information about TSFR please visit www.teamschostak.com.