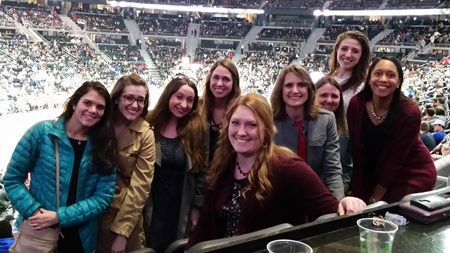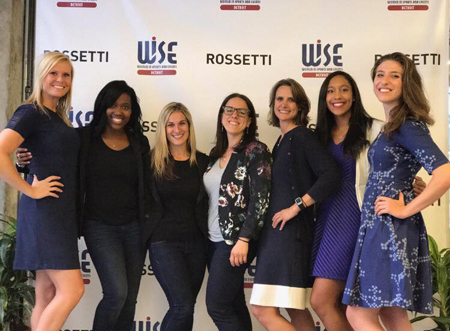 Detroit is known as a sports town for good reason – whether it is the enthusiastic fans, the strong players, as well as being one of the only cities to have all four teams located in one downtown core area, it all gives Motown a sporty edge.
That is one reason why a new group is looking to grow in Metro Detroit. Women In Sports and Events (WISE), the national professional organization for women in the business of sports, events and entertainment, officially launched its newest chapter in Detroit recently with a kick-off party at ROSSETTI's rooftop deck.
More 100 professionals attended the event that celebrated the women of the Detroit's sports and events industry. With special events, networking occasions and mentorship opportunities, WISE wants to unite women of all professions, said President Chloe Siamof.
What is WISE? Through ongoing meetings, special events, mentoring, and educational programs, the WISE mission is to empower women in the industry with the connections and tools to reach their career goals. A registered 501(c)(3) nonprofit, WISE was founded in 1993 and has its headquarters in NYC, with 17 chapters across the United States.
The true strength of WISE lies in the relationships that form between its members, Siamof said. WISE Detroit aims to be a community that provides programming, access to help and advice on nearly any topic, and networking opportunities in all aspects of the sports and events industry
Siamof said Detroit has an impressive array of front office females Michele Bartos (VP, Olympia Entertainment, Detroit Red Wings), Alicia Jeffreys (VP, Palace Sports & Entertainment, Detroit Pistons), Kelly Kozole (SVP, Detroit Lions), Ellen Hill Zeringue (VP, Detroit Tigers) and Marcia Turner (VP & General Sales Manager, Fox Sports Detroit). All of these women are paving the way, Siamof said, and WISE wants to build on that potential.
These trailblazing female leaders and existing forums such as the Tigers' annual Women In Sports Panel (typically held in April) coupled with the new District Detroit opening, encouraged Siamof, a former WISE NYC member, and WISE Cleveland member Elizabeth Godek to meet last fall and co-found WISE Detroit.
Siamof said she heard about WISE after inviting its founder to attend a women's conference that Siamof helped organize. Siamof said she was impressed with how dynamic the group is and that it could offer great mentorship to young women in college and beyond.
"With five university sport management programs within a 90-mile radius of Detroit, there is a unique opportunity to encourage women to enter these programs, and then mentor and recruit them into the Detroit market post-graduation," said Siamof, a designer at the Detroit sports architecture firm ROSSETTI. "The student mission will build upon the work of sports-based nonprofits in the city, creating the next generation of the city's female sports and event leaders and ensuring the posterity of WISE Detroit."
With Detroit's entertainment venues, casino operations and potential to expand its sports dynasty through soccer, WISE has huge potential here, Siamof said. WISE had a chapter here years ago, but this new organization has great potential, she added.
Siamof said she hopes women in a variety of fields, whether it is philanthropy, architecture, sports management or event planning, will consider a WISE membership.
"The energy in and around the city right now is contagious," said Godek, current Vice President of WISE Detroit and Senior Director of Premium and Member Experience with the Pistons. "There are more opportunities than ever for sports professionals to network, share best practices and partner on events that celebrate and support the growing number of female leaders in the industry."