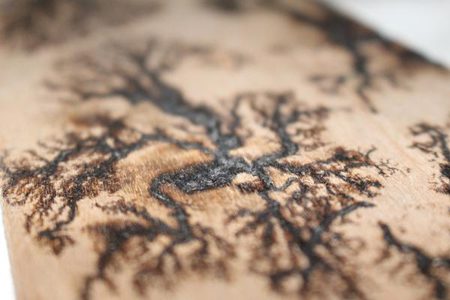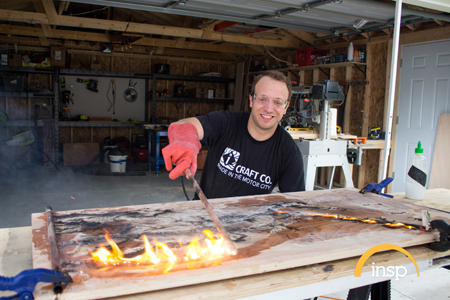 You could say inspiration hit in a flash for Paul Bonenberger – buying his first house gave the Royal Oak resident an idea for how to make his home unique.
What was surprising for Bonenberger is that his creative flash turned into a business of his own. Thanks to M1 Craft Co., he not only learned how to decorate his living space but also gained recognition on a television show.
His etched lights and related products drew the attention of a producer. As a result, Bonenberger is one of four Michigan craftspeople who will be featured this fall in a new television series called "Handcrafted America." The award-winning original series airs on the INSP network and is starting its third season. Its goal is to tell the stories of artisans from around the county who make products "the old-fashioned way: with their own two hands." Bonenberger's episode will air Sept. 22.
Bonenberger was born in Rochester, Michigan, to parents who both worked in the automotive manufacturing industry. His parents were creative – they, too, loved to renovate and create things for themselves and for their home. They gave him the tools, so to speak, to think of what he wants and then to make it, Bonenberger said.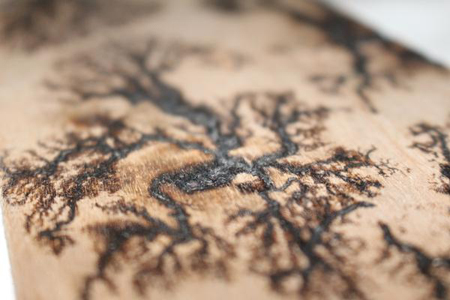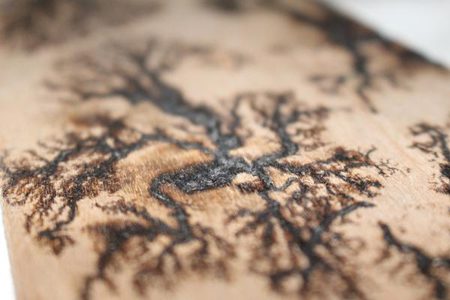 In 2011, he purchased a home with his wife and knew he wanted to make something unique that would get people's attention when they walked into his door.
"I really got into it. I knew this was the chance for me to make something that would be a fixture in our home," Bonenberger said. "I knew it would be a conversation piece."
One night, while browsing online, he found a video of students experimenting with creating Lichtenberg figures, using electrical voltage to create patterns similar to a lightning flash. That discovery was Paul's "flash," the missing link he had been searching for as a craftsperson. He's now made tables, lights and ideas for much more.
As an employee at General Motors Corp., another automotive producer, Bonenberger says he is always inspired to try new things and see what works.
"I always refer to Supply Chain Management as organized chaos. I guess that is the same in regards to the design of the fixtures and other products in the pipeline," Bonenberger said. "Perfect angles and square corners – deliberate designs – combined with the inlaid Lichtenberg figures and panels, results in a design that incorporates geometry and the randomness of nature – no set of figures are ever the same.
"I think the products offer something that is not only practical and simple, but a conversation piece and art form that can be appreciated as well as used in everyday life," Bonenberger added.
Bonenberger says he will continue to make more of his standout products, and he is hoping to expand it into a larger business. He may not be able to make large numbers of them, but Bonenberger believes craftsmanship as well could be worked into the business plan.
"Each of these fixtures are unique because, like lightning, we can't exactly control the path of the electricity as it etches its fractal patterns," Bonenberger said.