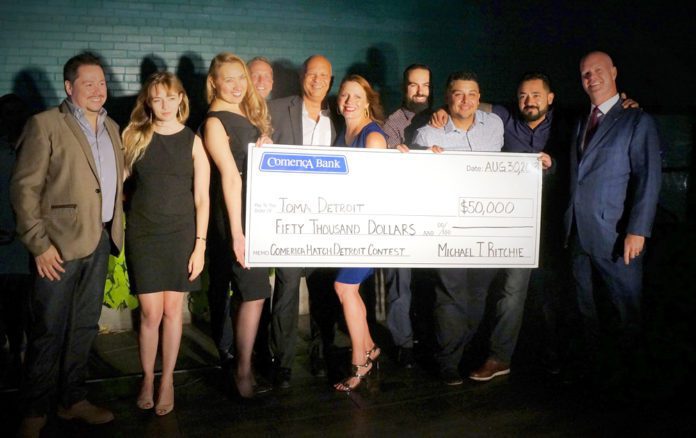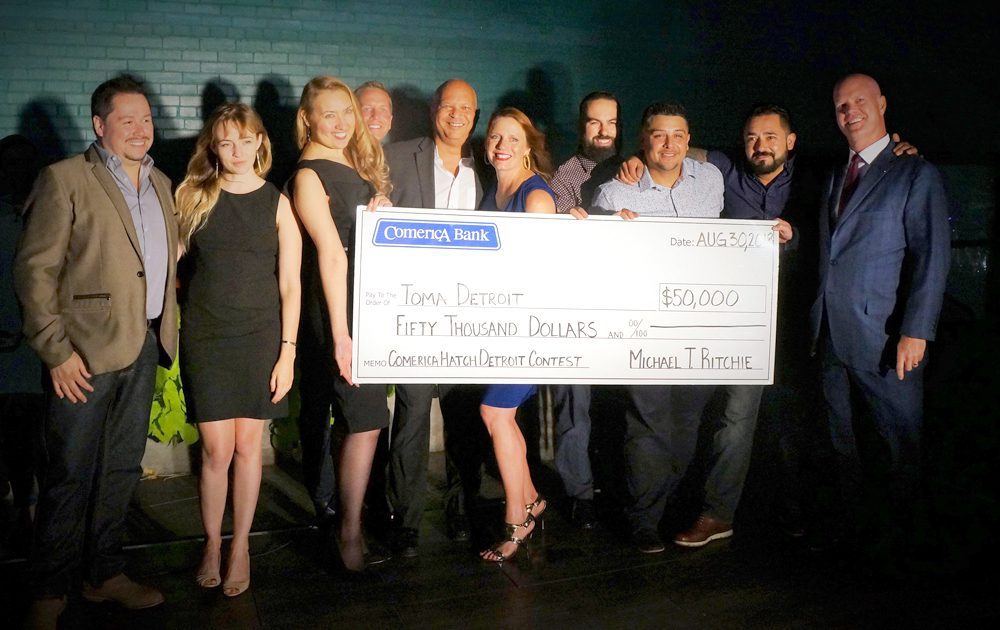 Thanks to the Comerica Hatch Detroit Contest, Metro Detroit soon will have a new tasting room featuring hand-crafted Tequila and Mezcal via Toma Detroit.
Toma Detroit in August won the $50,000 top prize in the 2018 Comerica Hatch Detroit Contest presented by Bedrock. The annual contest supports brick and mortar business growth in Detroit, Highland Park and Hamtramck.
Thanks to its hustle getting votes, smart presentation and local support, Toma Detroit was announced the winner at a 'Shark Tank' style Hatch Off event that took place at the [email protected] Building in Downtown Detroit.
Toma Detroit will serve fresh, locally sourced cocktails and foods from Latin America. Their tasting room will focus on Tequila and Mezcal and will educate guests about regional distillation methods and styles of Agave. The owners said they hope to open their business sometime in 2019.
"Toma Detroit will be a valuable addition to the city's growing independent small business and craft cocktail environment and we are eager to support them as they work toward opening their doors and growing their business," said Vittoria Katanski, executive director, Hatch Detroit.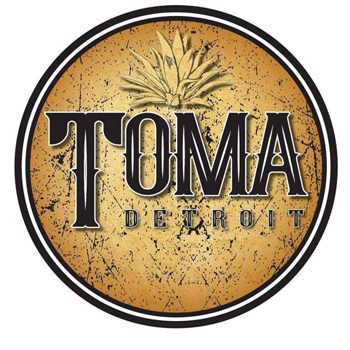 Business development
Toma Detroit will receive $50,000 from Comerica Bank and a package of more than $200,000 in pro bono support and counsel from Hatch Detroit and its partners. Support includes legal services from Honigman Miller Schwartz and Cohn, architectural design, IT and public relations services, in addition to technical assistance and mentoring from Hatch Detroit.
"Thank you to everyone," Toma officials wrote on Facebook. "This is just the beginning." Toma Detroit is a project between co-owners Eddie Vargas, Corey McIntosh, Jose Maldonado and Tony Lopez.
Ten semi-finalists in the Comerica Hatch Detroit Contest were announced to the public for voting in early August. After tens of thousands of votes were cast, the four finalists, Neighborhood Grocery, Paradise Natural Foods, Slyde and Toma Detroit were selected by the public. A second round of public voting took place and each finalist pitched their business idea live to a panel of judges and an audience of their peers during tonight's Hatch Off event.
"The continued success of Hatch alumni proves over and over again that Detroit is a great place to start a business. We know we will see great things from Toma Detroit along with all of the other finalists," said RJ Wolney, vice president of finance at Bedrock and Hatch Detroit board member.
Toma, which is Spanish for "Drink Up," joins previous Comerica Hatch Detroit Contest winners including Baobab Fare, Meta Physica Wellness Center, Live Cycle Delight, Sister Pie, Batch Brewing Company, La Feria and Hugh. Together with its finalists and semi-finalists, Hatch Detroit has helped to launch 34 businesses to date.
Hatch Detroit is a Michigan based 501(c)(3) organization supports both existing and new retail initiatives in the cities of Detroit, Highland Park and Hamtramck. Hatch Detroit was founded in 2011 to give residents and aspiring entrepreneurs a voice in the redevelopment of Detroit. Beyond the contest, Hatch Detroit provides funding, exposure and mentoring in support of its alumni entrepreneurs. Together, Hatch Detroit alumni have opened 34 businesses, employ over 500 people, and have invested over $6.5 million in their businesses.