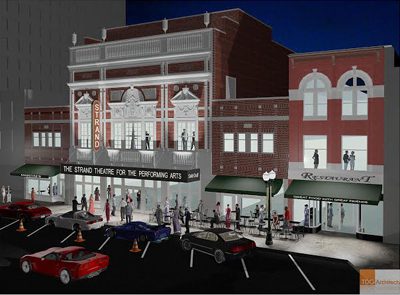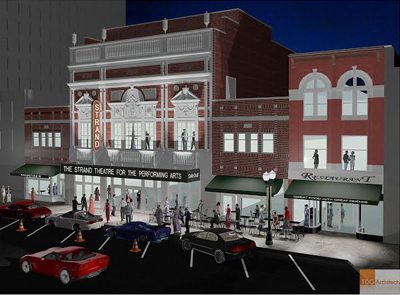 Reduce, reuse, recycle – it's a mantra that all schoolchildren learn when their teachers talk to them about the environment.
But it increasingly is becoming the mantra of Metro Detroit preservationists, who want to see sustainability in terms of manufacturing, repurposing in terms of industry growth and redevelopment of existing properties.
That's why what's going on in Pontiac these days is pretty impressive. There's a revival within the downtown core that involves a variety of creative businesses. And the jewel in the crown will be The Strand, a theater that finally found its champions in West Construction Services.
Majority owned and developed by West Construction Services, the owner and operator of Lafayette Place, Pontiac's first large-scale construction investment since the 1970's, the 838-seat theatre will serve as an entertainment center in downtown Pontiac and as a catalyst to spark further economic and community growth to attract audiences, diners and shoppers into Pontiac's downtown city center. Shows at The Strand will consist of a diverse mix of well-known artists and performers in all genres of music including classical, jazz, contemporary, rock, classic rock, blues, R&B and country.
The theatre's resurrection will happen in tandem with other investments in Pontiac, including:
•       GM's $200 million Global Engineering Headquarters expansion.
•       A $40-$50 million investment lead by Core Partners Associates, LLC to redevelop a portion Pontiac's downtown core to be re-named Indian Hill.
•       The $40 million-plus M1 Concourse LLC project to redevelop a former GM plant at Woodward Avenue and South Boulevard into a 1.5-mile recreational test track, automotive event complex with more than 250 car condos for owners of classic and high-end cars to store vehicles in a climate-controlled environment.
TDG Architects, already named as the principal architect for the Strand Theatre redevelopment in downtown Pontiac, has been awarded the contract to design the new Slows Bar BQ that will located in the theater. Scheduled to open in the fourth quarter of 2015, according to developers, the $20 million renovation will be a key redevelopment piece for the City.
West Construction Services will serve as the general contractor, while TDG will be responsible for coordinating the mechanical, Electrical, and Plumbing engineering, lighting and acoustical design, serve as the historic preservation advisor and interior designer, as well as the structural engineer and food service equipment consultant for the project.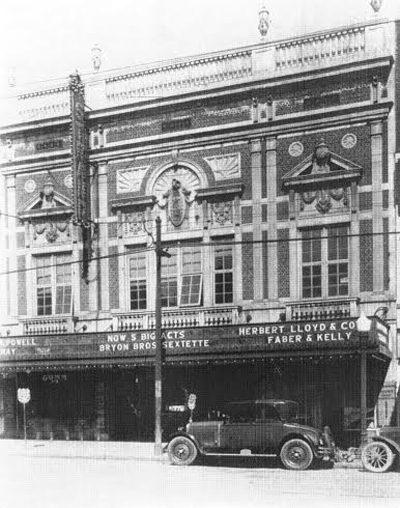 "The interior of the theater is very Art Deco and we will work to preserve and rehabilitate as much as possible," says Brian Gill, AIA and President of TDG Architects. "Other spaces within the building will be a mix of styles so as not to compete with the historic aspect of the theater interior. The real challenge, however, is to provide maximum seating while preserving the historic character of the building. This includes new and updated mechanical and electrical systems, life safety systems, and accessibility for all within the building."
"The Strand Theatre project is a key redevelopment piece for the City of Pontiac and will serve as the project that revitalizes the City. An attempt to renovate the theater in the early 2000's severely altered some of its historical elements and layout. Our task is to restore and bring back the original configuration of the theater as closely as possible. This means rebuilding a balcony that had been partially removed, relocating an elevator, reconfiguring dressing and green rooms, adding offices, and putting back a 2nd floor that had been removed to create a lobby. The exterior renovation will include a new canopy marquee that closely matches the original early 20th century marquee."
TDG Architects moved to its current location at 79 Oakland Avenue in Pontiac in 2006. TDG shares the building with West Construction Services and the building is owned by Triple W Properties. The business, which has two principal architects, Brian Gill and Patrick Westerlund, as well as a growing staff, continues to show strong growth with a 25% increase in revenue in 2013 and an expected 15% increase in 2014. The business is 90% commercial work and sees most of its growth from retail, healthcare, and automotive-related commercial work.
Brian Gill earned his Bachelor of Science in Architecture from Lawrence Technological University in 1990 and a Masters of Architecture from U of M in 1994. He worked at various firms before starting a firm with business partners in 1996. Besides the Strand Theater, TDG has also worked on other well-known projects such as the Lafayette Lofts in Pontiac, the BorgWarner Powertrain Technical Center office addition in Auburn Hills, Talmer Bank & Trust Corporate Headquarters in Troy, The Big Salad – all five locations, and the Beaumont Weight Control and Fitness Center, to name a few.
"I personally enjoy working on projects in which I feel as though I am a trusted advisor or partner. When a client hires an architect they should hire them for their expertise and ability to communicate complex ideas."