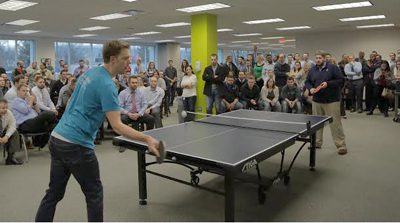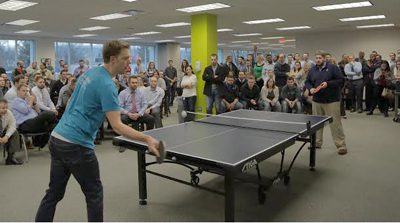 If you go to work at United Shore, you better have a competitive spirit. Because this company truly lives by the mantra "Work hard, play hard."
United Shore recently completed its inaugural Paddle Battle Tournament (yes, you read that right). Todd Wood, a senior underwriter, won the championship in front of a lunchtime crowd of 100-plus team members. The prize for winning was an authentic trophy and two suite tickets to an upcoming Detroit Pistons game.
In its first run, the single-elimination tournament ran for three weeks and consisted of a 48-person bracket, in which United Shore team members were able to sign up to participate. The tournament received tremendous buy-in from all levels of the organization, as even President and CEO Mat Ishbia got into the action – advancing to the Sweet 16 before losing.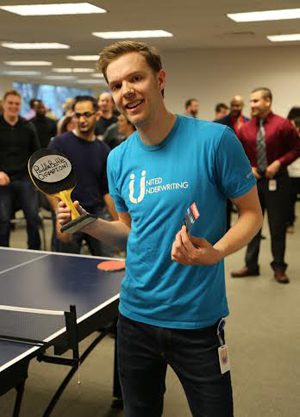 The Paddle Battle Tournament was inspired and coordinated by team member Dave Higgins, who is a part of United Shore's Business Innovation Group (BIG) program, which allows people to gain experience throughout the company by rotating through 12-13 teams.
This is just one way that United Shore in Troy, Mich.,  works diligently to offer its employees unique work-life benefits. There's the valet car service, which comes in handy on cold, wintry days. There's its human-resources department, which is known as the "Team Member Services" department. There's perks like on-site dry cleaning, a cafeteria and Starbucks on the premises, and a gym for staff to use before and after work or at lunch.
Founded in 1986, United Shore is one of the largest and fastest-growing independent mortgage lenders in the country. It is home to United Wholesale Mortgage, the top lender among more of America's independent mortgage brokers. United Shore employs more than 1,300 people.