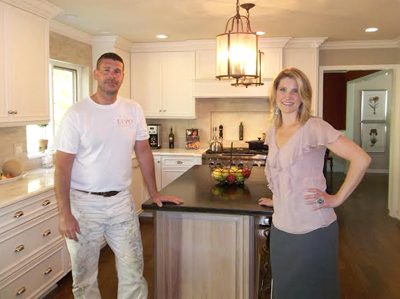 Some couples only see each other at the end of a busy work day, coming together to share complaints and maybe a quick dinner.
Andrea and Sal Lupo are slightly different – the dynamic duo works together every day, and they never seem to tire of seeing one another or the talents they both contribute to a job.
The Lupos are known in Rochester Hills and beyond for making homes and businesses look and feel beautiful once again. The husband-and-wife team combines their many years of experience to design, build out, and put the finishing touches on homes and businesses throughout Metro Detroit.
Andrea, founder of Lupo Interiors LLC in Rochester Hills, is a graduate of the College for Creative Studies BFA with a concentration in Interior Design who began providing full-time services in 2013. Sal, founder of Lupo Custom Painting, LLC, also based in Rochester Hills, began learning his craft in the building and remodeling industry at a young age and started his own business 18 years ago.
Andrea provides the custom residential and commercial interior designs, including kitchens, bathrooms, whole houses, finishes, lighting, and furniture selection, from small one-room projects to 6,000-square foot homes, to any size corporation. She is involved with every aspect of the job from design, to working with skilled general contractors, and total job completion.
"As far as interiors, some of the hottest trends are clean, simple, unified spaces," says Andrea. "People have a desire for a more cohesive space with more organization – a place for everything. Homes and even businesses are required to function in every aspect of life. They are for living, working, educating ourselves, and resting, all while helping us accomplish a variety of activities. The size of the space and the décor changes from client to client and possibly year to year but a well thought out space is timeless."
Sal is the muscle man, specializing in framing, drywall and installing carpeting, as well as residential and commercial interior and exterior painting.
During the winter the duo works on indoor projects, while in the spring, summer and fall, they work on a myriad of indoor and outdoor project. Working individually and together each have seen a good increase in business and the couple predicts a banner year as homeowners and business owners are spending more money to renovate parts or all of their properties.
"We bring a professional attitude to our job sites," says Sal. "We our equipped to paint any size home, small commercial buildings, or projects up to or larger than 20 building shopping Plazas. Since Andrea is an interior designer, there is always painting to be done at the end of her projects. The clients meet Andrea first, I provide what services are needed and put on the finishing touches, and we walk through with the client to make sure everyone is happy with the job. We've worked on projects from $10K to $400K."