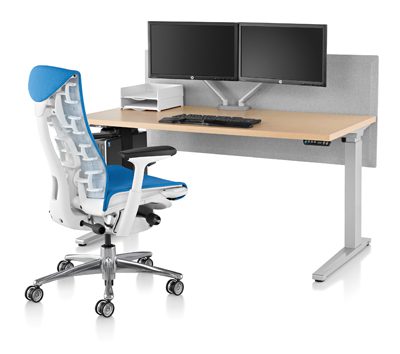 Standing desks," desks you can raise from sitting to standing work level, are increasingly popping up in workplaces. They offer, above all, health benefits, and that is more than enough reason to consider one. Sitting at work all day at a computer or engaged in another task is just not healthy. It's not healthy for the heart, the back, neck, shoulders, legs… the list goes on.
Health benefits from incorporating standing desks into your work schedule include reduced risk of the following life-shortening conditions, according to Smithsonian.com:
1. Obesity
2. Type 2 Diabetes or other metabolic problems
3. Cancer
4. Cardiovascular disease
5. Shorter-term mortality
Sometimes you need a desk that lets you type at standing position and move around your room just to stay warm. Now that's a health benefit. (I used my economical and multi-tasking Manhasset music stand next to the woodstove during last winter's polar vortex. We both survived. Price – $0.)
Prices for adjustable sit/stand desks are all over the map, and more and more manufacturers are offering them.
The Standup Desk Store offers a desk starting at $350 that raises and lowers with a hand-crank lever (an added health benefit). The company's online site emphasizes that while many desks come powered and with multiple gadgets, what you really should consider are three basic attributes of the desk:
Spacious surface – An ample desk surface gives you the option to work on projects that require a variety of tasks, such as typing, writing, designing, and drawing.
Multiple shelves – Any stand up workstation should offer more than just one basic shelf. Multiple shelves give you workspace and storage options.
Mobility – A standing desk gives you the option to stand, but it should also give you the freedom to move. With greater mobility, you can bring your entire workspace with you to connect with colleagues or to retreat on your own for tasks that require more concentration.
The Steelcase Airtouch is a height-adjustable work surface using no electrical power, so it goes almost anywhere. The hydraulic technology allows for a wide range of levels to suit your working needs. It is priced around $1,300.
Herman-Miller takes the sit/stand desk to another ergonomic level with its Renew Sit-to-Stand table. A comfortable paddle-shaped switch raises or lowers the desktop to a range of adjustments. The desk, starting around $1,200, also manages and hides cord chaos with an easily accessible system. The power to raise or lower the table uses less power than a cell phone charger left plugged into the wall, according to their website.
IKEA has joined the standing desk movement with its Bekant Sit/Stand Desk, starting at $490. The electric powered desk is earning positive reviews.
For the super high-end convertible smartdesk that tells you when you need to stand, tracks your work habits, and is USB, WiFi and Bluetooth enabled, try the Stir Kinetic Desk. It may be an example of where desk health and technology are going, but for nearly $4,000 it sounds depressing.