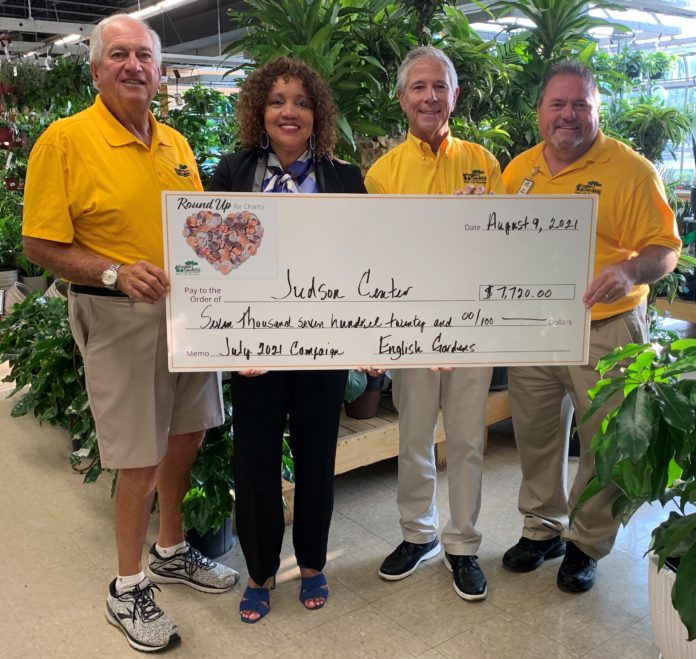 Photo caption: Lenora Hardy-Foster, President and CEO, Judson Center (second from left) accepts a check from English Gardens for $7,720. Money was raised during English Gardens Round up for Charity program. Representing English Gardens are: (from left) John Darin, President; Rick Vespa, President, English Gardens Landscaping Company; and Chuck DeBene, Director Store Operations, English Gardens.
English Gardens donated $7,720 to Judson Center in Farmington Hills as a result of its July Round up for Charity program. To raise funds, English Gardens asked customers to round up their purchases to the nearest whole dollar or more. The fundraiser was held July 1-31, 2021 in all six English Gardens stores.
All of the money raised was donated to the Judson Center which helps provide services for children in foster care, children seeking their forever families through adoption, and children and young adults with autism.
Judson Center is a human services organization founded in 1924 in Royal Oak. The organization focuses on changing fates and restoring childhoods for children who have been neglected and abused, children with developmental disabilities, severe emotional impairments and autism spectrum disorder. They provide services and programs to support mental and physical health, foster care, disability services, and autism services. Read more about Judson Center at www.JudsonCenter.org.
"We launched our "Round up" program in 2017 and have received a very positive response from customers," explains John Darin, English Gardens president. "Our programs have raised more than $100,000 for local charities."
English Gardens is a family-owned business with six locations in Metro Detroit.