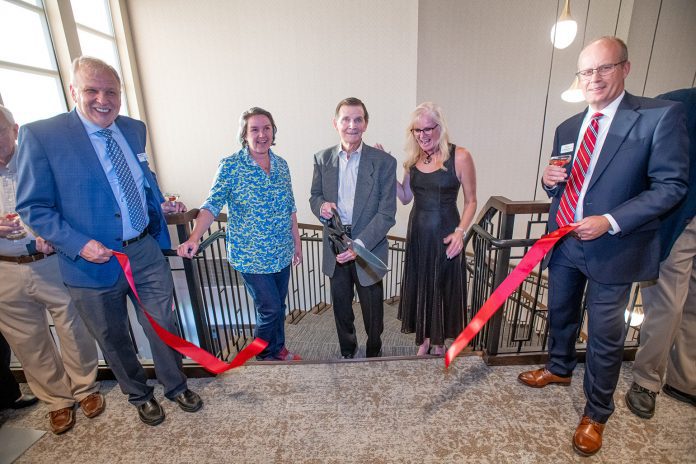 Completion of StoneBriar at Burcham Hills was celebrated by more than 175 attendees at a recent ribbon cutting.
The new four-story addition comprised of 44 upscale apartments is the first life plan community in mid-Michigan to offer entrance-fee independent living.
"It's truly a fresh take on senior living," said Kari Rennie, Burcham Hills executive director. "Burcham Hills has been mid-Michigan's trusted provider for senior living services for over 47 years, and we are confident that when our newest residents need assisted living, memory care, rehab or nursing care, they are already home and on a campus that provides any level of care they may need or desire."
Each apartment has a patio/balcony, high-end finishes, a full-size kitchen, and washer/dryer and is pet friendly.
Board of Trustees President Jim Savage stated, "We are pleased to see the realization of our goal to provide a state-of-the-art community that offers financial and emotional security as well as peace of mind for the family, with assurances that a plan is in place if the need for future care should arise."
East Lansing Mayor Jessy Gregg said, "This expansion strengthens East Lansing's value to a senior population, which is good for our entire community."
New for StoneBriar residents are a dining venue, a grab & go pantry and wellness and activity areas — all with expansive views of a new patio area with a linear fireplace, gazebo and built-in bar.
Also new are a new salon/spa, an upper deck, two multi-purpose spaces and heated, underground parking. StoneBriar residents have access to all amenities on the Burcham Hills campus, from a putting green to a clinical laboratory.
The project was managed by Life Care Services Development, which partnered with The Christman Company and MAYOTTEgroup Architects, both of Lansing, and MSU Federal Credit Union, East Lansing, for the development, design, construction and financing. More info at 517.827.1072 or www.StoneBriarAtBurchamHills.com.