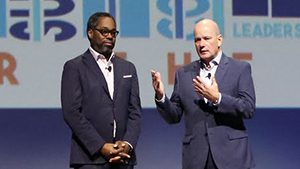 The last decade has been one of the most politically and emotionally divisive in American history. Civil disagreement has disintegrated, and a country once known as a leader in democracy is fighting for its values, as armed mobs storm the Capitol, peaceful protests turn to violence, and officials, like Michigan's governor, survive attempted kidnappings.
Now, a new conference hopes to change that. The Great Lakes Civility Project, which aims to bring people with opposing viewpoints together, is expanding from its introductory sessions to host its first "Civility Day" conference on Friday, May 20 at Henry Ford College in Dearborn.
The day-long event will feature a series of panel discussions, led by founders and renowned journalists Nolan Finley and Stephen Henderson, as well as experts and politicians, to give individuals a chance to immerse in civility-building and try out tips and tactics.
"Confrontation happens when civility breaks down, and we've seen things turn increasingly uncivil and violent in the past decade," Henderson said. "We're fighting for our soul as a country, and we need to act now before it's too late."
That kind of breakdown in civility can be especially costly for business people, if you ask Dan West.
West, president of the Livonia Chamber of Commerce, understands the political divide has affected the country. And he cautioned business owners in particular not to get caught up in it.
West's Chamber of Commerce recently hosted a version of Civility Day, also featuring Henderson and Finley, and came away particularly impressed with what they had to say about labels.
"Develop your opinions based on facts, not on assumptions … When you put a label on somebody, you've disqualified them," West said. "When you disqualify people you never know the friend you could have met, you never know the expert you could have met, you never know the business opportunity you could have had.
"If you're going to have labels affect the way you network and interact with people, you're closing down your market, your business opportunities."
Participants in the Dearborn event will meet others in one-on-one sessions where they can practice having difficult conversations in civil ways.
College students can enroll in it as a course through Henry Ford College, professionals can obtain continuing education credits, and anyone else can attend for a nominal fee, which includes lunch. Registration is now open and available here.
Sessions include:
Finley agrees with Henderson. While they differ on most things political, they are united in their belief that civility IS possible – if we want to get back there.
"A huge part of civility requires seeing the other person as human and trying to understand where they are coming from. You don't have to agree – but listening to understand is key," Finley said.
Amid the pandemic, rising political tension and distrust in leadership, Henderson and Finley created the Civility Project in 2020 to share lessons learned while building their friendship, despite drastically opposite political perspectives. The program aims to bring people with conflicting beliefs together to learn how to engage in respectful, productive dialogue; thus far, Civility Project programs have reached more than 7,500 Americans nationwide.
Civility Day is a partnership between the Civility Project and Henry Ford College.