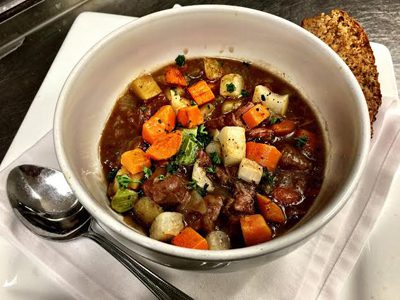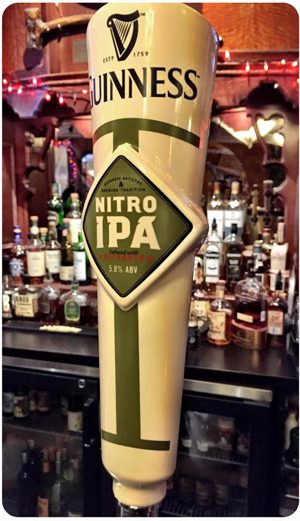 Whether you're Irish or just enjoy St. Patrick's Day, there is a dish and a brew for every personality out there.
Finding the perfect pairing of food and beer is what Powers Distributing Co. and its partners enjoy the most about any holiday and St. Patrick's Day in particular. If you're looking to find a local bar, pub or restaurant to celebrate at, chances are they work with Powers and its staff.
The family-owned company in Orion Township recommends many beers for this unique day. Irish beers like the Guinness Blonde Lager, Guinness Nitro IPA, Harp Lager and Smithwick's Irish Red are perfect for those looking for a true Irish beer. There's also Michigan made options Erik the Red from Dragonmead Microbrewery in Warren and the seasonal Sinuous Celtic ale from North Peak Brewery.
And of course, there's Guinness – a stout beer, deep in color infused with tastes of chocolate and is found in the Guinness Stew served at O'Connor's Public House in Rochester and they've shared with us their recipe.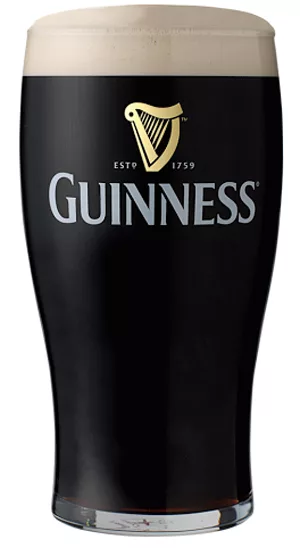 "Ireland has a long brewing history and is known for using roasted barley," said Certified Cicerone Bobby Vedder, of Powers Distributing Co. "Their beer traditionally would be a dry stout like Guinness or brewed as an Irish red, Amber in color."
Guinness is a stout beer, deep in color infused with tastes of chocolate and is the key ingredient found in the Guinness Stew served at O'Connor's Public House, the Irish Pub located in Rochester. For Oakland and Macomb county beer fans looking for a true taste of Irish heritage, the menu at O'Connor's is perfect for a St. Patrick's Day-like celebration all year long. Guinness pairs well with Shepherd's Pie or Corned Beef & Cabbage, both also found on O'Connor's menu.
For those who prefer a lighter beer, Vedder suggests the Guinness Blonde Lager. It's more approachable, light in body with bready malt tones. It's a very versatile beer and is perfect for someone new to the beer category; it hits a 5.00 ABV. Next up is the Guinness Nitro IPA, which is more comparable to the making of a pale ale rather than an America IPA. It has a blend of hops, barley and citrus tones and is all about the mouth feel.
Then there's the Smithwick's Irish Red, balanced with fruity, spicy and malty tones, pair it with O'Connor's Bangers and Mash or a Scotch Egg to stay aligned with Irish tradition. The beer pushes a 4.50 ABV.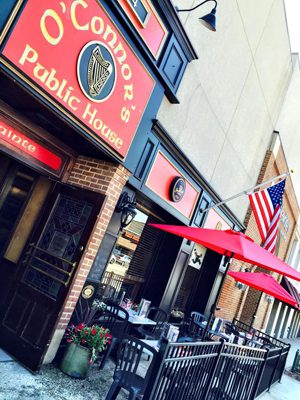 O'Connor's keeps its menu spot on to the tastes of Ireland even offering up a variety of Boxties, which is a seasoned potato pancake cooked with different ingredients, found in rural areas of Ireland. Boxties can be paired with  Harp Lager – dry and malty at first – but ends with a hoppy finish. Find it on tap at O'Connor's or try the Harp in the batter of O'Connor's Harp Crisped Fish & Chips.
"We are also seeing more Irish style beers from our local Michigan brewers," said Vedder. Warren based Dragonmead Microbrewery serves Erik the Red and North Peak Brewery in Traverse City offers a seasonal Sinuous Celtic ale. Vedder also foresees more people pouring up Snakebites this St. Patrick's Day – a beer cocktail combining equal parts of lager like Guinness and Cider, which might be a great option for a novice drinker.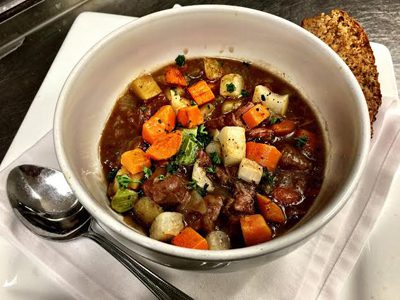 GUINNESS STEW
Recipe courtesy of O'Connor's Public House
324 Main Street – Rochester, MI, 48307
INGREDIENTS:
1 pint Guinness (20oz)
2 lb. stew beef (diced in to large chunks)
1 cup onions
1 cup celery
1 cup carrots
1 cup turnips
1 cup Yukon Gold Potatoes
2 oz. butter
1 oz. beef base
1 oz. bay leaf
Salt and pepper to taste
4 oz. corn starch
1 qt. water
INSTRUCTIONS:
1. Prep beef by trimming fat and dicing into one inch cubes
2. Cut vegetables and potatoes into approximately 1/2 inch pieces
3. In a large sauce pan add butter and beef, searing the beef until brown on all sides
4. Once the beef is nicely seared, add in all vegetables to the sauce pan except for the potato
5. Add bay leaf seasoning
6. Cook the vegetables until the onions become transparent stirring occasionally
7.  Add Guinness and potatoes let stew for 30 minutes
8. Once the beef is tender; mix water and beef stock in a separate container and add to the stew. Mix well and simmer for 15 minutes
9. Make a slurry (corn starch and water mix) mix into the stew until desired thickness is reached
10. Add salt and pepper to taste