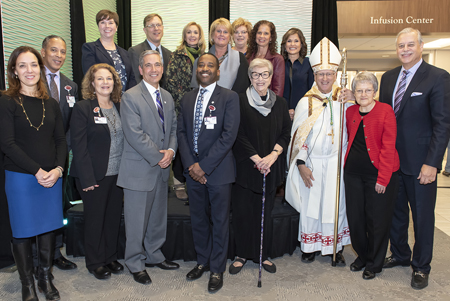 A growing patient population, combined with the need to deliver comprehensive care, has led to the recent opening of St. Joseph Mercy Ann Arbor's new 66,000-square-foot Cancer Center.
"This new state-of-the-art facility combines the very best in cancer prevention, screening, research, treatment and support services all in one location," said Rob Casalou, president and CEO, Mercy Health and Saint Joseph Mercy Health System, in a statement. "The space has been redesigned to deliver an experience tailored to each individual and their unique cancer journey, in which they are surrounded by a completely integrated multidisciplinary team."
Growing need
Since opening the Robert H. and Judy Dow Alexander Cancer Center in 1993, the number of new patients diagnosed and treated for cancer at the cancer center has tripled with more than  40,000 patients visits a year.  This multimillion dollar transformation will allow St. Joe's to deliver comprehensive cancer care to patients using the latest medical technologies, research-driven treatments, and revolutionized clinical and support services.
Over the past 25 years, the cancer care team has grown from eight to 18 medical and radiation oncology specialists and from three to 34 research staff, as well as added surgical specialists for all tumor types.  It has added genetic counseling, cancer specialty clinics and one of the strongest nurse navigator programs in the state. It is the home of Michigan's first CyberKnife® and a leading da Vinci® surgery program, and has been recognized as one of the best National Cancer Institute-funded community research programs in the country that received the highest grant rating among the 34 participating programs.
"Cancer care at St. Joe's has evolved tremendously from groundbreaking clinical research trials that continually become available to holding weekly tumor boards to customize treatment for each new patient that comes through our doors," said Dr. Phil Stella, medical director, Oncology Services, Saint Joseph Mercy Health System. "It's a testament to the advances in our oncology program that we attract the highest level of fellowship-trained surgeons from around the country."
Welcoming environment
Patient ambassadors meet patients at the redesigned main entrance and provide a concierge-like experience. These patient ambassadors will be available throughout the cancer center to ensure patients connect to the various services needed during their visit and make their visit as stress-free as possible.  The redesigned entrance features the DiPonio Foundation two-story glass atrium lobby, embodying a warm and healing environment.
The main floor of the new Cancer Center, named for the Harry A. and Margaret D. Towsley Foundation, features an expanded infusion suite with 22 private bays and a view of a serenity garden bordered with five boulders – each from one of the five Great Lakes.  A small café is a central feature in the center, offering a gathering spot for patients and family to have coffee or nutritious refreshments provided by Joe's Java.  In addition, nurse navigators, genetic counselors, dietitians, chaplains, social workers and an onsite pharmacy for chemotherapy services will be located on the main floor.
The second floor of the Cancer Center features 38 exam rooms – an addition of 26 rooms—where St. Joe's oncologists, surgeons and specialists will work together to care for patients.
St. Joe's nationally renowned National Cancer Institute Oncology Research Program (NCORP) will be housed in the new lower level of the Cancer Center, with space for 34 clinical research staff.  St. Joe's Ann Arbor leads the Michigan Cancer Research Consortium (MCRC), a network of 13 hospitals that collaboratively enroll over 1,000 patients per year on clinical trials. The MCRC-NCORP has been continually funded for 24 years, with 100 trials open at any given time.  Also located on the lower level is a state-of-the-art conference center equipped with the latest video conferencing capabilities.
Free valet parking will be available at both the Cancer Center main entrance and the Imaging Center / Radiation Oncology entrance to ease patients' visits.
Seamless experience
Planning a seamless patient experience was a priority throughout the design of the building from registration to radiation therapy, chemotherapy, lab and pharmacy services. Patient advisors served a critical role in both planning the design of the building and cancer care flow process redesign.
The redesigned center brings all of St. Joe's oncology services under one roof, including cancer-specific genetic counseling, pastoral care, social work, and nutritional counseling.
In addition to $19 million in Trinity Health capital funds, St. Joe's Ann Arbor Development team, joined by community members, staff and physicians, is conducting a $10 million campaign to support capital, operations and endowment needs for the Cancer Center. To date, gifts totaling more than $8.1 million have been made toward the campaign, including lead donors, the Angelo and Margaret DiPonio Foundation, with a gift of $2.5 million to name the atrium lobby and The Harry A. and Margaret D. Towsley Foundation with a gift of $1 million to name the main level of St. Joe's renewed Robert H. and Judy Dow Alexander Cancer Center.
The hospital worked with architectural firm Harley Ellis Devereaux (HED) and Granger Construction on this renovation and expansion.