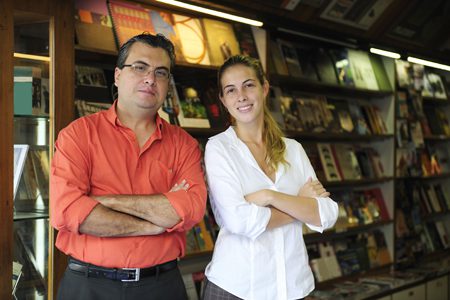 Being a startup is difficult enough. Imagine adding your mom and dad to the payroll. For some new businesses, that could become a HR nightmare.
For Warren-based Building Performance Solutions, combining work and family is a constant balancing act. But focusing on the positive aspects of the professional relationship rather than the challenges of the personal one has made all the difference, said Alex Van Rijn, owner and president.
Van Rijn saw his business growing quickly, and he needed more hands on deck. He first hired his father, a retired automotive expert. Then, Van Rijn added his mother to tackle some of the paperwork and accounting that needed to be done.
"Manpower is always a struggle, and I needed more eyes and ears on the job. It was a position perfect for my dad," Van Rijn said. "He stepped right up and he has helped me tremendously."
But he's also quit at least four times, Van Rijn said with a laugh. No one ever said that hiring your parents and having them as your employees would be easy.
"We're all learning together," he said.
Let's just say the new family dynamic is one that tries to keep work at work and homelife at home. That doesn't always happen, Van Rijn admits. But having that basic principle of separating work issues from family issues all the time has been helpful in maintaining a good HR practice between family members on the job and at home.
Also having a foundation of deep respect for one another is key to ensuring that everyone gets treated fairly and equally, Van Rijn said. Having a sense of humor has come in handy as well when tensions get high or people disagree.
"I've told my father, 'I'm telling Mom' about something he's done on the job," Van Rijn joked. "There's been times where we've yelled at each other. But at the end of the day, we have so much respect for one another. We keep it professional."
Some background: Building Performance Solutions is a home and building performance and weatherization retrofit company located in Warren. It specializes in diagnosing and fixing the root causes of reoccurring symptoms within homes and buildings. BPS applies building science principles and diagnostic procedures to identify and remedy the root causes of thing such as high heating and cooling bills, drafts and cold rooms, ice dams and frozen pipes as well as mold and mildew formation.
Van Rijn graduated with honors from Ferris State University with a Bachelor's of Science in Construction Management and an Associate in Applied Science – Building Construction Technology. After graduation Van Rijn was employed as a construction manager for two national production home builders. Over the past years, he has acquired many certifications in the industry such as becoming a certified Building Performance Analyst, Envelope Professional, IR Thermographer and Mold and Indoor Air Inspector.
He also serves as a founding board member to Michigan Energy Efficiency Contractors Association (MEECA) to advocate for energy efficiency solutions in the state of Michigan. For the past ten years, he has dedicated himself to diagnosing, Developing and delivering building performance solutions in both residential and commercial consumers.
The business has been a successful one, Van Rijn said. Recently, Building Performance Solutions was awarded Residential Contractor of the Year by The Michigan Energy Efficiency Contractors Association. The award was presented to BPS at MEECA's recent 5th Annual Banquet and Awards in East Lansing.
"Being nominated and awarded by our industry peers is a testimony to our unwavering commitment to our customers. This award spotlights our commitment to offering our customers comprehensive, data driven recommendations that not only save them money and energy but provide a healthy comfortable home for them and their families," Van Rijn said.
In addition to the MEECA Residential Contractor of the Year award, Building Performance Solutions has won the Super Service Award from Angie's List for being in the top 5 percent of customer satisfaction for the past five consecutive years.
"Using diagnostic equipment like infrared and blower door testing, we find the true source of the problem. Once we identify the real source, we then develop a solution and keep the problem from returning. In new construction we use those same principles to develop solutions that meets the customer's goals in performance," he said.