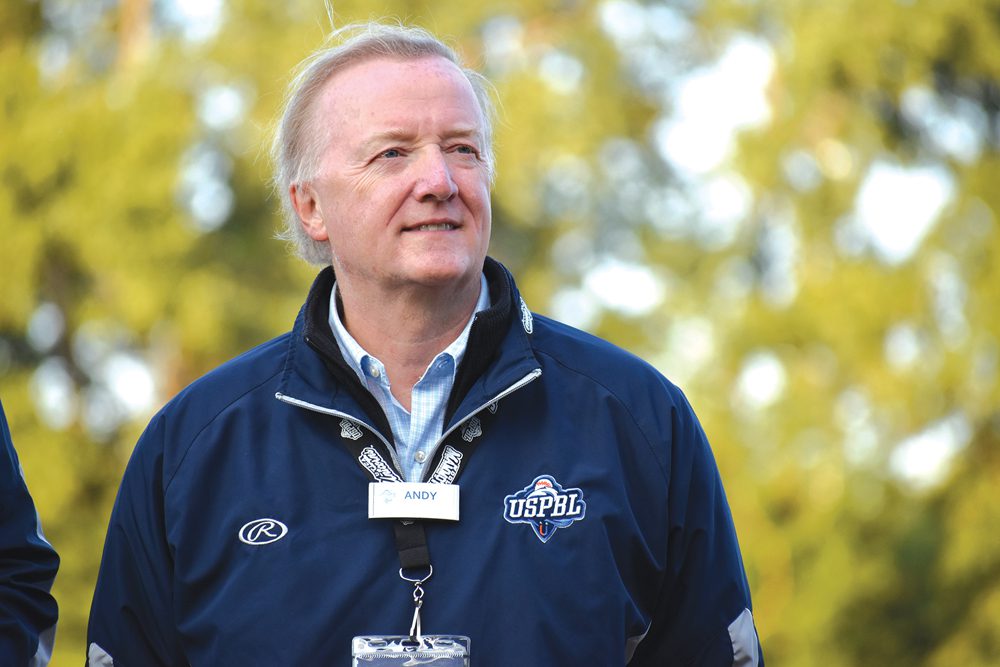 Sports is in the blood of Andy Appleby, chairman and CEO of General Sports and Entertainment, LLC in Rochester, Mich. An All-American high school wrestler and All-State cross country runner, Appleby began his professional sports management career in 1986 with Palace Sports and Entertainment. Rising to the position of senior vice president with the organization, he left in 1998 to launch General Sports.
His time with General Sports has seen the acquisitions (and later sale) of the English Premier League Derby County Football Club and the Fort Wayne Wizards Minor League baseball team (Class A affiliate of the San Diego Padres). About two years ago, he created the United Shore Professional Baseball League (USPBL), a professional baseball league with headquarters in Utica, Mich.
The league plays its games at the $17 million privately-financed Jimmy John's Field in Utica, where it sold out 42 of 75 games during its inaugural season. Its third season will start May 11, 2018.
Corp!: Tell us about the USPBL league.
Appleby: We currently have four teams. We have 90 players and they came from 44 different states. They are all here seeking to become major leaguers at some point.
Corp!: Where did you grow up?
AA: Bennington, Vermont. I always wanted to be GM of the Boston Red Sox, like most kids. I got my master's in sports management from Springfield College, where basketball was invented by James Naismith.
Corp!: What is your guiding principle to live by?
AA: I think, for me, it's really (about) getting the most out of life and the most out of all my God-given ability. I really think that I want to just do 200 positive things a day, seven days a week. I am all about continuous excellence.
Corp!: How do you motivate others?
AA: I think I err on the side of leading by example and motivating by example. I think it's a real honor and privilege to be able to work in sports and to be able to essentially work in the toy department of life. I don't have to motivate our staff too much, because I think everyone feels special to work with us and to work in sports.
Corp!: What is the best advice you can offer to others looking to get into your field?
AA: Back 31 years ago, when I got involved, the way was to go through the sales end of things, mostly ticket sales. I would still say that sales remains the most likely way to get your foot into the door of a sports organization. With (the) advent of sabermetrics and video analysis, you now can come out of school and get a job in those areas.
Corp!: What is your most recent success story?
AA: For me, clearly the baseball league and ballpark represents a great accomplishment. What I love about this ballpark is that it gave me an opportunity to use every good idea I have ever seen done on both sides of the ocean. This was the culmination of my career.
Corp!: What is the biggest management myth?
AA: The myth is that you can …"build it and they will come." You have to work exceedingly hard to fill up your ballpark or arena or stadium in sports every day. There's hardly a day that goes by that I don't make 200 calls or send many emails to continue to make our ballpark as successful as it is.
Corp!: We hear you have a replica of Fenway Park in your backyard.
AA: Yes. It's a Fenway Park whiffle ball field. We built it in 2004.
Corp!: What is your pet peeve in the office?
AA: I really like to keep the floors clean, without bits of papers everywhere. We don't let a napkin stay on the ground for more than five seconds at the ballpark. We want to be the cleanest ballpark in America.
Corp!: What are you reading?
AA: "Live Cinema and Its Techniques" by Francis Ford Coppola, who became a good friend in the last year.
Corp!: What is your favorite way to spend your free time?
AA: I like to spend time with my family, like most people. In addition to me going to every game at the ballpark, my family has been able to come to the better part of the season. My wife [Kristiana] was very instrumental in creating the look and feel of this ballpark. That was one of my better ideas.