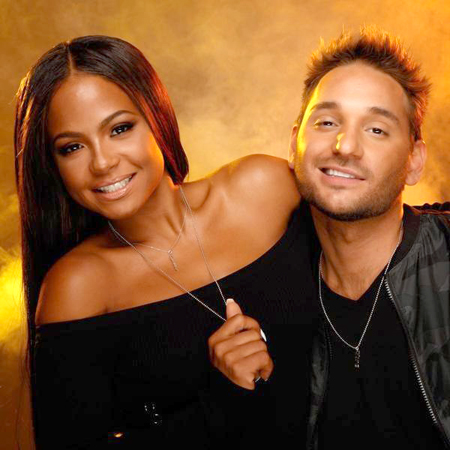 George Khalife is just like every other member of a family business – he works with his dad and older sister through the good times and the bad times, making their jewelry business the best it can possibly be.
But while his roots remain firmly planted in Michigan, Khalife has friends across the country. That includes some well-known names in Chicago, New York and especially Los Angeles. That's part of the reason Khalife has become known as Detroit's favorite celebrity jeweler.
To that end, he recently teamed up with singer, actress and entrepreneur, Christina Milian, to create a fine jewelry line guaranteed to bring a woman's accessories game to the next level. Their line, House of Fine Gold, launched in December. Each piece in their "ReMIXd" collection is a reflection of their friendship and personalities, Khalife said.
ReMIXd is a line of 14k gold necklaces with words that can be mixed and matched to create an original and unique piece. This line is just the beginning as the duo plans to add and expand House of Fine Gold with future collections.
It's a profession Khalife loves, a family he treasures and a chance to create something great with the friends he admires. All in all, Khalife is feeling positive about his work going into 2018.
"Family factors so much in what I'm doing; they're important to me," Khalife said. "We all work out of the family business. I work with my dad and my older sister – so it can sometimes feel like I've got two dads looking out for me."
The Khalife family has been in the jewelry business for generations. Originating in Beirut, Lebanon, and brought to Detroit in 1976, George's father wanted to continue the family jewelry business. He exposed both his daughter, Karina, and his son to the jewelry trade from the start. Karina immediately fell in love and is now the "go-to" jeweler for engagement rings in the state.
George, on the other hand, took his time learning the ins and outs of the jewelry business. His mother, Cheryl, recognizing his vast creative mind and talent for the arts, pushed him to pursue these gifts at a young age. She enrolled him at Cranbrook Kingswood School, where his passion flourished until completing his high school career.
He continued his love of the fine arts at College for Creative Studies and working beside his father at his jewelry store, Gold Corp Inc., the largest wholesale jewelry store in the state. This set him on the path of jewelry, design and style, a path he is now soaring on.
Currently, George sits as Vice President at Gold Corp Inc., and has created, manufactured, and distributed his own line of fine jewelry all over the country, and works with internationally recognized celebrities and socialites. He is widely known as "George The Jeweler" to his celebrity clientele.
He works with a wide variety of famous faces, including: Karrueche Tran, Aaron Carter, Ashanti, Bebe Rexha, Giuliana Rancic, Symon, Jeannie Mai, Jamie Chung, Teyana Taylor, Corinne Olympios, and so many more.
Khalife said his new line and the House of Fine Gold is very current, edgy and truly fun for him to create and for people to wear. He hopes to continue to design jewelry that not only makes people look good, but have fun with fashion.
"We're going to constantly update the line and stay true to trends," Khalife said.