The latest headlines tell of a markedly improving Michigan economy, including a drop in the state's unemployment rate to levels not seen in years. That resurgence is at least in part thanks to the types of success stories told by the 2015 winners of Corp! magazine's Economic Bright Spots awards. This year's 82 winners can tell of innovation, resilience and, in some cases, reinvention in the face of economic turmoil.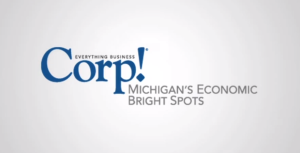 It's their success that this spring helped push down Michigan's jobless rate below 6 percent for the first time in 14 years. At 5.4 percent, the rate matched the nationwide average for the first time in 15 years.
And, as demonstrated by the diversity of the Bright Spots award winners, job growth is coming in a variety of occupations and industries, including trucking, retail sales, nursing, software development and computer systems analysis.
Corp! magazine honored this year's Economic Bright Spot winners at a June 25 breakfast event at VisTaTech Center in Livonia. Jake Cohen, partner in Detroit Venture Partners, delivered the keynote address, and David Lochner, president of FirstMerit Bank, provided an economic update. Here are synopses of this year's Economic Bright Spots:
A&B Packing Equipment
Lawrence
www.abpacking.com
A&B Packing Equipment Inc. for the past 20 years has specialized in fresh and process equipment for the small fruit and vegetable industry with a focus on high-speed packing equipment for consumer packaging. A&B's flagship line of equipment is the Evolution series of high-speed weigh and fill packing machines, which have the ability to pack clamshells, punnets, bags and boxes all with one machine. The family-owned company started in a small garage in 1995, and by 2012, after several expansions, it was relocating to its modernized 55,000-square-foot facility in Lawrence. The new plant accommodates 100 full-time employees and provides ample space for in-house design and production of all products. In March, the company further expanded by acquiring the product lines of Lakewood Process Machinery, according to A&B's website.
Achatz Handmade Pie Co.
Chesterfield Township
www.achatzpies.com
Since January, Achatz Handmade Pie Co. has invested in teaching employees lean manufacturing at its Chesterfield Township baking facility. "We don't know if pies can get lean, but we are trying!" jokes Wendy Achatz, who created the company with her husband, Dave, in 1993. Last year, the company — which employs 100 people in Michigan — announced plans to create a national network of franchises. "Our best growth opportunity has been working with a group of individuals who are franchising experts," David Achatz says. "We've learned a lot and are excited to watch the company grow with nationwide franchises." Michigan's business climate has potential, the Achatzes say, but they are moving forward cautiously with further investment in the business. "The advantages of doing business in Michigan for us is that our great state is abundant with the raw materials we need, like cherry, apples and dairy," Wendy Achatz says. Going forward, the company's biggest opportunities will be its franchise agreement as well as continuing to grow with Whole Foods, Kroger and many smaller wholesale accounts that, the Achatzes say, are beginning to understand that their customers want natural, wholesome products. "That is why people choose Achatz; we are one of the few pie companies that doesn't use artificial ingredients or hydrogenated oils. We use only the best ingredients," David Achatz says.
A.J. Boggs & Co.
East Lansing
www.ajboggs.com
Founded in 1989, A.J. Boggs' mission is to be a global leader in information technology solutions and services. The East Lansing-based company, which also has offices in Ann Arbor and Grand Rapids, offers hosting, information technology management and business consulting services with a specialization in building integrated systems to support mission-critical business processes, hosting and managing services for online communities, and developing specialized systems to improve information handling, retrieval (finding), and transport (publishing). It develops and manages Internet services for health care, commercial, manufacturing, government, library, legal and educational organizations across the United States and Canada. A.J. Boggs is derived from two names: A. James Crawford and Maxwell P. Boggs, who were grandfathers of A.J. Boggs' founders, according to the company's website.
A-Line Staffing Solutions
Sterling Heights
www.alinestaffing.com
Over the past year, A-Line Staffing Solutions has worked to grow relationships with current clients and expand on their needs. "We reacted by adding and tailoring our services and staff, which has opened up additional opportunities and helped us be named as the 10th fastest-growing staffing company in the country by Staffing Industry Analysts in 2014," says owner Daniel Lichocki. "Receiving awards from our clients and partners, like the Vendor of Excellence and Top Supplier, is the best feeling and makes all of our hard work worth it." The company also recently implemented software that combines and automates functions, which has freed up staff for more important and revenue-generating tasks. The Sterling Heights-based company employs 175 workers in Michigan. "Our corporate office being based in Michigan has definitely helped us along our road to success," Lichocki says. "There is a great pool of talent and some of the hardest-working people in the country. The technology and health care programs and innovations are unmatched, in my opinion." As a staffing and personnel management company, A-Line sees opportunity in other companies' growth. "We also continue to believe one of our biggest opportunities is to keep investing in our self," Lichocki says. "By continuously rethinking and improving our processes, we will continue our double-digit growth and success."
AlSentis LLC
Holland
www.alsentis.com
Holland-based AlSentis' work with touch technology has made it a company to watch. The company's thin-film sensors are used to control dishwashers, input settings on medical devices or make selections from vending machines, according to a profile in Rapid Growth magazine. The company's technology is used by literally millions of devices. It also is found in wireless devices that can individually control hundreds of locks on file cabinets in an office building or lockers in a fitness facility for remote security, or inexpensive biochemical sensors that can detect minute traces of specific organic compounds, the magazine states. Company founder Dave Caldwell started AlSentis in 2008 after stints in General Motors R&D and at Holland-based Donnelly Corp., where he developed his first foundational touch technology — Glasslink — in the late '80s, according to the AlSentis website. He left Donnelly to prove that touch could be done reliably on appliances.
Ambassador By ZFERRAL Inc.
Royal Oak
www.getambassador.com
Ambassador aims to make marketing easy for companies and their ambassadors, according to its website. It operates an online platform to track and manage customer referrals. The company's platform automates referral programs that range from emails, notifications and approvals to commission and gift card payouts. It serves enterprise businesses, SaaS businesses, e-commerce businesses, agencies and services businesses. Founded in 2010, the Royal Oak-based company was formerly known as ZFERRAL Inc.
Android Industries LLC
Auburn Hills
www.android-ind.com
Android Industries calls itself a quality gatekeeper. The Auburn Hills-based company has assembled more than 100 million complex vehicle systems since 1990, according to its website. It also manages more than $8 billion of material a year with full supply chain responsibility, as well as designs and builds tooling and equipment focused on error proofing and adaptability. Android also boasts extensive experience in welding and fabrication, including the fabrication of various vehicle structures, vehicle frames and engine cradles.
Angott Search Group
Rochester
www.asgteam.com
Business at Angott Search Group of Rochester is up 20 percent from last year, with growth in every discipline, including financial services, automotive, energy, IT and finance. "Largely because of the overall increase in the number of retained searches, we have expanded our team by adding three new team members who will recruit to those various disciplines that are experiencing growth," says President Mark Angott. The company now employs 25 workers. Angott credits his company's success to several factors, including the fact that recruiters' work has meaning because they help people develop and enhance their lives and their careers. Employees also are motivated by Angott's compensation and benefits package. (First-year average salary is $60,000, second year is $90,000 and third year is more than $100,000.) The company also partners with leading organizations. "Achieving distinction as one of the nation's largest and most successful search firms was not an easy feat," Angott says. "We did it by being the partners of choice among many companies." Angott notes that the company recruits on a national basis, allowing it to observe various market trends in different geographic sectors. "We have seen a dramatic improvement within the state of Michigan, especially in the automotive and finance sectors," he says. "There is an increased demand in engineering, treasury, HR and marketing roles, as these disciplines took a big hit during the recession, and now the need for these roles is coming back strong." Angott says he is confident this kind of progress indicates that Michigan is steadily regaining traction and points to an upturn in the economy of the Midwest.
Apex Digital Solutions
Sterling Heights
www.apexdigital.com
From its base in Sterling Heights, Apex Digital Solutions specializes in Microsoft technologies to bring customers solutions that meet their specific IT needs. It is an award-winning Microsoft Gold Partner that was founded in 1998 by CEO Jason Lambiris, who said he had a vision of building a company that was committed to excellence and "technology for people's sake." Apex provides managed and traditional IT services and specializes in public, private and hybrid cloud deployments, according to its website.
Armor Protective Packaging
Howell
www.armorvci.com
Armor Protective Packaging marked its 35-year anniversary in a big way in 2014 with the purchase, construction and move to a new international headquarters, where about 30 people are employed. The new building, which houses both Armor's industrial division and its consumer division, Workshop Hero, hosts more than 45,000 square feet of office, production, inventory and distribution space, according to the company's website. The company, founded in 1979 in Webberville as SKS Industries, provides corrosion management products and systems that prevent and remove rust. The company's motto is, appropriately, "To Serve and Preserve." The bulk of its business comes from its industrial division, which creates rust-preventing paper and packaging materials that protect automotive parts and other industrial products from corrosion. But the company in recent years has expanded into the retail sector, placing its Metal Rescue Rust Remover Bath and Dry Coat in home improvement stores. In 2013, Frank Fritz, one of the stars of the "American Pickers" television show, became the spokesman for Armor's Workshop Hero division.
Automation Alley
Troy
www.automationalley.com
Automation Alley is a nonprofit technology business association and business accelerator dedicated to growing the economy of Southeast Michigan and enhancing the region's reputation around the world. Since our founding in 1999, Automation Alley has grown to include nearly 1,000 members, including businesses, educational institutions, government entities and nonprofit organizations from the city of Detroit and the surrounding eight-county region. Automation Alley, which has 30 people on staff, serves the general business community in five key areas: entrepreneurship, talent development, international business, emerging technologies, and defense and manufacturing. Many of Automation Alley's recent accomplishments have been reflected in news headlines that focus on the region's growing reputation as a globally recognized hub for technology and innovation. To date, Automation Alley has invested $8.87 million in 45 local high-tech startup companies. In addition, $116 million in capital, including private equity, state/federal grants, foundations, etc., has been awarded to those Automation Alley seed-funded companies.
Its best growth opportunities in the past year have resulted from the Automation Alley Technology Center at Oakland University, opened to address the need in Southeast Michigan for affordable training and certification of local employees, students and individuals in new and emerging technologies. "Technology may not be the first word that comes to mind when people — particularly those outside Michigan — think of metro Detroit or the state of Michigan," says Ken Rogers, executive director. "But the technology industry in this region is as robust — if not more robust — than that of many other leading tech hubs across the United States. We have a diversified tech community here, from advanced manufacturing to medical devices." But Rogers warns against taking for granted that this recognized technology center will stay. "We must work to keep it and grow it, as other states and governors are here constantly trying to attract our companies elsewhere," he says.
Axios Inc.
Grand Rapids
www.axiosincorporated.com
Axios Inc. is a locally owned, privately held organization headquartered in Grand Rapids. Founded in 1988 as Staffing Inc., the company proclaims that its primary mission is to create strong, personal partnerships with its temporary employees and customers. The company has flourished under this model and grown significantly, according to its website. With growth came expansion into other value-added HR offerings. Axios now helps businesses attract candidates by providing them a Fortune 500 benefit package that helps sell their organization as a great place to work. Also, its staffing divisions provide recruitment services to clients, relieving them of the burden of finding people on their own and the opportunity cost associated with searching for candidates. Axios helps businesses retain their people by providing consultative assistance to determine market-based wages, leading-edge employment policies and procedures, and top-tier benefits. Axios also offers management tools with the aim of increasing clients' performance and productivity.
Bank of Birmingham
Birmingham
www.bankofbirmingham.com
Bank of Birmingham employees participated in identifying what the financial institution has labeled its "Core Purpose": "We support the people and businesses in our community by listening, advocating and delivering banking solutions." That philosophy has served the bank well since it was founded nine years ago, says President and CEO Rob Farr. "The bank experienced strong loan growth and record earnings in 2014," he says. "The bank's growth was the result of our focused business development efforts, favorable market conditions and diverse product options." That performance has also made the institution, which employs 37 people, bullish on Michigan's business climate. "The bank believes its success in recent years is a reflection of an improvement in the local economy as well as positive trends in the real estate market, automotive sector and general business development," Farr says. Going forward, the bank believes its business model based on local ownership, local decision making and superior customer service will allow it to continue to differentiate itself from larger competitors. "The bank is positioned to take advantage of opportunities to provide financial services that assist individuals and small businesses with their banking needs," Farr says. "In addition, we will continue to identify ways to support the people and organizations in our community."
Berger Dealer Group
Dearborn
www.bergerdealergroup.com
What began more than 50 years ago as a family-owned and -operated truck and trailer repair shop in Clinton Township has today became a network of Kenworth truck dealerships throughout eastern and central Michigan. The Berger Dealer Group's inventory of new and pre-owned Kenworth trucks, parts and service technicians makes it a strong force across Michigan, the company's website states. The group, which employs more than 100 people, purchased its first dealership in Dearborn in 2006. Eastern Michigan Kenworth quickly expanded in Clinton Township soon thereafter. In 2009 and 2010, Central Michigan Kenworth locations were added in Lansing and Saginaw, respectively. In 2013, the Lansing dealership reorganized and became parts-only store with centralized inventory and delivery capabilities that allows the location to serve customers across the entire Lower Peninsula.
Blackford Capital Inc.
Grand Rapids
www.blackfordcapital.com
Grand Rapids-based Blackford Capital has developed the Michigan Prosperity Fund, believed to be the only private fund in the country dedicated exclusively to majority-control acquisitions of family-owned businesses within a state. "Our Michigan Prosperity Fund has been a wild success with investors (who love investing in businesses within the state) as well as business owners (who love to sell to a buyer who is highly committed to the future legacy of their company)," says Martin Stein, founder and managing director. "We are very proud of the work that we have done." Recently, one of the companies in the Michigan Prosperity Fund, Burgaflex, needed to expand internationally in order to better serve customers, Stein says. "So, we bought a company in Germany," he explains. "We expect to be acquiring businesses in South America and Asia as well." Blackford Capital was founded in 2000 and moved to Michigan in 2010. "We believe that the business climate in Michigan is very strong. Everything in the economy seems to be doing very well. We are proud to own a business in Michigan," Stein says. "Our biggest challenge and opportunity will be finding talent that is strong enough to assist on the boards of our portfolio companies. The opportunity lies in creating these types of boards that can help push and grow our companies to the next level of success within their respective industries."
BorgWarner Inc.
Auburn Hills
www.borgwarner.com
BorgWarner calls itself a global product leader in powertrain solutions, focusing on developing leading technologies that improve fuel economy, emissions and performance. The Auburn Hills-based company operates in two groups. The Engine Group develops air management strategies and products to optimize engines for fuel efficiency, reduced emissions and enhanced performance. BorgWarner's expertise includes engine-timing systems, boosting systems, ignition systems, air and noise management, cooling and controls. The Drivetrain Group harnesses a legacy of more than 100 years as an industry innovator in transmission and all-wheel drive technology. The company, which employs 22,000 workers in 19 countries, generated sales of $8.3 billion in 2014.
Broder & Sachse Real Estate Services
Birmingham
www.brodersachse.com
The numbers tell the story for Broder & Sachse, a Birmingham-based full-service commercial, multifamily residential and industrial real estate services company. It currently provides property management and related services to a diverse portfolio of more than 130 properties and more than 16 million square feet of space. It also provides property maintenance services, acquisition and development services, and a full range of other real estate-related consulting services. The property management arm now manages more than 12,000 apartment units in nine states, up from 1,200 units under management in 2010. "We hired the right people who know the business," says CEO Richard Broder. "When you do a good job and satisfy the customer, your name spreads like wildfire. Consequently, we've earned many new opportunities. Ironically, acting like we're still a small company is the secret to our growth." Broder & Sachse has 310 employees nationwide, including 56 in Michigan. The Broder & Sachse template is the same in every city: The onsite management team consists of locally based Broder & Sachse employees who are closely connected with the corporate staff. There is no third-party subcontracting. "This structure allows the firm to be responsive while offering clients the benefits of a large, national company providing consistent, world-class services," Broder says. "It's a model that provides an enormous advantage to customers and can be easily replicated wherever the firm's service is needed and without compromise." Broder & Sachse owns four properties in Detroit: 440 E. Congress (office); Canfield Third Lofts, 710 W. Canfield St. (multifamily); The Albert, 1214 Griswold St.; Capitol Park (mixed use; multifamily and retail); and coming soon, The Scott at Brush Park, at Woodward and Erskine (also mixed use). "Detroit is becoming a destination for young professionals to live due to its proximity to many corporate workplaces, its affordable real estate, and its growing sports, dining, social, cultural and entertainment offerings," Broder says. "Urban renewal is core to Detroit's success, from developing a property tax base to providing retail opportunities for city residents."
Charter Capital Partners
Grand Rapids
www.chartercapitalpartners.com
Charter Capital Partners is an investment banking firm that supports middle-market companies with solutions covering the full continuum of capital. Services include buy- and sell-side advisory, business valuation, exit planning and capital raising for startups, acquisition and growth capital. In addition, as a Registered Investment Adviser, Charter Private Capital Management manages seven investment entities, with about $25 million under management. Since its beginnings in 1989, the Grand Rapids company has evolved into one of the Midwest's premier investment banking firms, supporting clients wherever they happen to be on the continuum of capital. Formerly The Charter Group, the company rebranded to Charter Capital Partners in conjunction with its 25th anniversary. The launch of the Charter Capital Partners brand also coincided with the creation of the company's Financial Institutions Practice, established in partnership with Olejniczak Advisors, a consulting firm specializing in transaction advisory, valuation and strategic consulting. And in April, Charter launched an expanded Business Valuation Practice, welcoming Christine Baker to lead the practice. Charter now employs 12 people in two Michigan locations. "Michigan is currently experiencing a very active M&A market," says John Kerschen, managing director. "Our state has an unmatched entrepreneurial spirit, as exemplified by the current business climate. As M&A advisers, we've seen success from a wide range of companies — from startups to third-generation businesses. With a relatively low cost of doing business and moderate cost of living vs. the coasts, Michigan is a great place to be for both employees and businesses — whether they be local, national or international."
Choices Bath & Body LLC
Shelby Township
www.choicesbathandbody.com
Since it was founded in 2009, Choices Bath & Body had serviced only wholesale accounts across the United States. That was slated to change in June, when the operation was prepared to open its first retail location, in Shelby Township. Company founder Helga Soave says the plan is to eventually open several franchises in the state. "We want to improve the lives of our customers, and by using natural body products with only essential oils and pure ingredients, we provide them a great step toward that," she says. Choices Bath & Body offers customized blending of herbal extracts and essential oils for each client who comes into the store. "This way they have a unique product that is truly one of a kind and suited just for their needs and skin," Soave says. The business climate in Michigan is proving suitable to Choices Bath & Body's needs. "We have a beautiful state, filled with amazing natural resources that we try to incorporate into our products as much as we can," she says. "Our goal is to one day open a mineral bath utilizing all the wonderful mineral deposits that we have under Michigan."
CK Mediterranean Grille
Berkley
www.ckgrille.com
In 2003, the Gulli family started Mr. Kabob Mediterranean Grille in a modest space next to the family's gas station in Berkley with the goal of delivering fresh, healthy fare to the surrounding area and beyond. It quickly became a popular carry-out restaurant, with customers calling from as far as 30 miles away, according to the company's website. Mr. Kabob also provides Mediterranean catering for business events and parties. The franchise expanded to include restaurants in downtown Detroit and Southfield under the CK Mediterranean Grille name, still serving the same recipes made with fresh, quality ingredients as the original. Through the years, Mr. Kabob and CK Mediterranean Grille restaurants have been named to many "best of" lists.
Cold Heading Co.
Warren
www.coldheading.com
Since its founding in 1912, the Cold Heading Co. has weathered every economic downturn. The Warren-based company says that it is well-capitalized, strong and stable, a rarity in global manufacturing today. As a fully integrated corporation, its facilities are stocked with the cold forming and thread rolling equipment required to meet the short lead times customers demand. The company has locations in the United States, Japan and China, which it says gives it the global reach to manufacture and distribute products where customers need them most. "This combination perfectly positions us to serve as your complete fastener solution for years to come," the company's website states.
Creative Studio Promotions
Grand Rapids
www.creativestudiopromo.com
Creative Studio Promotions labels itself a full-service promotional resource. "Whether you are looking to print T-shirts or bags, need embroidery services or want to bring your branded program online with our e-store solutions, your brand will be represented creatively and professionally every time," the company's website states. Creative Studio Promotions was co-founded in 2012 by Ann Vidro, who serves as chief financial officer, and Menda Wright, whose function is national account manager. Combined, they have more than 30 years in the business. "Everything we do is about managing the brand, including building e-commerce stores, managing inventories and fulfilling orders," Vidro told Rapid Growth Media.
Crestmark Bank
Troy
www.crestmark.com
Crestmark Bank was opened in 1996 in Troy to provide working capital solutions to small- and medium-sized businesses. The institution provides a variety of financial solutions, including asset-based lending, factoring, equipment financing, lines of credit and acquisition funding. Crestmark has extensive experience in serving many industries, including transportation, manufacturing, staffing, petrochemical, government contractors, apparel/footwear/furniture distribution/manufacturing, hospitality/hotels, insurance agencies and technology hardware/software. It has grown beyond its Michigan roots and now has additional offices in California, Florida, Louisiana, Tennessee, New York and Illinois, as well as representatives nationwide.
Daifuku North America Holding Co.
Farmington Hills
daifukuna.com
Daifuku North America Holding Co. says continuous improvement of its innovative product design, attentiveness to customers' needs and employment of a talented workforce are major contributors to its financial growth and success. One recent product innovation by the material handling company with Farmington Hills headquarters was several miles of friction drive conveyor installed at Chrysler's Sterling Heights Assembly Plant in Michigan. Using friction conveyor instead of chain conveyor is a relatively new concept for U.S. automakers. Friction drive conveyor is quieter and cleaner than chain conveyors, is easily maintained, easier to modify and can be reversed. Also, Daifuku's SmartCart automatic guided cart technology provides companies with the flexibility to scale up or down to accommodate the volume of production and product changes that take place. Daifuku says its best growth opportunity has been in the automotive industry, where it saw a 25 percent increase in revenue in the past year. The company, which employs 500 workers in Michigan, also is growing through acquisitions. It acquired Wynright, an Elk Grove, Ill., material handling company that provides warehouse solutions, in 2013. "The business climate in Michigan has been steadily improving for the last six years," says John Doychich, executive vice president. "The innovative group of people employed at our Farmington Hills office represents the many talented individuals residing in our great state. Jervis B. Webb Co., which is owned by Daifuku North America, has been in Metro Detroit for nearly 100 years. Because we employ hundreds of engineers, we remain here because Metro Detroit is one of the top places in the world to find high-quality engineers."
Detroit Manufacturing Systems
Detroit
www.dms-na.com
Detroit Manufacturing Systems assembles and manufactures injection-molded interior trim components for global automotive brands. DMS was founded in June 2012 as a joint venture with Rush Group and French auto supplier Faurecia Interior Systems. Ford approached longtime supplier the Rush Group to establish DMS as part of the automaker's commitment to minority supplier partnerships and desire to create jobs in the city, according to the DMS website. Majority partner Rush Group is wholly owned by President and CEO Andra M. Rush, who also owns Rush Trucking Co., a contract carrier for the automotive industry. "Our diverse team of automotive industry experts is dedicated to quality and innovation, and committed to community revitalization in Detroit as part of the city's rebirth," the company's website states.
Detroit Mechanix LLC
www.detmechanix.com
The Detroit Mechanix put a new spin on professional sports. The Mechanix are an ultimate disc team. The team, which draws players from throughout Michigan and the rest of the country, competes in the Midwest Division of the American Ultimate Disc League, which began in 2012. This season it is playing home games at Bishop Foley Catholic High School in Royal Oak, according to the team's website.
Detroit Wayne Mental Health Authority
Detroit
www.dwmha.com
Since separating from Wayne County in 2013 and becoming its own authority, the Detroit Wayne Mental Health Authority says it has grown more efficient both in terms of policymaking and the positive financial impact on the revitalization of Detroit. DWMHA was also able to attract some of Detroit's best-known leaders in the mental health field, including new CEO and President Tom Watkins, former state schools superintendent and state mental health director. The authority, which employs 150 people, now reports solely to its community-minded board of directors, made up of individuals from financial, legal, medical and mental health backgrounds. In the past year, DWMHA has made two large improvements. Noting a gap in services, DWMHA integrated provider treatment of substance use disorders in fall 2014. Through integrated treatment, DWMHA providers can now meet the full range of needs for the Detroit and Wayne County population. DWMHA has also undertaken the redevelopment of a new headquarters in Detroit's New Center Area, which will inject $10 million into Detroit's revitalization. The authority will use the monthly savings it gains from this transition to benefit those it serves. The climate in Southeastern Michigan is blossoming with opportunities for growth, both economically and from a community standpoint, Watkins says. "Mental health issues are issues for everybody. They do not discriminate by race, gender, socioeconomic status or ZIP code," Watkins says. "Considering that our service providers and peer support network work tirelessly to support these individuals, and when necessary, provide job-hunting resources, the authority helps Michigan from being crushed under the financial burden of mental health expenses."
DFCU Financial
Dearborn
www.dfcufinancial.com
Already, 2015 has been a year of innovation and change for Dearborn-based DFCU Financial, Michigan's largest credit union, with 522 employees. In February, DFCU Financial launched a new online banking platform, giving members current feature functionality and stringent security by protecting their devices as well as how they access their information. Also on the technological front, DFCU Financial converted its credit and check cards to the EMV "chip" technology to enhance members' everyday banking experience and unveiled its AutoSmart program, which provides members with a one-stop-shop-find-finance online process for or used car purchases. A brand-new website developed and fully optimized to all electronic devices is also scheduled for later this year.
On May 1, DFCU Financial launched business banking, which was developed to position small businesses with annual revenues of $5 million or less for short- and long-term financial success. Shaped in collaboration with Michigan entrepreneurs and DFCU members, the institution's business banking offers simplified products, best-in-class technology and financial education and guidance tailored to the specific needs of a previously underserved community of business owners. "We are encouraged by the slow, steady, positive growth in the state and especially the diversification of business mix," says Mark Shobe, president & CEO. "We also greatly support the redevelopment of the city of Detroit and this significant impact on surrounding areas."
Digital Roots
Detroit
www.digitalroots.com
Digital Roots CEO Jay Wolcott says his company was seeded in opportunity and grown in innovation. "While working as former GM executive, a need emerged for a customer care solution in social media," he recalls. "I was frustrated by the many limitations of the existing software platforms and envisioned a system that companies could easily and efficiently engage with their customers through social media across the Web with one tool."
The vision became reality after Chief Data Officer Dan Pressel and Chief Technology Officer Tom Zellman joined the company. "With their expertise, we were able to add a high level of human language intelligence and processing to our platform that our industry and clients had never seen before," Wolcott says. "Innovation ultimately brought about my vision and the success our company experiences today." The Detroit company is deeply rooted in the automotive industry but has expanded its services since it was formed in 2009. "This has afforded us a huge growth opportunity in industries with a high volume of customer voices across the social Web, such as retail, events, restaurants, etc.," Wolcott says. "Our response to this opportunity has been to expand our team with superior sales and marketing talent and leverage this talent to communicate how we can help these brands in other industries better know and communicate with their social customers." Digital Roots, which employs 30 workers, has benefited from the rising tide of Michigan's business climate and the increased attention to small technology businesses, Wolcott says. "This phrase gets overused, but truly the sky's the limit," he says. "We are excited by the abstract ways we can apply our technologies to emerging new industries and the customer needs that come with them. We are constantly monitoring, predicting and evaluating these technologies and their customer experiences. Digital Roots is confident that wherever customer communication happens digitally, we can be there and we can improve it."
DKSS CPAs + Advisors
Troy
www.dksscpasmi.com
Several years ago, DKSS CPAs + Advisors' management team worked to "rebrand" the firm and embrace its tagline: "Insightful – Involved – Invaluable." Managing Director Ursula C. Scroggs says the firm demonstrates that it is insightful through technical proficiency that is married with a thorough understanding of clients' total business needs. It is involved by providing education to the business community through sponsorship of Walsh College's Leadership Center, as one example. "We also are very proactive in reaching out to our clients when various tax and finance changes occur," Scroggs says. And taking care of stakeholders — the community, clients and employees — makes the firm invaluable, she says. "The upswing in the Michigan economy and our clients' businesses provides a platform to work with them, plan for their growth and explore options for tax mitigation, employment best practices and solidifying relationships to financially support that growth," Scroggs says. Going forward, DKSS will continue to focus on educating the business community and providing a support network for businesses, government and communities to come together, she says.
E3 Detroit
Canton
e3detroit.com
E3 Detroit's mission is right in its name: It helps clients engage with their audiences through unique events and remarkable entertainment. "We're not a large firm, nor are we a typical agency," the company's website states. "We are a group of dedicated, passionate, fun people who see our jobs as an opportunity to create amazing experiences." The company notes that it is known for its amazing live bands, and it also offers DJ services, duos and trios and other forms of live entertainment, with a special emphasis on weddings and corporate events. "We love our connection to the city of Detroit and the surrounding area," the company says on its website. "The rebirth and revitalization of this great city is an inspiration to us and we hope to make our mark here as the city reinvents itself as a world-renowned destination for business and events."
EAM Consulting Group
Troy
www.meier.sandler.com
"Stage 2 companies are growing out of Southeast Michigan at a great pace," says Erik Meier, CEO of Troy-based EAM Consulting Group, a business management consultant. "We're partnering with them early in their development and working hand in hand to help take them through early maturity." The company, founded in 2010, has 12 employees. "Michigan has its challenges, like any other state across the U.S., but the overall the climate is great," Meier says. "For us, the advantage of doing business in Michigan is that there is a world of opportunity to work with so many growing industries across many verticals." Technological innovations also are paving the way for growth, he says. "We're working with new technology all the time to deliver better results to our clients. These changes in our business will allow us to work with a broader range of clients and engage in ways that were nothing more then a pipe dream just a couple years back."
Elzinga & Volkers
Holland
www.elzinga-volkers.com
Elzinga & Volkers, a Holland-based construction management company, has been built through constant adaption, both internally and externally, to stay competitive and exceed expectations in an aggressive marketplace. For example, internally, the company has restructured positions within its operational structure to maintain efficiency and best utilize its staff. Externally, Elzinga & Volkers has focused on providing construction services to niche markets such as health care, food production and national retail, which has kept it out of the heavily commoditized market of "low bid" construction. "This has allowed us to stay focused on our core competencies while also reducing risk," says Mike Novakoski, president and CEO. "Creating both a sustainable business and a sustainable base of work has always kept Elzinga & Volkers profitable and healthy. Over the last few years, these practices are now allowing us to thrive." Even as it grows to service its core business, the company is striving for new ways to serve clients. For example, its Professional Services group, recently rebranded as EV Group, has grown contract placements by more 100 percent in the past year. Elzinga & Volkers employs 1,751 workers in Michigan. "There is tremendous energy and demand for capital investment in Michigan, which has created an enormous demand for the construction industry," Novakoski says. "As quickly as we can hire and train construction professionals, they are fully engaged in building projects all over the state. The growing backlog of construction work, combined with the lack of skilled trade's professionals, is creating a great business climate for our industry. On the downside, we are experiencing price escalation, which is putting pressure on some investment and causing some projects to be canceled or scaled back."
Experi-Metal Inc.
Sterling Heights
www.experi-metal.com
Experi-Metal Inc., a Sterling Heights sheet metal contractor, became a post 9/11 success story by expanding its marketplace globally beyond its automotive roots into the aerospace, alternative energy, military, homeland security and commercial truck markets. The company says that it has maintained its world-class status through continued investments in people, technology and innovation. The company provides a structured training program for its 150-person workforce, giving each employee the opportunity to learn new skills and enhance existing ones — and in turn improving Experi-Metal's ability to adapt to the changing requirements of the global marketplace and remain competitive. Experi-Metal also continues to invest heavily in new equipment and technologies. Recent investments include the purchase of three new Mitsubishi five-axis laser cutting machines, two new Chevalier CNC machining centers, robots for welding and machine tending, a state-of-the-art hot stamping work cell and related metallurgical lab, and a real-time ERP system for seamless control from project management through operations management to financial management. "Michigan is a great place to be a manufacturer," says Valiena A. Allison, chairman and CEO. "It remains the center of everything automotive, and continues to attract aerospace, alternative energy and military companies that share many of the same characteristics of our traditional automotive business. While the marketplace is very competitive and the skilled trades are in great demand, the benefits of being firmly rooted in Michigan are tremendously rewarding. We continue to attract the skill sets we need as a manufacturer, and we have great access to emerging manufacturing technologies."
Flexible Plan Investments Ltd.
Bloomfield Hills
www.flexibleplan.com
Flexible Plan Investments touts itself as a leading provider of investment risk management services. It's a founding member of the National Association of Active Investment Managers and one of the trade association's largest and oldest active money managers. It has 83 employees at its Bloomfield Hills headquarters. Founder Jerry C. Wagner touts the recent implementation of the OnTarget Investing methodology for setting and reinforcing client expectations, as well as the creation of the first mutual fund trading the price of gold bullion (QGLDX). He also credits the company's success to expanded marketing of its FUSION turnkey, multiple strategy and asset allocation methodology and expansion of the number of regional sales managers across the country. In Michigan, the company has observed a better tax structure, regulatory improvements and transportation and resource availability. Going forward, Flexible Plan Investments is positioning itself as an exchange-traded fund strategist on platforms around the country to complement its already substantial mutual fund business.
Fori Automation
Shelby Township
www.foriauto.com
Fori Automation, based in Shelby Township, is a global technology-driven company focused on the designing and building of assembly, testing and welding equipment. "We have successfully leveraged our engineering expertise to transfer technologies globally across numerous industries, including automotive, aerospace, agriculture, recreational vehicles and alternative energy," says Paul Meloche, vice president of sales. "Our broad product offering, global presence and diverse customer base has allowed Fori to maintain a consistent, controlled growth strategy." The company, which has a workforce of 200, began diversifying beyond the auto industry in 2009. "We leveraged existing proven Fori automotive technologies and modified them to meet the needs of other industries," Meloche says. "These products and systems have been well received in these other industries." While branching out, Fori will remain firmly rooted in Shelby Township. "The climate in Michigan has always been favorable for Fori Automation," Meloche says. "Even during the downturn of the economy in 2008/09/10, Fori continued to grow. The manufacturing and engineering base is one of our best assets. Fori has had great success working with local government during our expansion." There is currently a shortage of qualified engineers and skilled trades to support all the growth potential in Michigan, Meloche says. "I anticipate the strong resurgence of manufacturing in Michigan will draw new talented engineers and companies to Michigan, which will support the continued growth of our economy."
FOURMIDABLE
Bingham Farms
www.fourmidable.com
FOURMIDABLE has evolved since it was founded in 1975. The Bingham Farms-based company, which has 241 Michigan employees, has expanded from its role as a property manager and created new support services for other management companies and amenities for rental properties, as well as expanded its real estate brokerage services. For example, it recently accepted the listing to sell several apartment communities and office buildings valued at $60 million — and succeeded in selling and closing all of them. The effort required significant resources to be directed toward marketing and sales. "As a result of that success, we have created a new entity to sell real estate and to market and develop new business for our other entities with a focused growth," says J. Ronald Slavik, company chairman. FOURMIDABLE also has developed eCrosstown, a Wi-Fi amenity for apartment communities to offer free to their residents to enhance marketing and occupancy, and
Agility-PM, a back office support service for property managers and owners. "We are developing our business offerings to other companies that would traditionally be considered as competition," Slavik says. While those offerings are limited by geographic considerations, Michigan remains the company's base and is providing its largest concentration of activity. "We currently operate in seven other states, and Michigan's climate is more energetic and robust than those others at this time," Slavik says.
Fullerton Tool Co.
Saginaw
www.fullertontool.com
Saginaw-based Fullerton Tool Co.'s growth has taken off in the past year thanks to the commercial aerospace industry. Fullerton, which employs 158 workers, has partnered with industry members on niche-type products that machine composites, high-temp alloys, stainless steel, titanium and Inconel. More generally, Fullerton has implemented a product development team to make existing tool offerings better and to create new innovative products. Some new products were released in 2014, and a new Fullerton "Force" end mill was slated for availability in July. The Fullerton Force will be a high-performance end mill for variety of materials. Fullerton also cites its website as a key to its success, as customers can log in and see live inventory stocking levels, tracking numbers for shipments, videos, a F.A.S.T. machine calculator and other valuable options. "Business in Michigan for Fullerton Tool has been strong," says Patrick Curry, president of the 73-year-old business. "Companies coming back to Michigan, and not just in the automotive sector, have helped with the growth of Fullerton Tool. Michigan business has played a key role in our new expansion located in the Thomas Township Tech Park that will be completed at the end of September."
Genisys Credit Union
Auburn Hills
www.genisyscu.org
Auburn Hills-based Genisys Credit Union focuses on providing members with a blend of outstanding personal service and technological convenience. Genisys offers comprehensive functionality through online and mobile banking platforms. It recently added bill payment to the suite of mobile functionality included in its award-winning iPhone and Android mobile apps. Still committed to providing excellent face-to-face service, Genisys opened new branches in Royal Oak in December 2014 and Oxford in early 2015, and it is reconstructing a Waterford facility to open in late 2015. Genisys officials say the credit union's blend of personal service and convenience technology is a major factor in Genisys' member satisfaction rating of 95.36 percent and Net Promoter Score of 81 percent, ranking it among the highest performers in all types of industries. "The Michigan business climate has been excellent for Genisys," says Jackie Buchanan, president and CEO. "We have experienced strong growth since Genisys came into being in 2008 through a combination of two Oakland County-based credit unions. Credit union assets grew 7.5 percent in 2014 with total loans outstanding growing 14 percent." Genisys, which employs more than 350 people, is planning to extend service throughout the state with the deployment of new technology and an expansion into new markets. This year, Genisys merged with Tri-Pointe Community Credit Union, which added four additional full-service branches to Genisys' Michigan network, bringing the total to 26.
Genius Phone Repair
Grandville
www.geniusphonerepair.com
After repairing iPhones and iPods out of a dining room for a few years, Grand Valley State University grads Jordan Notenbaum and Garry VonMyhr along with friend Steven Barnes, a Cornerstone University alum, founded Genius Phone Repair in 2009. In 2011, they opened their first retail location, in Grandville. Clearly, they found a demand for their professional iPhone, iPod, iPad and smartphone repair services, because the company now has a network of 13 repair shops throughout Michigan and Indiana, according to its website. In 2013, the partners won the Grand Rapids Area Chamber of Commerce's Young Entrepreneur of the Year award.
Great Lakes Caring
Jackson
www.greatlakescaring.com
Great Lakes Caring likes to say that its name reflects its mission. Headquartered in Jackson, Great Lakes Caring employs more than 1,150 health care professionals in 14 offices, providing home health care and hospice care, as well as home medical equipment, daily to more than 6,000 patients throughout the Midwest. The company's website states that more than 2,000 physicians entrust their patients' care to Great Lakes Caring.
Grede Holdings LLC
Southfield
www.grede.com
Grede designs, develops and manufactures cast, machined and assembled components for the transportation and industrial markets. Headquartered in Southfield, Grede's sales support is found across North America as well as in Japan and Europe. According to the company's website, Grede began operations in 1920 when Bill Grede purchased Liberty Foundry in Wauwatosa, Wis., near Milwaukee. Grede combined assets with Citation Corp. in February 2010 to create what it says is the most diversified foundry company in North America. The company has grown through a series of acquisitions and now operates a wide variety of equipment in 16 facilities in two countries with approximately 4,600 employees.
Guardian Industries
Auburn Hills
www.guardian.com
Guardian Industries takes pride in its management structure, which according to its website is specifically designed to avoid bureaucracy and allow the individual to flourish. "It is an environment that thrives on the initiative of its people and strives to focus on our customers," the website states. Guardian Industries began as the Guardian Glass Co in 1932. Today, Guardian Industries Corp. is a diversified global manufacturing company headquartered in Auburn Hills, with leading positions in float glass and fabricated glass products for commercial, residential and transportation applications; automotive trim; and the distribution of building products. Guardian says its research and development centers (Science & Technology Center for glass and Advanced Development Center for automotive) puts it at the forefront of innovation. Its automotive trim group, SRG Global, is one of the world's largest manufacturers of chrome-plated plastic parts for the automotive, commercial truck and consumer goods industries. Guardian and its subsidiaries and affiliates employ 17,000 people and operate facilities throughout North America, Europe, South America, Africa, the Middle East and Asia.
Harvey Hohauser & Associates LLC
Troy
www.hohauser.com
Harvey Hohauser & Associates is in its second generation of partnering with private, public, domestic and international businesses to find talented leaders to fill critical roles for their executive teams. The Troy-based company says it is benefiting as the automotive industry, family businesses and international entities continue to expand and need top talent to lead them forward. The firm was founded in 1986 by Harvey Hohauser, who developed what the firms says is a proprietary process that has been refined for one purpose: to better understand clients' needs and match the proper executives with their culture. In 2013, Todd Hohauser succeeded Harvey as CEO.
HelloWorld
Pleasant Ridge
www.helloworld.com
HelloWorld was founded in 1999 as ePrize, but it changed its name in 2014 after diversifying through the acquisition of several companies. "Our powerful combination of native technology and marketing strategy allows brands to create unforgettable interactions, drive consumer demand and accelerate growth," the company's website states. They began as a promotions and customer loyalty management firm. That remains the foundation of the company, according to its website, and now it offers what it calls the unique synergy of promotions, loyalty and mobile messaging. Beyond its Pleasant Ridge headquarters, HelloWorld has offices in Chicago, Nashville, New York, Seattle, Los Angeles and Phoenix.
International Automotive Components
Southfield
www.iacgroup.com
International Automotive Components was created with a singular focus on vehicle interiors and bolstered by a vertical integration strategy. This formula, coupled with an aggressive organic and acquisition growth strategy, has elevated IAC to a global leadership position among tier-one interiors suppliers. Over the past 20 months, the Southfield-based company has inaugurated 10 new locations around the world, half of them in Asia, a market that IAC says still represents its biggest growth opportunity. "Michigan's business climate has improved substantially along with the overall economic recovery of the world and the auto industry since the 2008 collapse," notes James Kamsickas, president and CEO. "Like IAC, many of its largest global customers are based here. The advantage of having so many decision-making customers in this region contributed to the recent expansion of our Troy Tech Campus, which now comprises four buildings and more than 100,000 square feet devoted to advanced development, prototyping, validation testing and engineering." Looking forward, IAC's materials expertise positions the company to remain on the leading edge of natural materials development (replacing oil-based resins with natural materials) and lightweight materials for improved fuel efficiency, Kamsickas says. Both trends are important environmental solutions, which are in line with consumer and OEM customer demands going forward, and both are expected to keep IAC at the forefront of the vehicle interiors segment.
Inteva Products
Troy
www.intevaproducts.com
With world headquarters in Troy, Inteva employs more than 11,500 workers in 18 countries, the company states on its website. Inteva has global resources for engineering, manufacturing and customer service organized around four major product lines: closure systems, interiors systems, motors and electronics, and roof systems. Although the Inteva Products brand name was introduced to the marketplace in 2008, the company's roots trace back to the establishment of German carriage supplier Traugott Golde in 1872. In the following 30 years, four additional automotive suppliers — Inland Manufacturing Co., Guide Lamp, Fisher Body Co. and Arvin Heater Co. — were born, creating the origins of Inteva's four major product lines.
Jaffe Raitt Heuer & Weiss
Southfield
www.jaffelaw.com
Southfield-based Jaffe Raitt Heuer & Weiss PC was honored this spring with a coveted spot on The National Law Journal's 2015 Midsize Hot List — the first time a Michigan firm has made the list since 2011. Each year, The National Law Journal recognizes 20 midsize law firms (51-150 lawyers) nationwide for their innovation, creativity and results with regard to litigation, business transactions, overall firm operations, growth and performance, according to a news release on the Jaffe website. Nominations from around the country are vetted through an evaluation process that includes written responses and a series of interviews. NLJ recognized Jaffe for the firm's ability to successfully represent its clients in complex and sophisticated matters, frequently against law firms that dwarf Jaffe in size. Specifically, NLJ praised Jaffe for its all-encompassing role in the highly complex $1.32 billion acquisition of Green Courte Partners by longtime client Sun Communities. The journal also highlighted several other accomplishments by Jaffe, which was founded in 1968.
James Group International
Detroit
www.jamesgroupintl.com
It's truly a family affair at James Group International of Detroit. According to the company's website, the group consists of a family of four companies: Renaissance Global Logistics, which provides inventory consolidation services for manufacturers; Magnolia Automotive Services, a strategic alliance between James Group International and Toyota Tsusho America's Automotive Division, which was awarded the contract to perform the tire and wheel assembly operation at the Toyota Assembly Plant in Blue Springs, Miss.; TLX, which provides communication and real-time visibility of trade between China and North America, from customer orders to supplier deliveries; and MotorCity Intermodal Distribution, a warehousing and distribution facility that combines with water, rail and highway access to form an intermodal distribution hub. The family theme continues with management of the company, which was founded by Chairman and CEO John A. James, who worked in personnel and labor relations at Chrysler from 1969 until 1978, when he began to devote full-time attention to the James Group International companies. James was the first African-American whose company was issued broad operating authority to transport automotive parts and other commodities in Michigan, according to the company's website. The next generation of leadership is represented by President John E. James and Lorron James, who oversees external relations.
Kaftan Communities
Southfield
www.kaftancommunities.com
One thing has remained constant at Kaftan Communities since its founding in 1965: being adaptable to the business environment as the Southfield-based company built and managed apartment communities, condominium residences and commercial real estate ventures throughout Michigan and Florida. When second-generation owner Jeffrey Kaftan was promoted to president in 2002, the company refocused on its core business of apartment ownership and management and began disposing its portfolio of retail, office and industrial properties. "Currently, we are focusing on additional multifamily property purchases with a goal of an additional 500 units under ownership/management for 2015 — which would increase units under ownership by 20 percent," Kaftan says. "This refocus on our niche has helped us be a stronger company, more in touch with our customers." The company, which has 67 employees, also has focused on creative ways to unlock value by repositioning apartment communities, such as acquiring underperforming assets in good markets. An example is the 2014 acquisition of the Gables of Troy, a 544-unit apartment community. "We rebranded it and are nearly finished with a $2 million renovation/reposition," Kaftan says, adding that the project involved completely refurbishing the living units, parking lots, balconies, heating and cooling units, roofs and, especially, the clubhouse and pool. "Reflecting today's 24/7 business environment, the clubhouse at The Gables now has a fully equipped business center that is available to residents 24/7," he says. Throughout Greater Detroit, demand for modern, midrange apartments in markets such as Midtown, Royal Oak and Troy is strong. "A particular target demographic for Kaftan is the young professionals who appreciate name-brand fashion or want to drive a luxury auto rather than a midrange car," Kaftan says. "This is why we developed the Metropolitan Flats brand – currently found at Met13 on Woodward in Royal Oak and launching soon at Met Lafayette in downtown Royal Oak." These properties focus on upscale urban flat living with chic design features combined with modern technological features.
Kenwal Steel Inc.
Dearborn
www.kenwal.com
Since its founding in 1947, Kenwal Steel has grown into one of North America's largest full-service, flat-rolled steel service center companies, catering to markets including automotive, electronics, appliance, tubing and other major equipment manufacturers. Headquartered in Dearborn, the company also has three service center locations there, as well as in Burns Harbor, Ind., and Lebanon, Tenn. Kenwal generates annual revenue of about $900 million and employs about 450 across its service center locations, according to information on its website. Founded by Sol Eisenberg in Detroit, Kenwal remains a family-owned and –operated company, with Sol's eldest son, Kenneth, now serving as chairman and CEO.
KnowledgeWatch
Ann Arbor
www.knowledgewatch.com
KnowledgeWatch describes itself as a pioneer in the field of automated knowledge acquisition and knowledge management. It is a Web service that aims to improve how companies research and innovate by automatically finding, acquiring, organizing and distributing relevant, key knowledge critical to their business. The company's website states that KnowledgeWatch reduces the costly job of finding relevant knowledge for companies and provides a scalable platform for automating their knowledge management system. For those companies with an existing knowledge management system, KnowledgeWatch provides a harvesting layer to enhance that capability. Located in Ann Arbor, KnowledgeWatch supports health care, bioscience and automotive manufacturing organizations and is expanding offerings to additional industries.
Kuntzsch Solutions
Grand Ledge
www.kuntzschsolutions.com
Kuntzsch Solutions helps its clients to plan, fund, and implement projects and initiatives that drive community and economic development in Michigan. They recognize that no initiative is one-dimensional and focus on understanding their clients' needs to provide solutions that bridge the gap between ideas and action.
Kuntzsch Solutions is differentiated by the depth and integration of their solutions. They conduct research and analysis to translate data into knowledge that informs decision-making. They facilitate groups to develop plans and strategies with a focus on implementation. They also develop funding strategies and have helped their clients cultivate more than $130 million in public and private funding. In addition, they design and develop reports, promotional materials, websites and graphics to communicate their clients' messages.
Launched in 2004, Kuntzsch Solutions hires talented, dedicated people and backs them with proven processes and technology to deliver top quality work. Their commitment to their people is matched only by their commitment to their clients. The company shared this recent comment from a client: "You truly care about the success of your clients. Your team feels like a real extension of our team."
Loc Performance Products Inc.
Plymouth
www.locperformance.com
Since 2009, when 90 percent of sales were concentrated in defense, Loc Performance Products Inc. has successfully penetrated new commercial markets in an effort to diversify its customer base. Sales today are almost evenly divided between the defense and commercial market sectors, according to the company's website. New commercial markets include mining, construction, locomotive, agriculture, hybrid buses and power generation. The successful diversification effort was just the latest evolution for Loc, which was founded in Taylor in 1971 by Victor Vojcek. Loc's first home was a 5,000-square-foot facility where it made machined components for automotive powertrains. From 1977 to 1996, Loc grew in multiple phases — both in physical size and customer base. It relocated to Plymouth and expanded its manufacturing footprint to 125,000 square feet. Loc began serving the defense industry in 1985 and quickly became the preferred supplier for tracked vehicle suspension systems. In addition to producing content for various U.S. Army combat vehicles, the company added in-house painting and packaging capabilities to satisfy military specifications and shipping requirements. Loc commissioned the construction of a 250,000-square foot facility in 2002, and in 2012 it renovated 35,000 square feet of office space and dedicated it to product development.
Maddin Hauser Roth & Heller PC
Southfield
www.maddinhauser.com
Maddin Hauser is a multi-specialty law firm serving individuals, businesses and governmental entities throughout Southeast Michigan. The firm, which has roots to 1925, has represented many of its clients for 25 years or more, according to its website. Maddin Hauser says that the containment of legal costs is a high priority. As a midsize law firm — Maddin Hauser has about 40 attorneys — it says that it is able to provide exceptional legal services at hourly rates lower than those charged by larger firms for comparable services. In addition, they have realized cost efficiencies by embracing technological advances in such areas as communications, litigation support, legal research and office operations, the firm says.
Malace HR
Troy
www.malacehr.com
Malace HR offers a comprehensive array of outsourced solutions and consulting services for business staffing and human resource. The Troy-based company's website proclaims it is the leading staffing company in Michigan, Tennessee and South Carolina, providing temporary, permanent, temporary-to-hire and direct-to-hire staffing needs. A specialized business staffing agency, Malace HR offers assistance in all types of niche markets from clerical and administrative job markets to engineering, scientific and technical industries. The company says its methods also set it apart. Malace HR assesses people using various dynamics instead of merely reducing candidates to essential data and information contained in their CVs. "We consider an applicant's overall suitability to a job and organization, ensuring a good fit," Malace HR's website states.
MCM Staffing
Madison Heights
www.mcmstaffing.com
MCM Staffing is a Hispanic and women-owned business offering temporary, temporary-to-hire, contract (benefits and PTO) and direct hire services. MCM was founded in early 2011 by Jorge Morales, a veteran of the staffing industry, and Courtney Morales Hofmann, who has a finance and consulting background and also was integral to the startup of two staffing firms. Hofmann, bilingual in Spanish and English, received the 2013 Entrepreneur of the Year award from the Michigan Hispanic Chamber of Commerce. Based in Madison Heights, MCM serves business in Michigan, Indiana, Ohio and Kentucky, with a focus on the hospitality, call center, administrative function, technical and professional staffing, and light industrial/skilled trades areas, according to the company's website.
Menlo Innovations LLC
Ann Arbor
www.menloinnovations.com
Ann Arbor-based Menlo Innovations likes to say that its mission is to end human suffering in the world as it relates to technology. Clients hire the company to design and build custom software. "We are like a custom homebuilder," CEO Richard Sheridan says. "If you have the house of your dreams in mind, you would want to find an architectural firm, a design firm and a build firm to bring it to life." Menlo says that it does the same thing for software. Ultimately, it says, it creates software that is widely adopted and enjoyably used by their intended end users. It is also passionate about sharing its culture and processes with the world, offering workshops, books and tours to provide insights into its methods. Founded in 2001, Menlo Innovations was inspired by the creative and productive work environment demonstrated at Thomas Edison's Menlo Park, N.J., "Invention Factory." By 2007, Menlo had become one of Inc. 500's fastest-growing privately held firms in the United States, and it has consistently landed on that annual list ever since.
Meritor Inc.
Troy
www.meritor.com
Founded in 1909 as Timken Detroit Axle and now headquartered in Troy, Meritor is a global supplier of drivetrain, mobility, braking and aftermarket solutions for commercial vehicle and industrial markets. The company, whose common stock is traded on the New York Stock Exchange under the ticker symbol MTOR, had sales of $3.7 billion in its 2013 fiscal year, with 57 percent of revenues generated in North America, 21 percent in Europe, 12 percent in South America and 10 percent from the Asia-Pacific region. According to its website, it has more than 9,000 employees across 18 countries.
Merrill Technologies Group
Saginaw
www.merrilltg.com
Merrill Technologies began as small mill in Merrill that specialized in detail work. After it grew by enhancing its machining capabilities and moving into engineering design and special machinery, it relocated to Saginaw in the 1990s. Over the years, it has continued to expand its manufacturing footprint throughout mid-Michigan as it moved into new sectors. Today, Merrill Technologies Group consists of tool and machine, aviation and defense, fabricating, and engineering and integration operations. In addition, its Merrill Institute provides welder qualification and assessment testing to companies locally and globally, according to the company's website.
Mike Morse Law Firm
Southfield
www.855mikewins.com
The Mike Morse Law Firm touts itself as Michigan's largest personal injury firm, with more than $250 million in settlements in the past three years alone. The firm handles cases statewide, with the main office in Southfield. With more than 30 attorneys on staff, it provides what it calls "innovative and aggressive legal representation" for the victims of car accidents, truck accidents, motorcycle accidents, insurance disputes and tort matters.
Munetrix LLC
Auburn Hills
www.munetrix.com
After just five years in business, Auburn Hills-based Munetrix is among the nation's largest aggregators of municipal and school district data, allowing subscribers to view public sector financial and demographic data in an easy-to-understand format and use it to make meaningful and reliable budgets and financial projections. At the same time, there is increasing demand that data serve as the foundation for informed decision-making in governmental organizations, creating what company officials say are unlimited opportunities for Munetrix's growth. "Our key achievement has been gathering information on several thousand municipalities and school districts throughout the country," says Bob Kittle, president and co-founder. "We already have all of this data available for all Michigan school districts, including charter schools, and municipalities. Having such data available positions us to seek new opportunities throughout the country, and we have already signed new clients in Florida, with ongoing expansion discussions in Pennsylvania and Alabama." As for Michigan, Kittle says he's happy to be doing business here. "Overall I'd say Michigan is very small-business friendly, and especially in Oakland County, where colleges are plentiful; the access to young talent is a differentiator," he says.
North American Bancard LLC
Troy
www.nabancard.com
The development of proprietary mobile and tablet solutions for merchants has positioned North American Bancard (NAB) to be flexible and innovative within the payments industry. The company, which employs 754 at its Troy headquarters, says it can customize and enhance its product offering to offer both Web and mobile white-labeled API solutions. This enables its PayAnywhere Storefront to be positioned as stand-alone payment acceptance solution, or to integrate into existing products and applications. NAB has recently undertaken a multimillion-dollar investment in technology, underscoring its commitment to building a strong foundation to sustain growth. It focused on financial reporting, business applications, CRM, database management, business intelligence, risk management systems and customer service and technical support teams. NAB also made three acquisitions last year — Electronic Payment Exchange (EPX), Argus Payments and Rapid Capital Funding, all three of which have enabled NAB to boost its business. "Some companies made the difficult decision to leave Michigan during the recent economic downturn, but for NAB, it was never a consideration – the company was founded here and has been in Troy since its inception in 1992," says Marc Gardner, founder, president and CEO. "We implemented strategies that helped us to not just survive, but thrive, and today we're better than ever. We employ some of the best minds in the payments and credit card processing industries, and are always looking to hire those who will help make NAB one of the best companies not only in Michigan, but in the industry, as well." Broader trends also bode well for the company, he says. "Right now I think the biggest opportunity for NAB is the coming changeover to EMV, which is the standard payment card format in most of the rest of the world," Gardner says. "It is being implemented in the United States beginning on Oct. 1 of this year, not only to make it easier on American travelers overseas but also because it is an effective way to fight credit card fraud."
Open Systems Technologies
Grand Rapids
www.opensystemstech.com
Open Systems Technologies is a technology/IT consulting firm that prides itself on keeping up with or ahead of trends. "However, our 'why' is what makes us unique and, we believe, is our competitive advantage," says Meredith Bronk, CEO and president of the Grand Rapids-based company. "Therefore, as we have gone from about 50 employees in 2011 to 185 today, we feel that investing in our people and, in turn, our culture is priority No. 1." OST has seen growth opportunities in the health care and manufacturing industries in creating custom applications as well as architecting infrastructure. "Just as important, we have focused more and more on how we bring the user experience/human-centered design into all aspects of our work – both internally and externally," Bronk says. "Doing so allows us to offer solutions to our clients that meet the needs of IT, but just as importantly, helps us and our customers understand how to engage and drive value alongside the lines of business of every organization we work with." Not only the business climate but also the overall mindset in Michigan has improved in recent years, Bronk says. "It is refreshing to hear other businesses from both inside and outside the state actively seeking opportunities to reinvest," she says. "From Grand Rapids to Detroit and from the U.P. down to our southern-most border, people generally seem to be proud to be a Michigan-based business and trying to find ways to support one another."
Oxford Companies
Ann Arbor
www.oxfordcompanies.com
The Oxford Companies' business model — to acquire properties with an upside, turn them around and breathe life into them — has been a success over and over, says CEO Jeff Hauptman. "We have a proven track record within our portfolio with an IRR of 18.6 percent for our investors," he says. "Our accounting systems, property management, construction and leasing divisions work as a cohesive whole and we are able to deliver impeccable service to our tenants and clients." With new development still constrained in the commercial real estate industry, acquisition of office buildings has provided growth. In 2014, the company purchased a 25-acre office complex in northeast Ann Arbor, and it is poised to complete another acquisition that is more than three times larger. "This additional square footage, nearly 1 million in total, increases our staff by 25 percent, adds revenue for all of our divisions and allows us to enlarge our impact in the community," Hauptman says. The Ann Arbor-based company employs 52 workers. "Michigan has turned a corner," Hauptman says. "We see the climate changing in the lower vacancy numbers in both office and industrial space, in the vibrancy and bustle of our downtown and the clamor for office space by high-tech businesses. Locally, because the lending climate has become friendlier in the past year, the biggest opportunities for us remain in commercial acquisitions. We will be looking at opportunities beyond the local market, as well, as the office and industrial markets stabilize, high-tech industries continue to expand and opportunities present themselves."
Professional Engineering Associates Inc.
Troy
www.peainc.com
Troy-based Professional Engineering Associates Inc. (PEA) is a consulting engineering firm that provides civil engineering and surveying and landscape architecture along with a full range of specialized services. Serving Southeastern Michigan since 1947, its services have expanded throughout the state and nationally. PEA is registered to provide professional services in more than 20 states through its two Michigan offices. Its website prominently heralds the company's three 2014 Michigan Chapter American Society of Landscape Architects (ASLA) Project Awards, for the Warren Technical Center Walking Path, the McLaren Proton Therapy Center Courtyard Garden and Visitor Entrance at Milford Proving Grounds.
Quantum Compliance
Ann Arbor
www.usequantum.com
Since its founding in 1986 in Ann Arbor, Quantum Compliance has prided itself on remaining on the cutting edge of environmental reporting technology. "We have put in a lot of effort to advance the user interface and experience for our clients," says CEO Jimmy Hsiao. "While environmental, health and safety (EHS) software primarily focus on regulation compliance, we strive to make it a fun experience for the end users." The company is poised to launch a product for small- and medium-sized enterprises, which are often subject to the same regulations as large corporations. "However, due to the cost of EHS management software, they don't always have access to such valuable tools," Hsiao says. "Our goal for 2015 is to launch a software that is a big-company product at a small-company price." Quantum Compliance already is enjoying strong growth in the chemical industry, having added more than 200 clients from the sector in the past year. The company says it is well-positioned in Michigan for future success. "For any business, talent recruitment is one of the most critical factors to be successful." Hsiao says. "Michigan provides the best talent from renowned universities such as the University of Michigan." In addition, as the company expands its footprint into Asia, it is benefiting from Detroit Metropolitan Airport's role as a major Delta Airlines hub, allowing Quantum Compliance officials to travel internationally easily, reducing time and cost.
Ramp Technology Group
Warren
www.rampgroup.com
Ramp Technology Group LLC, which was founded in 2000, says it has developed into a foremost provider of user experience, technology and implementation services by helping to make a client's vision a reality by designing and delivering solutions that work the way people expect them to. "We work with you up front to assess your current situation to determine the approach that best achieves your goals," the company states on its website. "We think of ourselves as your extended team, allowing you to meet your business goals in a more timely and efficient manner." The company is based in Redmond, Wash., and has a Michigan office in Warren.
Roush Enterprises
Livonia
www.roush.com
What began in 1976 as Jack Roush Performance Engineering is now an international provider of automotive engineering and systems integration solutions, with more than 3,000 employees in facilities across the globe. The Livonia-based company says it has grown significantly over the years in direct response to its customers needs. Recognizing that integrated services provide tremendous efficiency and synergy, it has strategically acquired skills and expertise in areas such as advanced composites, body design and engineering, paint and trim services, fabrication, and instrumentation, according to its website. It now serves the alternative fuels, aerospace, automotive, defense, entertainment, oil and gas and renewable energy markets.
Sachse Construction
Detroit
www.sachseconstruction.com
Formed in 1991, Detroit-based Sachse Construction provides commercial construction services throughout North America, from construction management, general contracting and design-build, to tenant coordination, program management and several LEED initiatives. In the past year, Sachse has enjoyed a steady stream of high-profile projects that have provided opportunities for client growth and exposure to prospective clients in various markets, says CEO Todd Sachse. "We've developed relationships with elite retailers such as John Varvatos and Versace," he says. "We also oversaw the tenant coordination of the Mall of San Juan in Puerto Rico for Taubman, and are embarking on a similar partnership with the International Market Place mall in Hawaii. These projects have allowed us to establish strong relationships with various retailers, thus opening the door to new opportunities with companies such as Herve Leger, Williams-Sonoma and Pottery Barn." In Michigan, and specifically the Detroit region, the construction business climate is surging, Sachse says. "The urban renewal Detroit has seen has brought growth in our commercial, retail and multifamily sectors," he says. "That growth has brought many clients asking Sachse to help them join the renaissance. In 2014, we completely transformed 1214 Griswold into the luxury apartment community, The Albert of Capitol Park, and in 2015 we completed the John Varvatos retail store in Downtown Detroit. We are currently completing an extensive rooftop addition to the Detroit Athletic Club, and Meridian Health Plan's headquarters in Compuware. We also broke ground on The Scott at Brush Park — our largest project to date." Sachse says the company's diverse team of 125 employees is also a key to its success. "We pride ourselves in bridging our generational gaps, and leveraging this to provide a strong sense of teamwork within our company," he says. "By employing some of the best and brightest talent throughout North America, Sachse is able to provide exceptional customer service and seamless communication."
Secrest, Wardle, Lynch, Hampton, Truex And Morley
Troy
www.secrestwardle.com
To position itself for continued success during its ongoing growth phase, Secrest, Wardle, Lynch, Hampton, Truex and Morley recently upgraded its technology. New hardware was installed, software programs were updated and all employees took part in training sessions to ensure seamless acclimation to all new features available. The firm, which specializes in defense litigation for insurance, municipal and commercial clients, has 168 employees in three offices: its Troy headquarters and Lansing and Grand Rapids. "Secrest Wardle's best growth opportunity for 2014-2015 has been looking inward to project areas for further growth and expansion in the legal markets our firm continues to do business in," says Senior Partner Bruce A. Truex. "We have responded to the opportunity by developing platforms offering higher value to our clients and employees alike." The firm is optimistic that the business climate in Michigan will continue on its upward trajectory. "The business climate locally is more robust than it has been for many years," says Senior Partner Mark E. Morley. "We believe the resurgence of Detroit, in particular, will have a far-reaching effect not only for businesses and the economy in the metro area, but statewide as well." The firm also is well positioned geographically for success, Morley says. "Our office locations throughout Michigan have placed us in a decidedly advantageous position of being 'halfway to there' for the majority of our clients," he says. "We also believe the talent pool in Michigan is an advantage to doing business here, as Michigan is home to several world-renowned universities and law schools."
Service Express Inc.
Grand Rapids
www.seiservice.com
Service Express Inc., or SEI, started in 1986 as a division of a local IT hardware reseller in Grand Rapids before splitting off and incorporating. Since then, it has been delivering on-site hardware maintenance for mission-critical servers. As a third-party maintenance provider, SEI also provides additional service solutions, including hardware system solutions, sales and upgrades, OS support and data center relocations, according to its website. With the demands of growth and the drive for quality control, SEI opened a central warehouse and training facility in Grand Rapids in 2009. The SEI Distribution & Training Center holds more than 70,000 parts and has 11,000 square feet of training and lab area with a variety of equipment for engineer training and production testing. Today, SEI maintains servers and storage in data centers for hospitals, manufacturing plants, universities, banks, Fortune 500 companies, financial institutions, government agencies and other mid to large companies from 30 offices in 13 states.
SpinDance Inc.
Holland
www.spindance.com
SpinDance was founded in 2000 by Holland residents Mike Ellis and Karl Schripsema. Initially, SpinDance offered a range of software development services, from supporting any phase of product development through end-to-end management of outsourced solutions. The company's first projects included research and development to prove the concept of a new automotive infotainment service for Johnson Controls Inc., according to the SpinDance website. In the years that followed, SpinDance supported numerous projects dealing with system integration and connectivity (Bluetooth, USB, Wi-Fi), primarily in the automotive industry. In 2007, SpinDance moved to the second floor of 238 South River Ave. in downtown Holland. The SpinDance customer base grew, and the company placed a sharper focus on sophisticated embedded systems and integrating these systems with connected consumer products, desktop systems and the Internet. In addition to automotive suppliers, SpinDance implemented touch-screen user interfaces for manufacturers of electronic appliances and lighting control systems. SpinDance acquired a partnering company, Crayon Interface, in 2010, gaining several employees and deeper experience in mobile development and connected vehicle systems, the company's website states. In 2011, SpinDance expanded to occupy the entire building on South River Avenue, and in April 2014 it opened an office in Grand Rapids to expand its engineering team and efficiently serve more customers.
Spud Software Inc.
Grand Blanc
www.spudsoftware.com
Spud Software Inc. boasts that it has come a long way in less than two decades. It started in a basement in Grand Blanc in 1997, and now Spud holds the distinction of being the Flint and Genesee Chamber of Commerce's Small Business of the Year as well as one of Michigan's 50 Companies to Watch in 2015. The company, which specializes in programming, database and software development, says it earned its success by helping other businesses achieve their goals. Company founder Derek Sommer started by providing simple, customized software solutions. Before long, Spud caught the attention of the likes of General Motors and MSX International. To date, the Spud team has worked with more than 200 clients ranging from small, local startup businesses to Fortune 500 companies. Not only is the company growing in Michigan, but it recently added a satellite office in Orlando, Fla. (affectionately referred to as "Spud South.") The company says it software is used in all 50 states and has been written in Spanish, French, German, Italian and Japanese.
Sullivan Ward Asher & Patton PC
Southfield
www.swappc.com
Founded in 1951, Sullivan, Ward, Asher & Patton PC is a business and litigation law firm serving national corporations, businesses of all sizes, families and individuals in a wide variety of legal matters. According to its website, it assists clients across the country from offices in Southfield, Grand Rapids and Chicago. The firm has nearly 50 attorneys who are supported by 45 staff and legal professionals. Sullivan Ward has earned the AV rating for legal excellence by Martindale Hubbell, and several of its members are nationally recognized as among the top practitioners in their fields by The Best Lawyers in America and Thomson Reuters (publishers of Michigan Super Lawyers and Michigan Rising Stars). Sullivan Ward has also achieved Tier One Status in the US News and World Report Ranking.
Superior Extrusion Inc.
Gwinn
www.superiorextrusion.com
Located in Gwinn in the heart of Michigan's Upper Peninsula, near the shores of Lake Superior, Superior Extrusion Inc. proclaims that it is conveniently located to service the entire central United States. Its extrusion plant and corporate office is directly adjacent to the Sawyer International Airport. The company states on its website that it is committed to providing quality extruded aluminum products and related services at competitive prices. SEI was incorporated in August 1996, and on Dec. 15, 1998, it extruded its first profile. Since then, SEI has continued to grow its roster of customers.
Trivalent Group Inc.
Grandville
www.trivalentgroup.com
Client loyalty is a key to success at Trivalent Group Inc., a Grandville managed IT and cloud services company. "In Michigan, trust plays a key role in organizations' choosing which vendors to partner with, especially in regard to IT with the ever-changing technology landscape and the ubiquity of solution providers on the market today," says CEO Larry R. Andrus. "Trivalent might not always be cheaper than the 'big guys,' but our clients (of which more than 128 have been with us for 10 years or longer) trust us to do the job right the first time and for their IT infrastructure to work without them having to think about it so they can focus on their mission, not their technology that powers it." Trivalent, which employs 73 people, recently updated its brand image by redesigning its website with new content and a more modern look and feel. It also enhanced its business development, in part by transferring responsibility for the everyday management of managed services accounts from its salespeople. In addition, recently introduced employee engagement software has increased productivity and reduced turnover by continually engaging the workforce for feedback (with an anonymous option to ensure candid responses). Monthly "Lunches with Larry" offer another opportunity for employees to provide feedback directly to the CEO. "We see our biggest opportunity going forward as expanding our recurring services portfolio, especially with regard to cloud services, as businesses of all sizes gradually embrace the cloud and all of its benefits, including a lower, predictable monthly fee, increased scalability, guaranteed uptime and enhanced security," Andrus says.
U.S. Manufacturing Corp.
Warren
www.usmfg.com
U.S. Manufacturing Corp., which began in 1964 with five employees in a 12,000-square-foot facility in one of the former Packard Buildings in Detroit, is now a Warren-based supplier of extruded tubular products and machined components to the transportation industry. The company's website states that it has pioneered a proprietary cold extrusion process to create variable wall tubing that offers outstanding strength and reduced weight. In addition, it has extensive experience with various welding technologies and precision machining that allows it to support customers with a wide range of products and services, including design and development using the latest C.A.E. tools, production-intent prototype manufacturing and a wide variety of testing and metallurgical analysis capabilities.
Wacker Chemie AG
Adrian
www.wacker.com
Adrian hosts the North American headquarters of Wacker Chemical Corp., part of the German chemical giant Wacker Chemie AG. The Adrian site, which according to the company website employs more than 500 workers, is registered as a foreign trade zone. It is also home to sales and administrative offices, a technical center, logistics and distribution operations, and production facilities for silicone raw materials, fluids and emulsions. The Adrian site is ISO 9001, ISO 14001 and RC14001 registered and observes global chemical industry Responsible Care guidelines, the company says.
Walker-Miller Energy Services LLC
Detroit
www.wmenergy.com
Located in Detroit, Walker-Miller Energy Services LLC is a team of energy experts providing energy efficiency services to decrease consumption, shrinking the carbon footprint and improving air quality, comfort and safety, according to its website. The company provides such services as energy audits for commercial and residential buildings and sustainability program design and management for schools and other institutions. It also supplies products for infrastructure upgrades and replacements that drive long-term efficiencies, including heater control devices and sensors, LED lighting and medium- and high-voltage electrical equipment.
Workforce Software
Livonia
www.workforcesoftware.com
What started as a small, self-funded startup in 1999 has grown and grown, earning accolades along the way from the Deloitte Fast 50, Software Magazine and eight straight years among the Inc. 5000 listing of the fastest-growing private companies in America. Livonia-based WorkForce Software provides a complete suite of workforce management software, including time and attendance, employee scheduling and leave management solutions, to large and growing employers. According to the company's website, it provides functionally deep applications configurable to match clients' business requirements precisely, rather than forcing them to customize or compromise. Though it has been through various iterations, the company's EmpCenter remains its flagship product today. Its user community numbers in the millions and reaches virtually every continent, WorkForce Software says.