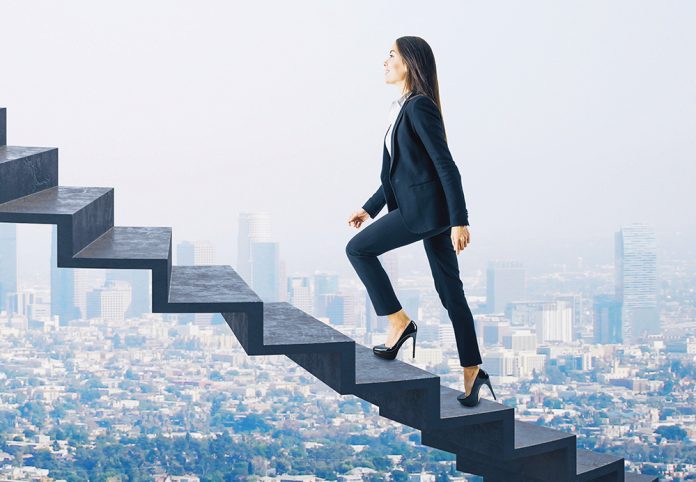 The 2022 Women's Leadership in Michigan's Public Companies report put together by Inforum is designed to show the progress women are making in the C-suites and board rooms of some of Michigan's biggest companies.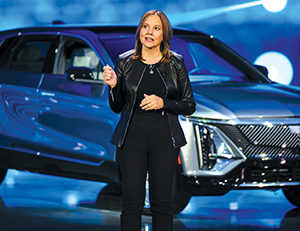 Mary Barra checks both boxes, having served as the CEO at General Motors since 2014 and having been elected as the company's board chair two years later.
But while Barra has been successful — she's the first female CEO of a U.S. automaker and one of five women CEOs in the 82 companies studied in the report — Inforum's biannual study points out that her climb up the corporate ladder isn't necessarily representative of the progress women are making.
The 2022 report shows the percentage of women filling C-suite offices and corporate board chairs in Michigan's public companies has climbed 3% in two years (Inforum combines strategic connections, proven professional development programs, a respected forum for new ideas, and original research to accelerate careers for women).
"I think about my own career, which was made possible by leaders who many years ago saw the benefits of a diverse workforce," Barra said in remarks provided to Corp! Magazine. "Their thoughtful focus made it possible for women like me to pursue opportunities that were not available in the past.
"Today, we are doing a better job of giving all employees the opportunity to achieve their full potential and advance through the leadership pipeline," she added. We are making progress, but … we all still have work to do."
The 2022 Women's Leadership in Michigan's Public Companies report put together by Inforum is a bit of a mixed bag for Terry Barclay.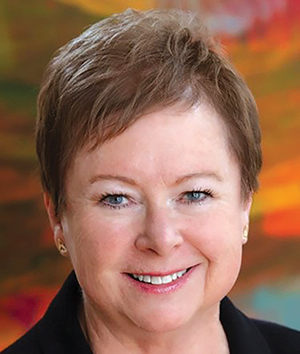 Barclay, Inforum's president and CEO, is encouraged by the fact the bi-annual percentage of women filling C-suite offices and corporate board chairs in Michigan's public companies has climbed 3% in two years.
There's a flip side to that, though: while a 3% jump is heartening, it still only leaves the overall percentage of women in leadership roles at Michigan's 82 largest public companies at 24%.
"There is encouraging news, there is progress," said Barclay, who has a bachelor's degree in urban studies from the College of Wooster (Ohio) and an MBA from the University of Michigan. "A 3-percentage point jump in two years is significant. We're really seeing an improvement there.
"But it's not fast enough, given the talent pool that's out there," she added. "The report highlights the opportunity."
Less encouraging to Barclay is the progress of women of color. Just 2.8% of all named-executive and board of directors seats are filled with women of color, according to Inforum.
That's not new, though; Barclay says that number really hasn't shifted since Inforum first started collecting data on women of color in 2007 (companies weren't required to report diversity statistics before then, according to Barclay).
Other research shows perhaps some of the reasons why the numbers haven't moved for women of color. McKinsey & Company, a global management consulting firm that advises on strategic management to corporations, governments, and other organizations, does an annual Women in the Workplace study. Its 2021 report, released last fall, reported women of color are being promoted at an even lower rate than white women and men of color.
According to McKinsey's report, women of color make up 17% of entry-level workforces; by the time you get to the C-suite, that number drops to 4%.
"Women continue to face a 'broken rung' at the first step" up to manager, according to the McKinsey report. For every 100 men promoted to manager, only 86 women are promoted.
"As a result, men outnumber women significantly at the manager level, which means that there are far fewer women to promote to higher levels," the report said. "The broken rung likely explains why representation of women at the senior-manager, director, and vice-president levels has improved more slowly than the pipeline overall."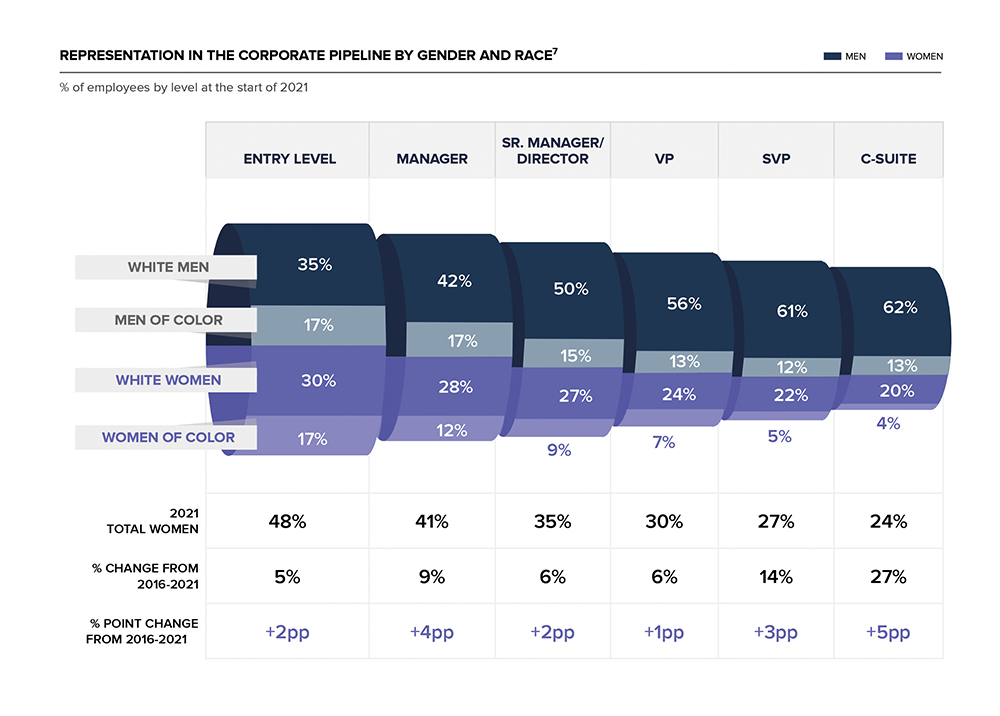 Barclay calls the women-of-color data, Inforum's "most disturbing" statistic.
"Those numbers have barely moved in two decades," she said. "The pool of qualified board directors would come from the C-suites of the companies, and progress is slow there. That (2.8%) is not a good number."
Kenneth Kelly, chairman of the board and CEO of minority-owned First Independence Bank, said the board room he sits in is largely represented by minorities. Other rooms are not quite that way.
In the room that I sit in, there are many people of color around the table," said Kelly, speaking during a webinar on the topic sponsored by the National Association for Business Resources in conjunction with Corp! Magazine. "But when I'm in other spaces, sitting on boards, it is often that I am 'one-of-the-only," so to speak.
"That is something I think is challenging for us in this country," he added. "What I have seen is the best of teams really come from individuals having just a little bit different viewpoint that you can vet properly without worrying about retaliation and coming to the right conclusion."
The Inforum report shows some progress for women. For instance:
• 14% of the named-executive officers are women.
• Of the 82 companies in Inforum's study, women hold CEO positions in five.
The improvement is coming — albeit slowly — because of some "carrot and stick" initiatives that include pressure from investors and regulatory components.
For example, Barclay pointed out, public company governance is really tracked, regulated and incentivized by government and by institutional investors:
a. Proxy voting guidelines by investment managers like BlackRock, which focus on a company's diversity.
b. Goldman Sachs announced in 2020 that it would only underwrite IPOs that had at least one diverse director.
c. The SEC's approval in 2021 of a NASDAQ rule that would require its members to have at least one woman on the board, along with requiring disclosure of the demographic breakdown.
"What really seems to be the force behind picking up speed is where there are incentives and that pull from the investor community to say, 'We're going to think twice about buying your stock if we don't see some differences here,'" Barclay said.
The "carrot and stick" approach is necessary, Barclay believes, because "we've been at this two decades … there's a body of research that shows company performance is better when there's diverse leadership," she said. "That link keeps getting reinforced … there's been a lot of research that shows that."
Ron Llewellyn, corporate counsel for Fenwick & West, LLP, a California-based legal services firm, pointed out there's been a lot of conversation about diversity the last few years.
The pressure, Llwellyn told the NABR webinar audience, is coming from a number of stakeholders, including investors, customers and employees, as well as the communities in which businesses operate.
"It's something a lot of constituents care about, so companies can't afford to ignore this very important issue," Llewellyn said. "Proponents of board diversity say diverse boards have better outcomes, they're more profitable, and they are more sustainable in the long run.
"When you have these large, important investors putting pressure on these companies … it's something companies can't duck."
One of the things slowing progress for women on the national playing field is what is described as "the funnel" in the McKinsey report. In its 2021 report, McKinsey points out that 47% of entry-level positions are held by women and that percentage starts dropping the further up the ladder you go.
It drops to 38% at the manager level, 33% at the director level, 29% at vice president, 28% at senior vice president and 21% at the C-suite level.
The talent pipeline can be a concern and still needs "serious attention," according to Barclay. McKinsey's research digs deep into the talent pipeline issues. It was McKinsey that coined the phrase "the broken rung."
The playing field is level — and there's gender balance — at the entry level. That begins to bifurcate with the very first promotion. There are fewer women who make that first promotion to their second role than men.
"What you end up with over time is that funnel, which shows you what happens, how it narrows over time," Barclay explained. "We have many of the usual issues at play there and there's a great variety of research that shows the importance of getting profit and loss experience, being in a role where you are responsible for the bottom line … where you actually have experience meeting a budget.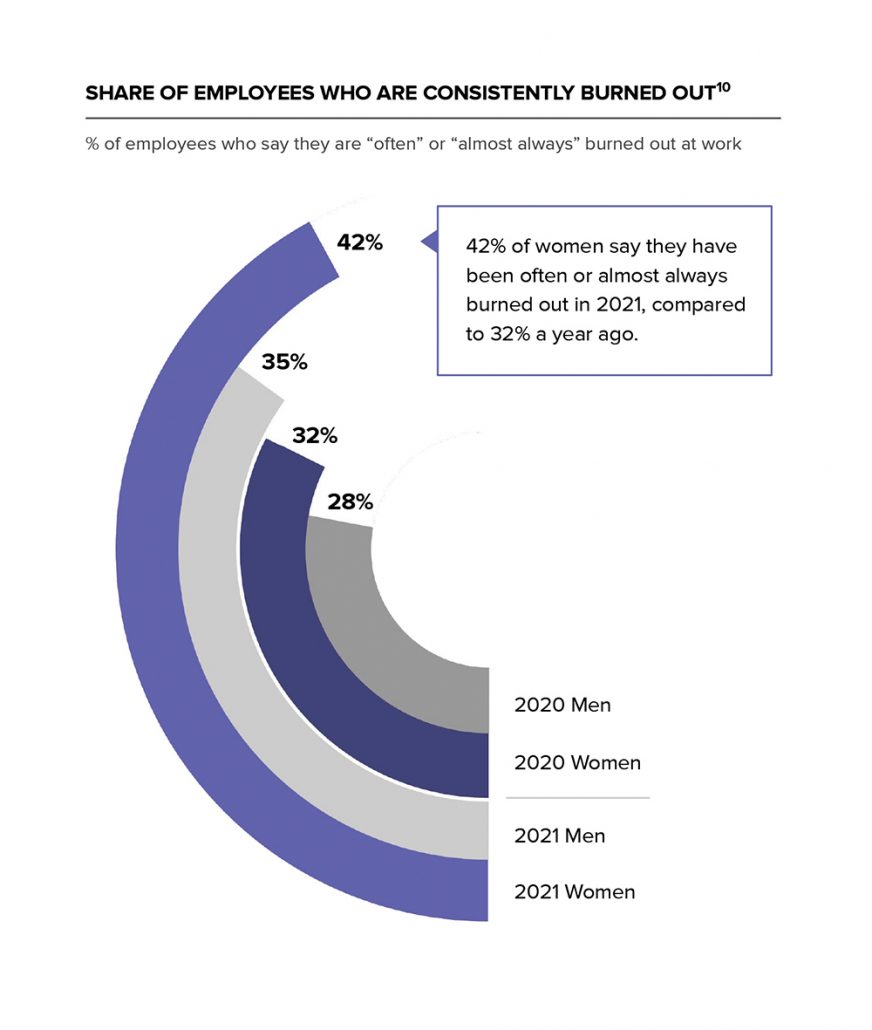 "It's important to get that experience all the way along in your career, and we see that women tend to be concentrated in supporting kinds of functions rather than operating functions in companies," she added. "There's no reason for that to occur."
Kelly told the webinar audience the fact there are barriers to advancement "is just a truth," and accepting the fact makes it easier to figure out how to mitigate them.
"We have to accept the reality that all of those intersections create barriers," he said. "Once we do that you can think of how to mitigate that barrier in such a way that it doesn't prevent you from getting to where you want to go."
One way to help people avoid the funnel might be to prepare them for advancement in the beginning, education stage.
Cheri DeClercq is the assistant dean-MBA programs for the Michigan State University Broad School of Business. She told the NABR webinar audience the school is taking the opportunity to "mold our young professionals."
"One of the things we take very seriously is the fact we have the opporunity and the responsibility to be shaping the future of what's going on in leadership in businesses and other organizations," DeClercq said. "This is a really important aspect of what we're trying to do. It's also helping to make sure our faculty and staff are thinking about the classroom experiences in a way that is inclusive."
Perhaps one of the reasons for Barra's success was that she didn't get caught in the funnel. She moved through various departments and job descriptions as she climbed GM's ladder and was given the chance to succeed at each level.
"When I became CEO of General Motors … I was taken aback that so much attention was paid to my being the first female CEO of an automaker and I came to the conclusion that perceptions of the auto industry were outdated and, in some cases, inaccurate," Barra said. "Being given the opportunity to earn my MBA and broaden my skills by working in different areas of the company, as well as being challenged to take on tough assignments, such as managing an assembly plant, opened the doors of opportunity for me.
"I was given the kind of candid advice and feedback that helped me grow and, equally important, I was also supported in my decision to start a family," she added.
Barclay said the kind of coaching women like Barra — a former member of the Inforum Board of Directors — get can make a difference.
"(Barra's) career was not linear … She was very deliberately moved around the company, had a variety of roles that allowed her to learn the entire enterprise," Barclay pointed out. "When she was on our board, for example, she was the global head of human resources. Well, Mary is an engineer with a degree from Kettering, but she had an opportunity to make moves that a lot of people would have said, 'you're getting sidetracked, … why are you doing that?'
"But it was very strategic. I think we need more of that kind of coaching and guidance to help push talent through that pipeline."
Women show another trait that isn't quite as obvious in their male counterparts: they're burned out.
According to the McKinsey study, the number of women who say they're burned out went up from the previous year. In the past year, according to the study, 1-in-3 women has considered leaving the workforce or downshifting their careers, a significant increase from 1-in-4 in the first few months of the COVID-19 pandemic.
According to the study, 42% of women said they were either "often" or "almost always" burned out in 2021, compared to just 32% the previous year.
Among men, those numbers are smaller: 35% in 2021, 28% in 2020.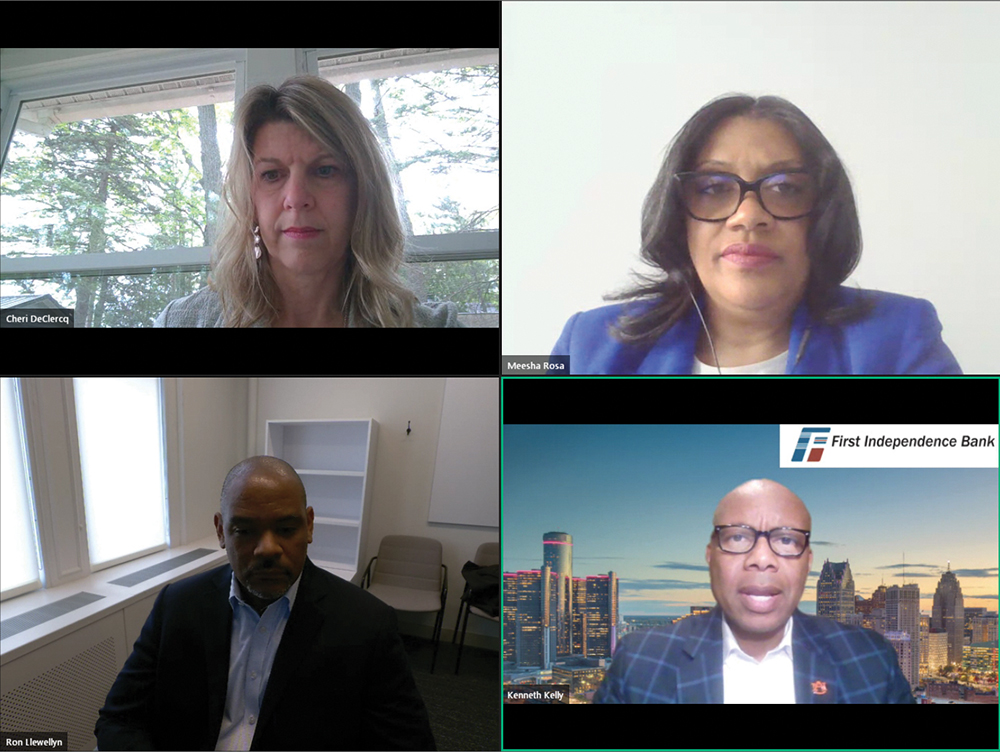 "It's the only time I've ever seriously considered a less demanding job," an unnamed female senior vice president told McKinsey, according to the study. "I interviewed for a job with another company. I just felt burned out so often. I probably cried more days than not. I felt caught in the middle of everyone's emotional responses. I had to be the voice for a lot of different people, some of it was my job and some of it wasn't. It was the hardest working year of my life."
Other, more positive numbers show progress, according to McKinsey:
• There are 41 women CEOs at Fortune 500 companies, up from 34 in 2020.
• There are 30 women CEOs at S&P 500 companies, up from 26 in 2020.
• Women make up some 30% of S&P 500 company boards.
Meanwhile, Inforum tracks what it calls "Triple Check" and "Triple Zero" companies among the 82 public companies it surveyed in Michigan in 2021. Triple Check companies have women in three positions: executive officers, named-executive officers and directors. Triple Zero companies, conversely, have women in none of the three.
In 2021, 39% of the 82 Michigan companies were Triple Check; 7% were Triple Zero.
The top Michigan companies in terms of diversity included General Motors (it's the only automotive company on the Triple Check tier) and Steelcase Inc., both with 58% of women on boards; La-Z-Boy (50%), MillerKnoll Inc. (46%) and Rocket Companies Inc. (43%) round out the top five.
And Barclay points out that increasing the diversity in leadership isn't just a gender issue. It's a business issue. A study by EY and The Peterson Institute for International Economics showed that companies that have diversity in their leadership ranks were 6% more profitable than companies that didn't.
"If someone showed up at your business and said, 'I can add 6% to your bottom line,' would you listen to that?" Barclay said.
But she says the importance of having more women represented in corporate leadership is also about businesses taking advantage of the role women play in the economy.
"Women are consumers; women in many cases are the ultimate consumers of the products and services that companies are producing," Barclay said. "Women are key wage-earners and supporters of families. Having that voice at the table is really important to the future.
"I don't know a parent who doesn't believe that the sky should be the limit for their daughters," she added. "This is really about the American dream and creating that possibility."
Once in the board room — for women, people of color and any other minorities — the key, according to Kelly, is to make the most of it. It doesn't do anyone any good to reach the board room and then not contribute.
That's not easy to do, at first.
"You have to build credibility and it takes time to do that," he said. "You can't expect to walk in and just say, 'I'm going to demand this, this and this.'
"You have to win friends and influence others, so to speak," he added. "If you've been invited to the table, you've been invited for a reason. Find a way to make your point to ensure you're bringing value."