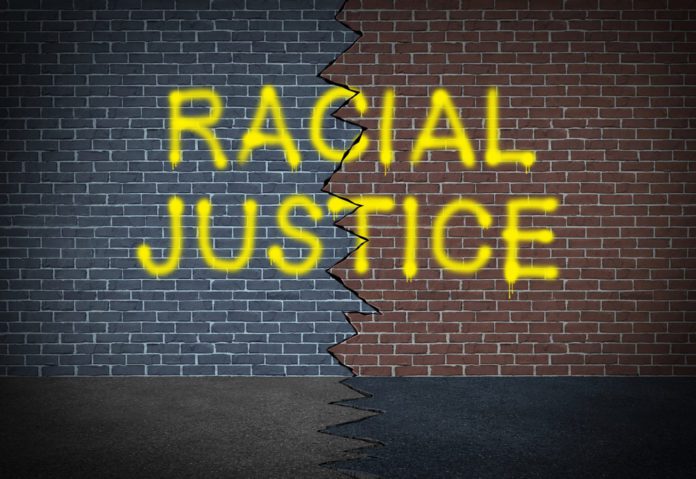 Portia Roberson remembers the 2014 shooting of 12-year-old Tamir Rice, an African-American boy shot by a police officer while wielding a toy gun in Cleveland, Ohio.

She remembers thinking at the time that it was something "we as a collective nation" would not get past, a young boy doing something "all young boys, and frankly some young girls" do.
Then came George Floyd, killed beneath the knee of a Minneapolis police officer in May. An 8:46 minute video of the incident emerged and sparked a spate of protests around the country, and what some have called the largest civil rights movement in history.
And experts are noticing that, this time, it's not just people of color doing the protesting. A diverse group of demonstrators has been turning out for marches since Floyd's death.
"This has been a different movement than what we've seen before," said Roberson, Chief Executive Officer of Focus: HOPE. "I thought the killing of (Rice) would be the thing that shocked me more than anything. But to see George Floyd, it literally took everyone's breath away. It's inspiring seeing that many people are coming to this movement because they want real change now."
That movement, and how businesses and local communities can help in the movement for changes in racial inequity, were the topics of discussion during a national town hall hosted Wednesday by the Best & Brightest Companies.
Roberson, who majored in English at the University of Michigan, and holds a Juris Doctorate from Wayne State University Law School and was previously Group Executive of the City of Detroit's Civil Rights, Inclusion and Opportunity Department, moderated the discussion of how business leaders can navigate the civil unrest facing the nation.
The panel featured:
Lorraine Cochran-Johnson, a commissioner for Super District 7 in DeKalb County, Georgia. Cochran-Johnson earned a bachelor's degree in political science and criminal justice from Troy University, master's degrees in administration of criminal justice and in public administration from Auburn University, and attended John Marshall Law School. She represents more than 350,000 constituents.
Robert Lewis, Jr., founder and president of The BASE, a Boston organization that engages and supports a growing number of student-athletes and coaches … and has built strong relationships with diverse leaders and institutions committed to changing minds, lives and the status quo. Lewis is a sought-after speaker on urban issues and opportunities.
Nikki Pardo, founder of Global Alliance Solutions, a consulting company that offers simulation-based customized diversity training for corporations, non-profit agencies, school districts, and law enforcement agencies. She also is co-founder of The Pack, a community-based project that hosts conversations linked to inclusion, equity and community throughout Detroit.
Donnell White, senior vice president, chief diversity officer and director of Strategic Partnerships for TCF National Bank. He has also served as executive director of the Detroit Branch National Association for the Advancement of Colored People (NAACP), where he helped lead the organization's largest local branch – also one of its oldest and most storied branches.
The discussion in the 90-minute forum centered around how business and community leaders can get involved, and even lead, the discussion around racial justice.

Cochran-Johnson said it all needs to start with honest conversations.
"Often when we engage in critical conscious conversation, I've found it can help create new windows of opportunity that may not have been traditional," she said. "A large part of the social unrest we're seeing as we deal not only with a global pandemic but also unprecedented social unrest … is going to come down to critical conversations, basing information on fact because people lie and numbers don't, so that we can acknowledge what we have overlooked for too long. The day is no longer present when you can tell us that we did not see what we saw."
So where does the conversation move from here? How can cities advance racial equity within their communities? Lewis remembers in the 1970s, when he said Boston was a "city up in flames." He remembers his home – in public housing in an all-white community – being firebombed.
"Folks in Boston said that was going to be a moment of change," Lewis said. "It's taking too long."
More: Order Closes Lower Michigan Bars to Indoor Service
More: School Roadmap Directs Districts to Develop Return to School Plans
More: Governor, GOP Reach Agreement to Balance Budget

He does point out the advancements he believes the city has made. For instance, the police commissioner, he said, is an African-American, as is the superintendent of schools. For what Lewis said is the first time, Boston's city council is made up of a majority of women, including the chair.
Now, he said, they've got to work on young people.
"We've got to get our young people into C-suites, visiting corporate downtown, to see that this city and community belongs to them," Lewis said. "When we can bring government, business and community, as well as academia, together and collectively and strategically really thinking about change.
"It's more than all of these companies standing together and saying 'I stand with Black Lives Matter,'" he said. "You can say it, but will you stay with it?"
Cochran-Johnson said governments don't pay enough attention to detail. It's about having fair laws in place, and making sure the right people have roles in crafting them.
"We don't understand consequences, nor do we take the deep dive into policy," she said. "As an elected official, it's important who has a seat at the table. Often we have policy created by people who are not black or brown and there is no conversation. It's time to move away from that."
Part of that move, panelists agreed, was for companies to develop specific plans to ensure a diverse group of employees end up in the C-Suite. White said cues from inside companies are "taken from the top," and that core missions, vision statements, etc., have to become "ingrained in who you are" as a corporate entity.
"We need to look at diversity and inclusion efforts much like we do any other line of business items," White said. "You put resources behind it, you hire talent associated with the task, and you commit and cascade to the work from the board … in order to make that happen, we have to have that conversation about representation."

Pardo told a cautionary tale about an automotive company who recognized its leadership was not diverse and, in Pardo's words, "panicked." They sent their Black "soldiers" out with a mission, she said: Recruit Black leadership.
"They brought senior leadership to Michigan, and it backfired because there was no integration process in place," Pardo recalled. "They catapulted these employees into leadership roles, and they weren't ready. It was a nightmare."
So how should companies be talking to their Black employees? Lewis said he's been getting an increasing number of calls from white business leaders since the Floyd protests began, asking, "What do I do? What do I say?"
His advice? Ask yourself if you really want to have the talk.
"The first question I've asked some of them is, 'Are you willing to have this conversation?'" Lewis said. "What I found is a lot of folks instinctively want to care, but they don't know how or what they should do. What most do is they call one or two of their black friends, or someone they know.
"What we said to the business community is 'you have to understand, and you actually have to go out and talk to the folks in your company who are Black and ask them what they think," Lewis added. "There needs to be a commitment of intentionally that this is important. It has to be something that's intentional, and it also has to be something that's sustained."

In trying to get that diversity and inclusion element established, White said, companies have to understand "they don't have to walk this journey alone."
"There's been substantive work in the D&I space over the last five or six decades you can point to," he said. "In the banking community, we talk about D&I as the key driver behind innovation, profitability and sustainability as a company. It's great for people empowerment, but you can't overlook the benefits, the statistical data that supports it for a business imperative. If you want to outperform your peers, this is a space you have to be in."
First, though, according to Pardo, companies have to overcome the fear of getting started.
"People are scared," she said. "Everything is so charged right now, it's so heightened, they don't know what to say. They're so petrified of making the wrong move, they kind of fall back."
Everyone agreed this movement looks different, and had opinions about how to give it some legs. Companies are coming out with statements about how they'll support the Black Lives Matter Movement, and policies are changing.
White called it "clearly a call to action," and points out there's place in the conversation for everyone: C-Suite executives, leadership teams and front-line workers. He said the Black community has seen this before – "As we look back through the annals of history we've found instances of moments that happened that we believe should have risen to the level of a movement, but the next shiny object captured our attention," he said – but he thinks this one could be different.
"If the march on Selma can lead to the Voting Rights Act, and Rosa Parks can lead to the Civil Rights Act, the question becomes what can that 8:46 lead to?" he asked, referring to the length of the video of Floyd's death. "The faces of the movement look different. The channels of the movement look different. Corporate America is using words and terms that historically have not found breath in corporate communications. It's a very unique moment."
Cochran-Johnson, who hails from Greenville, Ala., said she grew up with a grandfather, uncles, southern Baptist ministers and others all involved on the front lines of the 1960s-era civil rights movement.
Five decades later, she said, a very small number of African-Americans are represented in corporate C-Suites.
"It's been 56 years ago, and we're talking about C-Suite that has less than 3% representation of African-Americans," she said. "Here in DeKalb county, we're the second largest pocket of African-American wealth in the U.S. (behind Prince Georges County, Md., she said), but if you drive through our community, we look nothing like who we are.
"We have not, because we own not," she added. "It's time we stopped waiting for miracles. In 56 years, if this is what it's gotten us, it's time we rethink how we do business."