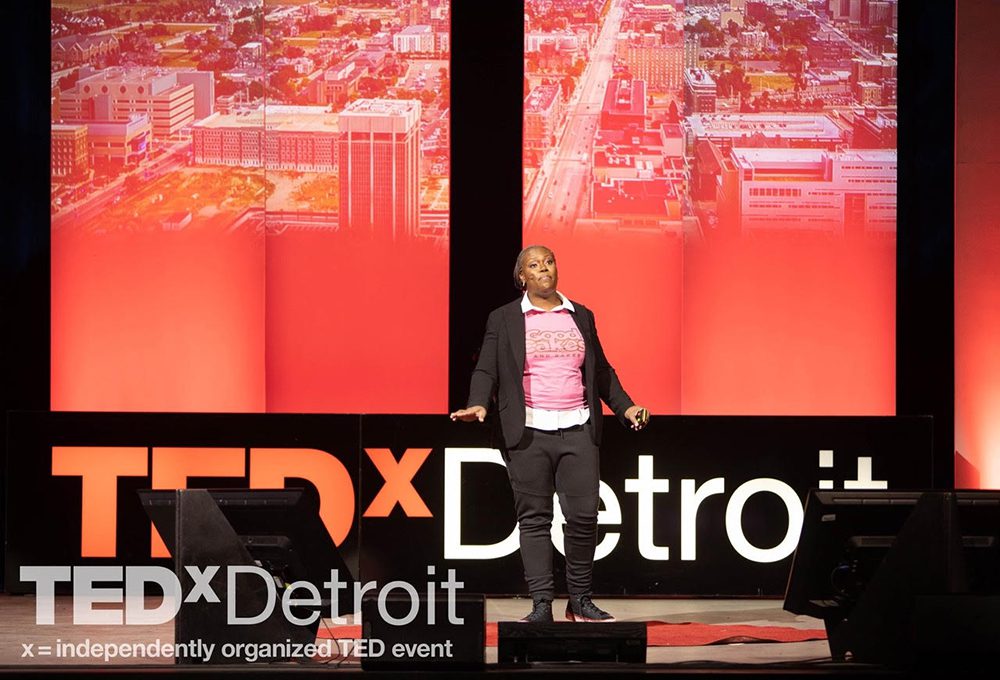 TEDxDetroit has long been one of the most entertaining and essential tickets to have if you're an entrepreneur or innovator in Metro Detroit. Now, because of coronavirus, the event will be available for all.
For its 12th year, to ensure the safety of all involved, the highly anticipated event has pivoted to a new format and will go virtual. Also, for the first time, registration will be free of charge to all who attend.
"The virtual nature of this year's event will allow for experiences we couldn't even dream of – with everyone being in one place," said Terry Bean, executive producer. "We're thrilled to be exploring the possibilities and excited to be making this event so widely available."
Though the experience will look and feel a little different this year, the virtual format affords access to speakers who have not been available to appear previously.
Among the new-to-TEDxDetroit featured speakers, you'll find creatives like Al Jean, a Farmington Hills native and screenwriter best known for his work as executive producer of The Simpsons and Journalist LZ Granderson of ESPN and CNN plus great entrepreneurial minds like Yelitsa Jean-Charles, founder of Healthy Roots Dolls, Jillian Blackwell, enterprise cloud consultant with AWS and Andy Didorosi, founder of Detroit Bus Company and newly-developed Detroit Hand Sanitizer Company.
Organizers and sponsors are working hard to make the experience more personal and meaningful to all who join the online event this year.
"Twenty-twenty has pushed us harder than ever before to be more creative and innovative," said Mat Ishbia, president and CEO of United Shore. "Sharing ideas and pushing the envelope has never been more important and United Shore is proud to be part of TEDxDetroit."
As in years past, TEDxDetroit will feature three sessions of content. This year's virtual format provides the flexibility to try some new ideas. Speakers are free from the confines of the stage, so we may see new locations highlighted in their talks. Attendees will have an opportunity to dive deeper with live Q&A sessions. And we'll check in with previous TEDx presenters for updates on their ideas worth spreading. It's all designed to bring speakers and attendees closer together, even when we're physically farther apart.
The program will run as follows:
Session 1: Tune in from 10-11:30 a.m.
Session 2: Tune in from 2 to 3:30 p.m.
Session 3: Tune in 8-9:30 p.m.
The speaker list will be announced closer to the event date as programming is finalized. TED is an acronym for technology, entertainment and design – three fields that spur innovation across the economy. TEDxDetroit operates at the local level under a license granted by TED, an idea conference that originated in 1984 in California.
TEDxDetroit has previously featured such notable speakers as Humanitarian Najah Bazzy of Zaman International, Pixar Director Jim Murphy, NASA planetary scientist Cathy Olkin, Oscar and Grammy-winning composer Luis Resto, Graphic Designer Aaron Draplin, journalists like Fox 2 Detroit's Lee Thomas and Roop Raj, former ESPN anchor Jemele Hill and TV personalities from Rehab Addict's Nicole Curtis to Dr. Partha Nandi of Ask Dr. Nandi.
Register now to attend the first free and fully virtual TEDxDetroit presented by United Shore at tedxdetroit.com.