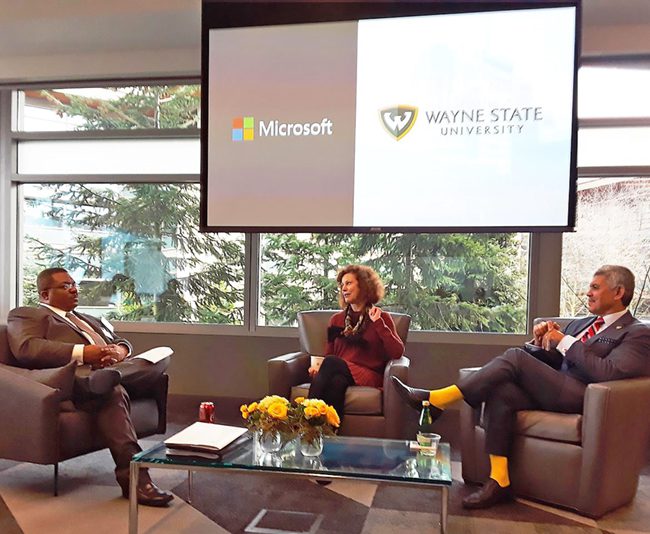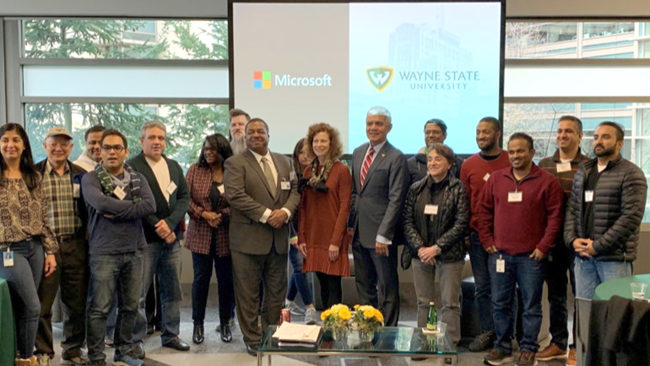 When Microsoft Corp. moved into Detroit, the tech giant looked around for partners to work with in hopes of expanding its reach across the Motor City. One of its most recent relationships is with Wayne State University, and the two are creating a new employee skills program that promises to help students, companies and, most of all, the city itself.
For the past 18 months, Wayne State and Microsoft officials sat down together to talk about what its students needed, what the community wanted and what was possible between the educational institution and Microsoft's vast network of resources, explained WSU Provost Keith Whitfield.
"We were trying to identify points where our premiere research university aligned with what they were doing in terms of fostering education in 21st century learners," Whitfield said. "We talked about so many possibilities."
The result is a new partnership to pilot what the two are calling an employability skills program. The program's goal is to create job-ready, employable talent in the form of WSU students for jobs that are in high demand locally and nationally. These include careers in cloud computing, data analytics, cybersecurity, AI (artificial intelligence) engineering and more.
Putting people and technology together in a way that bolsters Michigan and, specifically, Detroit's economy is one of the desired outcomes, Whitfield said. As the pilot program progresses, both parties hope to create a talent pipeline to strengthen Detroit, its residents and its overall potential during its ongoing revitalization, he added.
"Student success and employability are tied together," Whitfield said. "We want our students to reach their graduation day, and we also want them to have great jobs to go to the following week. Moreover, we want the businesses and industries in Detroit and Michigan to view our graduates as integral to their growth and success. This pilot program with Microsoft helps us institutionalize our efforts and ensure our graduates are ready for 21st-century jobs."
This kind of pilot program and outreach will eliminate the so-called Brain Drain and create "a brain gain," Whitfield added.
"We're just really excited," he said. "Our students tend to stay in Michigan. … We want to teach them to be digitally literate in part so they can continue to learn the skills they'll need over a lifetime."
The program extends Microsoft's commitment to the city. In spring 2018, the company opened a Microsoft Technology Center in downtown Detroit to serve as its Great Lakes regional headquarters, and LinkedIn (owned by Microsoft) secured a permanent office downtown to meet the needs of its expanded team.
In 2018, Wayne State and Microsoft launched several programs in Detroit, including a technology curriculum for teachers and students through the Microsoft Imagine Academy and a pilot program in partnership with Grow Detroit's Young Talent, a citywide summer jobs program. Microsoft also supplied HoloLens technology to Wayne State that was used in recruiting efforts for the School of Medicine and will be used to enhance classes and simulation labs with virtual reality and augmented reality learning experiences.
Future projects include a technology skills camp for high school students at Wayne State's Mike Ilitch School of Business; TEALS (Technology Education and Literacy in Schools), a Microsoft program to increase youth access to computer science and computer engineering education; and enhancements to Wayne State's existing K-12 STEM learning initiatives in the College of Engineering.
The Microsoft partnership also will provide Wayne State students with the Microsoft Professional Program curriculum to enhance students' knowledge with up-to-date technical skills that will make them more valuable to potential employers.
"This is about employability, having those kinds of skills makes you more competitive in the workplace and that's our goal," Whitfield said. "We're trying to make sure that we give (students) all the skills that people need to create a better life for themselves."