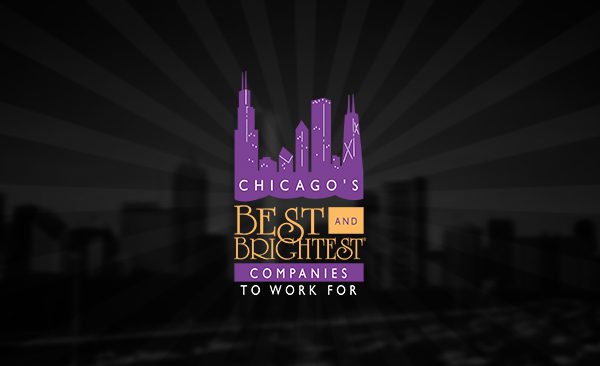 Every year, the top companies in the Chicago area contend for the right to be named the National Association for Business Resources Best and Brightest Companies to Work For.
This year was no different, and the NABR honored dozens of winners earlier this month.
"These 2022 winning organizations have stood out during unpredictable times and have proven they are an employer of choice," said Jennifer Kluge, President and CEO of NABR and the Bet and Brightest Program. "They continue to keep the needs of their employees first and provide perks that include, development, wellbeing, work-life balance, rewards and recognition. In addition these winning companies offer a fantastic work culture and workplace environment that attracts and retains superior employees."
The winning companies were assessed by an independent research firm, which reviewed several key measures relative to other nationally recognized winners. The categories applicants were scored on include: Compensation, Benefits and Employee Solutions; Creative, Wellness and Wellbeing Solutions, Employee Enrichment, Engagement and Retention; Employee Education and Development; Recruitment and Selection; Employee Achievement and Recognition; Communication and Shared Vision; Diversity, Equity and Inclusion; Work-Life Blend; Community Initiatives and Corporate Responsibility; and Leadership, Strategy and Company Performance.
Here's a shout-out to Chicago's 2022 Best and Brightest Companies:
AANA
Ace Metal Crafts Co
Adage Technologies
American Academy of Orthopaedic Surgeons
American Academy of Pediatrics
American Society of Anesthesiologists
ARCO/Murray
Ascendo Resources
Aspire
Associa Chicagoland
Assurance, a Marsh & McLennan Agency LLC company
Astronics CSC
Automated Business Designs
Bales Metal Surface Solutions
BCD International
Bluco
Brilliant
Bronswick Benjamin PC
Brose Belvidere
Burwood Group Inc
C-4 Analytics
CapGrow Partners
CBIZ
City Staffing
CKL Engineers LLC
Comcast
CoreFX Ingredients
CoSourcing Partners LLC
Daugherty Business Solutions
Deft
Digital Third Coast
Donlen, LLC
DragonSpears
Echo Global Logistics, Inc.
Echogravity
Edlong
Emkay Inc
Entara
Epitec
Ergoseal, Inc.
Evention LLC
Fellowes Brands
Finished Basement Company
Flexco
FONA International Inc.
Framework IT
Frank Recruitment Group
Fusion92
Genesis Technologies
Ghafari Associates, LLC
HealthScape Advisors
HED
Helping Hand Center
Honigman LLP
HydraForce Inc
Impact Networking LLC
Incredible Technologies
Instant Alliance
International Contractors Inc
Jabian Consulting
JMJ Phillip Executive Search
KDM Engineering
KemperLesnik
Kforce Professional Staffing
KRD, Ltd.
Lakeshore Recycling Systems LLC
LaSalle Network
Loberg Construction
Loma Systems
Merchants Fleet
Milhouse Engineering and Construction Inc
Morae Global
Mortenson Construction
Motivation Excellence
Motor Werks of Barrington
National Equity Fund Inc
National Futures Association
Navigate
Neighborhoods.com
Network Distribution
Next College Student Athlete (NCSA)
Nitel
NOW Health Group, Inc.
nvisia
Objective Paradigm
Office Revolution
Omron Automation
Omron Healthcare Inc
OneDigital Health & Benefits
Origami Risk
ParaRev
Parasol Alliance
Paylocity Corp
PBD Worldwide
Per Se Group
Perficient
Peterson Technology Partners
Phaidon International
Plexus Corp
Porcaro Stolarek Mete Partners
Prinova USA, a NAGASE Group Company
Prominence Advisors
Protiviti
Radio Flyer Inc
RAPP
RATIONAL Cooking Systems, Inc.
Red Caffeine
Redwood Logistics
Riskonnect, Inc.
Royal Cyber
Salo LLC
Sassetti LLC
Savills
Service Express
Shop Smart, LLC
Shure Incorporated
Signature Bank – Chicago
Soliant Consulting
Soulsight
Strive Consulting
Swoon
The Dagaz Group
The Mx Group
The Pepper Group
The Salem Group
Thresholds
Total Quality Logistics
Tovar Snow Professionals LLC
Trilogy Behavioral Healthcare
Trilogy Real Estate Group, LLC
Turner Construction Company
Verve, a Credit Union
Wespath Benefits and Investments
Wheels, Inc.
Wi-Tronix, LLC
WOW! Internet and Cable
Zeigler Auto Group
The Best and Brightest is a powerful community of the nation's elite leaders who share ideas, practices, and have proven they are employers of choice. With over 20 years of experience conducting the Best and Brightest competitions, the NABR has identified numerous best Human Resource practices and provided benchmarking for companies that continue to be leaders in employment standards.