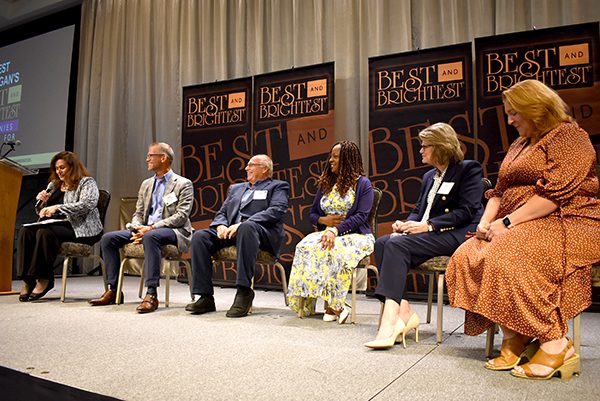 Like every other family that had to navigate work, home and school schedules when businesses shut down during the COVID-19 pandemic, TaRita Johnson's children had to deal with, among other problems, school buses not running.
It was up to Johnson to make arrangements to compensate for that.
"My kids … every other week there was a (school) bus that wasn't working, but I have to work a job," said Johnson, senior vice president for talent and diversity for The Right Place, the Grand Rapids, Mich.-based economic development organization. "But I have a job that can work with me and give me flexibility.
"There are a lot of folks who don't have that flexibility," she added. "So if that bus isn't available, they just don't work."
Flexibility of schedule is one of the biggest challenges facing companies struggling to fill jobs as the pandemic drones on. That was clear, listening to a panel of experts taking part in a town hall-style discussion at the West Michigan Best and Brightest Companies to Work® For ceremony recently in Hudsonville.
Hosted by the National Association for Business Resources and the Best and Brightest Program, the event featured hundreds of the top businesses in West Michigan and drew some 300 participants.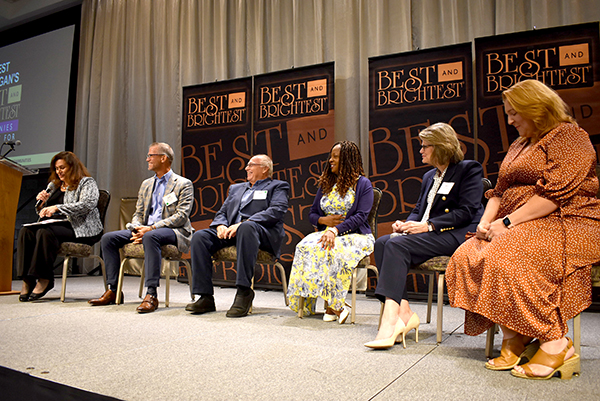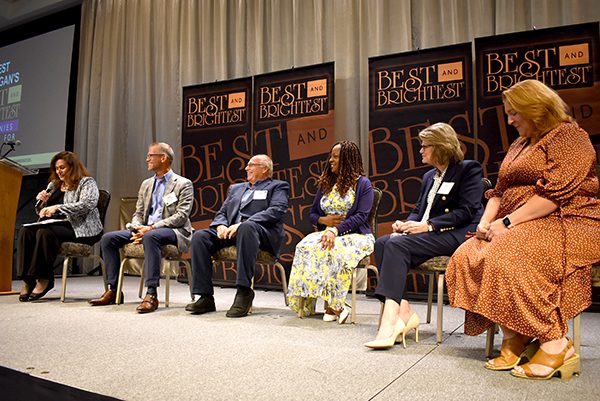 It was the Best and Brightest Programs' first in-person meeting in West Michigan in nearly three years and drew an enthusiastic audience glad to be among people again.
The discussion was led by Jennifer Kluge, president of the NABR and Best and Brightest Programs, and featured:
• Mike Novakoski, president and CEO of EV Construction
• Caitlin Gardner, senior manager public relations for Spartan-Nash
• TaRita Johnson, senior vice president, talent and diversity for The Right Place
• Janis Petrini, owner, Express Employment Professionals
• David Smith, vice president, compensation services, The Employers' Association
Among other challenges the panel discussed were cultural issues, compensation, marketing, and diversity, equity and inclusion. But even though these are current challenges that are being exacerbated by the lingering pandemic, Petrini said they aren't challenges that leaders weren't expecting.
"Obviously, we're all dealing with incredible labor shortages," she said. "There's no new news about that. We're in a situation that's unprecedented. COVID really accelerated what we would have been facing very soon.
"We knew years ago birth rates were not keeping up with the number of people that were going to be needed to fill the jobs," she added. "It just turned into a perfect storm during COVID. Many people left the workforce, many people were on the sidelines, and bringing them back is what we need to be able to do."
Petrini called the challenge of keeping current talent and bringing in new faces a "war for talent" that leaders face "every single day. To win it," she said, "companies should be paying attention to the same things potential candidates are watching and make sure the candidate experience is a good one.
"It's very competitive … Every employer wants to be the destination employer that everyone comes to and chooses first," Petrini said. "So the reality is that the candidates are looking for their first choice of where they want to go to work.
"Look at your candidate experience," she added. "Look at the front of the pipeline, and look at what someone is experiencing when they come into your organization."
Questions businesses should be asking themselves in a self-reflective way, the panel agreed, include:
• Is your brand well-articulated?
• Can someone feel what your culture is when they look at your job posting?
• Do they feel something purposeful when they engage with your company through social media?
"Eighty percent of people who make a decision about a company make that decision based on company reviews," she pointed out. "Have you read them lately? That's a huge statistic. This generation that we're in, they're going to reach out to everybody on LinkedIn and ask how they feel about working at the company.
Every step of the way, what does it feel like? How easy it is to engage with you, how quick can you get connected, can someone instantly set up an appointment?
"Just make sure that at every single moment-of-truth time for an applicant, as they come into your organization, that you have inspected what does that look like, feel like, what is that experience? It's the fastest way to engage, which will get that candidate to you."
While the panelists agreed retention was the key, they also agreed that leaders don't have to fight that fight alone. Leaders should be engaging other department heads and other talent, and using every tool in the box to do it.
The internet, company websites and, especially, social media such as Instagram, Facebook and LinkedIn have become incredibly popular places for candidates to seek out opportunities.
Companies should be taking full advantage of that, panelists agreed.
"Involving someone who has a marketing or communications function is a great way to be able to help tell your HR story, not only internally for retention, but externally for recruitment efforts," said Gardner, the PR expert from Spartan Nash. "We all want to be able to attract and retain the top talent, and we know salary and compensation and total rewards are part of that package we offer.

"But being able to quickly and visually tell a story is key," she added. "We've invested a lot in not only our office — we just did a renovation to welcome our associates back to our Grand Rapids service center — but telling that story visually through video content and recruitment videos across all digital platforms, because that's where applicants are searching. Having a great video strategy is a great way to tell your story."
The digital presence, she said, is important not only on social media, but also the company's own website … everything from a recruitment landing page to how people are interacting with the organization via digital communication and email.
"These are all very typical marketing functions, so how are you involving and recruiting and constantly optimizing your digital presence for the retention story?" Gardner said. "You want to make sure you're competitive, that you have a compelling story."
Another challenge facing businesses in this time, when job postings outnumber potential employees by a wide margin, is compensation. Part of the reason for what is being called "The Great Resignation" is that workers can leave their current jobs and find other positions, which often pay higher.
Smith, the compensation expert from The Employers' Association, said companies have to be transparent about their compensation program and communicate it well to current employees and potential workers.
According to Smith, there's more to it than dollars and cents.
"It's pay, it's benefits, it's culture," Smith said. "Employees have to understand what you mean when you're paying them."
And most potential employees are looking not only for the current opportunity, but also for chances to grow in the company. Smith said growth has probably been the biggest question for "the last 5-7 years."
"What's the growth internally?" he said. "Do you have a structure that supports growth, where employees know what they have to do to be promoted, rather than just tying them to a job? Do they have specific skills they can gain and be promoted and exhibit those and then be paid appropriately?"
He said having equity in compensation is "much more important" than having the top pay in the area.
"You can underpay everyone in the organization if you're equitable and it's not ridiculously underpaid," Smith said. "You're probably going to have a happier workforce than if you're reactive and you overpay one group and underpay other groups.
"Those organizations that were chasing their tails and hiring new employees at $18 to $20 an hour in the last year because they couldn't find them, and compressing their people who'd been there a long time, are shifting their turnover from entry (level) to experienced, which is probably more critical to the organization."
In these times of social unrest and upheaval, companies are also facing challenges in the diversity, equity and inclusion arena. But before those issues can be addressed on an organizational level, Johnson, the DEI expert from The Right Place, urged leaders to take a look at themselves.
Leaders should, she said, think about the facets, the "different roles you play, your worldview, how you grew up, your background," and then think about a time they didn't feel like they belonged.
"When it comes to DEI, it begins with us, individually," Johnson said. "There's a business case and there's a heart case."
She suggested businesses create what she called a "networking map," to find out "who is in your network? Is everybody like you? Did you all go to the same type of colleges and universities? Who's in your family?
"Look at your entire networking map," she said. "Who are those people you have on your own personal board of directors? Do they all look like you? Do they all sound like you? Do they have the same political, religious … whatever the association is?
"When you do these two things first, you'll see where you stand as it relates to diversity, equity, inclusion and even belonging," she added. "I want to engage your heart so that you can understand what it's like to be on the margins, because all of us at some point in our life have been on those margins."
In the wake of the social unrest arising from the overturning of Roe vs. Wade by the U.S. Supreme Court, several companies decided they would compensate women who had to travel to seek health care.
Johnson was asked during the town hall whether companies have a responsibility to do that.
"If we really want to change that landscape, we've got to think about how we can play in the social responsibility space," Johnson said. "Not everyone wants to go big or go home, but we should be doing something.
"There's a level of responsibility," she added. "We have to think, 'how can we play in this space and how do we help?' If we can't do it, how do we leverage the organizations that can? How do we link up … so maybe our organizations can go big."
A firm's success in the DEI arena is a culture issue, and Novakoski, CEO and President of EV Construction, views culture issues as being some of the most important challenges business leaders face.
One way to establish culture is to practice radical candor, he said. Novakoski equated a business to a child and being able to have an honest discussion about it.
"If your corporation is a baby, is it OK to say your baby is ugly?" he asked. "Is it OK for people to tell you something is broken or that it's not as beautiful as you've made it out to be?
"We're all sitting here with these excellent organizations that are fantastic places to work, and we think we're done or that we've done enough, but we're still broken, we still have ugly babies," he said. "We have to be honest about that."
It's also important, he said, to give employees something different to occasionally look forward to. He recalled being in school, when a teacher would show a movie, or take the class on a field trip.
"School got boring unless they turned off the lights and we watched a film strip … and the field trips we went on," he said. "That made school special. That was the exciting part of the day because it was something different."
It needs to be that way for employees when they go to work, as well, he said. Otherwise, workers are just "going into that grind" every day.
"Are we thinking about the next generation of employees coming to work for us?" he asked. "If you sit around somebody's dinner table, is Mom or Dad talking about the company they work for so positively that the little boy or girl listening intently says, 'when I grow up I want to work where my Mom is or my Dad is?'"
Incentive programs, panelists agreed, can go a long way toward solving that problem. For instance, Spartan Nash's Gardner talked about a recent program the retailer has instituted called its "Circle of Excellence," a program that recognizes front-line workers.
Those workers, Gardner pointed out, kept right on working when businesses were being shut down, serving the retailer's customers despite the pandemic.
The Circle of Excellence rewards nominees for that dedication with a number of prizes, including a trip to Disney World in Florida.
"A lot of our frontline associates never stopped working … Every store remained open to service the communities … at the peak of the pandemic," Gardner said. "We really wowed them. Spartan Nash is a hundred-year-old company, so this is a big, fresh, new change for many of our associates."
Novakoski's EV Construction recently brought on a novel concept that's as old as time: the ice cream truck. The truck — dubbed EV Sweets & Treats — travels to job sites, ribbon-cuttings and charity events the way it hits residential neighborhoods: with bells chiming and music playing.
"My vision was being able to hear this ice cream truck hit a job site, music playing, and actually having … employees come out for free ice cream," Novakoski said. "When I got home that night I'm telling my family, 'you won't believe it … I had a fudgesicle today.' I heard that corny Popeye the Sailor Man music come onto the job site and this company cares enough about us to give us free ice cream on a hot July day."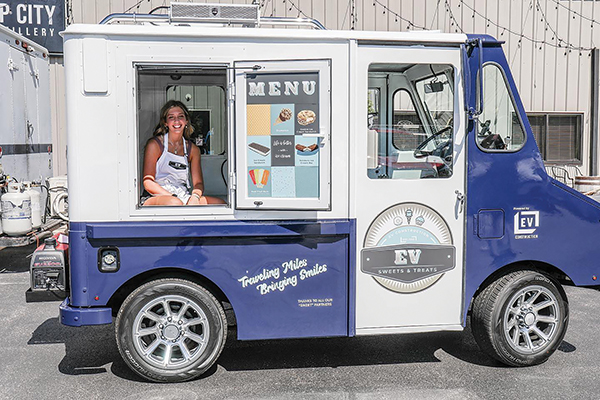 Of course, none of that matters if you can't find the talent, and Petrini said companies have to find "creative sources" for it. First, though, companies have to decide what the short- and long-term solutions to solving the talent crisis might be.
And, she pointed out, there can't just be one source.
"One approach isn't going to work, so we have to open our doors wider," she said. "We have so many pools of people who are sitting on the sidelines, that potentially, as companies, we haven't maximized."
Among those pools are women. Petrini said a million women had to return home during the pandemic and now they want back in the game. But businesses aren't always picking from that pool.
"Many women want to come back to work, but they're in a child care desert or they need more flexibility or they're caring for elder family members and trying to figure out how to maneuver life and children and work," Petrini said. "Is it better to have no one or is it better to have someone and maybe do job sharing, or maybe create some kind of really flexible schedule for someone to be able to come in?"
Another untapped pool of talent, she said, are baby boomers, many of whom left the workforce during the pandemic. By 2030, she said, the entire baby boomer population will be at retirement age.
"It's one of our larger workforces and also one of our very hard-working workforces," she said. "Think about what you can do to retain your baby boomers that are already there, but to attract them back in, with them having control of their schedule."
Another way for companies to engage their employees, according to Novakoski, is to get them involved in planning the direction of the organization.
EV Construction does a three-year development plan every three years. Novakoski said that six years ago, 70 of the company's 150 employees got involved in the planning.
"We had people who were employees for two weeks and people who'd been there 20 years, with their opinions and learning about the company, and adding their say as to where we were going," Novakoski said. "Getting more people involved than just the C-suite in building where the company is going, whether it's a hi-lo driver or an accounts payable clerk or a vice president … they all have a say in where the company is going.
"When they go home at night and say, 'I spent the day in this conversation around where our really cool and unique company is going,' they stick around. It is recruitment, it is retention, it is actively engaging people."