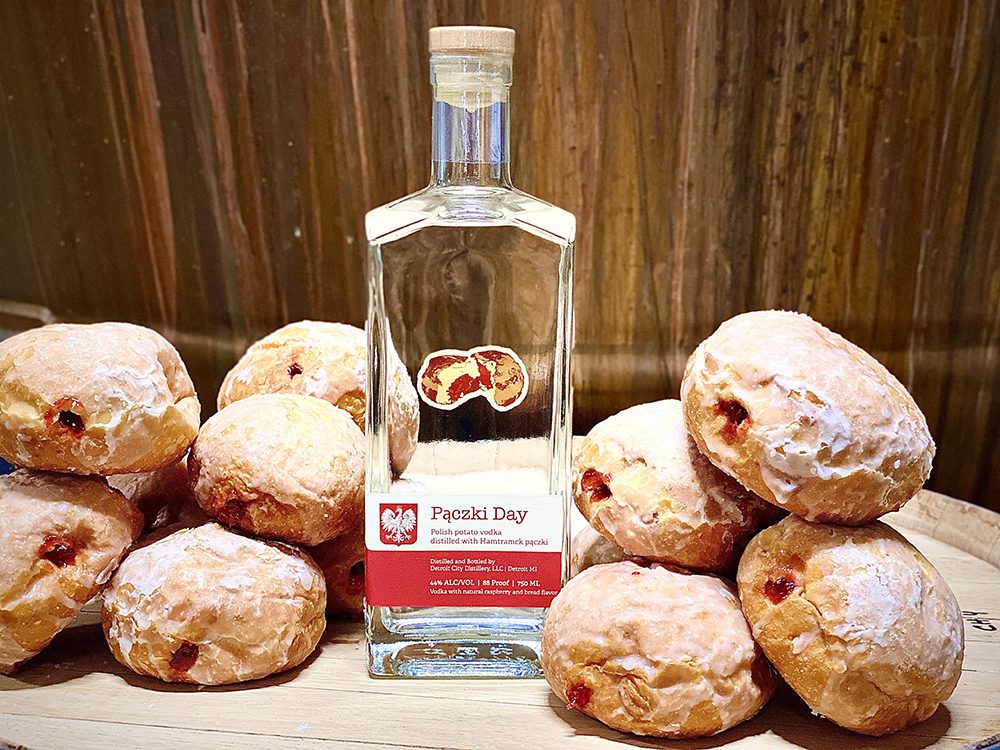 After a tough year, Detroit City Distillery knew its customers needed something to look forward to and a reason to celebrate – and its celebrated limited-edition Pączki Day Vodka was just the thing to kick off a new year and a Metro Detroit tradition.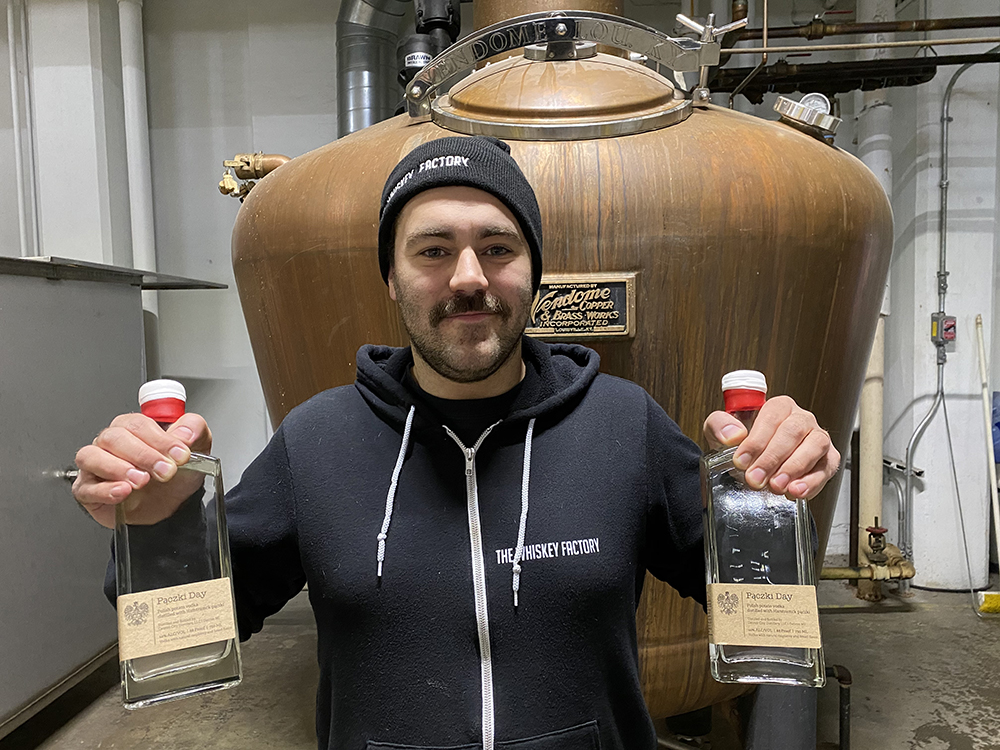 Last year, just before the pandemic hit, Detroit City Distillery introduced its raspberry-infused craft Polish potato vodka distilled with pączki from the New Palace Bakery in Hamtramck. Bottles of the sweet-smelling stuff sold out at its Eastern Market location in less than five hours. So co-owner Michael Forsyth said they knew they had to do it again in 2021.
This year, there is a new model for distribution, which is an appropriate sign of the times, Forsyth said. Detroit City Distillery is asking people to order ahead through its website, which opens up for orders at 9 a.m. Feb. 1. They can pick up their orders starting at noon Feb. 3 and continue to do so during normal business hours to help maintain social distancing, Forsyth added.
"We had to adapt and change. It's all part of this new normal," Forsyth said. "We've heard people are going to be online and ready to order. It's like concert tickets – people are lining up virtually. We just hope we don't break the Internet."
"They'd have coffee waiting for us every morning," Forsyth said. "It's been great to get to know them on a deeper level" because of this project.
Forsyth said Detroit City Distillery is making a much larger patch of the Pączki Day Vodka than it did last year so there is enough supply at its headquarters as well as select retailers. He also encourages people to seek out the vodka at Hamtramck bars when the reopen for business as of Feb. 1, according to state mandates.
For the uninitiated, pączki (plural) or pączek (singular) are rich, filled donuts in various flavors enjoyed on Fat Tuesday before Lent. Pączki resemble donuts but are made with an enriched dough that often incorporates eggs, butter and milk, as well as vodka, which limits the absorption of fats during frying, keeping the exterior crust crisp. Pączki are coated in powdered sugar or glaze and come in traditional flavors like raspberry, strawberry, lemon, plum, apple and custard.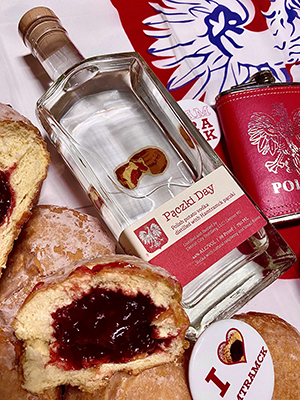 So how did this all get started? In early February 2017, Steve Orzechowski, distiller at Detroit City Distillery, was anticipating the upcoming annual tradition of celebrating Pączki Day with his friends and family in Hamtramck. Dual cravings for his favorite glazed raspberry pączki and crisp polish vodka created a new idea. Why not distill vodka with pączki? He purchased twelve-dozen pączki from the legendary New Palace Bakery, and the experiment began.
This year the Distillery will procure nearly 1,300 glazed raspberry pączki from New Palace to distill in 100 percent potato vodka from Poland. Each batch uses 18-dozen pączki baked fresh that morning, which are then are soaked for 24 hours in vodka inside a 500-gallon copper pot still. Next, the magic of distillation transforms the pączki and vodka into a crystal-clear spirit that is smooth, buttery and has a distinct raspberry finish. It is best enjoyed chilled over ice, mixed in a cocktail or as a pączki chaser.
In January 2020, the Distillery announced that sales of Pączki Day Vodka as a limited-edition spirit would commence on Saturday, February 22, until supplies were gone. The response was epic and surprised the Distillery with its enthusiasm and volume. Requests to purchase came in from across the United States and Canada and Europe. Several people from Poland asked to purchase the vodka.
On launch day, two thousand revelers arrived, forming a line that stretched for more than three blocks and stayed that way for hours. Many customers wore polish colors (red and white) and sang songs, even though the temperature was in the low thirties. The Distillery sold out of Pączki Day Vodka in just four and a half hours.
Detroit City Distillery creates small batch artisanal whiskey, gin and vodka as well as limited-edition spirits, using the finest local ingredients sourced directly from farms near its Distillery and tasting room located in Detroit's famed Eastern Market.