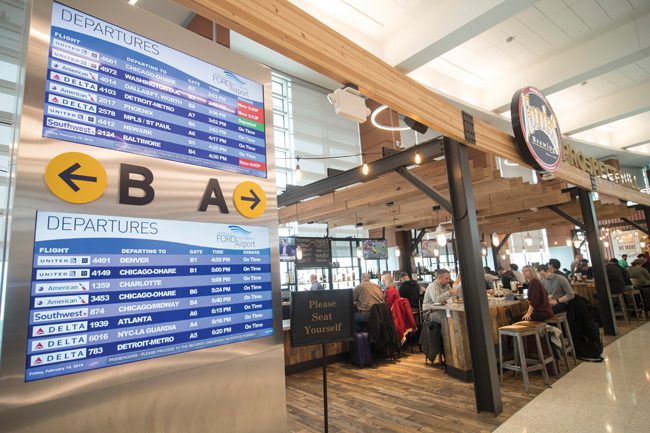 The aviation industry is going through massive transition due to technological advances, consumer demand for better options, prices and services, as well as high-end requirements from businesses that are globally diverse and need efficient and flexible connections to the clients they serve.
An overall boom in business travel is helping to advance these changes, which promise to improve air travel for all passengers. According to the Global Business Travel Association (GBTA), global business travel spending topped $1.33 trillion in 2017, the most recent data available, and that number is increasing. In the United States alone, business travel in 2016 was responsible for $547 billion, or 3 percent, of U.S. GDP.
A steady global economy and stability in the United States after the turbulent 2016 election, along with big business growth in regions such as China and Latin America, means business travel will continue to rise through the short term. As a result, travel experts predict global business travel spending is expected to reach $1.6 trillion by 2020.
As the business travel industry and its close ties to the leisure traveler continue to grow, aviation companies — locally, nationally and across the world — are racing to offer the products, services and amenities that well-seasoned fliers are commanding.
Part of doing business
In Michigan, airport improvements, smoother security, business lounges, new apps and other amenities are making commercial as well as charter flight an important part of doing business.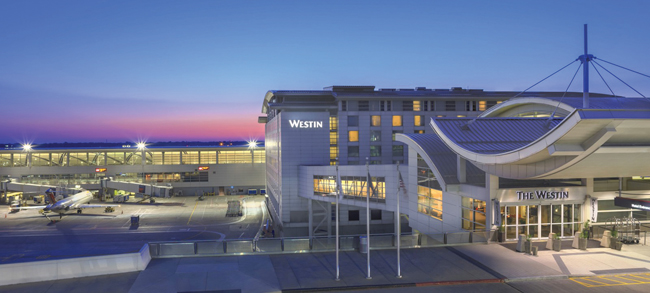 "Time is valuable. When you need to be someplace, there's no better way to travel than to do it the fastest way and that's the airport," said David VanderVeen, director of Central Services for Oakland County, where he supervises the county's three airports.
Business travel is key to company growth generally, in that meeting in person continues to boost overall growth, creates important relationships between colleagues and sets the stage for research, development and innovation, experts agree.
"Companies recognize that benefit of face-to-face collaboration, so that drives some of the increase in business travel," said Jessica Collison, GBTA's director of research. "It's not just in boom times; it's in recession times as well."
But business travel — or any travel through sometimes crowded and confusing airports — has its challenges. Companies are asking airlines, charter companies and airport management to step up and do more for these seasoned travelers to ensure their safety, effectiveness and overall success as they go from Point A to Point B.
"We as a society are so used to having things at our fingertips, especially now with smartphones," GBTA's Collison said. "When we book travel, we expect ease and to get it done in a few steps. … People are also thinking about how to balance cost (to their employers) with productivity and less stress."
Amenities matter
That is true for Chris Sotiropoulos, co-owner of American Coney Island and a regular business traveler. Having traveled throughout North America in a previous job, Sotiropoulos goes to Las Vegas for about 10 days every month where he manages the family's coney island restaurant there. He says he has seen improvements at local as well as other airports and appreciates changes that accommodate his busy schedule.
"(Airports) always need more coffee spots, but they're getting better at the grab-and-go products," Sotiropoulos said. "I don't have the opportunity or the time to sit down to a long meal because I try to time everything out so I don't have to spend a lot of time in the airport. So grab and go is great. It used to be just fast food back in the day, but now there's more of a healthy aspect. Fast casual (restaurants) also have increased tremendously, and that's a good thing."
Finding way to appeal to time-pressed business travelers such as Sotiropoulos is one reason Michigan airports of all sizes are investing in new concessions, updating security areas, boosting business centers and looking for as many ways as possible to stand out from the competition. These investments also help the state attract business, recruit new companies to set up shop in Michigan and bring in more "bleisure" travelers, who may come along with the business traveler as a spouse or be the business traveler who extends a trip to enjoy the local sites and amenities.
Michigan's largest airport, Detroit Metropolitan Wayne County Airport or DTW, home to McNamara Terminal and North Terminal, welcomed more than 35 million passengers in 2018, say officials. With service from 14 scheduled passenger airlines, DTW handles about 1,100 flights per day to and from more than 140 destinations on four continents.
In the past year, DTW has seen redesigns of its main airport entrance, including the addition of color-coded signage that coordinate with the pavement markings, to help travelers with wayfinding.
The airport authority is in the process of a nearly $21-million redevelopment of food and beverage services in the North Terminal, a project that began last fall. Once complete, there will be more casual dining, as well as full service restaurants, giving business travelers new options for both local and national eateries.
DTW has also added thoughtful new touches, including nine rooms on the airport's grounds in the North Terminal, the McNamara Terminal and the Michael Berry Administration Building to accommodate nursing mothers.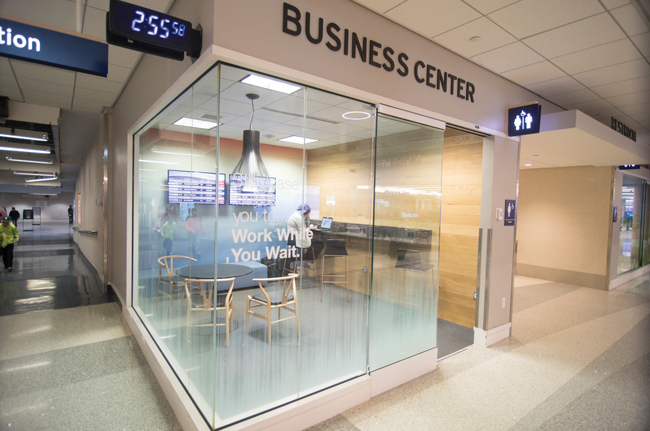 "While you may not think of this as specifically for the business traveler, considering the diversity of today's workforce, the nursing rooms have proven to be a welcome addition for mothers from all walks of life," said Staci Saker, the Wayne County Airport Authority's deputy director of Concession and Quality Assurance.
The majority of DTW's business travelers fly out of the McNamara Terminal. As a result, there are more business-focused amenities there than in the North Terminal. One example is an onsite AAA Four-Diamond Westin Hotel that includes a variety of business-focused amenities. The Westin also offers a "Park and Fly" program that gives travelers the option of spending a night at the hotel and then entering the airport through a dedicated TSA checkpoint in the Westin lobby.
Out of consideration for the business traveler's desire for efficiency, DTW has incorporated both TSA Pre Check and CLEAR security lanes to expedite entry into the terminals. At the McNamara Terminal, which is its largest terminal, DTW has installed interactive directories that provide passengers with the ability to quickly locate shopping, dining options and restrooms near their gate just by scanning their boarding pass.
And because many businesses and organizations host meetings in Detroit, DTW also offers special "meet and greet" locations to assist travelers once they arrive. These locations range from a table staffed by the business or organization with directions, itineraries and other meeting information, to banners welcoming the guests to Detroit.
"Our goal is to make sure every guest visiting Detroit feels welcome," Saker said.
Catering to high-yield travelers in West Michigan
The state's second largest airport, the Gerald R. Ford International Airport in Grand Rapids, also has been working diligently to appeal to the business traveler.
"Airlines and airports target in on that high-yield business traveler," said Alex Peric, the airport's vice president. "We try to cater to that business traveler as much as we can."
That means high-speed Wi-Fi, multiple business centers and lounges, rentable conference rooms, on-time performance, a single security checkpoint and a new app that puts the business traveler in control of their Ford Airport experience.
With the app, travelers can see how many parking spaces are available and where, how long they can expect to clear security and where to find food when they're in the terminal.
In 2018, the Gerald R. Ford airport served a record 3.26 million passengers, up from a previous annual record of 2.8 million passengers. It was the airport's sixth straight year of record growth. Cargo transport totals for 2018 were 91 million pounds, a 3 percent increase from 2017. The airport also added six new routes in 2018.
In January, officials with the Grand Rapids airport and Las Vegas-based Allegiant Travel Company announced plans to base two Airbus aircraft at the airport, starting June 4. The $42.8-million initiative includes the creation of 66 jobs.
The airport is currently undergoing its massive Gateway Transformation Project. The first phase, which wrapped up in fall 2017 at an estimated cost of $45 million, created a consolidated security checkpoint and new spaces for retail and concessions.
A second phase, which began in November 2018 and will continue through 2020, is designed to improve airline ticket counters and baggage service offices, as well as baggage claim, curbside and "front-of-house" areas, airport officials said. The $18 million project will add restrooms and food and beverage vendors near the baggage claim area.
While DTW and Ford are seeing growth, smaller airports, including Flint's Bishop Airport, are seeing the squeeze as they struggle to keep up with larger competitors. Last year, passenger numbers at Bishop were 360,609, down about 10 percent from the 400,781 who flew in 2017. The state's third busiest airport, Bishop can point to a cut in service by Delta Air Lines and the loss of Southwest Airlines, which ended its service in Flint in mid-2018.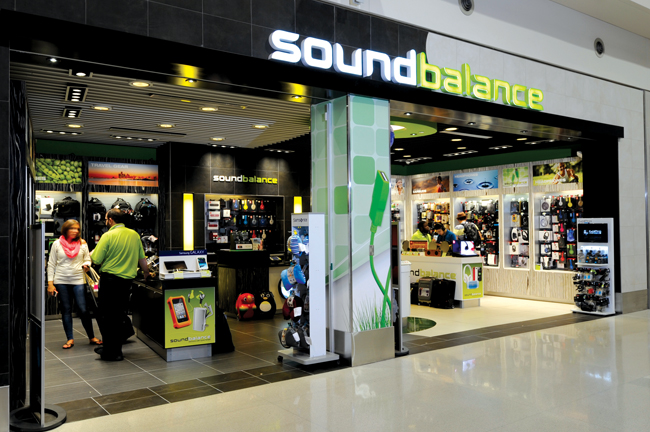 Private aircraft, charters make life easier
At the same time, Michigan's charter and private airports say they are going through updates, construction and changes designed to appeal to the business traveler. These smaller, often more nimble airports highlight speed, security and ease of use as reasons for their competitiveness against their larger rivals.
"We can take (a business executive) to three cities in one day and still be home for dinner," said Terry Boer, owner of Executive Air Transport in Muskegon and, most recently, Tulip City Air Service Inc. in Holland, which he bought in 2017.
Boer said he has seen a nice increase in people signing up for charter service or buying their own airplanes as businesses recovered from the 2008-2009 recession. Companies know they can boost productivity through working with a charter, allowing employees to fly more easily, have private meeting space on the plane and get home when they want in a timely fashion.
"This is not about flying cheaper than the airlines; this is about quality of life," Boer said, noting that his airports also have free Wi-Fi, catered snacks, fast and easy security checkpoints and nearby parking. "You can drive your car up to the airplane and unload. Someone will park your car for you and it will be sitting there, waiting for you, when you get back. We'll even warm it up and scrape all the snow off."
Oakland County airports also are enjoying an uptick in passengers, said VanderVeen, who heads operations at all three, including Oakland County International Airport.
That facility ranks as the 99th busiest airport in the nation with 131,294 takeoffs and landings. More than half a million passengers and pilots pass through the airport every year, and more than 554 private and corporate aircraft are based there.
About eight years ago, Oakland County International added a new terminal, becoming the county's first building to be LEED certified (Leadership in Energy and Environmental Design). It features geothermal heating and cooling as well as panels on the roof to capture and convert sunlight to electricity, plus parking spaces for electric and alternative fueled vehicles.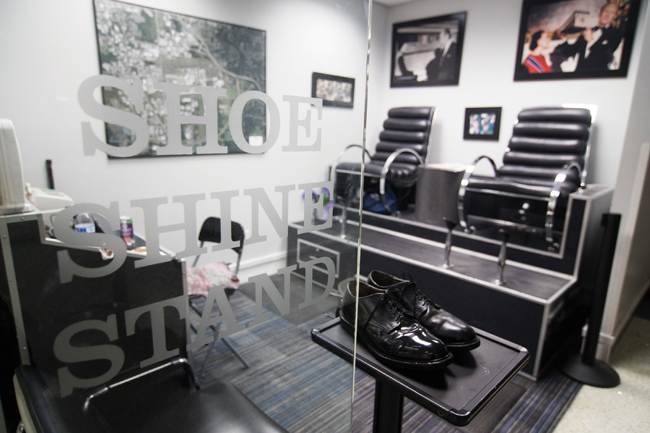 VanderVeen, who also has a private pilot's license, sits on the Michigan Aeronautics Commission, which encourages, fosters and participates in the development of aeronautics within the state while creating rules and regulations for airports, flight schools, and other related activities. Former Governor Rick Snyder appointed him to the body in 2011 and VanderVeen served as chairman from 2013-2014. He also is a longtime member and on the board of directors of the Michigan Business Aircraft Association.
VanderVeen considers Oakland County's airports as not only his legacy, but the best of the best for business travelers. "We serve the entire state, the entire nation and, in fact, the entire world," he said. "We cater to business, corporations, charter flights, air freight, private, medical, law enforcement, heads of state, entertainers, sports teams — everyone comes through an airport like ours."
Having so many options and so much effort focused on making flight better, safer, more comfortable and more efficient is good for all airlines, airports, and, most importantly, passengers of all kinds, VanderVeen said.
"Everyone needs to multitask and everyone's calendar is crowded," VanderVeen said. "We're here to make that easier."