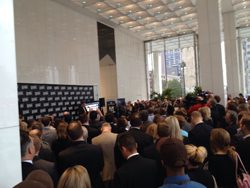 Much like the adage about a village raising a child, revitalizing Detroit takes many kinds of businesses, all working together toward a common goal. That business community grew again Tuesday with the announcement that Fifth Third Bank Eastern Michigan would be moving downtown.
Officials including Fifth Third Bank Eastern Michigan President and CEO David Girodat and Detroit business owner Dan Gilbert announced during a press conference that the bank will relocate its headquarters to One Woodward Avenue, a historically significant structure within the downtown corridor.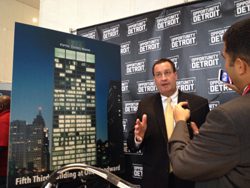 "Every time a business comes downtown it adds to the critical mass, and (Detroit) continues to get bigger and bigger," said Girodat, who is responsible for the growth and strategic direction of Fifth Third's four lines of business, including Commercial Banking, Branch Banking, Consumer Lending and Investment Advisors.
Fifth Third Eastern Michigan, Metro Detroit's sixth largest bank, has an estimated $4.2 billion in assets. Girodat said the bank will bring 150 full-time employees to the skyscraper, which will be renamed "Fifth Third Bank at One Woodward" in its honor, officials said. Fifth Third is relocating to Detroit from Southfield.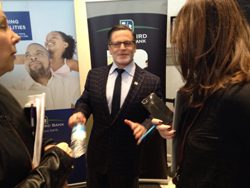 Girodat and Gilbert – founder and chairman of Quicken Loans and Rock Ventures – emphasized how Fifth Third Eastern Michigan's headquarters move will bring another wave of commerce to downtown. It also will help Fifth Third recruit talent and further Gilbert's efforts to revamp the city's business district, an effort he has championed for more than five years and with millions of dollars in investment.
"We are bringing significant payroll down here and many intangible assets as well. All of our team will work, park, shop and eat here," Girodat said. "These are 150 people who are very excited to be here and they see the changes happening in Detroit."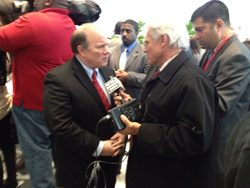 According to Bedrock Real Estate Services, the bank's move is part of an $85 million commitment to Detroit, which includes charitable donations, small business lending, Community Development Corporation tax credit investments and economic impact contributions over the next five years.
This initiative, being called '5/3 (Five Three) in the D,' includes more than $1 million in upgrades and renovations to the popular Northwest Activities Center at 18100 Meyers. The facility provides crucial social services and community programs for Detroit residents. Fifth Third Bank also intends to partner with the city to 'adopt' Hart Plaza and enhance it as a premier public space along the Detroit riverfront.
Fifth Third's new offices will occupy four floors encompassing 62,000 square feet with options for future growth at One Woodward Avenue, one of more than 60 properties owned and operated by Bedrock Real Estate Services.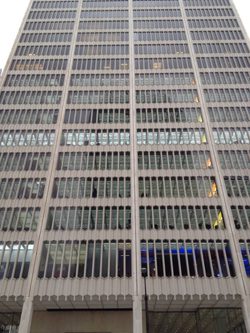 Built in 1962, the 29-story landmark office tower was the first skyscraper designed by architect Minoru Yamasaki, best known as the architect of the World Trade Center. Yamasaki used elements of the 361,100 square foot building's design for the Twin Towers in New York City.
Girodat emphasized that he and Gilbert are aware of the building's important history not only to Yamasaki's legacy but to the city of Detroit. He hopes to keep its signage in line with Yamasaki's vision for the building, which the noted architect designed for the Michigan Consolidated Gas Co. Yamasaki asked the company to leave its name off of the building as so not to compete with its sleek design.
Fifth Third's move will occur in phases over the next two years. The first wave of employees, including the executive leadership team, will move to One Woodward in March 2015. The full relocation is expected to be complete by summer 2016.
Other signature tenants in the One Woodward Avenue building include national home lender Quicken Loans, Heritage Vision Plans Inc., venture capital firm Fontinalis Partners, global brand agency Jack Morton Worldwide, Cambridge Consulting, construction experts PMA Consultants, the Detroit Regional Chamber and the law firms of WilsonYoung PLC, FraserTrebilcock, and Kitch Attorneys and Counselors.
Since its founding in 2011, Bedrock has located more than 120 tenants to Detroit's Central Business District into office and retail spaces. In addition, Bedrock and its affiliates have invested more than $1.3 billion in more than 60 properties in downtown Detroit.
Fifth Third Bank serves tens of thousands of customers in eight southeastern Michigan counties: Wayne, Oakland, Macomb, St. Clair, Shiawassee, Livingston, Genesee and Washtenaw. The company operates 92 banking centers and more than 150 ATMs across eastern Michigan.