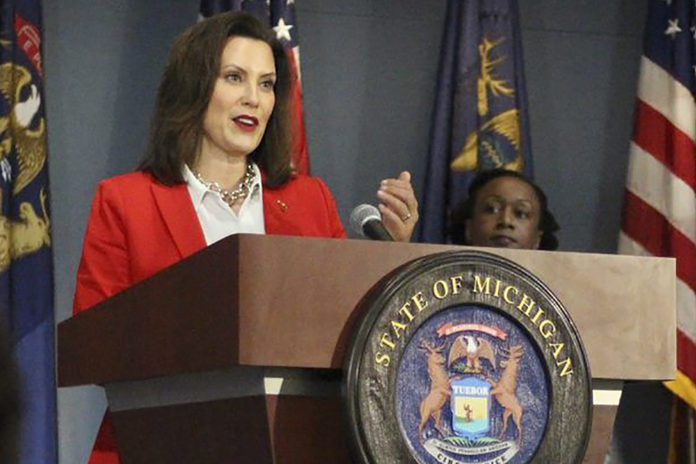 Anyone thinking they're going to be allowed to leave their homes when Gov. Gretchen Whitmer's stay-at-home order expires April 30 is likely going to need to think again.
At her coronavirus briefing Wednesday, Whitmer acknowledged the likelihood of an extension of the order, which closes all but essential businesses, orders social distancing measures and has people staying at home except to shop for food or medication or to get some exercise outdoors.
While saying more details on loosening restrictions could come as soon as Friday, Whitmer pointed out the order will last a bit longer.
"I want to be clear – we will likely need another short-term extension of the Stay Home, Stay Safe order," Whitmer said Wednesday. "When we do start to re-engage, it will have to be very thoughtful and precise, mitigating risk to all and mitigating the risk of a second wave. But we will start to re-engage, we will have a plan and we will start to share that in more depth as we get closer to next week."
The medical data, she said, is leading her to recognize it's time to re-examine the order. COVID-19 cases totaled 33,966 as of Wednesday (up 999 from Tuesday), while deaths reached 2,813 (up 113 since Tuesday).
Those numbers have dropped Michigan out of the top five in the country in total cases, although the state is still in the top five in deaths.
But the slow in the rate of increase has state officials, as they've said at past briefings, "cautiously optimistic."
"Social distancing is the most important thing we can do to stop the spreading of this disease … and it is working," said Dr. Joneigh Khaldun, the state's chief medical executive. "We're seeing a slowing in the rise of new cases, our hospitals are now leveling off, discharging more covid-19 patients than they are admitting. (But) we are not yet out of the woods."
Whitmer, who announced Monday she'd be taking a 10% pay cut and asking her senior team to take a 5% cut, said Wednesday she has now issued layoff notices across state departments. Those layoffs, which will last for 10 work days, are expected to save the state some $5 million.
Whitmer called the layoffs one of her toughest yet.
"I've made a lot of hard choices in the past six weeks, this is one of the hardest," she said. "But this is the right thing to do to ensure we can continue providing critical services to the people of Michigan."
Those layoffs will add to the state's unemployment problem, with about a quarter of the state's workers without jobs. Whitmer said some $825 million in payments have gone out to more than 800,000 Michigan claimants, with more than a million people filing claims since March 15.
"That's a 5,000% increase over that period, and a quarter of our workforce," Whitmer pointed out. "And those numbers are continuing to increase every day."
More: Events Industry Wracked By Pandemic Confident of Comeback
More: Southeast Michigan Home Sales Fall in March as Real Estate Market Adjusts to the 'New Normal'
More: Beaumont Laying Off More Than 2,400, Cutting 450 Jobs Permanently
Asked whether she's going to take a regional approach to reopening the economy, Whitmer said it will likely happen "in waves." She said much of the decision will depend on an increase in testing, and on whether the state can get the numbers of swabs and reagents they need to ramp up testing.
"It's not all going to happen overnight … We know there's going be a need for an extension of some sort. Some version (of a stay-at-home order) will be in effect for awhile."
Whitmer said she's hoping the next round of coronavirus relief (Congress is already talking about a fourth bill) will address funding to states in a way none of the previous three have done.
"This crisis has taken an economic toll on household budgets, on local government budgets, on state budgets, on business budgets," she said. "The Federal CARES Act dollars have a lot of restrictions and don't meet the needs of the issues we are going to feel in the state budget. We're continuing to work with our bipartisan congressional delegation to ensure the next supplemental (bill) recognizes the incredible strain on state budgets and gives us the flexibility we need to really make sure we shore up the core functions of state government."