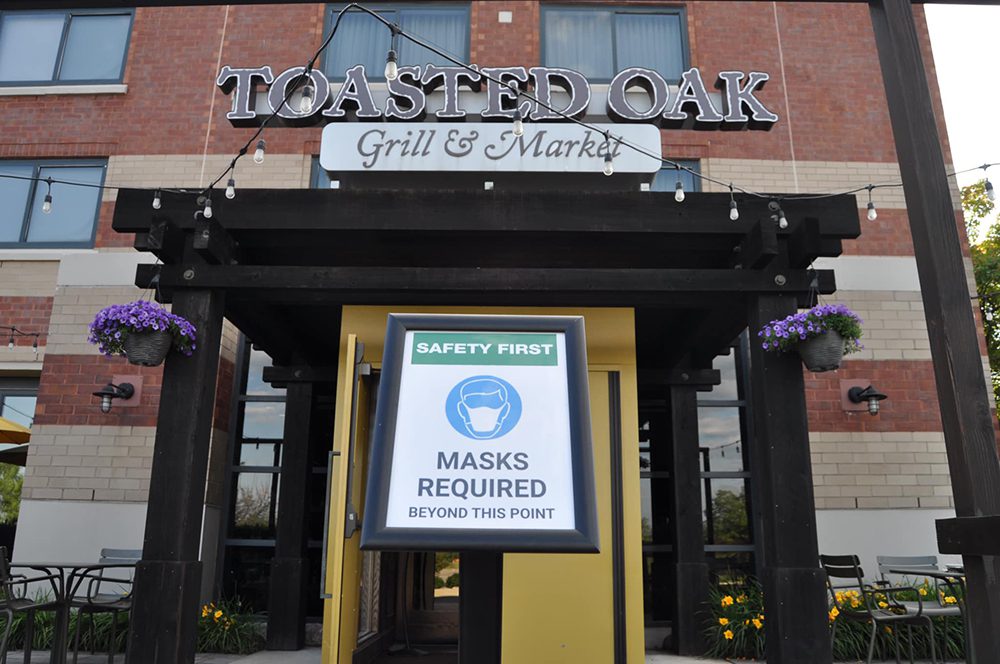 Holiday weekends before coronavirus were great times to get together with family and friends both at home and at vacation spots around the state – but that has changed and must continue to evolve in the wake of the pandemic, public-health officials and tourism experts agree.
Because Memorial Day was somewhat of a monetary bust for many tourism spots under quarantine, businesses were looking forward to Fourth of July in the short term and Labor Day in the long term for a financial boost. Now, some owners are opting to close, change or delay reopening some of their services as the Fourth of July looms.
Using data from its Daily Travel Index, travel data company Arrivalist is predicting that Americans will take 36.8 million road trips over the Fourth of July weekend, making Independence Day the biggest road trip event so far this year. Compared to the American Automobile Association's (AAA) travel prediction last year, road trip travel will be down 11% from the 41.1 million travelers AAA predicted in 2019.
Much of the tourism industry is on a kind of pause, especially in terms of marketing this summer and likely into the fall, said Mark Canavan, executive creative director for Detroit-based Rebuild Group and a former "Pure Michigan" campaign creative lead.
"It's not that (these businesses) don't have something to say – they're trying to figure out how to say it," Canavan said. "We all have paid time off and vacation days, but no one is using them. You have 270 countries with lockdowns on travel. There are a lot of people with time on their hands but not a lot of places to go."
But among all the bad news for the travel industry, there is hope. People generally want to take road trips, according to surveys, which bodes well for Michigan as a great day-trip and road-trip state, Canavan said.
A survey conducted by Morning Consult commissioned by the American Hotel & Lodging Association released Tuesday found that 44% of Americans are planning overnight vacation or leisure travel in 2020, with high interest in road trips, family events, and long weekends over the summer months. Encouragingly, 68% of these expectant travelers say they are likely to stay in a hotel in 2020.
"If there was ever a state perfect for social distancing, it could be Michigan," Canavan said. "We have so many remote areas (and) hidden gems for people to enjoy."
Pandemic hot spots
The bad news is that the pandemic, despite the easing of the quarantine and reopening of many industries, is still spreading and causing challenges for businesses of all kinds. Hospitality and travel are among those seeing the most issues.
For example, places such as Mexican Fiesta in Dearborn Heights said on social media this week it would close its dine-in service because of customer incidents where people were rude to servers. In another post, Ye Olde Tap Room in Detroit said Wednesday it will close "until the situation improves" with coronavirus hot spots popping up around its Detroit/Grosse Pointe Park location, noting "this is necessary for the absolute safety of patrons and staff."
There also were closures of restaurants across Michigan in recent weeks such as Grey Ghost in Detroit and Butcher's Union and the B.O.B. in Grand Rapids because a staff member reported testing positive for coronavirus. These restaurants all reported they would undergo massive cleanings and new safety and health protocol reviews before reopening.
Medical experts are encouraging residents who do travel or head out to eat to wear masks and follow the six-feet rule when it comes to social distancing. In a statement, Bobby Mukkamala, MD, president of the Michigan State Medical Society, urged residents about the continued need to wear masks in public and practice social distancing over the 4th of July holiday weekend.
"With a picture perfect, Pure Michigan weekend predicted, it's easy to forget we're still living through a global pandemic. COVID-19 is still very much a threat here in Michigan and around the country, and the best chance we have to prevent its spread is to continue practicing good social distancing habits. Please, wear a mask in public, practice good handwashing habits and have a safe holiday weekend."
Cautious approach
Those who do reopen this week are taking new approaches to their business in hopes of not only adapting to these new rules but to appeal to customers. In Novi, the Renaissance Baronette Detroit-Novi Hotel and its Toasted Oak Grill & Market re-opened Wednesday with a new menu, sustainability protocols and hope for the summer months.
The Baronette said it will open one floor to welcome back guests while Toasted Oak reopened for dinner service with a new menu. Chef Ken Miller said he created a newly written limited dinner menu to keep food waste to a minimum and the restaurant has started a composting program to complement their waste reduction initiative.
During the coronavirus closure, Chef Ken and Ferris Anthony, Toasted Oak's Director of Food and Beverage spent a lot of time focusing on sustainable practices at their homes. Chef Ken and Ferris both built gardens at their homes and practice composting on a regular basis. They spent a lot of time gardening, foraging, and volunteering at local farms that Toasted Oak uses for produce. The restaurant's new dinner menu dinner also features a write up about Maple Creek Farm, the property they volunteered at most often during quarantine.
Toasted Oak is following all CDC and MRLA guidelines for reopening the restaurant. As a result, all guests will need to maintain six-foot distance from each other and the restaurant will require guests to wear masks when not seated at their table. Plexiglass has been placed at Toasted Oak's bar rail and host stand. It has also been installed at the front desk of the hotel. Additionally, all staff front of house and back of house are required to wear face masks at all times. Toasted Oak will offer outdoor seating on the restaurant's patio as well as the hotel courtyard.