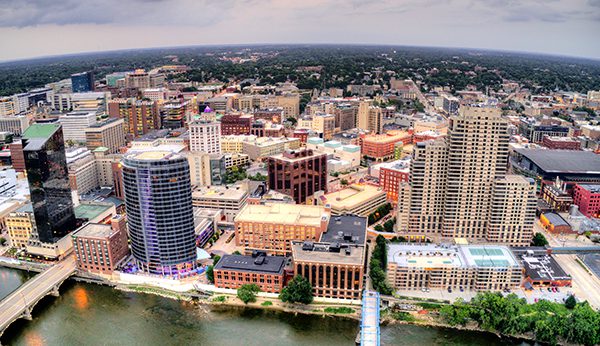 GRAND RAPIDS, Mich. — Grand Rapids-based The Right Place, the economic development organization that drives development in West Michigan, rolled out its three-year strategic plan Tuesday in a presentation to investors at Meijer Garden.
Beth Kelly was one of some 240 investors who came to hear what Right Place President and CEO Randy Thelen had to say about the economic possibilities over the next three years in the region.
Kelly came away more than satisfied with what she heard.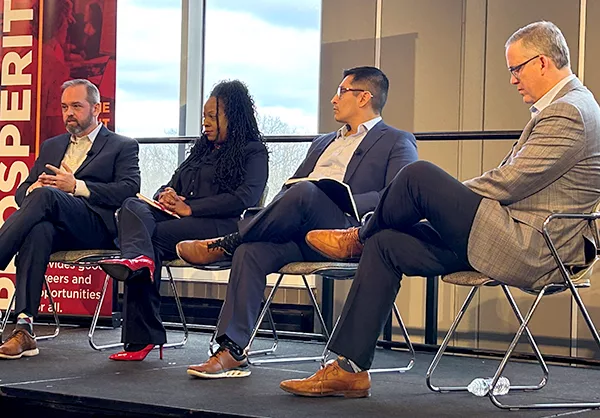 "What I wanted to feel is the energy and excitement growing community can provide," said Kelly, President of HR Collaborative, a recruitment firm based in Grand Rapids. "To be able to capture that into four deliverables was inspiring."
The Right Place's new plan, developed in partnership with Ernst & Young and more than 300 local community leaders, is focused on four core goals:
• Fostering economic growth: Drive growth and sustainability with existing regional businesses while attracting strategic businesses to bolster the region's economic prosperity.
• Champion inclusive opportunities: Expand economic opportunities to create a more vibrant economy.
• Elevate Greater Grand Rapids: Amplify the region's story to position the region as a destination of choice.
• Boost regional impact: Deepen the bonds among the communities that make up the region to create a more globally competitive region.
"We think we're in a strong position to push ahead, to drive forward and make a positive impact on the region," said Thelen, who replaced longtime Right Place CEO Birgit Klohs in 2021. "There are countless challenges right now … we stay focused on our mission, we stay focused on our strategy and we can make an impact."
The plan follows what everyone believes was a wildly successful three-year plan (2020-2023) that just expired. That plan produced:
• 3,677 new and retained jobs (against 3-year goal of 3,400 | 108%)
• $195 million in new and retained payroll (against 3-year goal of $184 million | 106%)
• $598 million in new capital investment (against 3-year goal of $500 million |120%)
The success of the 2023-2025 plan unveiled Tuesday will be judged, Thelen pointed out, by several metrics, including goals of:
• 4,000 jobs retained and created by the end of 2025
• A $26.50 average wage by the end of 2025
• $550 million in capital investment by the end of 2025
• $100 million in community development investment by the end of 2025
The plan, Thelen said, details a strategic framework that builds toward a a 10-year vision that includes making the region "among the best regional economies in the Midwest."
During the development process, The Right Place and E&Y also conducted a benchmarking analysis of 20 peer and aspirant metropolitan regions.
Those included regions as far west as Salt Lake City, Utah, and as far south as Jacksonville, Fla. Part of the stategy, he said, depends on the Grand Rapids region's "continued commitment" to its strategic growth industries:
• Advanced Manufacturing – Manufacturing currently accounts for 19% of all jobs in the region and "remains the heart of Greater Grand Rapids' economy. In fact, a 2020 study showed Grand Rapids to have the most manufacturing jobs per capital of any large metropolitan area in the U.S., according to the report.
• Health Sciences – Greater Grand Rapids is host to the highest concentration of medical device manufacturers in Michigan.
Zachariah Booker, the CEO of Grand Rapids-based Mentavi Health, said his firm has found success in the region, having hired some 40 new employees over the last two years.
In less than five years, he pointed out, his company has grown to 50 employees locally and 165 doctors across all 50 states.
"From a health care technology standpoint, we've seen a massive need, especially since covid hit, for health care access increase," said Booker, who was born and raised in the Grand Rapids region. "We've been on a tremendous growth path, and our hiring needs have been expounding here locally.
"We continue to reinvest here because the number of people who are here that have that knowledge of technology and health care is amazing," he added.
Technology – An industry vertical and a horizontal enabler for other industries in the region. Technology workers comprise some 6% of the region's total labor force, and Thelen said the goal is to push that to 10%.
Shawn Crowley, the co-CEO of Atomic Object, an Ann Arbor-based custom software developer for web, mobile, desktop and devices, agrees with the plan to accelerate the region to become a hotbed of tech growth.
He notes, as did Thelen, that West Michigan trails benchmark cities as a percentage of workers in the tech work force.
But Crowley, whose company is one of 43 companies on The Right Place's Technology Council of West Michigan, believes the region can make up the ground.
"There's a blend of confidence and ambition" in the region, Crowley pointed out. "It's good to be ambitious; you're not going far without ambition. (But) that's about 2,000 tech jobs a year, which means you need to mobilize universities, you've got to attract and retain talent, you have to have businesses go through digital transformation, you've got to grow new companies and you have to attract companies.
"It's not going to happen on its own," he added. "That's why you see The Right Place putting the focus on the strategic plan and the tech strategy that was released (last fall)."