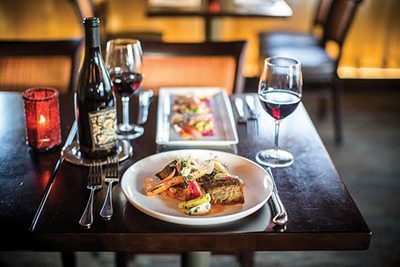 Diners who've taken advantage of a health department order limiting restaurants to 25% capacity are about to get some company.
Gov. Gretchen Whitmer announced Tuesday that, under a new health order from the state's Department of Health and Human Services, restaurants can now accept 50% capacity.
The new order, which goes into effect Friday and extends through April 19, also allows shops and other businesses to have more customers and allows private gatherings to involve more people.
Whitmer used her coronavirus update press briefing to announce the changes Tuesday afternoon.
In addition, Whitmer said she's forming a new work group under the state's Department of Labor and Economic Opportunity to assess and make recommendations for safely re-engaging office work spaces that have been remote.
The group, she said, will include business and labor leaders and others to advise the administration on a plan for phased return to in-person work, taking into account the trajectory of the pandemic, vaccines, variants and mitigation measures.
"I look forward to reviewing the recommendations as they become available," Whitmer said. "I am committed to prioritizing public health and workplace safety moving forward."
Ironically, the easing of COVID-19 restrictions in Michigan – where pandemic statistics are improving – comes as new variants are being discovered and officials, including the federal CDC director, warn the new variants may result in more outbreaks.
"As we continue our vaccine rollout and make steady progress against the virus, we are taking additional incremental steps to re-engage to ensure we are protecting our families and front-line workers and saving lives," Whitmer said. "Michigan is a national leader in the fight against COVID-19, and our fact-based, data-driven approach will help our state rebuild our economy and resume normal day-to-day activities …We all have a personal responsibility to slow the spread of the virus so we can end this pandemic together.
"One of the most important things Michiganders can do is make a plan to get the safe and effective vaccine when it's available to you," the governor added.
Whitmer and Dr. Joneigh Khaldun, the state's chief medical executive, have been using three three benchmarks: COVID-19 case rates, test positivity rates and hospital capacity.
Right now, the case rate stands at some 91.2 cases per million, right about where it was in the beginning of October.
The test positivity rate is at 3.7%, which is an increase over the 3.5% rate. But statistics kept by the state show that rate is similar to where it was at the start of October.
After climbing to its highest point, 19.6%, in early December, the percentage of hospital beds dedicated to COVID-19 patients is at 3.9%.
The new order says:
Restaurants and bars may have 50% indoor dining capacity, up to 100 people. Tables must still be six feet apart, with a max of six people at a table. The order also backs the curfew on indoor dining to 11 p.m.
Families can begin visiting their loved ones in nursing homes, provided the visitors have received a negative COVID-19 test.
Retail shops are allowed to operate at 50% indoor capacity. It had been 30%.
Indoor private residential gatherings can now accommodate 15 people (up from 10) from three separate households (up from two). Outdoor residential gatherings are allowed to have up to 50 people.
Indoor gatherings involving people from different households are allowed to have up to 25 people.
Outdoor gatherings can resume with up to 300 people.
The 50% capacity limit (up to 300 people) also applies to venues such as movie theaters, bowling alleys and other entertainment venues.
Athletic stadiums and arenas that seat 10,000 people or fewer may allow up to 375 attendees. If the seating capacity is above 10,000, they can have 750 people.
Casinos are allowed to function at 30% indoor capacity.
Gyms are allowed to operate at 30% capacity, but workout machines must remain at least six feet apart.
The epidemic order continues to temporarily pause other venues and activities where participants have close physical contacts and are not consistently masked, like water parks. As before, employees who work in jobs that cannot be performed from home can continue to go to work, while employees who can work from home should continue to do so.  
The new order comes as Dr. Rochelle Walensky, director of the U.S. Centers for Disease Control and Prevention, used a White House coronavirus press briefing to say she is "deeply concerned" about what the new variants may mean for the pandemic.
While cases and hospitalizations have been trending significantly downward recently, there has been a slight shift upward in the last week — both nationally and in Michigan.
"With these new statistics, I am really worried about reports that more states are rolling back the exact public health measures we have recommended to protect people from COVID-19," Walensky said. "I understand the temptation to do that – 70,000 cases a day seems good compared to where we were just a few months ago – but we cannot be resigned to 70,000 cases a day, 2,000 daily deaths."