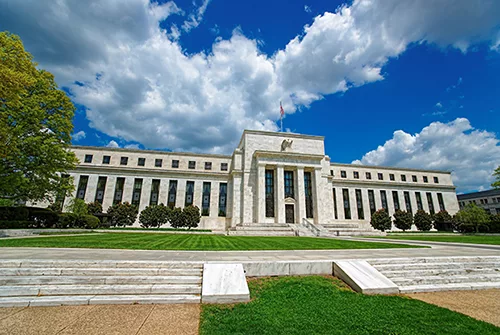 That didn't last long.
A month after pausing its string of increases to interest rates, the Federal Reserve raised them by a quarter-point Wednesday.
The Fed's governing body unanimously agreed to raise rates to a range between 5.25% and 5.5%, the highest they've been in 22 years.
The hike ended what turned out to be a brief pause in rate increases last month. It's the 11th increase since March 2022, when they lifted rates from near zero.
The Fed made minimal changes to its post-meeting statement, offering no new guidance about its future policy plans.
In a statement announcing the decision, officials said that "economic activity has been expanding at a moderate pace" – an upgrade from its previous description of "modest" growth.
"Job gains have been robust in recent months, and the unemployment rate has remained low," the Fed added, echoing its previous statement.
After meeting in June, officials held rates steady, though they scheduled two more increases this year. The Fed board is set to meet three more times this year, the next time in September.
Inflation has dropped from a 40-year high hit last summer, with the consumer-price index climbing 3% in June from a year earlier. That is well below the June 2022 peak of 9.1%.The Fed seeks to keep inflation at 2% over time.
USA Today reported that officials at Goldman Sachs believe Wednesday's rate hike will be the last now that inflation has reached a "turning point."
"By the November meeting, we expect the core inflation trend will have taken a decisive step down… and that this will convince (the Fed) that a second hike is unnecessary," Goldman wrote in a note to clients, according to USA Today.