The hospitality industry, especially hotels and restaurants, eager to serve customers again are creating new programs and procedures to make sure people feel comfortable staying with them in the age of coronavirus.
A good example of this is Rochester's Royal Park Hotel, which recently announced it will re-open May 18. Its plan includes three phases, which it hopes will allow its guests and workers to feel safe and secure about being inside the hotel and using its amenities, officials said.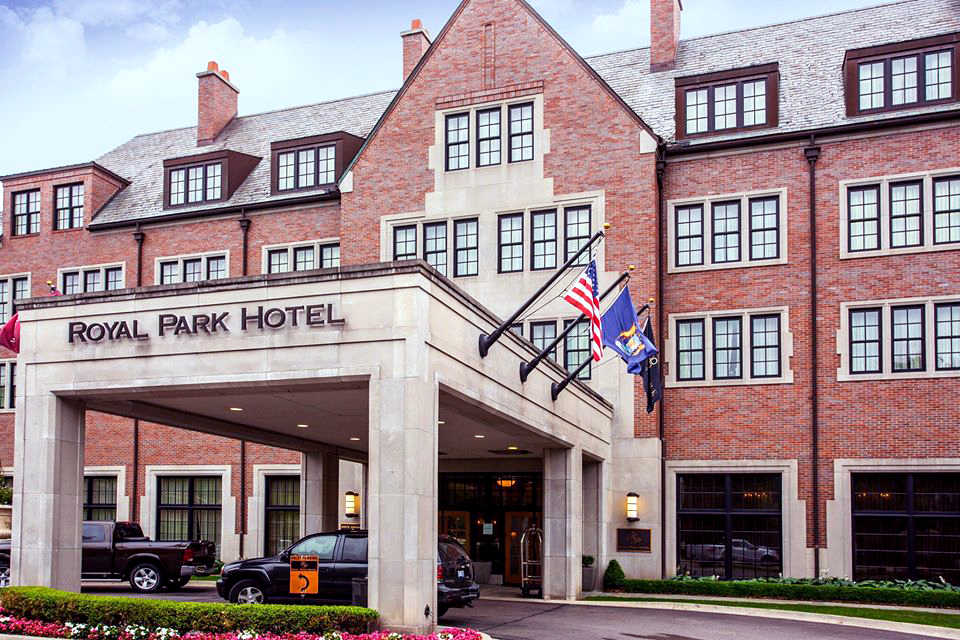 The first phase of the hotel's opening plan will be to offer overnight accommodations, carryout and curbside pick-up from PARK 600, along with a "Work from Our Home" daily self-meeting package. Customers also can ask for special cleaning as well as sanitizing products as desired, said Sue Keels, Royal Park Hotel general manager.
"We believe we were among the first to close our doors and do the right things (for our customers and employees)," Keels said. "We made that bold move because we wanted to be leaders. But we also want to be leaders on the other side, so that's why it's important to us to look at the future."
Royal Park Hotel is a luxury boutique hotel near downtown Rochester's Main Street. It features 143 guest rooms and suites as well as event facilities accommodating up to 1,200 guests. It also has on-property dining at PARK 600 restaurant as well as full concierge services.
Royal Park Hotel wants to have "best practices" for the industry, so it is working with its employees, health officials and its partners at WorldHotels & BWH Group, to ensure the hotel is providing the highest level of safety and sanitation," Keels said.
As a testament to Royal Park's longtime commitment to these standards, the hotel recently received AAA's Best of Housekeeping award for 2020. The property was recognized as one of only 25% of AAA members that exceed the standards of cleanliness.
Cleaning crews
Maintaining a clean environment as well as strongly communicating that effort will be important to employees and vendors in the reopening of businesses, said Trisha Plovie, Senior Regional Vice President of Robert Half in Detroit.
Robert Half recently conducted a survey of more than 1,000 professionals to gauge worker sentiments regarding the post-pandemic return to the office, given that many stay-at-home orders have changed how millions of us work each day.
In the survey, employees said they don't expect to return to business as usual. When asked about measures they expect their employer to take following COVID-19, top responses included: Allowing employees to work from home more often (79%); having better cleaning procedures (79%); holding fewer in-person meetings and trainings (70%); and staggering employees' work schedules (55%).
How the office is cleaned, for example, is really important to workers, Plovie said. "Everybody wants to make sure the environment they're walking into is a safe environment and we're controlling that environment," she added.
National standards
In early May, The American Hotel & Lodging Association (AHLA) introduced Safe Stay, an industry-wide, enhanced standard of health and safety protocols designed to prepare America's hotels to safely welcome back guests and employees as the economy reopens. AHLA officials said these protocols "represents the top priority for the industry, the health and safety of guests and employees."
These iniatives include enhanced cleaning standards throughout the hotel, including guest rooms, meeting spaces, common areas, and back-of-house spaces; the use of "superior cleaning products" with a greater concentration of bacteria-killing ingredients, in accordance with CDC guidelines; and social-distancing practices and reducing person-to-person contact Increased transparency throughout the guest journey.
Nearly two dozen hotels, including those around Walt Disney, have signed up to follow these protocols and the list is likely to continue to grow, AHLA officials said.
New initiatives
As the Royal Park Hotel reopens, it is making some significant changes, Keels said. Here are some of the ways it is moving forward:
• Investing in a state-of-the-art Clorox Total 360 electrostatic sprayer system. It is clinically tested to clean & sanitize 99.9% of viruses and bacteria including hard-to-reach surfaces.
• P&G hospital-grade cleaning and disinfecting products are being utilized in all areas of the hotel. This is a practice the hotel has had in place for years, but is now increasing the frequency of use.
• Hotel lobby, elevators, restaurant, meeting space and other heavily trafficked areas will be equipped with sanitizer stations for guest use.
• Social distancing will be strictly enforced. Plexiglass sneeze guards have been installed in the lobby along with social distancing tape and signage throughout.
• Check-In has gone digital. Offering mobile keyless entry and text messaging capabilities for communication. Guest safety and peace of mind are of the utmost importance.
• All guest rooms will be ionized prior to servicing upon departure to purify the air of bacteria and allergens.
• Duvets are laundered after each departure and rooms are disinfected and sanitized with P&G's hospital-grade line. In addition, knock & drop sanitation kits to spray down luggage and other belongings will be available for those who would like the additional peace of mind.
• PARK 600 will be utilizing disposable menus and napkins. There will be fewer tables and chairs to ensure proper social distancing, and every table and chair will be sanitized prior to seating the next reservation. As well, DoorDash delivery service and curbside pickup will be available.
Royal Park is maximizing indoor and vast outdoor spaces for dining, as well as for meetings and events.
Meetings and events will offer customized plated meals and individually wrapped options. Each event will have its own sanitizer station and will be monitored for proper social distancing.
In the coming months Royal Park will look to open for dine-in service both indoor and on their outdoor terrace at its PARK 600 restaurant. Also, Keels said the hotel's events will look to resume based on the executive orders set forth by the governor.