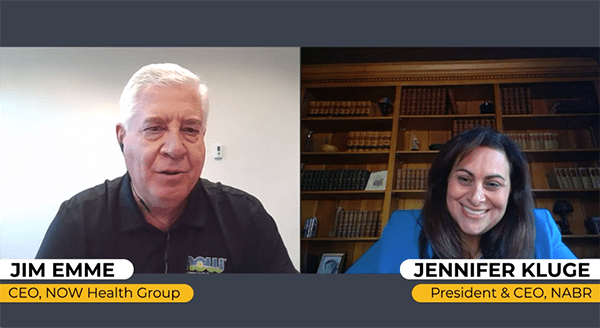 With some 1,400 stock keeping units, Chicago-based NOW Foods — a leading wholesale manufacturer/distributor of dietary supplements, natural foods and natural personal care products — has always had a large wholesale catalog.
A celebrity tweet that went viral put the focus on one of them recently, and sales of that product skyrocketed.
Jim Emme, CEO of Now Health Group, told the story of the tweet from Kourtney Kardashian during the most recent episode of "CEO Thought Leadership Series on LinkedIn Live," the discussion series hosted by the National Association of Business Resources.
Produced in conjunction with the Best and Brightest Companies to Work for and Corp! Magazine, the series is hosted by NABR CEO Jennifer Kluge and features business leaders from around the country.
Kardashian's tweet listed a group of products she thought helped her, including one from the NOW Foods catalog.
"She put a link to it and next thing we knew it flew off the shelf," Emme said. "One of our strengths is we've always had a wide array of products … Personal care, our pet supplement line is doing very well, natural supplements, sports products, natural snacks and foods.
"Because we've always had this wide array of catalog products, it always seemed that anything obscure that didn't sell very much but we had it because retailers wanted it around the world," he added. "All of a sudden, because we had it and other retailers didn't, it took off."
Now Health Group, with 1,800 team members in North America, has been a winner in the Best and Brightest Companies to Work For Program, which NABR operates, for more than 15 years. Emme, who started in the company as a plant manager, said that kind of success is attributable to the people who staff the company.
"I have town halls every year … one of the messages I share is that (the Best and Brightest) award isn't really about our company, it's definitely not about me, but it's about our people," Emme said. "It's their award. They're the ones who create the opportunity for us to receive this award."
In a wide-ranging interview, Emme discussed his perspective on a variety of issues:
Kluge: There's a lot of sickness going around now. I know you're not a doctor, but tell us what you would recommend.
Emme: Our products aren't magic bullets. Our mission is to provide value and products and services that empower people to live healthier lives. We're about helping people meet their personal goals.
We believe the three legs of that stool are:
Good nutrition. We are what we eat. That makes the biggest difference.
Exercise. Even if it's just getting up and walking around.
Supplements/natural products to augment your nutritional needs, that's where we come in.
Personally, the big sellers the last two years is anything to do with immunity. The Vitamin C has been a staple for decades. Who would have thought that would be one of the top-selling supplement products in the world?
Kluge: So much is going on in the wellness industry. There's mental health, there's physical health, there's financial health. How have you shifted your operations? What's changed? What have you had to adapt to quickly?
Emme: Of all the things I've been through in my career, I've done quite a bit, I grew up on a farm so I've had the agricultural side, my undergraduate degree is in food chemistry, with a microbiology minor, I've done many different things, large corporate positions, acquisitions and such, but I was never prepared for what was going to happen in the COVID environment.
I was prepared to understand about doing the right things, we're a family owned business. I'm not an owner I'm just a steward of the company. Being owned by a family, it's a lot easier to make decisions that aren't always oriented around the profitability of the organization. It's about taking care of our people.
If we weren't agile and we weren't adaptive with supply chain challenges, COVID shutdowns to prevent spread, slowed production because of separation of people – all right things to do – if we weren't open-minded and able to do that our chances of success would have been quite hindered.
The other part of our success is that value term in our mission statement – Value is the best possible product at the best possible price – we have 160 quality scientists, we've got a chem lab that some universities don't have. We're able to test and assure purity.
All of that adds up to allowing us to be adaptive and make better choices. The better information you have the better choices you make. But it still comes down to the skill and ability of our people. Whether they're chemists, or a person working on the line – each and every one of us is a leader.
It's a concept that's pretty simple … but it's real. They get it because we do have a clear, common mission.
Kluge: Say you had 10 young entrepreneurs just starting out. What leadership advice would you give them? How would you mentor them?
Emme: I have a lot of tools in my toolbox I've used over the years. I've been blessed to have great mentors who saw something in me that I never saw in myself, who gave me the push when I needed it.
Three areas I look at:
It's almost always better to make a decision, even with limited information. It's OK to wait for more information, but you need to make timely decisions. If you have some information, that will always lead you to a directionally correct decision. If you don't make a decision, the situation isn't going to change, and odds are it's going to deteriorate. Don't be afraid to (make the decision).
You're going to make mistakes. That's OK. If you make a mistake, own it, acknowledge it and make it right. We're a large company with a large number of team members. We make mistakes often. Just acknowledge it. So long as your intentions were honorable, you're going to be OK.
This may sound trite, but it's really simple and fundamental. Do the right things for the right reasons. Have a mission statement, have what your values are … those are what you'll be able to communicate as you grow. Treat people respectfully … is a key element of doing the right things for the right reasons.
I asked our founder what his secret to success was, and he said it was when he realized he couldn't do it all himself. He also said a business is going to go through challenges and sometimes difficult times. But if you're going through an era of rapid change — right now we're going through that with external forces being more crazy than they were two years ago in many ways – if you're trying to do the right thing you can feel good about yourself. If you do that, it propels you forward.
Kluge: What industry indicators are you privy to that other CEOs could benefit from?
Emme: We have a strategy map basically with pillars on it … what are our key points our strategy is focused around. The people lens is so important to us. Our mission statement has to start with our people first before it does our customers. We have to worry about making them feel valued, helping them lead healthier, more fulfilling lives.
There's a customer perspective, a financial performance perspective, a shareholder perspective … all of those have to be considered in our strategy in support of our mission and values.
Right now, the Great Resignation .,. we've all heard about it, we've seen it too. I envy some of the younger adults who are making choices to make the changes they do. I would never have had the courage to do that at that age. But they're doing it and they're happy and that's awesome.
Retirements have accelerated, which is impacting things. Now we're in an environment of rapidly increasing wages. That's appropriate, we believe in a fair living wage for everyone. Inflation is hitting. There aren't many generations in business where double-digit inflation existed. That's one that every CEO I've talked to is dealing with, in conjunction with supply chain challenges.
Kluge: How do you build trust and transparency, and what kind of communications do you do with your team to foster trust and transparency at all levels.
Emme: When I became CEO one thing I was not prepared for was the amount of time I'd spend on culture. I thought maybe 5%, (but) I spend one-third to half of my time on cultural issues.
It's tough. I'm the third CEO in the history of the company; the first was our founder, the second was the right-hand person to the founder. Those are pretty big shoes to fill. I had an executive coach who helped me understand 'you're different, you need to get out on the road and … establish what you're looking for.' You need to do it quickly, otherwise there's going to be confusion. The law of entropy and physics … nature abhors a vacuum, anything in nature left unto itself will lead to disorder. If you're not engaging and communicating, people create their own facts. It's human nature.
Kluge: Do you have any routines you follow?
Emme: I start out in the morning reflecting on the day before, and that's because before I went to bed I reflected on it, too. What worked and what didn't? I used to do it in a judgmental way, now I do it more in a learning way.
In the morning, I'm up and getting ready, and some of my best thoughts come when I'm getting ready. What must be true for this to be different today? I ask myself that question, not that I'm going to have an answer immediately … those are some of the best revelations that I have.
The other question is, "How does this best serve our organization and our people. And you always include 'our people' in that question. When you put it to that it's a lot easier to make things tangible and logical.