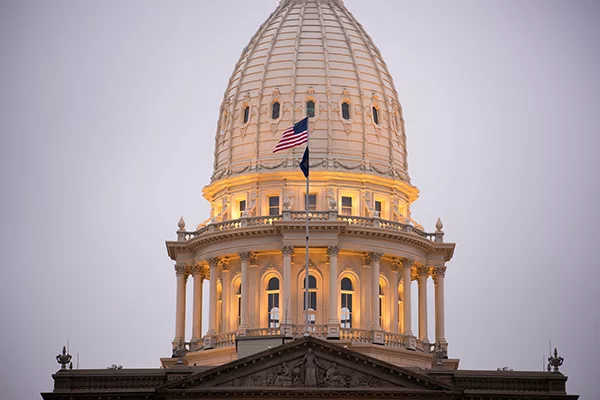 Michigan lawmakers on Tuesday moved one step closer to repealing the state's 10-year-old right-to-work law.
The state Senate, voting along party lines, passed legislation that repeals the 2012 right-to-work law, which gave workers the opportunity to opt out of membership in unionized workplaces. Tuesday's legislation would also restore a prevailing wage for state projects.
The proposals passed 20-17 and would repeal laws put in place under former Republican Gov. Rick Snyder. It's a victory for Democrats, who won majorities in the House and Senate for the first time since the 1980s.
House Democrats passed similar legislation last week, again along party lines, but the Senate changed the language in two of them, which means they will have to go back to the House before they can be sent to Gov. Gretchen Whitmer.
The Senate bills included $1 million in appropriations to respond to public inquiries and to "inform employers, employees and labor organizations about changes to their rights and responsibilities," the Detroit News reported.
Under the Michigan Constitution, the appropriations would make the right-to-work repeal legislation referendum-proof. Whitmer earlier she'll sign the bills repealing the right-to-work law, even with the appropriation. She has previously said she would veto bills that include appropriations to block referenda.
Senate Majority Leader Winnie Brinks, a Democrat from Grand Rapids, called it "a new day here in Lansing," according to The Hill.
Union supporters have said the right-to-work law has "harmed workers' wages and rights in the decade since it was passed," according to The Hill report. Opponents have argued that the right-to-work law has made the state's businesses more competitive.
Senate Republicans argued that the bill would take away workers' ability to decide for themselves whether to join a union and would financially support labor organizations that support Democratic campaigns, The Detroit News reported.
"This isn't about policy," said state Sen. Thomas Albert (R), the only Republican on the Senate Labor Committee, according to The News. "It's about politics. This is basically a political fundraiser being launched at the state Capitol."