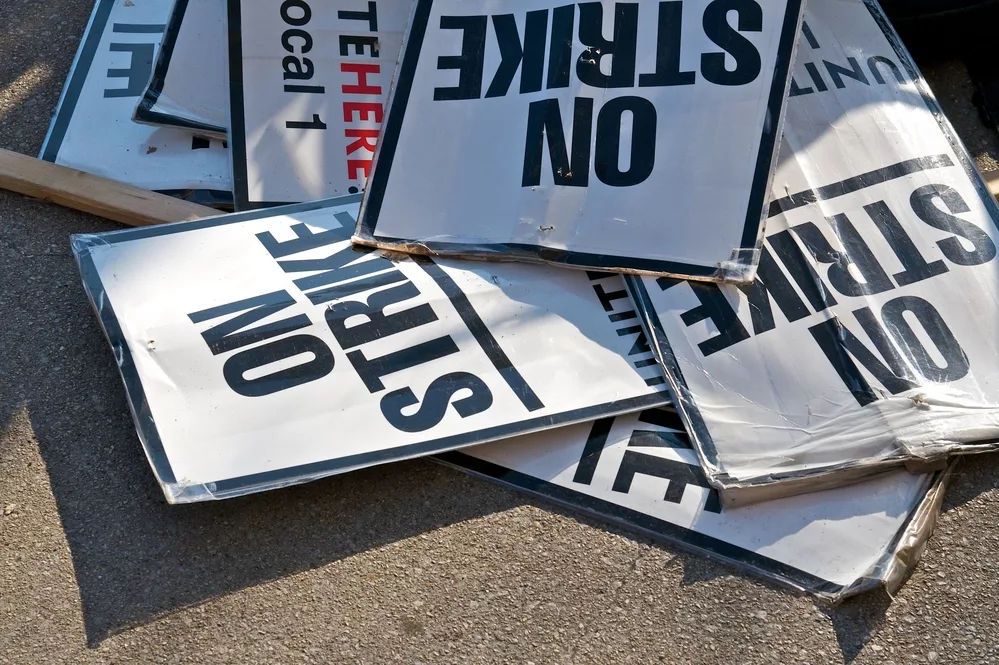 The UAW made history early Friday morning.
For the first time, UAW workers went on strike against all three of the Detroit automakers after the deadline for a new contract passed late Thursday night.
Some 12,900 workers struck against three plants simultaneously — Ford Motor Co.'s Bronco plant in Wayne, Stellantis NV's Jeep Wrangler plant in Toledo, Ohio and a General Motor Co. plant in Missouri – marking the first time in the union's 80-year history  workers hit all three automakers at once.
Shortly after the strike was announced, ABC News reported, union President Shawn Fain sent a message to UAW's email list.
"A few minutes ago, thousands of UAW members at Ford, GM, and Stellantis walked out, marking the beginning of the Stand Up Strike," his note read. "This fight is our generation's defining moment. Not just at the Big Three, but across the entire working class … We will stand up for ourselves. We will stand up for our families. We will stand up for our communities."
Fain then made his way to the UAW Local 900 hall and then, with thousands of UAW workers in attendance, marched across Michigan Avenue and stood in front of Michigan Assembly Plant, according to The Detroit News.
"This union is making history," he said. "This is our time."
Representatives for the automakers were quick to respond to the strike.
"The UAW has informed GM that they are on strike at Wentzville Assembly in Missouri as of 11:59 PM," spokesperson David Barnas said, according to the News. "We are disappointed by the UAW leadership's actions, despite the unprecedented economic package GM put on the table, including historic wage increases and manufacturing commitments."
"We are extremely disappointed by the UAW leadership's refusal to engage in a responsible manner to reach a fair agreement in the best interest of our employees, their families and our customers," Stellantis spokesperson Jodi Tinson said in a statement. "We immediately put the company in contingency mode and will take all the appropriate structural decisions to protect our North American operations and the Company."
Ford spokesperson Jessica Enoch said in a statement just after 10 p.m. Thursday that the company confirmed it had received "its first substantive counterproposal" from the UAW around 8 p.m., but said the counter offer "showed little movement from the union's initial demands submitted Aug. 3."
GM announced a new offer Thursday afternoon, saying the company had increased its offer of a pay raise to 20% from the 18% previously offered. Fain was on Facebook Live Wednesday criticizing the 18% offer.
In a note to her manufacturing team, GM CEO Mary Barra called the moment "a crossroads."
"We're at a crossroads on our path to building a company that can sustain all of us for decades to come," Barra wrote, according to The News. "Today, we put a compelling and unprecedented economic package on the table that reflects the significance of this critical moment."
Fain is scheduled to attend a rally in Detroit Friday with U.S. Sen. Bernie Sanders, the progressive lawmaker from Vermont.
Key demands from the union have included 40% hourly pay increases, a reduced 32-hour workweek, a shift back to traditional pensions, the elimination of compensation tiers and a restoration of cost-of-living adjustments, among other items.
Other demands included:
A four-day work week.
The return of automatic pay increases tied to inflation.
Stricter limits on how long workers can be considered "temporary" staff who do not receive union benefits.
Ford CEO Jim Farley criticized several of Fain's statements in a statement released by the company, saying the automaker has not "received any genuine counteroffer" to the last proposal from the union.
Farley defended the company's recent proposals, saying "if there is a strike, it's not because Ford didn't make a great offer."
GM said in a statement that the company continues to bargain with the union and "have presented additional strong offers."
"This includes historic guaranteed annual wage increases, investments in our U.S. manufacturing plants to provide opportunities for all, and shortening the time for in-progression employees to reach maximum wages," the statement read.