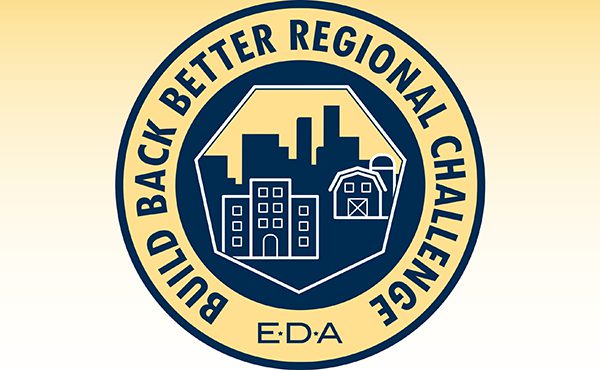 The Detroit Regional Partnership and a regional coalition of partners have secured a $52.2 million advanced mobility grant from the U.S. Economic Development Administration's Build Back Better Regional Challenge.
Gov. Gretchen Whitmer announced the grant. The DRP-led coalition was selected out of 60 finalists nationwide and won one of the largest grants out of 21 funded projects. It will advance the state's mobility and electrification leadership and build on Michigan's economic momentum.
"Michigan put the world on wheels, and we are building on our legendary auto manufacturing heritage by working together to bring investment and jobs to every region of our state," Whitmer said. "For a century, we have led the way when it comes to cutting-edge manufacturing, and today's investment will capitalize on our core strengths by supporting six projects to improve site readiness, bolster workforce development, and support innovative startups.
"Together, we are building on our bipartisan economic development efforts, unique mobility and electrification initiatives, and continued, strong auto investments," she added. "This collaboration between the state and several local stakeholders … will help us keep growing Michigan's economy, creating good-paying jobs, and investing in every region of our state."
Maureen Donahue Krauss, CEO of the DRP, said the "world is experiencing a once-in-a-century mobility revolution, and the Detroit region is poised to ensure the U.S. leads the way."
"The Global Epicenter of Mobility (GEM) is designed to support mobility in every sense of the word, from the transition to autonomous and electric vehicles to social and economic mobility," Krauss said. "Building on 400+ unique assets, GEM will support workers, startups, and existing companies so they can adapt to the rapidly evolving advanced mobility industry and create the new high-quality jobs of the future."
Grant Background
The grant will support six projects submitted under the Global Epicenter of Mobility (GEM) initiative, designed to accelerate economic growth by building on the region's mobility assets. GEM will create a smart, secure, sustainable, and inclusive advanced-mobility industry, starting with the transition to next-generation electric, autonomous, and fully connected vehicles.
The five co-recipients of the grant funding the six projects are:
Detroit Regional Partnership: 1) For GEM Central overall grant administration and 2) to increase site readiness to attract major mobility projects.
State of Michigan's Office of Future Mobility and Electrification: 3) To increase equitable access to the state's world-class testing and proving assets.
Southeast Michigan Community Alliance (SEMCA), in coordination with MichiganWorks: 4) To help existing companies meet evolving high-tech talent needs, offset retirement losses, and support career pathway advancement for historically excluded communities.
TechTown: 5) To accelerate the growth of mobility startups that drive innovation to fill gaps in the mobility value chain.
University of Michigan Economic Growth Institute: 6) To help existing small- to medium-size manufacturers transition to the electric vehicle market through a new Advanced Mobility Supply Chain Transformation Center.
"Michigan's mobility industry strengthens domestic manufacturing, advances research, and creates jobs across this entire country," said U.S. Rep. Debbie Dingell. "Our state's auto leadership has developed a roadmap to a diverse and resilient mobility economy for other states to replicate. The same strengths that have driven the growth of the automotive sector for decades will now transform our area's economy into a robust and growing industrial mobility hub, and the Detroit Regional Partnership will be at the forefront of that transformation.
"Southeast Michigan has a vision for a strong, equitable economic future, and with the immense capabilities of a century's old auto industry, this EDA grant will support the transition into a smart, sustainable, and inclusive mobility epicenter," Dingell added.
Quentin Messer, CEO of the Michigan Economic Development Corporation, believes the Detroit area has "proven time and time again its incredible capacity for mobility innovation, helping to drive Michigan into the next century of advanced, inclusive transportation solutions."
"We are proud to invest in this effort with our partners at the Detroit Regional Partnership and across the region to continue the tradition of mobility innovation and leadership and drive economic opportunity for the Detroit region, and across the state," Messer said.
The BBBRC received 529 applications from all 50 states and five territories for Phase 1. The DRP coalition won a $500,000 Phase 1 planning grant in December 2021 and was one of 60 finalists invited to apply for Phase 2. The DRP convened local and regional partners to secure an additional $19 million in matching funds to support GEM.
The effort brought together a coalition of over 65 members representing a cross section of economic development, higher education, workforce development, businesses, government, labor and community-based organizations. The William Davidson Foundation provided staff and financial support for weekly convenings of the coalition and grant-writing effort.
The GEM Coalition is one of 21 awardees receiving grants between $25 and $65 million to bolster economic transformation and competitiveness. Nationwide, these projects span 24 states and include $94 million to two primarily Tribal coalitions and over $200 million for projects serving communities impacted by the declining use of coal. Michigan also secured a coal communities grant to redevelop two coal plant sites and establish a new program to support local small businesses in the Downriver area.