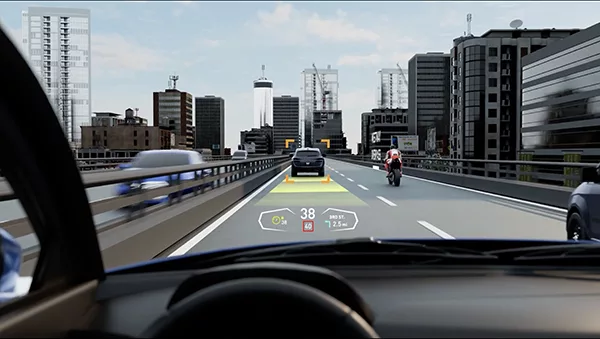 MILTON KEYNES, UK —  Envisics, pioneer and global leader in dynamic holographic technology announced receiving over $50 million as part of its Series C strategic funding round.
The round was led by Hyundai Mobis – a strategic investor from the Series B round in 2020 – with additional investments from new strategic shareholders InMotion Ventures, the investment arm of Jaguar Land Rover, and Stellantis.
Envisics' holographic technology enables market leading Augmented Reality Head-Up Displays (AR HUD), an advanced display technology that is fast becoming a must-have feature for auto makers and consumers alike.
"Since our Series B funding round, we have focused on growing Envisics into a key enabler for next generation mobility experiences," said Envisics' CEO and founder, Dr. Jamieson Christmas. "The caliber of our investors demonstrates the significance attached by global automakers to the transformation of vehicle interfaces and interior architectures.
"Our solutions are an exceptional fit for OEM requirements and provide platforms that enable the creation of unique brand experiences," he added. "Envisics stands apart as the only company that has created and delivered dynamic holographic technology as a viable product at scale."
Mitchell Caplan, President of Tarsadia Investments and Chairman of Envisics Inc., said his company, early investors in Envisics, has seen "both an acceleration of their technology and a shift in the market towards AR HUD solutions."
"This latest funding round gives Envisics the runway needed to realize the commercial potential of dynamic holography in the auto industry and beyond," Caplan said.
Hyundai Mobis is a leading global automotive Tier-1 supplier that is enabling the transformation of the in-car experience through the development and fusion of new technologies.
"Hyundai Mobis is very pleased to continue our strategic partnership with Envisics to jointly develop AR-HUDs and to improve the in-car experience," said Younghoon Han, Vice President and Head of Electronic Control and Convenience, Hyundai Mobis. "Hyundai Mobis expects to provide next-generation AR-HUDs with cutting-edge holographic technology, and to deliver an intuitive, safe, and convenient HMI to global automakers by strengthening our partnership with Envisics."
General Motors will be the first company to deploy the Envisics 2nd Generation AR=HUD technology, debuting in the 2024 Cadillac LYRIQ.
"Our collaboration with Envisics is moving into production this year, as we add AR[1]HUD technology to the all-electric 2024 Cadillac LYRIQ," said Sandy Lipscomb, Senior Manager, Ultifi Design at General Motors. "This innovation will further elevate the driving experience in the LYRIQ, adding a second plane of graphics that gives drivers more immersive information integrated within their natural field of vision."