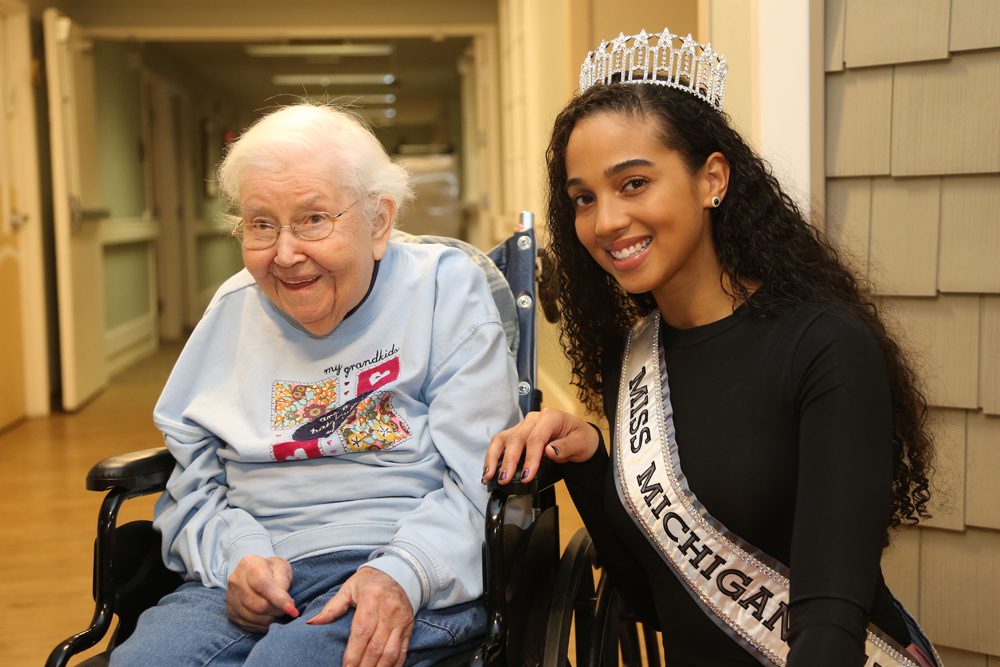 Probation officers aren't generally known for drawing big smiles from the folks they meet.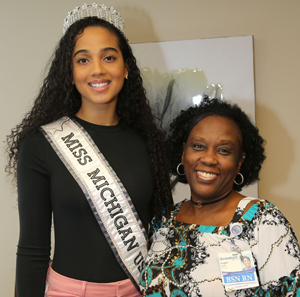 But when you're a probation officer who has also won the Miss Michigan USA 2020 pageant, the smiles come much more easily.
Smiles are exactly what Chanel Johnson, a probation officer with the Michigan Department of Corrections and the reigning Miss Michigan USA 2020 pageant winner, got from residents during a recent visit to Beaumont Rehabilitation and Continuing Care in Dearborn.
Johnson recently visited the Beaumont campus in Dearborn upon an invitation from her aunt, Inger Davis, a Beaumont nurse who anticipated how excited residents and staff would be to meet Miss Michigan USA.
They were not disappointed. Wearing her Miss Michigan USA crown, Johnson answered questions and autographed pageant photos, writing a personal note for each resident she met.
The first question asked by residents of the stunning Miss Michigan USA was, "How tall are you?" to which she quickly replied, "Five feet 10 inches and taller with my heels."
Johnson, competing in her first pageant, represented the city of Southfield in the two-day pageant that took place in September, competing with nearly 70 women from throughout Michigan. Following interviews, opening numbers, swimsuit and evening gown competitions, the group of women was eventually narrowed down to the top five participants, including Johnson.
In making the final selection, the judges asked Johnson, "Do you think there should be limitation on the freedom of speech?" Johnson quickly replied, "No," admitting she doesn't recall everything she said, but drew nods and laughter when she told residents and staff, "My mom said it was good."
"Chanel's visit brightened everyone's day. We saw big smiles on the faces of our residents and staff," said Director of Nursing Regina Graves-Hinton. "Our Miss Michigan can be sure to have a lot of us cheering for her when she competes in the Miss USA pageant in spring 2020."