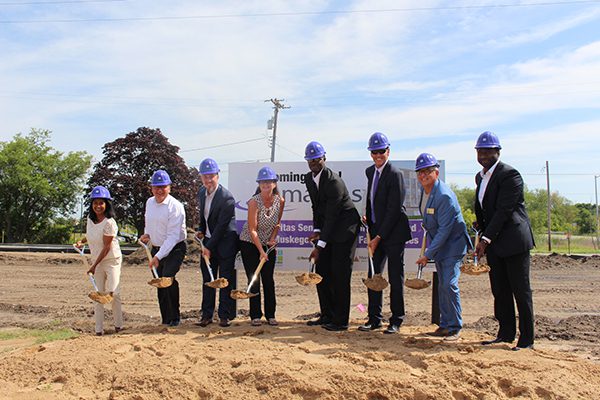 There's a reason Grand Rapids-based Mercantile Bank is Michigan's largest user of the Federal Home Loan Bank in Indianapolis.
It's called success, and Mercantile Bank recently partnered with Samaritas Affordable Living to add a little more to their total.
Mercantile and Samaritas recently announced a partnership to obtain $960,000 worth of Affordable Housing Program grants to provide housing to seniors 55 and older in Muskegon, as well as renovations to an affordable living community in Alpena serving residents 62 and older.
The bank also committed $33,000 in additional donations to help them secure these grants.
Sonali Allen, Chief Compliance and Community Development Officer for Mercantile Bank, said the bank recognizes the "significant need for affordable housing in our communities."
"Affordable housing is a challenge across Michigan – across the entire United States, right? – and we have access to these dollars," Allen said. "This is a way for us to bring back money to … to impact our communities. These two projects will allow many seniors to move into a new home for the first time."
The Samaritas project is currently under construction, building 53 new units of affordable, senior housing in downtown Muskegon. Mercantile and Samaritas also earned a second AHP grant in the amount of $500,000, which will be used in the $750,000 renovation of Samaritas Affordable Living of Alpena.
The Alpena project updates kitchens and bathrooms in 65 apartments along with improvements to common areas. Mercantile Bank added a $10,000 grant to the Alpena project and is providing the construction loan financing.
"If the last few years have taught us anything, it's that the average Michigander is being priced out of housing across the state," said Joel Lautenbach, Samaritas' executive director. "With partnerships like Mercantile, we can renovate existing housing while keeping it affordable and leverage dollars to create new affordable housing communities.
"Affordable housing is needed now more than ever, and I'm glad that Samaritas is leading the way with meaningful solutions for people who really need help," he added. "With partnerships and new investments, we can make an even bigger impact."
Samaritas Affordable Living of Muskegon, a community for seniors has been awarded a $460,000 Affordable Housing Program (AHP) grant from FHLBank Indianapolis.
Samaritas, which has been serving vulnerable populations for some 88 years, manages 16 communities with some 1,000 units of housing.
Lautenbach said affordable housing is a "critical need" across the country.
"Housing is the foundational piece," he said. "If you think about healthy, stable lives, you need that place to go back to. Housing is the foundation if you want to live a stable life."
The Muskegon and Alpena projects are the third and fourth projects Mercantile has gotten funded this year, for a total of $1.9 million. It continues a run of success that started with Mercantile's first venture into the market in 2010.
In the intervening years, Mercantile has gotten 16 applications approved for more than $7.8 million. Those applications have resulted in 819 units being provide for low- and moderate-income families.
"It's getting a lot of housing to a lot of people who need it … That's why we do it," Allen said. "We do it because if we don't access these dollars, they don't get used in our communities. We are getting access to dollars … to help improve things for individuals in our communities."
In addition, Mercantile participates in the Home Improvement Program and helps with down-payment assistance. Mercantile recently did such a grant for $1 million with Grand Rapids.
Allen said she loves that program … because it helps low- and moderate-income people who otherwise wouldn't be able to afford basic home improvements.
"We're giving them roofs, we're giving them furnaces, we're giving (grants to) these people who potentially couldn't think about getting a new roof, and they don't have to pay it back," Allen said. "The thing with the (affordable housing) grants is I don't get to see the individual who's moving into the house. But with the home improvement grants, I get to hear from that individual who gets $8,000 to improve their house. "Those are people who are like, 'Oh my gosh, I didn't think I was ever going to be able to afford to fix my roof.' I get letters, I get pictures and every once in awhile I get to meet them."