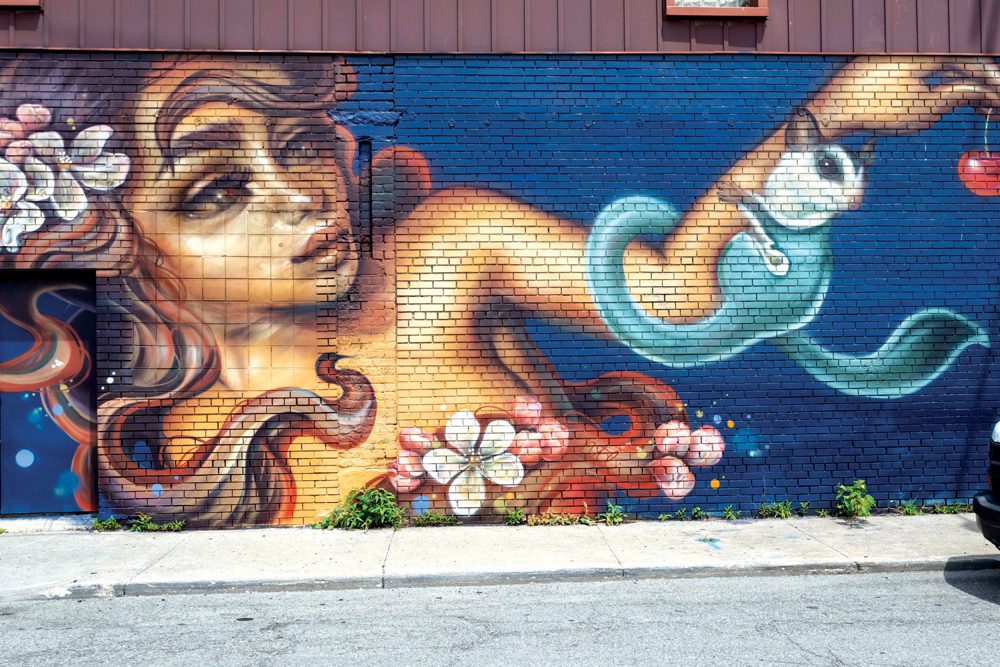 Art does more than add a mural to a wall or a sculpture to a park — it can help define a community.
There's the cultural, social, and economic value to public art, but there are also so many added benefits that aren't always as easy to measure.
"Art gives a community expression," said Mikel Bresee, director of Community Arts Partnerships for the College for Creative Studies in Detroit.
Take the bronze Spirit of Detroit monument, created by Marshall Fredericks, at the Coleman A. Young Municipal Center on Woodward Avenue. The 26-foot sculpture of a seated figure holds a sphere emanating rays to symbolize God in his left hand and people perched on the right hand represent all human relationships.
I can relate
"People can look at it and say, 'Oh yeah, that's Detroit,' and if you're a Detroiter, you can say, 'Oh yeah, that's mine,'" Bresee said.
Art can be way for a community to brand itself, explained Deb Polich, president and CEO of The Arts Alliance and Artrain, Inc. The Arts Alliance champions the arts and creative industries in Washtenaw County.
When you fly into Denver, Colo., Orlando, Fla., and Anchorage, Alaska, you immediately know where you are by their art pieces.
"It helps anchor identification, it tells your story, it's branding," Polich said. "Public art might cost a bit more, but the long-term benefit will pay off, because the people will want to stop in, live in and invest in that community rather than driving by or driving through. Frequently, businesses will get behind investments in other initiatives to attract businesses to their communities. They get the idea that the more people, the more robust a community is, because there is business."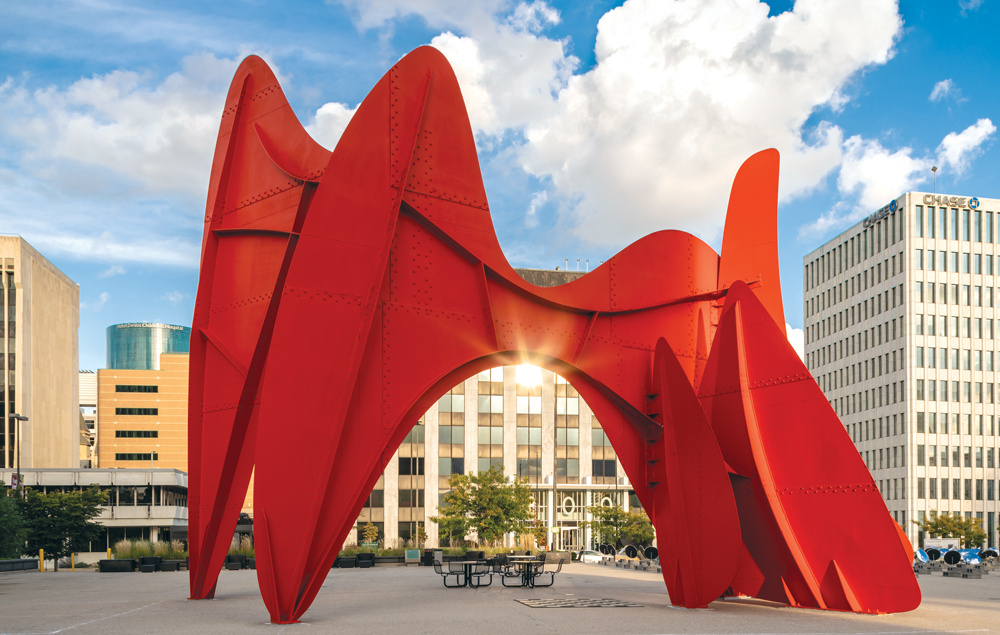 Making changes
In the last decade or so Detroit has seriously stepped up as a leader in showcasing public art that can work as a catalyst to transform blighted areas and bring people together.
At the grassroots level Bresee works with CCS community + public arts: DETROIT (CPAD), going into neighborhoods and brainstorming ideas for art projects.
They ask: 'How can art help address challenges in the area?'
"We have a neighborhood with vacant lots and it becomes an opportunity to take those lots on," Bresee said. "Maybe we will put up a pavilion, and a few small sculptures. A block club can get a vacant lot turned over from the Land Bank and they create themselves an art garden. That can create a sense of ownership, a sense of expression. Those aren't vacant lots now."
"The Illuminated Mural," also a CPAD project, at East Grand Boulevard at Woodward, was in a dangerous, rundown area in the north end of the city. Nearly 10 years later, development is popping up and the area is beginning to thrive. Bresee said art has played a role in this morphing process.
"It was the largest building in the area," Bresee said, pointing to the lot next door that had tall grass and pieces of stolen cars. "It was an eyesore and a danger to the neighborhood."
Artist Katie Craig got permission to move into the building while she worked on the project, where she splattered more than 100 gallons of paint on the nine-story building in the Milwaukee-Junction area north of downtown.
"The important thing is that attention on that building," Bresee said. "That building has never sat vacant and unknown since the mural went up in 2011."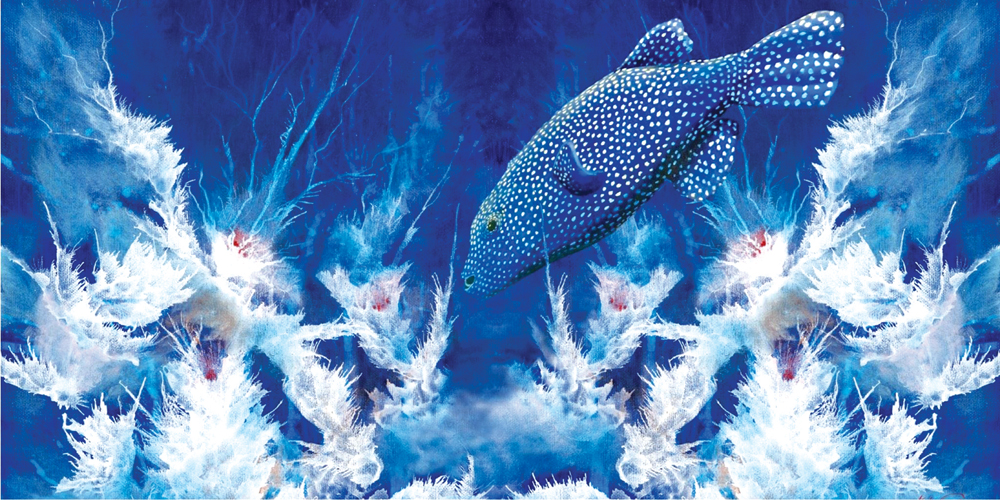 Sit awhile, relax
Urban gardening is big in Detroit right now and those entities are works of art, too, Bresee said. One garden in the Jefferson and Chalmers neighborhood provides an area for people to meet in an idyllic, open, public space that was previously blighted. The Reading Garden, on Kercheval Street at Concord and another CPAD project, features benches and three large sculpture heads by Larry Halbert. It was a large, vacant lot when the work began.
"If we had not done that work of art, we wouldn't have found out that corner was a park and it could have been sold to a developer," Bresee said.
Looking for CPAD projects involves talking to community groups, identifying key issues to areas, deciding what art they can bring and pinpointing what they want the art to communicate.
In other pockets of the city, CPAD worked on beautifying bus shelters.
"We created works of art for people to crawl into to get out of the rain while they're waiting for the bus," he said. "I can't say art has done any one thing. Art is a media for expression. Community art can give a voice to a community."
Making a name
Polich noted that art spurs conversation.
"Some will love a piece, some will not love a piece," she said.
There was a lot of debate, for instance, about the monument to Joe Louis, known as "The Fist," in Detroit's Hart Plaza. There was a lot of controversy brought up by people who thought the fist portrayed Detroit as combative. Others saw the 24-foot-long arm with a clenched hand as representing the power of Louis's punch inside and outside the ring, pointing to his efforts to fight Jim Crow laws. These people saw the fist as symbolically aimed toward racial injustice.
"It's part of Detroit at this point, it doesn't seem like a combative issue anymore," Polich said.
Similarly Grand Rapids has the Alexander Calder sculpture, "La Grande Vitesse." It's one of the city's most recognizable symbols, even though some saw the abstract piece as a pile of junk.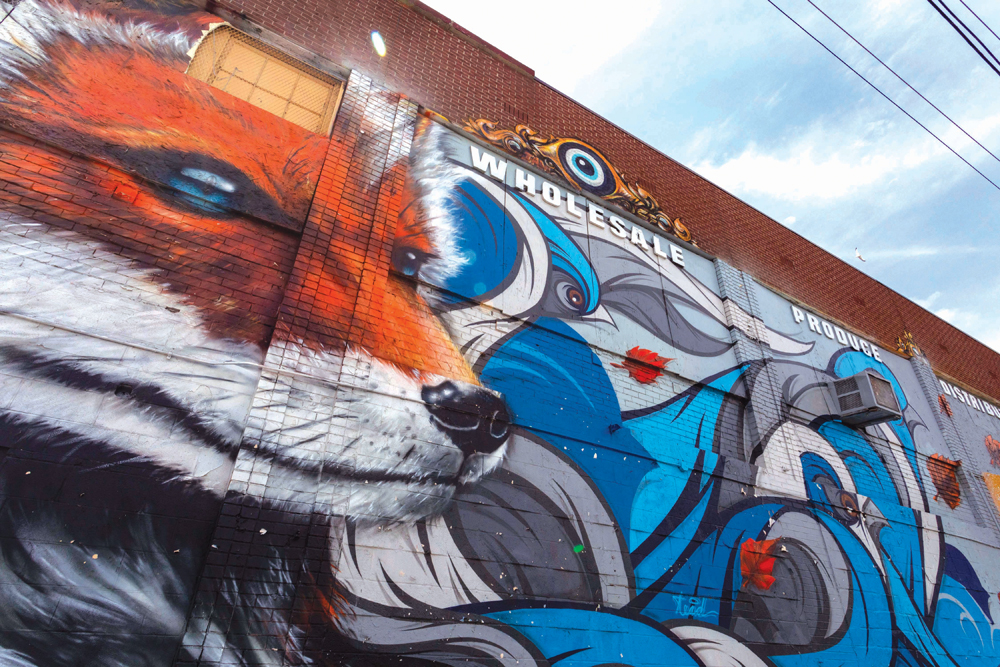 Coming together
An idea was born in 2011 for Ann Arbor's Canoe Imagine Art sculptures, made from old canoes that were going to be discarded, and are on display along the Huron River. They were intended as temporary installations, but they proved so popular, they remain today.
It's an example of community groups coming together and embracing art, and it was a chance to celebrate the history and attributes of the Huron River and the city's park system. A collaboration of the community, the City of Ann Arbor, its parks and recreation department, and the Ann Arbor Public Art Commission, it was also supported by the Michigan Council for Arts and Cultural Affairs (MCACA).
The Ann Arbor Downtown Development Authority (AADDA) has emerged as a pro-public art and design champion, Polich wrote in an October 2016 article in "The Review."
For instance, frustrated by how the electrical traffic boxes in its downtown had become unsightly spaces cluttered with flyers and graffiti, the AADDA turned to The Arts Alliance to help transform them into canvases displaying local art by local artists. More than 2,000 people voted on the final selections. PowerArt! involved an array of government agencies: AADDA, the City of Ann Arbor and its public arts commission, and the Michigan Department of Transportation. It was funded in part by the MCACA.
Art everywhere
Downtown Grand Rapids embraces community art projects better than most communities, with its ArtPrize program, featuring sculptures, murals and every medium imaginable taking over the city. ArtPrize is now held on an every-other-year schedule, as is Project 1. Each event occurs in the fall.
On even years the ArtPrize competition draws artists from around the world and on odd years, including this year for the first time, Project 1 involves commissioned art from five artists.
Art Prize hosts a month of art, draws half a million visitors and it's free and open to the public.
"It's one of the most attended art events in the world," explained Kevin Buist, ArtPrize artistic director.
The benefits spinoff throughout the city. Businesses, from banks to hotels and restaurants, even hospitals and churches, host art and bring visitors to their spaces during ArtPrize. In fact, some groups and entrepreneurs try to piggyback on all the attention the city gets by scheduling conferences and programs during the event "to take advantage of the festive quality and that energy," Buist said.
Business owners also step forward as sponsors, underwriting and supporting ArtPrize and Project 1. "We collaborate with businesses in many ways," he said. "For the most part our largest funding source is corporate sponsorships and as venues. The big thing why businesses want to get involved is for civic pride. ArtPrize has become a signature event in the city. It's a cultural calling card. Businesses tell us it's important for their employees and customers to be part of that."
The public is invited to vote on which display they like best for the winner of large cash prizes during ArtPrize. This year, Project 1 runs Sept. 7 through Oct. 27, with art displayed in downtown Grand Rapids; the Tanglefoot studio, an industrial building on the southwest side of the community; and several installations at Martin Luther King Junior Park on the southeast side of the city.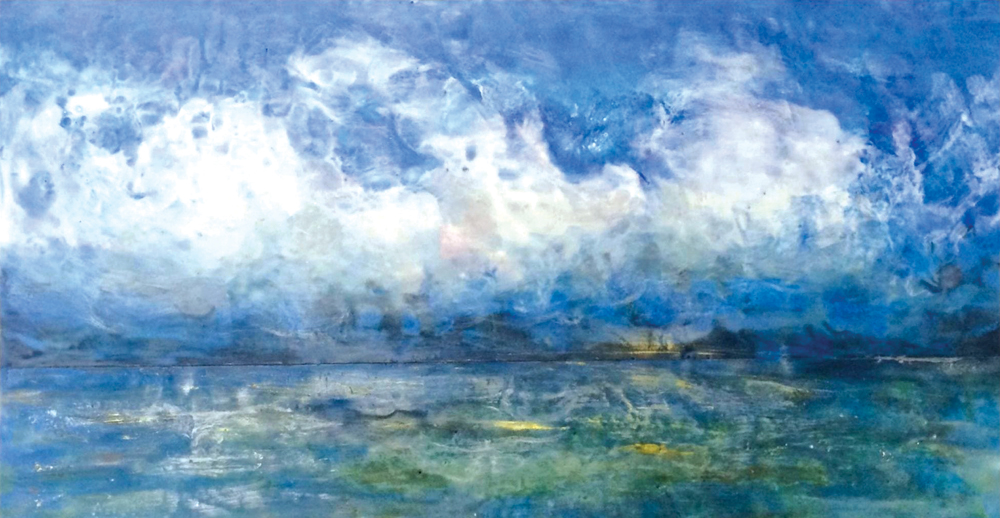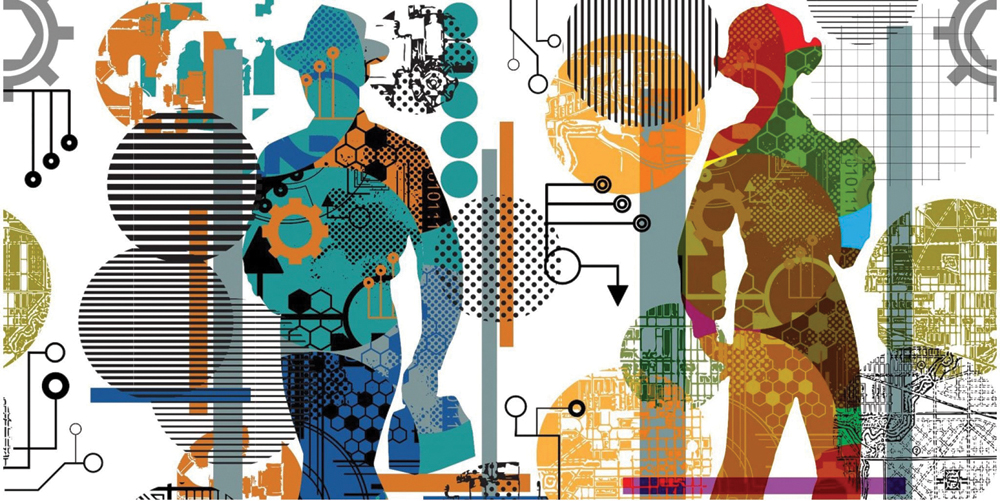 Common ground
Art brings people of all ages and cultures together, explained Deanna Majchrzak, Detroit Metro Convention and Visitors Bureau media relations manager.
She pointed to the wing mural on Woodward Avenue as a piece of art that has gotten a lot of attention. Stand against the wall at 1500 Woodward and instantly grow broad, intricately decorated wings, created by international street artist Kelsey Montague. It's become a must stop during any visit to Detroit, to pose in front of the mural and post photos on social media.
"People from everywhere take their picture there," Majchrzak said.
Art going on abandoned buildings is transforming the City of Detroit, she added. A perfect example is the Murals in the Market project at Eastern Market. For four years, 1xRUN and Eastern Market Corporation has produced more than 125 murals from artists around the world. New murals will be created during the Eastern Market-based street art festival this year, Sept. 14-21. Murals in the Market also hosts many events during the festival, including panel discussions, artists' dinners, meet and greet opportunities, site-specific installations, block parties, nighttime events that coordinate with Eastern Market After Dark and other programs. It's an international mural festival that encourages community engagement using public art as a vessel.
That's art?
One person's art is another person's vandalism. Street art comes in a lot of different forms. Graffiti writers, for instance, have left their marks on rundown Detroit buildings, but their presence sparks debate about the difference between graffiti and murals. Graffiti is unauthorized and murals have been approved. There is some crossover, however, like on Grand River Avenue between Rosa Parks Boulevard and Warren Avenue. In 2012, real estate executive Derek Weaver commissioned graffiti artists, and got permission from local businesses, to create the Grand River Creative Corridor with nearly 100 murals that has transformed the area into a tourist attraction.
Keep in mind: public art isn't limited to urban areas. Novi's Fuerst Park is home to seven sculptures by Michigan artists. The city also embraces art with five sculptures on the Novi Civic Center Campus. The Cultural Arts Advisory Board and the Novi Parks, Recreation and Cultural Services received a grant to enhance the 2017 Outdoor Sculpture Exhibit on the Novi Civic Center Campus. This grant was awarded by the Michigan Council for the Arts and Cultural Affairs and the National Endowment for the Arts and matched by the Novi Parks Foundation.
Art draws them in
No matter where you live in the state, or in the world for that matter, art draws people, according to Polich, who wrote in "The Review" about how art works as "placemaking" for a community, turning a neighborhood, town or city from a place you can't wait to get through into one you never want to leave.
"The place we live, the streets we walk on have to have function with its buildings, benches and street signs," she said in her article. "They can be built for the purpose of function without beauty and design. Think Soviet block construction. Or they can be enhanced to be attractive, colorful and to please the eye. When you think about the place you want to live, which would you prefer?"