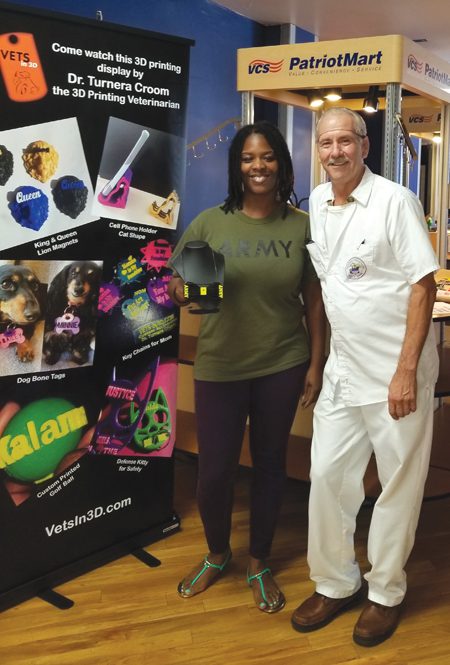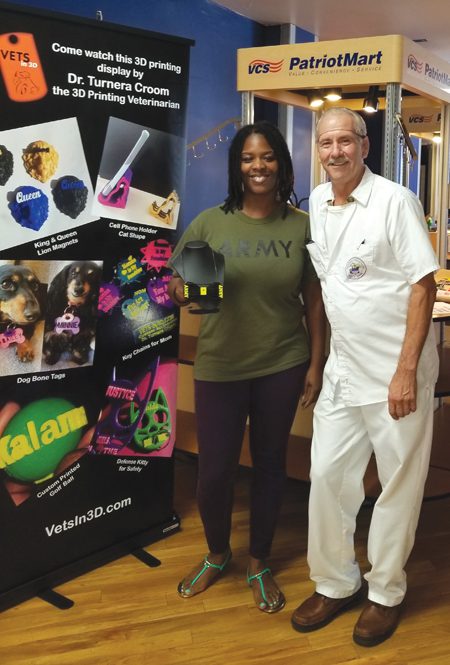 Rick Neveu served in the U.S. Army as a combat medic. In his civilian life, he became a computer technician.
Neveu never made the connection between his military service and his professional life.
That is, until he was speaking to a client through his company, Cat 5 Technologies. The customer was a contractor trying to procure government bids due to being a veteran.
The hard drive in his head suddenly clicked.
"I thought, 'Hey I am a veteran. Why not promote it and see if I can pick up a little bit more business,'" said Neveu, whose one-man operation offers everything from web design and hosting to computer training.
As a former E4 specialist/corporal, Neveu is registered with the Buy Veteran program of the National Veteran-Owned Business Association, which provides a directory of veteran-owned businesses on its website, buyveteran.com.
In the year since Neveu began playing up his veteran status, he's landed a few new customers, ranging from churches and restaurants to auto dealerships.
"I believe it came from there (buyveteran.com website), because they mentioned they saw that I was a veteran," Neveu said.
Neveu's sliver of an anecdote only begins to illustrate the larger pie that's available to entrepreneurs and business owners when they effectively market around their veteran status.
On NVOBA's directory, veteran-operated businesses listed in Michigan run the gamut from tattoo studios, fine art photography, and skin care to personal services.
That eclectic mix shouldn't come as a surprise, especially when considering 9.5 percent of all small businesses are veteran-owned, said Matt Sherwood, executive director of the Flint office at VetBizCentral, an SBA funded Veterans Business Outreach Center. The Flint Center won the National SBA Veterans Business Outreach Center Excellence in Service Award for 2017.
"Obviously, with the drawdown of the wars, Americans are wanting and willing to help veterans," Sherwood said. "What better way to do that than to purchase products, services or commodities from them. But they don't know if they are a veteran-owned business unless they are marketed and branded that way. So, it is one of the things we talk about letting people know–that you are a veteran or service-disabled veteran and you own a small business."
Sherwood continues, "Again, it's a way the everyday customer, consumer, or client can perhaps provide some money to these businesses, get engaged with these businesses, procure products, services and commodities from them. Again, they don't know if they are veteran-owned unless they market themselves as that. That is something we talk about on a daily basis with clients in terms of the counseling that we do."
At stake is an $80 billion market for veteran and service-disabled veterans. A couple of things have made that possible.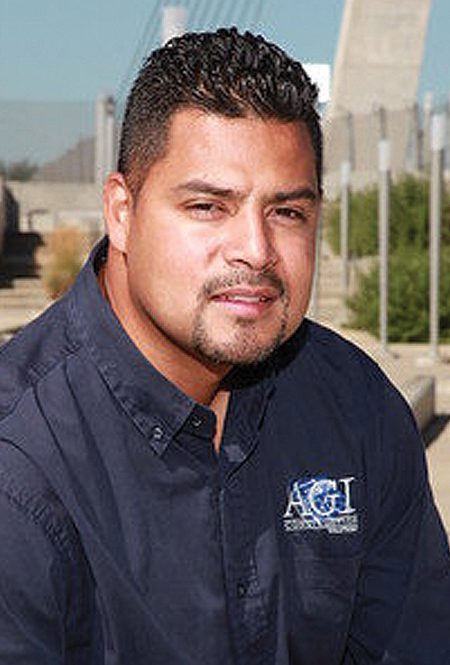 In 1999, the federal government passed a law to award 3 percent of all federal contracts to businesses owned by service-disabled vets. Also, nearly 15 percent of Fortune 1000 companies set out to include veteran businesses in their supply chains, according to NVOBA.
"What we've seen here in the Midwest is corporate America really looking to embrace more of the veteran businesses into their supply chains," said Sherwood, whose regional office covers Michigan, Ohio and Indiana and is part of the U.S. Small Business Administration.
"With that being said, they want to make sure that these veteran businesses are legitimately veteran owned and operated. So one of the things we do here is talk about–from an education and counseling standpoint–is getting veteran business certification, either the (Veteran Administration's) umbrella or through a third-party certification that is acknowledged by corporate America, like the National Veteran Business Development Council."
Luis Ali, owner of Detroit-based AGI Construction, can speak to the rigorous certification process, which in his case involved some trial and error.
The Air Force engineer served in Afghanistan, where he earned the Global War on Terrorism Service Medal and Air Force Expeditionary Service Ribbon. He also injured his back while on active duty, which included helping build runways at Camp Dwyer in Helmand province, Afghanistan.
"So right out of the gate we thought, 'Oh yeah we're going to go right after government contracts and we're going to use our veteran status and try to gain some of these contracts because there are certifications we need to have and there are requirements that the government asks for to meet certain percentages of veteran-owned businesses on government projects," said Ali, who grew up on Detroit's southwest side and graduated from Western High.
Ali embarked on the certification process, which included the "daunting" task of putting together 100 pages of documentation. He applied through the Veteran Enterprise Center in 2010. Much to his chagrin, he was denied, because his brother-in-law was involved in the business.
"The denial letter said I did not have full control of the business because I had a partner," said Ali, whose brother-in-law has since departed the operation. "So that was a little frustrating because, as a small business, you are limited in terms of the time you can spend on one thing and spending a full week on trying to put a certification package together–just to be denied–was pretty frustrating, just because of something as simple as you have a business partner who was my brother-in-law at the time."
Two years later, Ali reapplied and received service-disabled veteran certification.
Ali, who is also certified as a Native American-owned business, linked up with the Veteran Business Outreach Center, which was helpful in terms of networking and consulting.
More is being done to level the playing field for smaller, veteran-owned businesses, Ali said.
"They realized they were putting a burden on the smaller companies that were asked quite a bit, as opposed to a corporation," he said. "You have these corporations who are doing these large contracts and you're like, 'Who is the veteran in that business?'
"Obviously, it's not the owner in these large businesses. It's either a veteran they are paying on staff or somebody who is getting that certification for their business. Of course, they have the wherewithal financially, so they are receiving some of these contracts and it makes it a little difficult for us smaller guys who are new to that market."
Ali's construction company is a testament to the veteran success story, despite the challenges.
His wife, Tanya Saldivar-Ali, oversees the office, while there are four in the field, including a project manager.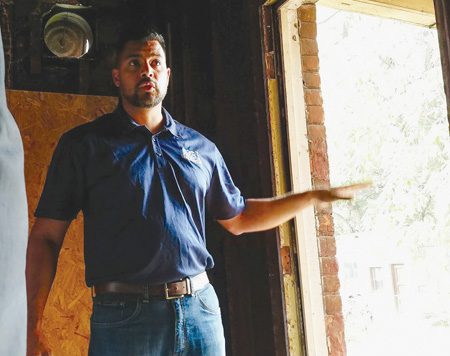 Last year, AGI posted $700,000 in revenue and the residential and commercial construction company is on pace to match that this year.
"That's really big for us, because in 2013 … I really had to find what I wanted to do. We had something like $150,000 in revenues," said Ali, who continues to serve in the Ohio Air National Guard 200th Red Horse Squadron.
"Since then, we've grown and sort of turned the corner, where we're on the other side now and things are looking up. There is a lot of opportunity being here from Detroit. There is a lot of construction, a lot of revitalization going on in the neighborhoods. So we're getting a lot of calls."
When hiring, Ali says he looks out for those who have also served.
His charges include veterans, including a former Marine who needed reliable transportation to get to work. Through the Wayne County Veterans Community Action Team, they were able to donate a vehicle.
"It really worked out for him," Ali said.
The goodwill generated extends beyond the veterans community.
NVOBA cites a poll where two-thirds of American consumers said they would prefer to buy from veteran business owners than non-veteran business owners. The trust factor is immediate.
"Veteran business owners are twice as likely to succeed as non-veteran business owners and we feel that is a direct correlation to what we were instilled with during our service," said Sherwood of the Veteran Business Outreach Center, who is a veteran himself.
"Those characteristics that are instilled with us in service – leadership, discipline, following the mission, attention to detail – those are all characteristics that all make what we call the 'veterapreneur.' Those, again, are all tied into the success of business owners from a veterans' standpoint.
"The education and training that we received in the military, those principles are some of the same principles that are followed to be a successful entrepreneur. We feel a strong correlation to success in business is that time and service."
Military service infused the entrepreneurial spirit into Dr. Turnera Croom, who is one of the few who can boast being a "veterinarian vet."  She also runs a 3D printing business on the side.
A retired U.S. Army Veterinary Corps officer, she launched an eponymous mobile veterinarian service three months ago.
The Michigan native worked as a public health veterinarian for the U.S. Department of Agriculture before starting out on her own. She calls being an African-American woman veterinarian and an Army veteran a "double whammy" for clients.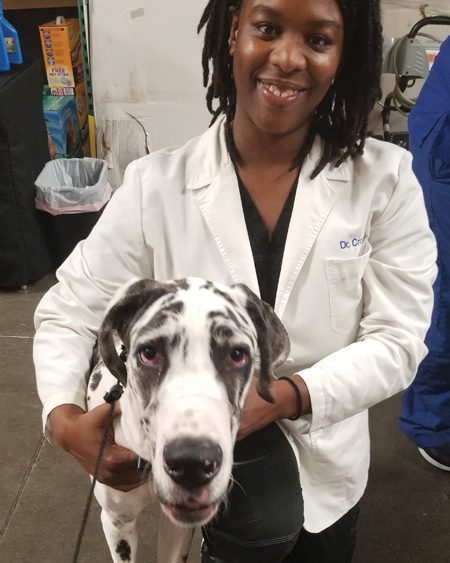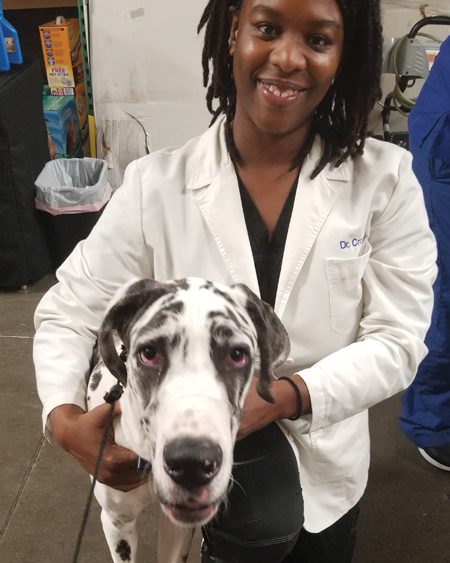 "When people find out that I am veteran and a veterinarian, they assume I've worked with German shepherds and larger breed dogs," said Croom, who studied at the Tuskegee School of Veterinary Medicine. "They assume that was my role in the military and it wasn't, but they assume that I am comfortable around big dogs.
"The customers expect a certain professionalism that I would have had anyway, even without my military experience, due to my upbringing. Also, there's an expectation of some down-to-earthiness and that's what I give them."
Two years ago on Veterans Day, Croom started Vetsin3D.com, which sells trinkets online printed on her 3D printer.
Croom immersed herself in the emerging technology, which she enthusiastically points out can also be used to construct prosthetic limbs and perform brain scans.
She lugs the high-tech printer to schools and libraries for presentations and, instead of the traditional metal tags for rabies vaccinations, "which is boring," she provides 3D ones for her veterinarian clients.
For Veterans Day last year, Croom planned to start a veterinarian career exploration program for children age 16 and under. She will take young aspirants to pet stores or other places where they would have access to animals.
"I am a creative person and, so, I don't like to stay inside of a box," Croom said. "I don't like to stay inside a veterinarian box. People think they know exactly what a veterinarian is supposed to do and should do. I don't agree with that."
Experts agree veteran business owners have to prominently advertise that they proudly served.
Grand Rapids-based Ready Ride Transportation and Reddi-Ride Transportation in Southfield, Mich. have decals on their vehicle fleet, trumpeting the fact that they are veteran-owned.
The companies, though they shared ownership, are separate entities.
"I think it is a good idea," said Bill Sloane, chief executive officer of Reddi-Ride Transportation and a veteran of the Marine Corps. "I think it's a good idea to be able to use your service record. I mean if I could, I would put the fact that I was an Eagle Scout and had a Silver Award in Explorers, but nobody cares about that anymore."
Reddi-Ride has contracts with Henry Ford Health System, McLaren Hospital and Area Agency on Aging, which account for more than $1 million in sales, Sloane said.
"They were impressed that we were 100 percent owned by veterans," he said.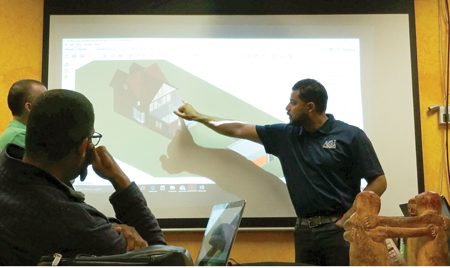 At Ready Ride, though, veteran advertising has been a double-edged sword.
Some callers mistakenly think they have to be a veteran to use the service or that it is free for those who served, said Audrey Lemieux, Ready Ride's marketing director. Her husband, Joe Lemieux, is part-owner of Ready Ride.
No one would mistake her spouse's service to his country, though.
The highly decorated Army assault helicopter pilot flew numerous missions in Vietnam, receiving the Distinguished Flying Cross, Air Medal (51 awards), Bronze Star and the Cross of Gallantry with Cross Palms.
On a November 1969 mission, Lemieux was credited for saving his crew after another helicopter sheared the aircraft's tail rotor while in flight. The other copter's crew, which included one of his best friends, all died.
"Joe is, in my opinion, a hero," his wife said. "He proudly served and served for a long time."
Ready Ride offers a 10 percent discount to veterans. The company also makes it a point to hire those who serve, Lemieux said.
Since the couple arrived, the company has grown from four vehicles and four drivers in 2014 to 30 drivers and 25 vehicles. Ready Ride requires all drivers to have chauffeur licenses and it performs extensive criminal and driving background checks.
Order and discipline, like many veteran-owned outfits, starts at the top and permeates throughout the organization.
"If I try to put myself in that place of the client, obviously, I feel it does add a level of trust," Audrey Lemieux said. "I know, myself, when I'm looking for services, if someone is a veteran, that is a big plus for me.
"I'm sure other people feel the same way."