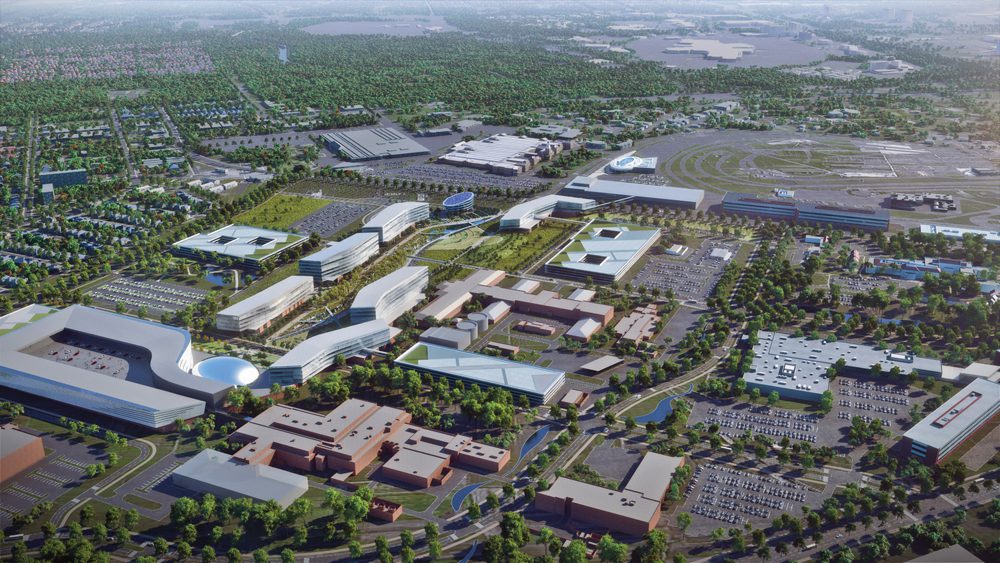 DEARBORN, Mich. — Ford Motor Company, authentic Middle-eastern cuisine, the Arab American National Museum, The Henry Ford, and southeast Michigan's newest art hotspot.
Wait…art—what?
By nearly any standard, Dearborn is not an art destination. Located southwest of, and adjacent to, Detroit, the birthplace of auto pioneer Henry Ford lacks the stereotypical markings and reputation of other art-towns. Its streets are not lined with galleries or bustling with art buyers or hipster-types. There are no graffiti murals. No abandoned warehouses converted to makeshift artist housing. Dearborn is neither a Saugatuck nor a San Francisco.
But, things are not always what they seem or what they could be. That is the hope of some of the city's leaders who see art as an engine for economic growth, and Artspace as the vehicle.
Based in Minneapolis, the organization has a mission of providing affordable and sustainable "space" for artists and art groups.
Its first Michigan project is Dearborn's City Hall Artspace Lofts, opened in 2015 and part of a 95,000-square-foot complex the city sold to Artspace for $1.65 million.
Art as Economic Engine
Using art to drive the local economy may not be unique or even new, but it often happens by accident, writes Christine Kreyling for the American Planning Association (APA). Places like SoHo and Detroit, Dearborn's neighbor, are instructive, as artists move into a run-down area of town because it is cheap to live and create there.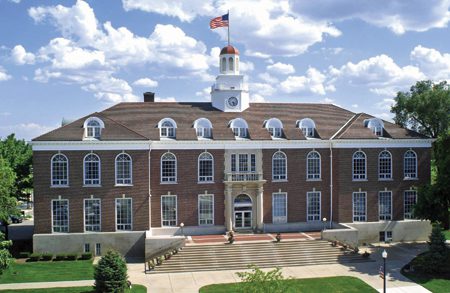 Their presence then attracts other artists; art lovers visit; businesses open up. Over time, that once-defunct space becomes a vibrant destination.
However, the artists that drove the area's revitalization can no longer afford to live there. In a word, "gentrification."
But Kreyling says a shift is taking place, with city planners deliberately using art as an economic strategy. For some, that includes retaining the artists in the community, Kreyling writes.
It took Artspace, which was founded in 1979 as an advocacy group for artists, about 11 years to transition to the role of developer, opening its first live-work property in St. Paul, Minn., in 1990.
Since then, it has launched 40 projects nationwide, some of them spurring population growth of more than 300 percent and increasing property values by as much as 40 percent, according to a case study analysis of five Artspace projects.
Even so, Artspace is not the only model for art as economic development. Another is to be found in ArtPrize, a Grand Rapids annual art competition that transforms the city into a temporary art gallery over a period of weeks and described by M. Christine Dwyer and Kelly Ann Beavers in a paper they wrote for APA.
In Grand Rapids, ArtPrize engages the public in viewing and voting on art which is on display at more than 100 locations throughout the city, including local businesses.
"The resulting relationships extend beyond the boundaries of the competition to strengthen interaction among retail shops, business owners, and the art world," wrote Dwyer and Beavers. The 2013 event had a total economic output of $22 million, according to an economic impact report conducted by Anderson Economic Group on behalf
of ArtPrize.
For Dearborn's leaders, Artspace offered three opportunities, including being able to move government offices into a more affordable space down the street. Built in 1922, the city hall structure would retain its façade while creating a new artist live-work and commercial space that would drive a new sense of identity for the east end of the community.
Identity was something that East Dearborn lacked, says Mike Bewick, executive director of the East Dearborn Downtown Development Authority. The west end has a more "groomed" character while the east end is "gritty," he adds, a character that was seen as providing a good backdrop for an art district.
With shops like Stormy Records, Green Brain Comics (and its Headspace Gallery), and Dick Blick's Art Supplies already dotting the east end of Michigan Avenue, the vision of an art destination seemed plausible, says Bewick. Add to that mix the Arab American National Museum, opened in 2005 and sitting directly across from city hall on Michigan Avenue–the two are "natural companions," says Dan Merritt, chair of the development authority's board of directors and co-owner of Green Brain Comics.
Residents began moving into the former city hall at the first of the year, by summer occupying all 53 units. Today there is a wait list of tenants, says Karena Voldman, KMG Prestige's onsite property manager of residential space.
After about a month of looking for a live-work space where he could produce and record his music, Matthew Modlinski stumbled upon City Hall Artspace Lofts in a Craigslist search.
Modlinkski had considered Detroit's Russell Industrial Center, a commercial complex for artists and small businesses, but took them off his list as lacking the ability to live there as well as work.
He says Dearborn's former city hall was exactly what he was after and in February he moved in, benefitting from the creative energy he says the move sparked, writing nine songs in one week that form part of "VSNS," an album he released on September 15.
The Art of Momentum
Artspace is consistent with a "2030 Master Plan" the City of Dearborn published just two years ago, one that's based on the guiding principles of unity, diversity and sustainability.
In doing so, the municipality hopes to narrow the logistical, "social and psychological" divisions between its east and west downtowns, developing both, as well as the nearby Fairlane Town Center, into destination attractions, each with its own identity.

The east will be arts and culture; the west, entertainment and tourism. Fairlane Town Center will be "transformed" into a mixed-use space that connects to the rest of the city, according to the plan.
Today, as the recession and real estate issues that plagued it abate, west downtown's storefronts are filling up and east Dearborn is rumored to be the "next big place" to open a business, one reason being the relatively affordable prices, according to Bewick. It may be a "rippling out" of a resurgence in Detroit's downtown, some say.
Within the last few months, Ford Motor Company has announced the purchase of two blocks in west downtown, the lease of over 200,000 square feet in Fairlane Town Center, and the upgrade of its Dearborn property, for a total spend of some $1 billion over the next decade.
The overhaul of Ford's property will support increased collaboration of its existing workforce, bringing teams that are currently spread out into closer proximity with each other, says Donna Inch, executive director of Ford Land, the automaker's property management and real estate arm.
Perhaps more importantly, for the arts district and Dearborn generally, the investment is also intended to draw young, innovative and creative professionals to the area. These are the workers that everyone is after, whether it is a technology company or an automobile company, says Inch. (With the March announcement of its Ford Smart Mobility, LLC, Ford is being touted as both an auto and a tech company).
A vibrant arts and culture district in the east end of town could be a significant draw for these young professionals. "A flourishing arts and culture sector can affect where workers in the information economy, especially younger ones, want to live and as such is important for workforce recruitment and retention strategies," say Dwyer and Beavers in their APA paper.
Cristina Sheppard-Decius, now executive director of the West Dearborn Downtown Development Authority (WDDDA), adds to that by saying the more creative people and artisans a community has, the more likely it is to succeed.
While Ford has yet to release specific details about its retail district investments, for now, Tom Clark is just happy to have Ford as a landlord.
The owner of Village Picture Framing and Art Gallery in West Dearborn, Clark is also secretary-treasurer of the WDDDA and thinks Ford will be more invested in the downtown district than some of its current landlords.
Bewick, of the EDDDA, sees a link with the shared vision for an arts-centric space.
A company like Ford can try to hire the most talented people, but "if there's nothing going on" they may not stay.
People "are not coming here for the weather," says Bewick.
Unseen Art Scene
The Ford Community and Performing Arts Center, which sits at the center of the city, houses both the city's major recreational facility and its largest performing arts space.
Putting these two venues under the same roof was a deliberate signal that art was just as important as athletics, says EmmaJean Woodyard, executive director of the Dearborn Community Fund. "There's been a commitment made by the city government [to the arts], just look at this end of the building," Woodyard says, referring to the ballroom, the Padzieski Art Gallery, the Michael A. Guido Theater, and the offices of the city's cultural affairs coordinator, as well as her own offices and that of the Dearborn Community Arts Council (DCAC).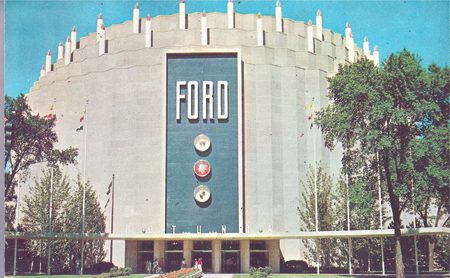 Despite how prominent the Center is, the city's arts community seems rather hidden. With the exception of the AANM and Artspace in the east and The Henry Ford and Dearborn Historical Museum in the west, one has to look into the libraries, shops, colleges and neighborhoods to experience the city's art offerings. Tucked in the neighborhood just off doctors' row and Outer Drive sits the Players' Guild of Dearborn Theater. On the campus of Henry Ford College, nestled between the Technology Building and the Health Sciences Education Center, is the MacKenzie Fine Arts Center, home of the Sisson Gallery. At the edge of Dearborn, just off Gulley Street, next to an auto body shop, is Furnace Design Studio and Glass Academy.
This disconnected art scene is not simply a problem of proximity, say observers.
Dearborn's arts groups are often all volunteer and focused on their own work, says the DCF's Woodyard.
And they may lack a broader context for the impact of their work within the city and art community, adds Ralph Valdez, executive director of the DCAC.
Of the 50 member organizations listed on the DCAC's website, each has its own agenda and a limited amount of time and human resources, says Woodyard, the challenge being to figure out how to merge those interests.
Valdez sees that as being a disconnect inherent in the psyche of an artist, who loves to make art, but is often not so good at running a business, specifically in not knowing how to leverage the power of other groups to promote their work.
City Hall Artspace may have a role to play in elevating and coordinating Dearborn's arts groups and making them more business-savvy. Its Concourse building is slated to include a creative-business incubator office, operated by the Arab Community Center for Economic and Social Services; exhibition space; and an AANM artist-in-residence apartment, says Heidi Zimmer, senior vice president of property development at Artspace.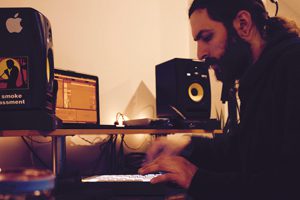 Many hopes seem to hang on this yet-to-be-completed Concourse building. The exhibition space will become an art attraction, says Merritt of Green Brain and Martin Zbosnik, the city's cultural arts coordinator.
Musician-resident Matthew Modlinski is looking forward to the business incubator office which may help him turn his art into a source of income. Yet, there is a sense that "things are very much still in the planning phase," notes Devon Akmon, executive director of the AANM.
While many may be waiting for the completion of the Concourse to see if Artspace can fulfill its promise, Artspace itself forged ahead with a grand opening on September 21. In addition, the DCF and DCAC are planning the first city-wide arts festival, slated for April 2017.
Both events may be opportunities for Dearborn to prove what Ralph Valdez of the DCAC already knows:
"Working class towns produce great art."