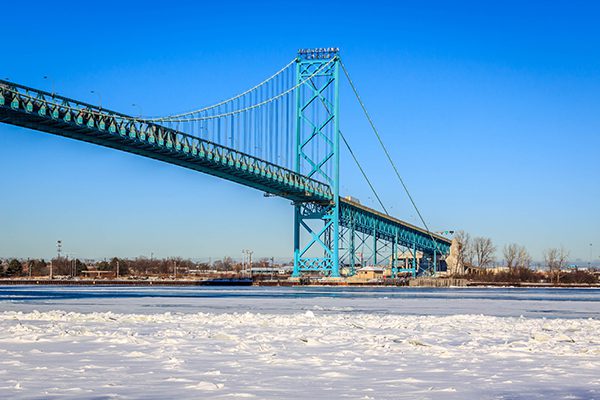 Gov. Gretchen Whitmer Monday called the reopening of the Ambassador Bridge a "win for Michigan's working families" after the bridge had been shut down for nearly a week by truckers protesting a Canadian COVID-19 vaccine mandate.
Experts say the shutdown cost significant financial loss to Michigan's working families after manufacturing plants – including many automakers – were forced to either adjust shifts or shut down entirely.
"This is a win for Michigan's working families who are just trying to do their jobs and for businesses who can get back to shipping their products and produce," Whitmer said in a statement released Monday. "It's time to get traffic and trade moving across North America's busiest land border crossing again.
The Michigan Department of Treasury estimates that 10,000 commercial vehicles cross the bridge each day with $325 million of goods. Approximately $50 million is from automotive parts. Nearly 30% of the annual trade between Michigan and Canada comes across the Ambassador Bridge.
In response to the bridge shutdown:
GM canceled the first shift Thursday at the Lansing Delta Assembly plant because of parts shortage issues related to the protests, The Lansing State Journal reported.
Stellantis' Windsor Assembly Plant cut two shifts short Tuesday. The plant, which makes the Chrysler Pacifica minivan, was able to resume operation on Wednesday morning.
The deadlock ended when Canadian police removed protesters, and the bridge reopened for traffic and commerce.
"The Detroit International Bridge Company is pleased to announce that the Ambassador Bridge is now fully open allowing the free flow of commerce between the Canada and US economies once again," said Esther Jentzen, a representative for the bridge, in an email at 11:05 p.m., The Detroit News reported. "This action follows a state of emergency declared in Ontario and an injunction granted by an Ontario judge which took effect Friday."
At nearly midnight, the Canada Border Services Agency announced in a tweet that normal border processing had resumed at the bridge.
"Non-essential travel is not advised," the tweet read.
In her Monday statement, Whitmer noted the importance of keeping such a blockade from being repeated.
"It's important to ensure that this does not happen again," Whitmer said. "I will work to protect the economic freedom and well-being of families and businesses in Michigan.
"We've made incredible progress to grow Michigan's economy together, adding 220,000 jobs year over year," she added. "I know we can keep this momentum going, create good-paying jobs, and lower costs to help families and businesses thrive."
The White House likewise expressed hope future blockades would be deterred.
"Canadian authorities are taking proactive steps to ensure no further unlawful disruption of the flow of people and goods occurs," White House Homeland Security Adviser Liz Sherwood-Randall said in a statement Sunday.