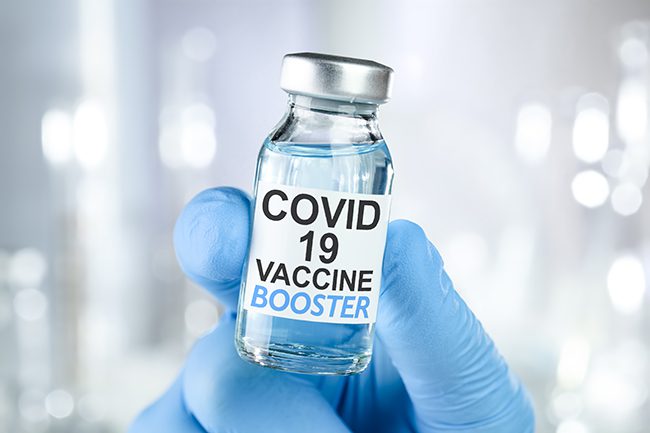 Americans who thought they were fully protected against COVID-19 after two doses and a booster may have to think again.
Albert Bourla, the CEO of Pfizer, said during a national television interview Sunday the company is sending data to the Food and Drug Administration demonstrating the need for a fourth dose of the COVID-19 vaccine it produced with BioNTech.
Bourla pointed out that the vaccine currently being produced still protects against severe disease, there's a belief another booster is going to be necessary.
Bourla made the statement during an interview aired Sunday on CBS's Face the Nation program.
"The protection that you are getting from the third, it is good enough, actually quite good for hospitalizations and deaths," Bourla told Face the Nation. "It's not that good against infections."
Accordring to CBS News, Bourla's conclusions "echo early observations by health authorities" who have studied vaccine effectiveness during the Omicron variant wave earlier this year.
A study published by the Centers for Disease Control and Prevention last month found vaccine effectiveness against COVID-19 emergency room or urgent care visits had decreased to 66% among those who had received a third dose of one of the mRNA vaccines four to five months ago, the network reported. The vaccine was 78% effective against COVID-19 hospitalizations among this group.
Bourla told the network his company is trying to create a new vaccine "that will protect against all variants, including Omicron, but also something that can protect for at least a year."
"Omicron was the first one that was able to evade in a skillful way, the immune protection that we're giving. But also, we know that the duration of the protection doesn't last very long," he said during the interview.
Federal health officials have previously said an additional booster shot would likely be needed to head off new waves of the virus, though potentially not until the fall for most people.
CBS also reported that Dr. Peter Marks, the FDA's top vaccines official, talked at an event hosted in January by the University of California San Francisco and Stanford University.
"The hope would be that after our third shots we're able to get enough time out of them that we end up on essentially a yearly COVID-19 booster," Marks said during the event, according to CBS.
Nearly half of all vaccinated adults and more than two thirds of vaccinated American seniors have received a booster shot, according to figures compiled by the CDC.
The pace of new cases and hospitalizations has slowed following the Omicron surge; however, the country is averaging more than a thousand COVID-19 deaths per day, according to the CDC.
In a separate interview with Bloomberg, Bourla said he recently reviewed new data from various COVID vaccine studies, including one looking at the effects of a fourth dose of the currently available vaccine, as well as a new formulation that will protect against multiple coronavirus variants.
"They look encouraging," Bourla told Bloomberg Television's "Balance of Power With David Westin."
Pfizer spokeswoman Jerica Pitts told Bloomberg Pfizer's studies of both the fourth-dose booster and an omicron-specific shot are still underway. Bourla told Bloomberg he's "optimistic" about developing a vaccine that would target omicron along with earlier variants, but didn't say when results might be available.