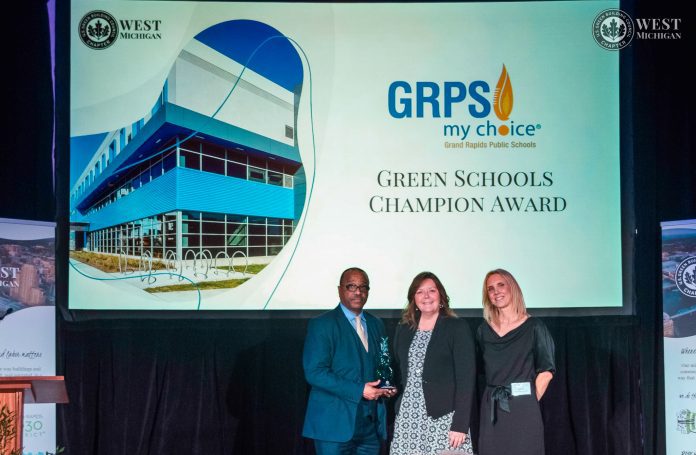 GRAND RAPIDS — The U.S. Green Building Council of West Michigan (USGBC-WM) recognized Grand Rapids Public Schools (GRPS) as the Green Schools Champion Award winner at USGBC-WM's Annual Party & Leadership Award Ceremony held March 10 at The Ballroom at McKay Tower in downtown Grand Rapids.
GRPS was chosen for its efforts to provide healthy learning environments and establish energy-saving practices. To date, several of their buildings have received LEED certification indicating that a facility is highly efficient, cost-effective, better for users, and kinder to the planet. Harrison Park School was the first silver certification the district achieved.
Others include Blandford School, Burton School, Cesar E. Chavez Elementary School, Dickinson Academy, Martin Luther King, Jr. Leadership Academy, Sibley Elementary, Gerald R. Ford Academic Center, Grand Rapids Public Museum High School, Ottawa Hills High School, and Buchanan Elementary School, all of which are LEED certified. In addition, several of the district's facilities have qualified for recognition by the Environmental Protection Agency's Energy Star program.
One of their most recent projects in collaboration with C2EA, TMP Architecture, and Rockford Construction, Southwest Middle High School also received LEED Silver certification. The certification was based on the building's sustainable, efficient exterior envelope, urban location with proximity to public transportation, stormwater quality control, and provisions for bike parking among other features.
The USGBC-WM Leadership Awards promote outstanding green building initiatives by recognizing projects, organizations, and people who have made extraordinary contributions to achieving healthy, energy-efficient green buildings in the state of Michigan.
"We are thrilled to lift up organizations that lead by example," said Cheri Holman, Executive Director of the USGBC-WM, "by sharing these accomplishments we can show that good economic decisions and green buildings can be one and the same."
"Grand Rapids Public Schools is honored to be recognized as a Green Schools Champion by the U.S. Green Building Council of West Michigan," said Dr. Leadriane Roby, Superintendent of Grand Rapids Public Schools. "As a district, we are committed to creating and maintaining energy-efficient, green buildings. I applaud GRPS' facilities and operations teams for leading this effort."