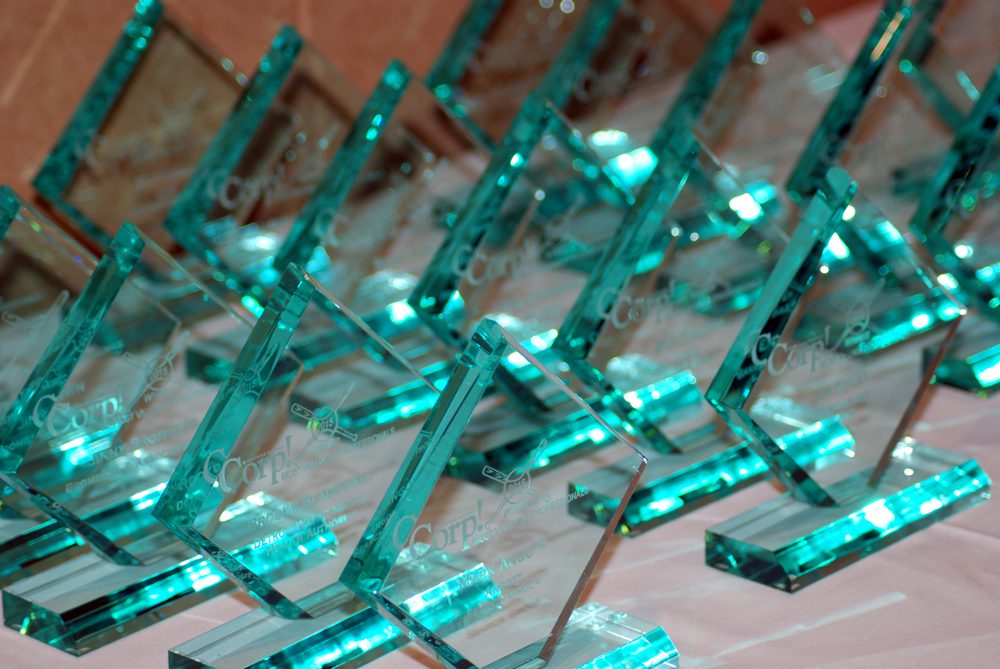 Anyone with even a passing knowledge of Michigan's past is likely aware of the state's long history of entrepreneurialism and innovation.
It's a story that most often stars the automotive pioneers of Southeast Michigan and the furniture industry trailblazers on the western side of the state.

But, as the list of winners in Corp! magazine's inaugural Most Valuable Professionals and Most Valuable Millennials awards clearly demonstrates, that same type of spirit is alive and well in Michigan today.
The awards are meant to spotlight C-suite executives and entrepreneurs of distinction who are doing great things at their companies and for their communities.
They also serve as a reminder that Michigan's business leaders remain on the cutting edge despite the battering the state's economy — and, as a result, its national reputation — has taken in recent years.
Indeed, a desire to overcome that reputation is a common refrain among the award winners.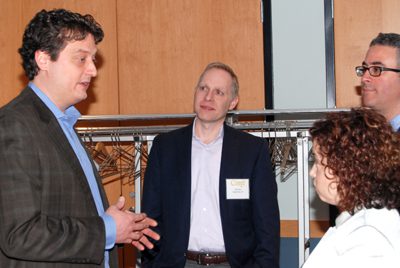 "The obstacles of business leaders in Michigan aren't Michigan itself but the perception of Michigan," said Most Valuable Millennial Angelique Rodriguez-Edge, director of operations at OpTech LLC, a talent acquisition company in Troy. "I am proud to be a Michigander and proud of our rich history with our car industry, technology fields and more."
Beyond serving as cheerleaders for the state, the Corp! award winners also devote their time and money to making their communities a better place.
Mark Stackpoole, CEO of Global Telecom Solutions, a Detroit-based telecommunications consulting firm, can tick off a long list of organizations his company has supported, including Friends School, Detroit Achievement Academy, the Cystic Fibrosis Foundation, Frozen Fish Fiasco, Boys and Girls Club of Michigan and Sacred Heart Rehabilitation Centers.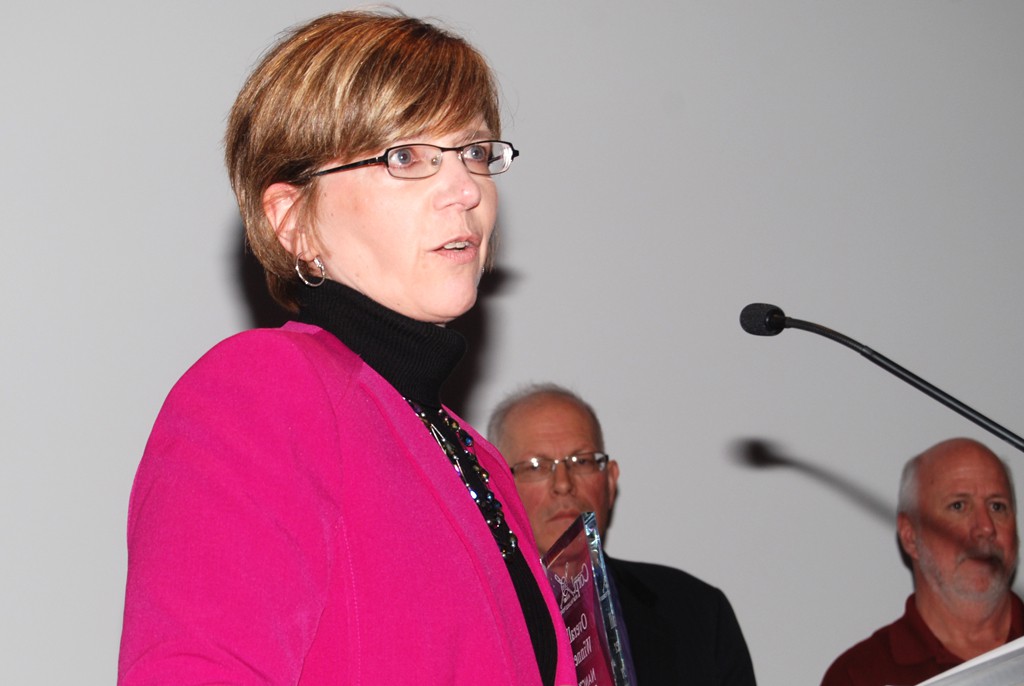 A quick look at the list of award winners reveals how varied and innovative Michigan's business leaders are. Award winners include Nora Arellano, principal engineer at the Toyota Technical Center Inc. in Saline; Phil Hagerman, CEO of Diplomat Specialty Pharmacy in Flint; and Joy Morse Green, vice president of Romulus-based Morse Moving and Storage Inc.
The Most Valuable Millennials Awards also serve as reinforcement that Michigan's economic future is in good hands. Honorees of that demographic — loosely defined as Americans born between 1980 and the early 2000s — represent the innovation, drive and commitment to excellence of the state's new and upcoming business leaders.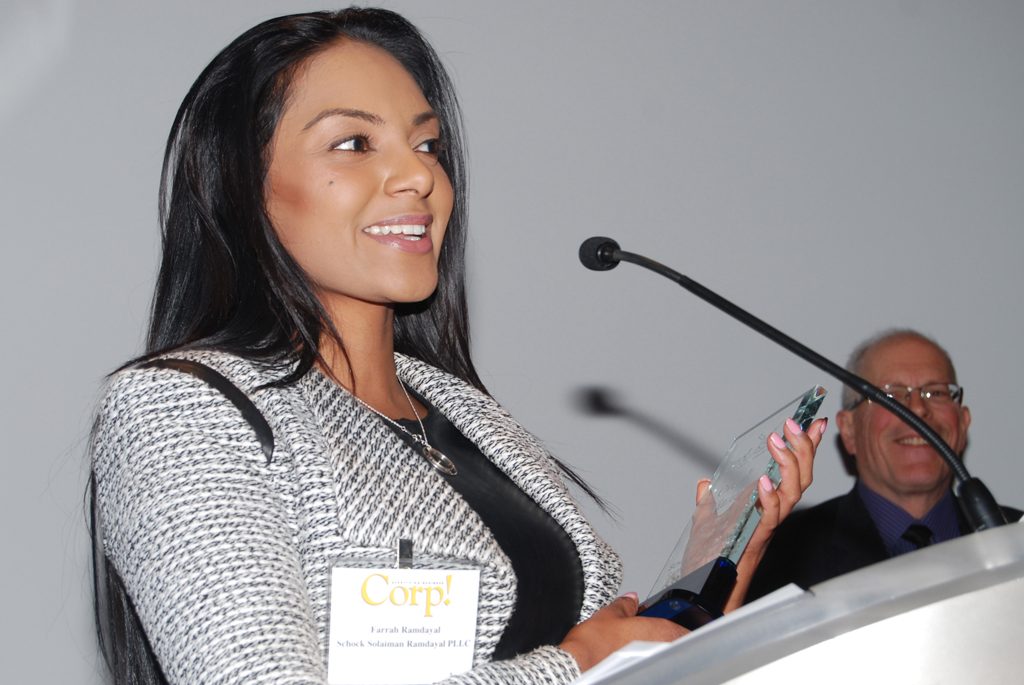 Winners of the Most Valuable Professional and Most Valuable Millennial Awards were honored during an April 23 ceremony at the VisTaTech Center on the campus of Schoolcraft College in Livonia. Jonathan Hughes, chief financial officer of Detroit-based Shinola — itself a shining example of economic innovation — delivered the keynote speech.
Two winners from the list stood above the rest. Taking top honors were:
• Nancy Susick, Beaumont Hospital – Overall Most Valuable Professional
• Farrah Ramdayal, Schock Solaiman Ramdayal PLLC – Overall Most Valuable Millennial
Here, in detail, are the 2015 Most Valuable Professionals and Most Valuable Millennials Awards winners:
Mark Angott
Most Valuable Professional
President
Angott Search Group
Mark Angott takes pride in the many successful relationships and long-term partnerships he has developed throughout his career. "I am especially proud of the fact that 75 percent of the firm's business comes from repeat clients, encompassing organizations that range in size from small community banks to large regional banks and top Fortune 500 companies," said the president of Angott Search Group, a Rochester-based executive search firm. Angott also takes pride in his relationship with employees, many of whom have been with the company for more than a decade. He said being fair and honest is the key to leadership, as is leading by example. "I always wanted to be the leader in anything we did, and also being capable of doing any job that I asked others to do," he said. "Our core values guide the business and influence their dealings with both their clients and their candidates. We work together as a team to set our mission and vision, and we work hard to get everyone to buy into that and to keep them up-to-date on our progress, weekly, quarterly and annually." Angott said he has seen dramatic economic improvement within Michigan, especially in the automotive and finance sectors. "There is an increased demand in engineering, treasury, HR and marketing roles, as these disciplines took a big hit during the recession, and now the need for these roles is coming back strong," he said. "We need to overcome the obstacle of continuing to attract the talent to the Michigan marketplace. I am confident this kind of progress indicates that Michigan is steadily regaining traction and points to an upturn in the economy of the Midwest."
Brooke Blackwell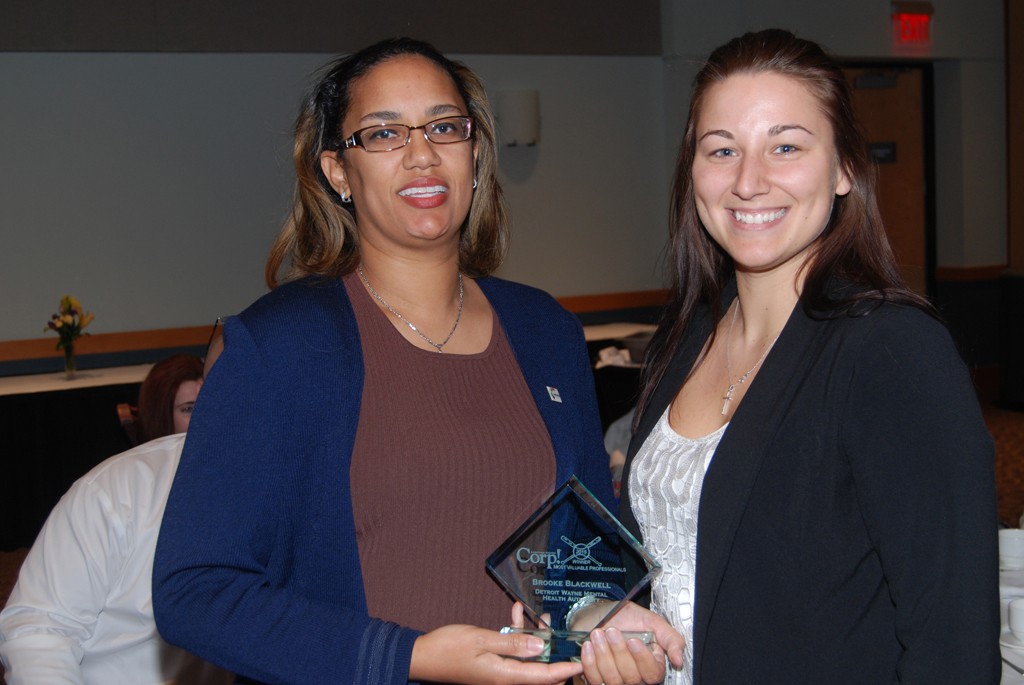 Most Valuable Professional
Director of Communications
Detroit Wayne Mental Health Authority
As director of communications for the Detroit Wayne Mental Health Authority, Brooke Blackwell is inspired by knowing that she can be a source of information to those who may not have the resources, knowledge or ability to attain it for themselves. Her role involves working with society's most vulnerable population, which she said has made her realize "there is much more that I could be doing to make an impact through my community education and outreach services." Blackwell said she also believes it is imperative to have input from every person affiliated with an organization. "We all bring different perspectives, experiences and outlooks that help to shape what the organization is about," she explained. "As an organization, we are representative of our diverse community and we have chosen to be a voice for the voiceless." She urged Michigan's business leaders to embrace the state's diversity. "A demonstration of leadership of this magnitude will force others to take notice, allowing Michigan to move forward and be the driving force in health care, education, finance, technology and business," she said.
Tamika Brown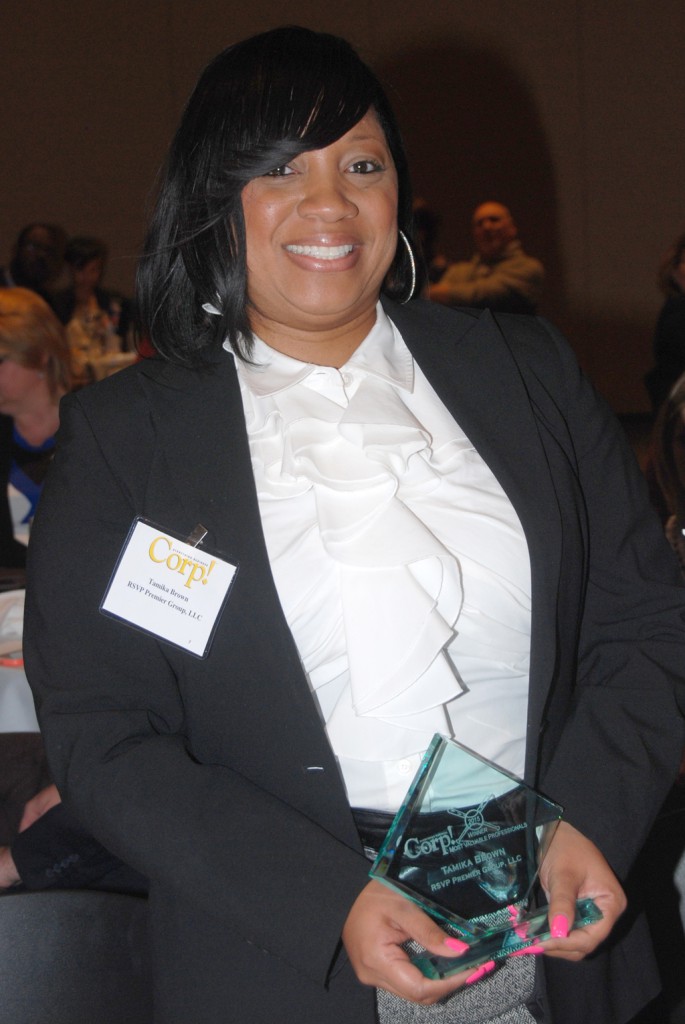 Most Valuable Professional
President and CEO
RSVP Premier Group LLC
Passion is the key to successful leadership, said Tamika Brown, president and CEO of RSVP Premier Group LLC, a Troy-based special event planning company. "When you are passionate and dedicated about your career it will encourage your team to stay motivated and strive to be the best," she said. Brown said she also has learned that it's important to listen to the ideas and suggestions from your staff and/or team, surround yourself with talented people and not try to do everything yourself. "I also encourage any potential business owners to thoroughly research their industry to discover their niche and what will differentiate your company from competitors," she said. "It will also provide you with a realistic vision of what to expect in terms of your time commitment, personal investment, etc." She also advises business owners to obtain certification within their industry. "As a minority woman-owned business, I obtained my Women Business Enterprise certification through the Michigan Center of Empowerment and Economic Development that has allowed me the opportunity to compete for large-scale projects," she said.
Ann K. Bruttell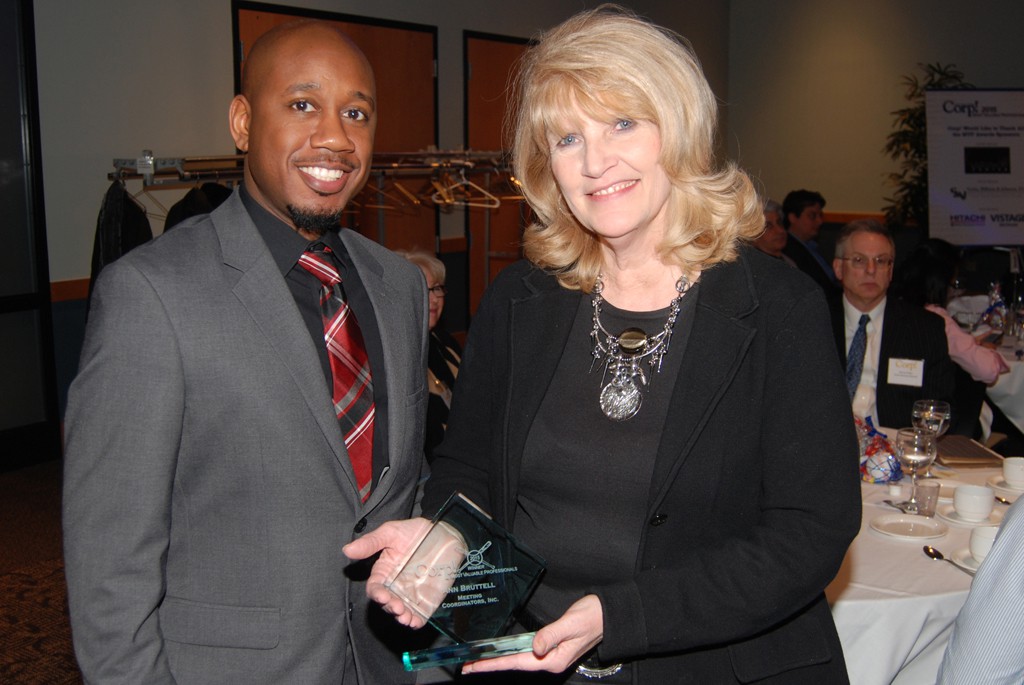 Most Valuable Professional
President
Meeting Coordinators Inc.
When asked to explain her personal vision, Ann K. Bruttell cites the old adage that the "the world is run by those that show up." "However, so many people are afraid to show up because they are afraid of rejection and not confident in their own abilities," said the president of Meeting Coordinators Inc. of Troy. "To show up is risky." It requires courage, pride in yourself, tenaciousness, moral fortitude and a willingness to learn from others, Bruttell said. "You also have to be prepared for the hard work that follows," she added. Bruttell formed her business in 1988 after working for another meeting and association management company. "It was time for the next step in my career by becoming an independent meeting consultant," she said. "After all, what's the worst that could have happened? If it didn't work, I was skilled and employable. Thankfully it worked!" The economic conditions from 2007-2010 made it difficult for businesses to remain strong, she said. "But an interesting thing happened — it made those of us who survived stronger," Bruttell said. "We were willing to break out of traditional modes and learn new means of operation and form strong alliances. We need to continue this work philosophy as we move forward."
Jinny Bromberg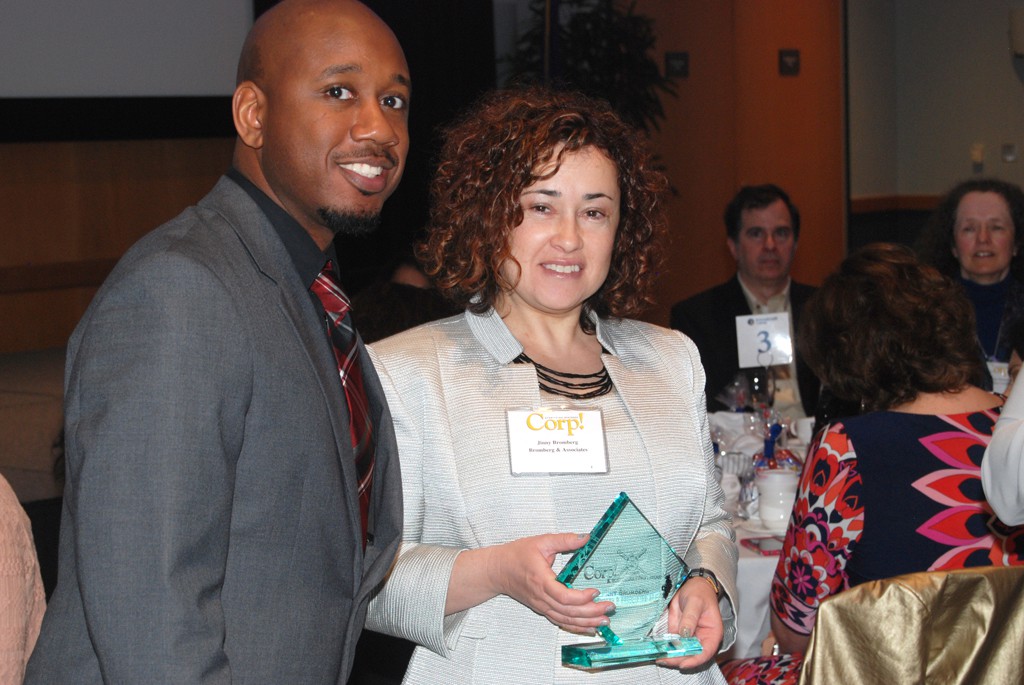 Most Valuable Professional
President
Bromberg & Associates
Jinny Bromberg fights the perception that any bilingual person is automatically qualified to serve as a professional translator or interpreter. "One of our main business objectives is to raise awareness on the importance of languages services," said the president of Bromberg & Associates, a translation and interpretation service based in Hamtramck. "We continuously work toward achieving this goal by writing articles, creating infographics and educating our clients on cultural differences as well as the crucial importance of professional translation and interpretation." Bromberg's approach to business is based on a scene from a movie directed by her Russian father, Konstantin Bromberg. "He has always been my role model and mentor," she said. "In one of his movies there is a scene where the main character is being trained to go through the walls with these words: 'To go through the wall you learn and adhere to three conditions: 1. See the goal; 2. Believe in yourself; and 3. Don't see the obstacles!' To this day it is my motto." Bromberg & Associates' community involvement is aligned with the nature of its business. "As devoted advocates for full language access, Team Bromberg wholeheartedly supports the Welcoming Michigan initiative, Global Detroit and Upwardly Global," Bromberg said. "We promote workplace diversity by creating jobs for U.S. citizens who are bilingual and multilingual professionals." A diverse and multicultural environment is invaluable for success in the modern business world, she said. "It is great to see that Michigan is becoming a place of greater diversity and I'd like to see more diversity and inclusion in Michigan's workplaces," Bromberg said. "As an immigrant myself, I fully support Gov. Rick Snyder's initiative to make Michigan an immigrant-friendly state in order to grow its economy and prosper."
N.Z. Bryant Jr.
Most Valuable Professional
CEO
Patterson Bryant Inc.
N.Z. Bryant Jr. serves as CEO of Patterson-Bryant, a global employee benefit and business insurance company. The Bingham Farms company has evolved from the full-service insurance brokerage that it was when Bryant founded it in 1980 with Darryll Patterson, according to its website. The website also prominently displays awards the company and Bryant individually have won, including Volunteer of the Year from Alternatives for Children and Families, a Certificate of Appreciation from SHAR House and a Black Business Salute from Delta Sigma Theta Inc.
John Burton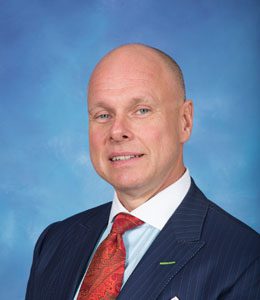 Most Valuable Professional
Divisional Vice President
Tom James Co.
John Burton's goal is to be the finest clothier in the country. To that end, the divisional vice president at Tom James Co. in Southfield said he strives to be "a principles-based leader who puts others first by leading by example and showing what is possible no matter the circumstances." The process requires overcoming internal weaknesses, Burton said. "It takes a laser-sharp discipline based in habit formation and true principles," he explained. "When I have forgotten these principles or I become focused on my own agenda, the building process stops and many times crumbles." Burton said he engages employees "by setting the example" and providing "a safe culture to call me out if I forget my principles and the philosophy of putting into the lives of others." Southeast Michigan's national PR problem is a significant hurdle to doing business in the state, he said. "Yes there is talk of a change and resurgence," he said. "However, education in Detroit, internal power struggles and one plan that ties all the financial powers together to recreate Detroit are what is holding us back. It appears we are for sure doing better. I think sharing the overall plan with the state and the country will cause others around the world to stake their claim in the rebuilding process."
Jim Casper Jr.
Most Valuable Professional
President
The Casper Corp.
In 2004, James Casper Jr. bought the Casper Corp. from his father, James Casper Sr., who founded the filing and storage systems business in 1967. The Casper Corp. has grown to become the largest distributor of mobile filing and storage systems in Michigan, according to the company's website. In addition to its corporate headquarters in Farmington Hills, the company has offices in the Lansing, West Michigan and Saginaw areas.
Neal Doshi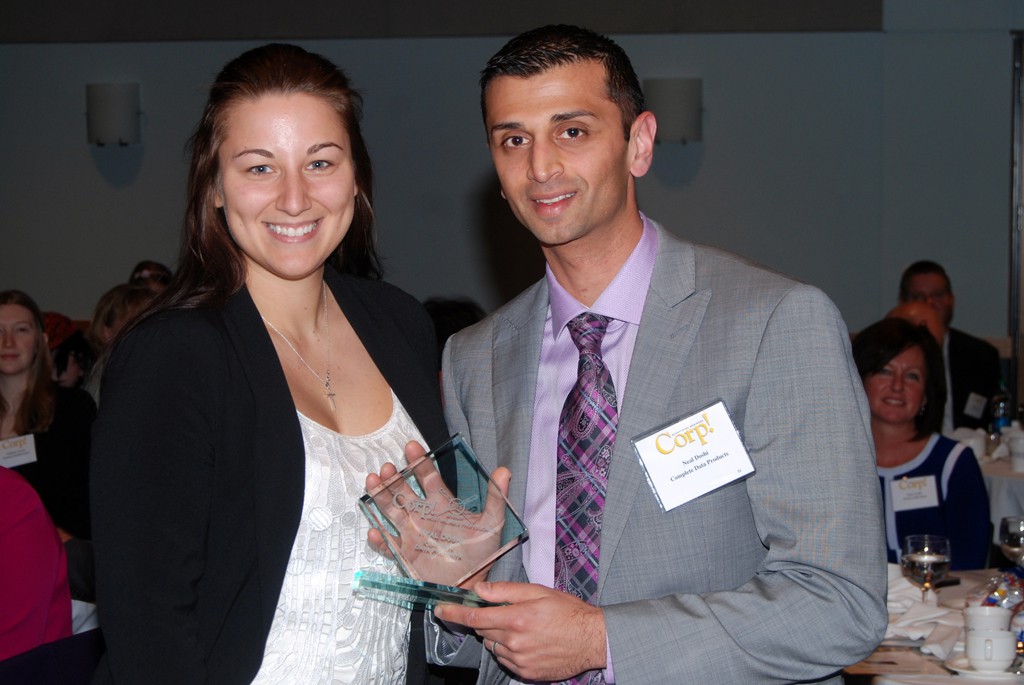 Most Valuable Professional
Managing Partner
Complete Data Products
Watching his father serve as a business owner and leader made an impression on Neal Doshi. "I was able to see the positive impact that he made on both the community and the employees," said Doshi, managing partner of Complete Data Products Inc., a Troy-based leader in paperless document management software. "It has always been my goal to choose a career where I would be able to have a similar positive effect on people's lives and the community." He said loyalty, honesty and the ability to inspire and motivate are among the most valuable traits for a business leader. "I believe a good leader will roll up their sleeves, learn the material and get dirty if necessary," he said. "A good leader will lead by example." Civic engagement also is a key to operating a successful business, Doshi said. "I believe in supporting and building the community since it is the environment where you house your business and where your job candidates come from," he explained. "The better the community, the better the choice of employable candidates – both which are key to a successful business." A lack of employable talent and ineffective public transportation are among the biggest challenges to doing business in Michigan, Doshi said. "I would like to see the cost of education lowered in Michigan so that it is available to more candidates," he said. "I would also like to a better quality of trade programs (for those who do not choose higher education)."
Jim Engel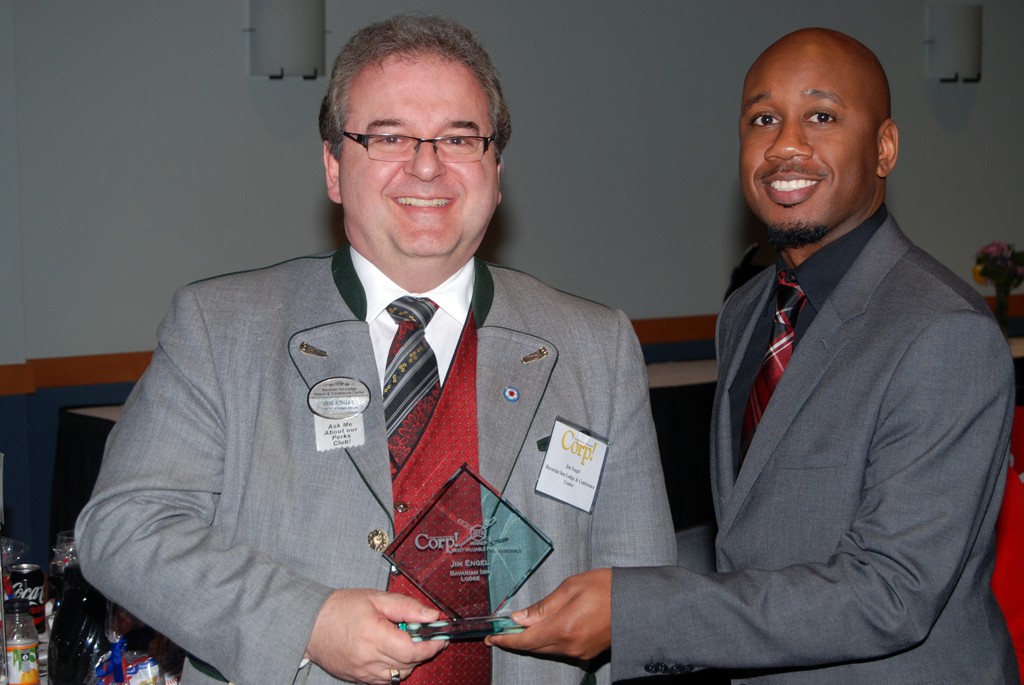 Most Valuable Professional
Chief Operating Officer
Bavarian Inn Lodge
Facing weaknesses head-on has proved invaluable for Jim Engel, chief operating officer at the Bavarian Inn Lodge in Frankenmuth. "In high school and college I was not fond of math," he said. "I call that a weakness. My dad gave me one piece of advice that I took: In college, take courses in your weakest area. Even if the grade doesn't rock, you will learn more and be better for it." He ultimately received a degree in accounting, honing analytic skills that have made him a competitive individual and served his career well. Integrity and attitude are also crucial to success in the hospitality industry, Engel said. "The internal integrity and attitude of the person and how they are willing to be consistent and friendly with our guests at every step of the way is the key to success," he said. It's important to recognize employees for a job well done, Engel said. "As a dining, shopping and lodging venue, we are here to create enjoyable experiences for ourselves, each other and our guests. That is our mission," he said. "We have a number of internal, fun ways to recognize each other." On the statewide level, roads are a concern for the hospitality industry, which is why Engel is supporting the Proposal 1 ballot initiative. "Although few of us like the solution of higher sales taxes, I believe this is the only viable solution to fix a problem that has been worsening for nearly two decades," he said. "We just need assurances from our legislature that this will truly be the focus on this funding."
Andrew Farbman
Most Valuable Professional
CEO
Farbman Group
Andrew Farbman, CEO of Southfield-based Farbman Group, succinctly sums up his personal vision as a business leader: "Always do your best and leave it all on the field." So rather than pull back during the recent economic downturn, the Farbman Group "used this time as an opportunity to expand into Chicago at very attractive pricing," said Farbman, who added that clear vision, honesty and accountability are the most important traits of a leader. Colleagues, employees and stakeholders must participate in the creation of your company mission in order for them to buy into your plan," he continued. Volunteerism and community outreach is also paramount in a rewarding and successful career, he said. "The responsibility to give back is central within all of our Farbman companies," he said. "Farbman Cares is a program that encourages our employees to jump in with their time and money and reminds us that we are all apart of something much bigger than our day-to-day jobs." Keeping college graduates in the state is a primary challenge facing the Michigan business community, he said. "Michigan has come a long way over the last decade," Farbman said. "In today's day and age, the highly educated workforce with applicable skills for the most in-demand jobs is our challenge. The more Michigan can do to keep its college graduates, the better future we will have."
Jeff Fielder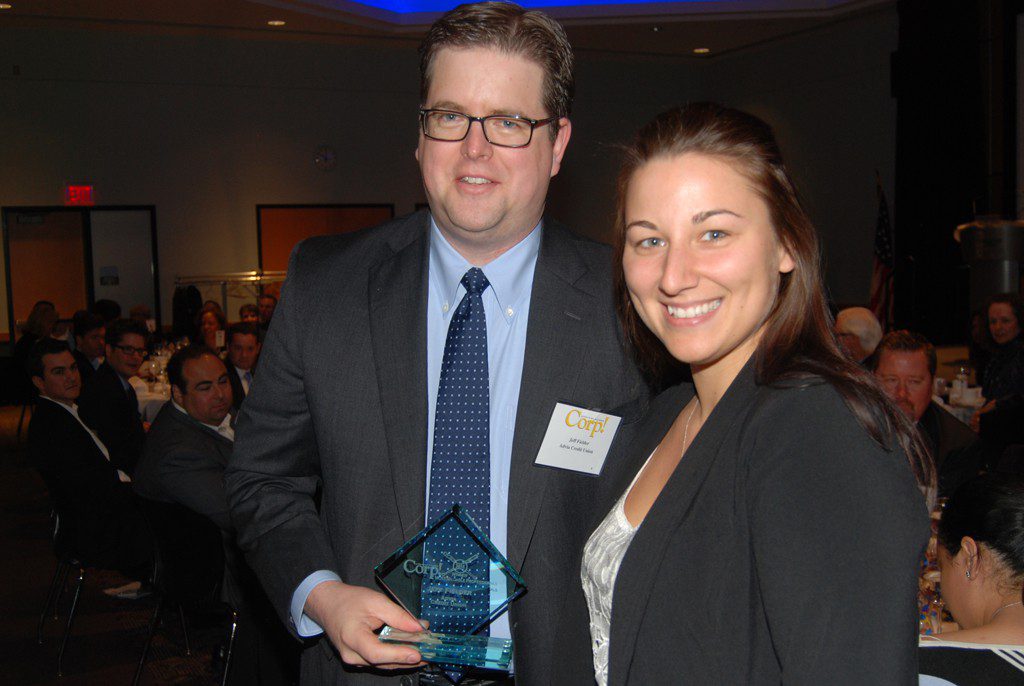 Most Valuable Professional
Executive Vice President of Finance
Advia Credit Union
Jeff Fielder believes that it takes passion, strong communication and a good sense of humor to thrive as a business leader. "I have always been motivated to learn more and take steps to provide greater value to Advia Credit Union," said Fielder, executive vice president of finance at the Parchment-based financial institution that has more than 20 locations throughout Michigan, Illinois and Wisconsin. "In a leadership role I am inspired by the opportunity to mentor others and in building a world-class team, thereby making it possible to further advance our mission to positively impact our members' financial lives." With assets of more than $1 billion, Advia ranks among the top 3 percent of credit unions nationally in terms of size. "As a results-driven organization, we remain focused on our balanced scorecard and overall performance to engage staff," Fielder said. "Employees are engaged through a continued focus on the credit union's core values, which are Act with Integrity, Keep People at the Core, Build and Strengthening Relationships and Drive Progress."
Joy Morse Green
Most Valuable Professional
Vice President
Morse Moving & Storage Inc.
Joy Morse Green is among the 26 members of the Morse family who work at the 61-year-old family business that has headquarters in Romulus, according to the company's website. It also has operations in Traverse City and Mt. Pleasant and an office in Indianapolis. The offspring of company founders Herb and Vi Morse also began working at the business while young, gaining experience in packing, loading and driving moving vans, the Morse Moving website states.
Phil Hagerman
Most Valuable Professional
CEO
Diplomat Specialty Pharmacy
As chairman and CEO of Diplomat Specialty Pharmacy, Phil Hagerman has provided much-needed employment opportunities in the Flint area. In January, he further promoted job creation by donating a $2 million endowment to the University of Michigan-Flint's School of Management for a new center designed to grow entrepreneurship in Flint and across Michigan, according to The Flint Journal. "We need to keep these young students here," he was quoted as saying in explaining the donation. Hagerman started Diplomat in 1975 alongside his father, Dale, with a specialty in providing personalized medication therapies to people with specialized needs such as cancer, HIV, hepatitis or multiple sclerosis. He moved company headquarters to a former General Motors Corp. tech center south of downtown Flint in 2010.
Brian Hare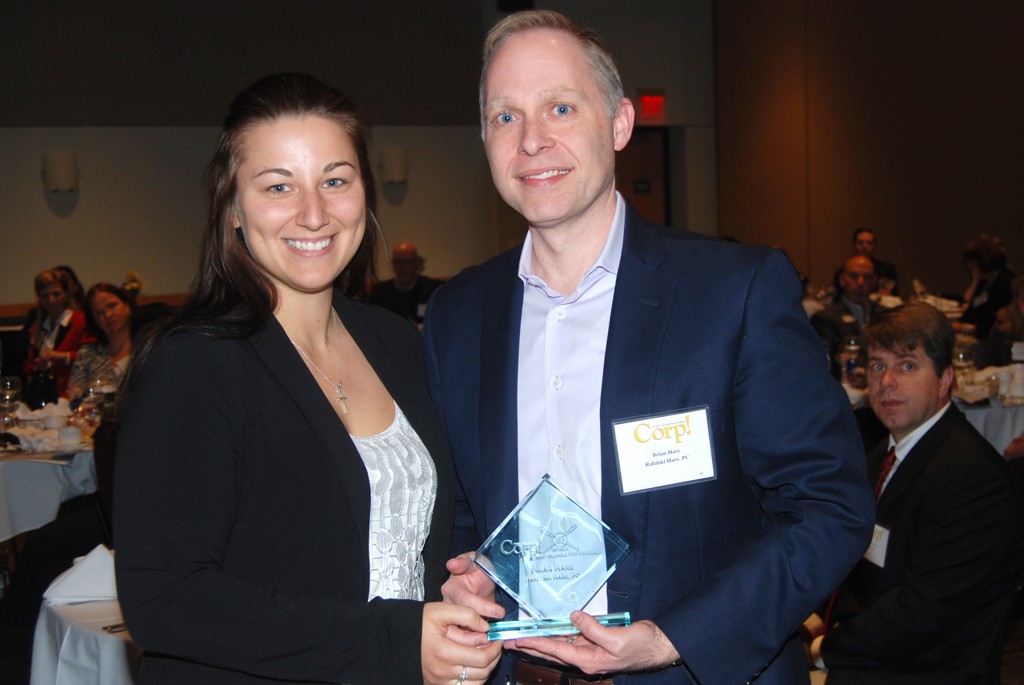 Most Valuable Professional
Shareholder
Rafalski Hare PC
Brain Hare says successful businesspeople can't be pigeonholed. "Many people believe that you must be an extrovert to run a business or be a successful entrepreneur and tend to underestimate introverts," said the shareholder in Rafalski Hare PC, a Rochester Hills CPA and business advisory firm. "The reality is that introverts run highly successful businesses; many of them are detail-oriented or require technical knowledge such as law firms, engineering firms and my own CPA firm. Introverts are thoughtful and deliberate and we invite and consider input from others. We research opportunities thoroughly so that our decisions are strategic — all traits that contribute to successful leadership." One necessary attribute is the drive to be successful, he said. "We succeed and grow by helping our clients succeed and grow," Hare said. "Business success cannot be achieved without personal fulfillment, and this is achieved by involving business partners and/or spouses in the process to ensure that goals are aligned and everyone is moving in the same direction. Internally, our employees are also involved in the process so they are living and working the company mission every day." A shortage of skilled trades workers, such as electricians, plumbers and truck drivers, is a common obstacle to doing business in Michigan, he said. "Our clients have a very difficult time finding skilled trade workers, even when offering significant salaries and benefits," Hare said. "For those positions that do require a college education, we've got to do a better job of getting younger people interested in working hard and following a career path to fill future leadership roles."
Mat Ishbia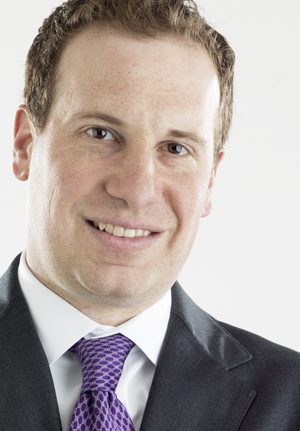 Most Valuable Professional
President and CEO
United Shore
Mat Ishbia said his business career was propelled by his experience as a walk-on and student assistant coach for the Michigan State University basketball team. "I experienced firsthand what it took for a group of people to become champions, and the effort that is required to consistently put forth a quality product," said the president and CEO of United Shore, a Troy-based mortgage lending firm. "It's been my vision to inject lessons learned on the basketball court into the business world, and that strategy has really had a positive impact on me, as a leader, as well as our company's success. We really strive to incorporate a family-oriented environment at United Shore and emphasize the team concept in everything we do. By uniting 1,200 people to work for one another and pursue a common goal, it's had a tremendous impact on our growth and business success." When Ishbia joined United Shore, he committed himself to learning the business inside and out, scouting the competition, learning each step of the loan process and mastering each aspect of the company. "That notion of consistent hustle and hard work is what has propelled me to where I am professionally, and those traits make up the backbone of this company; they're what makes us the No. 1 wholesale mortgage lender in the country, and a top national workplace," he said. Accessibility is a key leadership trait, as is being a "doer," Ishbia said. "A leader is able to more effectively transform a company from the inside-out by being actively involved," he said. "A team or organization can accomplish so much when there is that sense of everyone working together to accomplish a shared goal. I want our team members to know that I'm in the trenches with them, giving my all to take this company to amazing levels of success, just like they are."
Jason Lambiris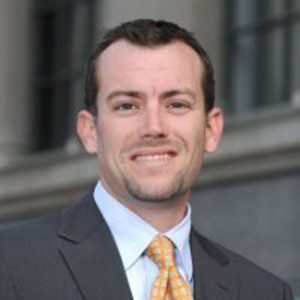 Most Valuable Professional
CEO
Apex Digital Solutions
Jason Lambiris founded Apex Digital Solutions, a Sterling Heights-based provider of managed and traditional IT services and support, in 1998 with a vision of building a company that is committed to excellence and "technology for people's sake," according to the company's website. Lambiris said he believes that through proper education, technology can drive innovation within an organization. That philosophy helped Apex receive recognition as Microsoft's Cloud Partner of the Year and Community Connections Partner of the Year for the Central United States in 2013. As a member of the Parade Company's Distinguished Clown Corp since 2008, Lambiris has led efforts each year to raise funds to send underprivileged children from the Detroit area to America's Thanksgiving Day Parade.
Rona M. Lum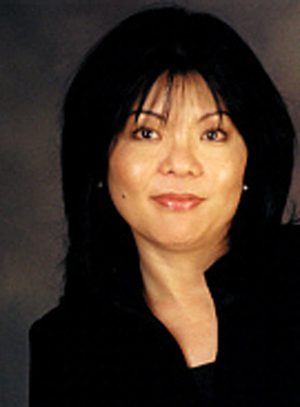 Most Valuable Professional
Principal
Law offices of Rona M. Lum
Rona M. Lum strives to always feel that what she's doing is right. "When faced with a decision, I ask myself, are you willing to live with the consequences of your action or inaction?" said the Auburn Hills attorney. "If the answer is no, then it is not the right decision for my business or for me personally. My litmus test is this: When I look at myself in the mirror every morning, do I truly like what I see reflected back at me?" That approach doesn't always involve winning a popularity contest, she said. "It is having the courage and inner fortitude to make the tough decisions to move your business forward, thus benefiting all concerned," Lum said. "I always focus on the 'why' of any situation. I refrain from simply giving a 'yes' or 'no' answer. Instead, I provide an explanation of the basis for my decisions. Colleagues and employees must be treated with respect and intelligence." The state of Michigan also is deserving of respect, Lum said. "In our desire for improvement, we sometimes lose sight of the strengths of the business environment in Michigan, such as an educated and highly trained workforce and the diversified industries and knowledge base coupled with a business community that is engaged and willing to share expertise and experiences with each other — not to mention, a very busy and lucrative international border and abundance of natural resources that many other states lack," she said.
Erik Meier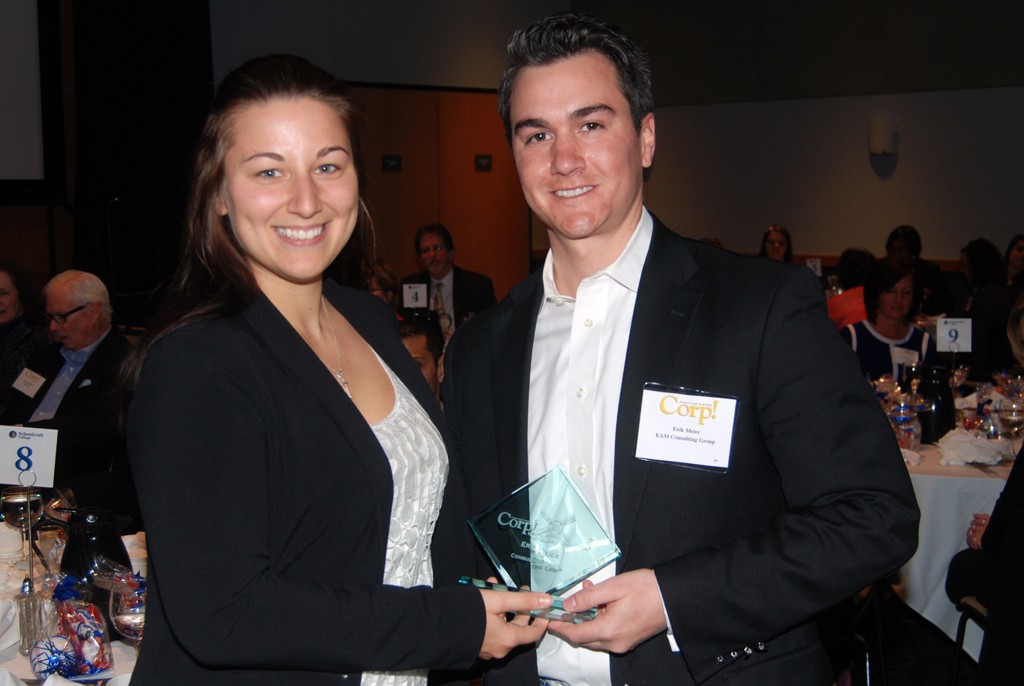 Most Valuable Professional
Founder/Owner
EAM Consulting Group
Erik Meier has been told that his sales and management training company, EAM Consulting Group of Troy, changes lives. "Those conversations are my inspiration to continue to reach out to organizations that care about the growth of their team members and their ability to reach a potential they might not have known was even possible," he said. Meier believes that a good leader has a genuine interest in the growth and development of a team. "A critical component of that genuine interest is the ability to be vulnerable, open about that vulnerability with your team, and creating a culture where failure is OK," he said. "Growth is typically preceded by failure, and permission to fail is a must." Meier also is a proponent of volunteerism. In fact, EAM Consulting Group workers must be involved with a charitable organization as a condition of employment. "Every member of my team is actively engaged in a leadership role for a nonprofit or mission-driven organization," he said. "I've been lucky enough to be involved in the YMCA for the last five years, currently as the chairman of the board for the South Oakland YMCA and a sitting board member on the Metro Detroit YMCA."
Lon Offenbacher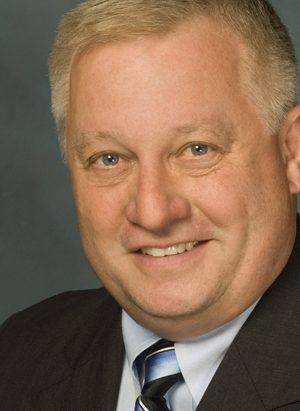 Most Valuable Professional
President and CEO
Inteva Products
Inteva Products of Troy learned early on about being a lean and effective company. It was formed as a spin-off of Delphi's successful Interiors and Closures business units in 2008, during the height of the automotive downturn. "On our first day as Inteva, American Axle went on strike and GM, which accounted for 20 percent of our business at the time, put all production on hold," recalled President and CEO Lon Offenbacher. "We've lived most of our life at Inteva during the industry's hardest economic recession." His personal vision for Inteva was to focus on teamwork as one of the company's core values. "I feel that we do our best work when we work together, and I know our success today is based on the close-knit community, and sense of family, we have built," he said. Honesty is also a company policy. "I have a plaque on my desk that says, 'If you always tell the truth, there's nothing to remember.' I want people to feel that they can be honest with me," Offenbacher said. "If we're facing a challenge, I would rather face it head-on and pull the team together to figure out the best way to fix it." Volunteerism and community outreach are also an important component of the company's culture. "Each Inteva location is supported and encouraged to find ways to support their communities," Offenbacher said. "At our headquarters in Troy, we hold weekly fundraisers to support a different local charity each quarter and, during the holiday season, every department volunteers time at a charity they select. Virtually every one of our 43 locations around the world is involved in local community support."
Britt-Marie Olofsson
Most Valuable Professional
Relationship Manager Assistant Vice President, Business Banking
JPMorgan Chase Bank
As a banking professional, Britt-Marie Olofsson views it as her mission to be the very best advocate and adviser for her business clients as she can be. "I want their business banking to be the last thing that they have to worry about," said Olofsson, relationship manager assistant vice president, business banking, at JPMorgan Chase Bank in Grosse Pointe. The financial crisis of 2008 tested that mission, she said. "The financial crisis affected every business owner and was unsettling for all of us in the financial world," Olofsson said. "I took the time to listen to my clients' true concerns and came up with solutions to help them weather the storm and emerge stronger than ever." She said she was fortunate to have excellent leadership from the local level all the way to the top of JPMorgan. "Some of the most important traits I find in a leader are strong listening skills, honesty and taking action," she said. Volunteerism and community outreach are also important to leadership, Olofsson said. "In order to be a successful leader one must take the time to donate time and energy to help those less fortunate to better the community that they serve," she said. "Almost anyone can write a check. However, I found the most reward in working directly with the communities and people that need assistance."
Daniel Ponder
Most Valuable Professional
CEO
Franco Public Relations Group
When Daniel Ponder is not serving Franco Public Relations Group's clients, he's providing leadership and support to several of Michigan's key institutions and human service organizations, according to his biography on Franco's website. His outside engagements include vice chairman of the St. John Providence Health System board of trustees, including Human Resource and Physician Compensation Committee chair; Executive Committee member, treasurer and Finance Committee chair of the Detroit Regional Chamber board of directors, including serving on its Foundation Board and Audit Committee; and past chairman of the Michigan Chamber of Commerce board of directors. Ponder, who joined Franco in 1985 as its chief financial officer and became CEO in 1993, was previously a member of Deloitte's Private Company Advisory Service.
Todd Rammler
Most Valuable Professional
Principal
Michigan CFO Associates
Todd Rammler said his company's core values are easily summed up by a well-known biblical principle: Do unto others as you would have them do unto you. "Much of that can be accomplished in the little things — how we treat people, how we communicate, doing what we say we're going to do, being trustworthy," explained Rammler, a principal in Michigan CFO Associates, a Clinton Township company that partners with clients to provide part-time chief financial officer expertise on a long-term basis. More specifically, the company provides internal decision makers with critical financial information that helps them make effective and informed decisions. Rammler said good business leaders are also good communicators. "For me, it is having a very clear vision of where the organization is going and then being able to translate that vision to your team in a tangible way," he said. "Just because something is clear in the mind of the leader does not mean it is clear to the team."
Gerald Roston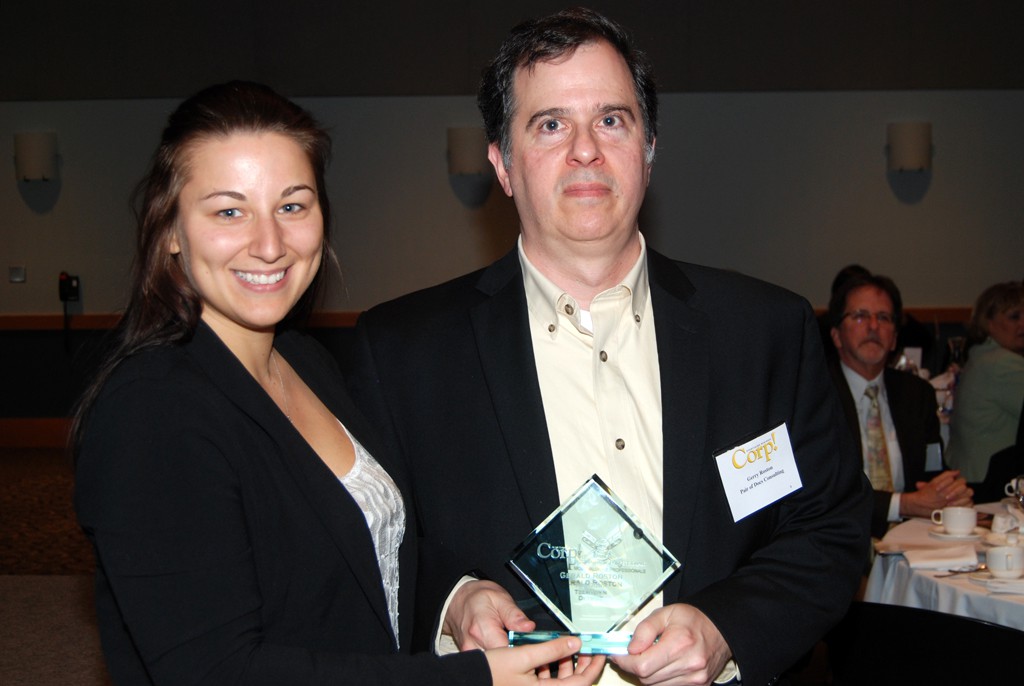 Most Valuable Professional
Executive in residence
TechTown Detroit
As an adviser to startup businesses, Gerald Roston is guided by two principles. First, business with which he engages must be focused on making a positive difference in the world. "This does not mean that they are social ventures, but rather that their products and/or services generally serve to make the world a better place in some manner," said Roston, executive in residence at business accelerator TechTown Detroit, as well as CEO at Civionics LLC and a consultant at Pair of Docs Consulting. His second principle is that he must enjoy the company of the people with whom he works. "We spend such a large fraction of our lives working, that if the work activity is unpleasant, it can negatively impact all other aspects of one's life," he explained. Roston said it's also important for business leaders to act with integrity. "A leader sets the tone of an organization, and organizational integrity is the most important factor for maintaining positive relations with all stakeholders — customers, employees, suppliers and community," he said. A challenge specific to Michigan startups is a relative lack of access to capital, Roston said. "Regional funding opportunities are better now than ever; however, capital available locally still pales in comparison to that available on the East and West coasts," he said. "As business leaders, we must work to change how Michigan is perceived — we need to focus on the advantages of investing here and the benefits of living here."
Ursula C. Scroggs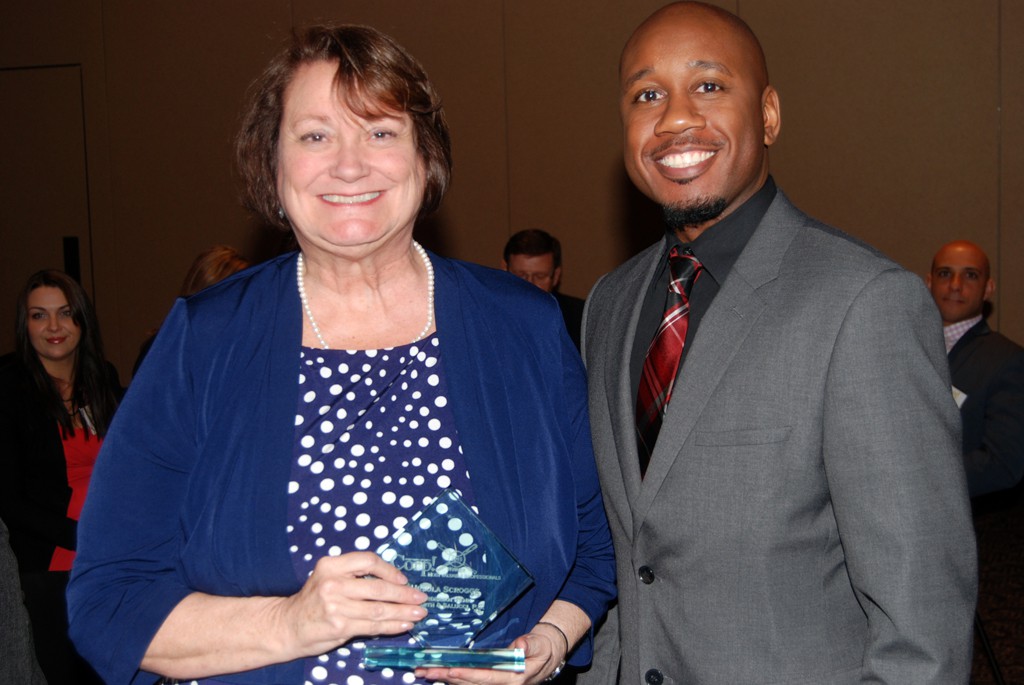 Most Valuable Professional
Managing partner
Derderian Kann Seyferth & Salucci P.C.
Ursula C. Scroggs said her father was a huge inspiration and influence on her. "He emigrated here from Poland in 1950 with $50 to his name," she said. "He was not fluent in English, but he always stressed that math was the universal language, and I agree. My love of numbers grew as I aged — how blessed that I am in the accounting profession!" She calls her career at accounting firm Derderian Kann Seyferth and Salucci (DKSS) of Troy "a kind of a file room to boardroom story." She began as a high school co-op student answering phones and doing filing and continued working at the firm through her college years. She moved up in rank until becoming the firm's managing director. "There were not a lot of females in the CPA profession when my business tax partner, Laura Arens, and I started at DKSS," Scroggs said. "I really don't feel that it was a hurdle for us. We brought a different perspective to client service and business leadership." DKSS' tagline is "Insightful-Involved-Invaluable." "We encourage our team members to be involved in the community, and they are very active in providing education to the business community through our sponsorship of Walsh College's Business Leadership Center, programs offered through the Small Business Administration, CEED (the Center for Empowerment and Economic Development) and other associations," Scroggs said.
Pradip Sengupta
Most Valuable Professional
President and CEO
IPS Technology Services
After serving 20 years in corporate leadership roles, Pradip Sengupta decided to strike out his own and form IPS Technology Services, a Troy-based IT firm. "From the beginning of my career, I felt I could provide better service to clients if I was given the freedom to drive decision making and service delivery," Sengupta said. "I thought I could do it by harmonizing people, process and technology and by putting clients at the center." Since its founding, Sengupta said, IPS has competed with larger companies, requiring it to deliver faster and more cost-effective solutions without compromising quality, articulate a vision to communicate that doing business with IPS is not "risky" and convince financial institutions to lend working capital to maintain positive cash flow. "We have been able to achieve in all areas, which has helped us propel our business as it gave us longer-term projects with bigger budgets," Sengupta said. A leader, Sengupta said, must be able to articulate a vision and motivate and energize a team. "A leader must care for the team and help individuals achieve their dreams, mentoring them to persevere and never give up in delivering excellence," he said. "We have been able to achieve our goals primarily by articulating a vision of becoming a '$20M company by 2020.' We want to do this by putting our clients and people at the center and delivering excellence."
Varchasvi Shankar
Most Valuable Professional
President and CEO
V2Soft Inc.
Varchasvi Shankar, who founded Bloomfield Hills-based V2Soft in 1998, sums up the company this way on his LinkedIn profile: a global IT solutions company and a leading provider of IT business solutions and services that help Fortune 500 companies around the world leverage the power of innovative technologies to improve their business performance and maximize IT investments. Over the years, V2Soft has claimed numerous awards, including the Inc. 5000 list of fastest-growing private companies and a Fast 50 Asian American Business Award from the US Pan Asian American Chamber of Commerce Education Foundation. Varchasvi has supported a variety of organizations and causes, including the Wildlife Conservation Foundation, Michigan Council of Women in Technology, Farmington Family YMCA and the Multiple Sclerosis Foundation.
Mark Stackpoole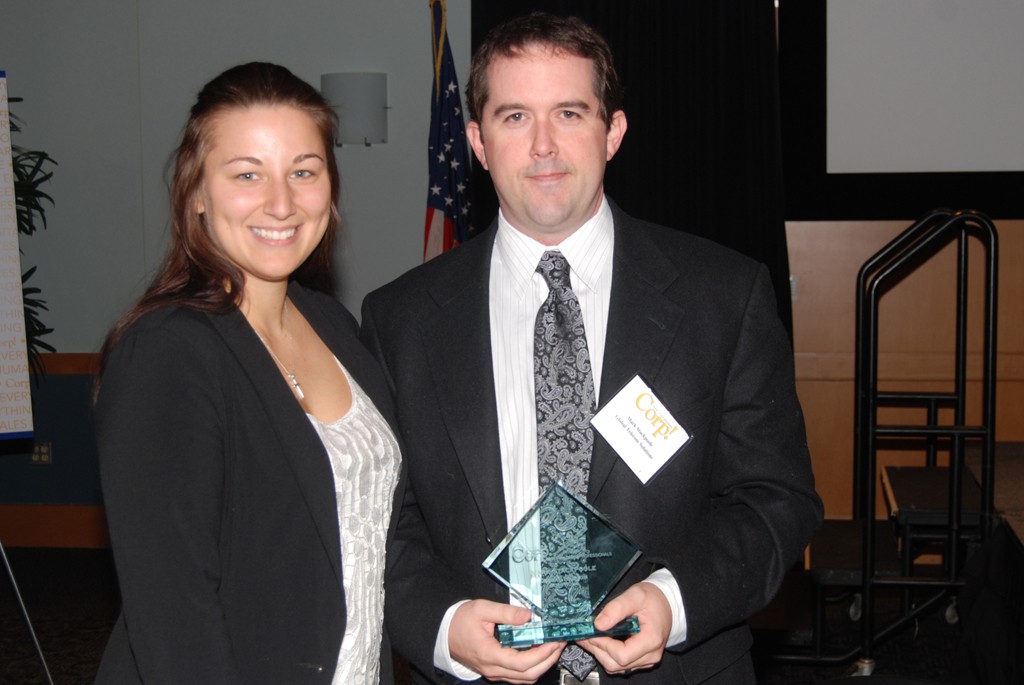 Most Valuable Professional
CEO
Global Telecom Solutions
Global Telecom Solutions (GTS) is built on the premise that there should be a better way for businesses to shop for and select service providers in the confusing and ever-changing world of telecom services, says CEO Mark Stackpoole. "Our goal is to be the best telecommunications consulting firm by 'going the extra mile' and focusing on a 'total team approach,'" he said. Founded in 2002 using an indirect sales channel model, GTS has experienced growth from 12 agent/sales partners in 2008 to more than 80 in 25-plus states now. As a result of its rapid growth, GTS relocated its headquarters from rental space in St. Clair Shores to its own building in Detroit's Corktown neighborhood effective January 2014. "Both staff and clients are thoroughly enjoying being downtown and being part of the exciting development occurring in downtown Detroit," Stackpoole said. The move also paved the way for the company's involvement with several new charitable and nonprofit organizations, he said. GTS tries to provide a positive workplace environment centered on shared company goals, Stackpoole said. "Since much of the daily workload falls on our project support and customer service staff, stress levels can run high due to the nature of our industry," he said. GTS recognizes and rewards employees for staying 100 percent focused on providing the ultimate customer experience. "Among other measures, GTS awards healthy holiday bonuses for excellent effort, provides free lunches several times per month, hands out gift cards for exceptional work and organizes outings to events like Red Wings and Tigers games," Stackpoole said. He said that he believes Michigan has made significant progress in improving its business climate. "My only other concern is education and the need for improved quality in our schools," he said. "We need to continue to improve our K-12 public school system (most notably in Detroit) in order to be able to produce more high-quality 'homegrown' talent who are better prepared to enter Michigan's professional workforce."
Nancy Susick, R.N.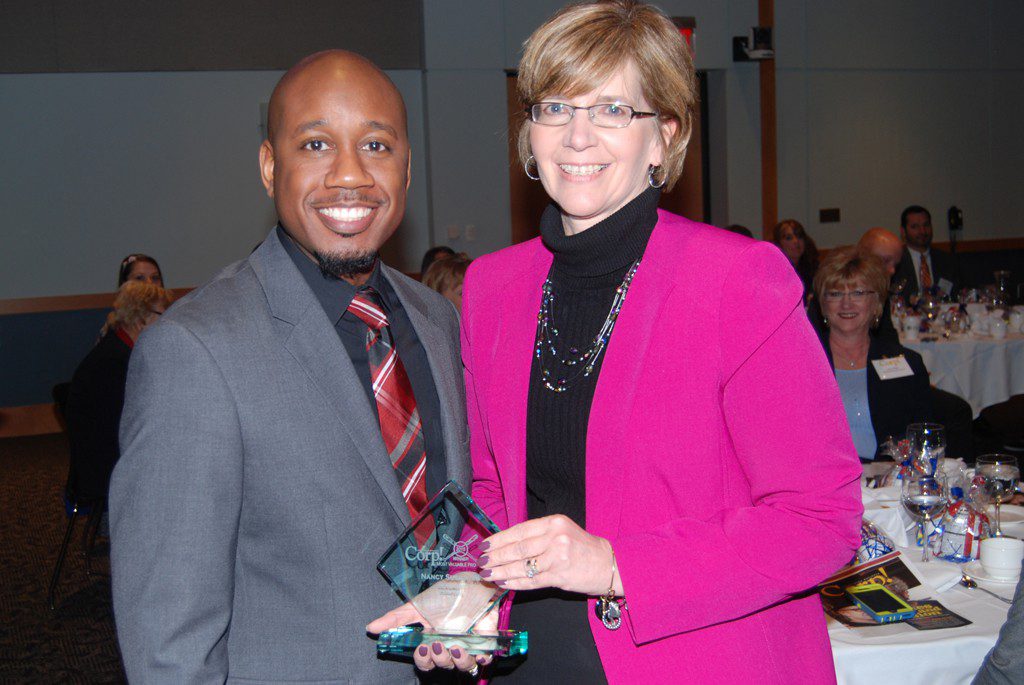 Most Valuable Professional
President
Beaumont Hospital
Success in life is based not on a philosophy but on passion, said Nancy Susick, president of Beaumont Hospital. "I am passionate about what I do," she said. "And I learned very early on that anything really meaningful cannot be accomplished alone — it takes a team. So my job involves sharing my passion with my team and engaging and motivating them around a single goal of placing 'people' in the center of all we do whether the people are patients, families, employees, physicians or volunteers." Surviving the economic downturn of 2007 has made the hospital more resilient and prepared for the changing health care environment, Susick said. "We knew, to produce the highest quality of care at the most effective cost, we needed to redesign our processes," she said. "Difficult decisions were made, resulting in the development of a vigorous financial improvement plan." Through it all, providing compassionate health care to patients and their families remained central to Beaumont's mission, she said. "We embrace the responsibility of improving the lives in our community, and work diligently to make our community a better place to live and be," Susick said. "We encourage and recognize our physicians, nurses and staff who 'reach beyond our doors' every day to promote health in the community." Stemming the brain drain of recent Michigan college graduates who leave the state is critical to helping Michigan move forward, she said. "We need to invest in the students in Michigan by providing them with opportunities such as mentoring/coaching," she said. "More internships/fellowships need to be provided so that we truly are retaining the best and the brightest as they become invested in the state and want to stay after their education."
Ann Thomas
Most Valuable Professional
Executive Producer
News/Talk 760 WJR
Ann Thomas is the executive producer of the "Paul W. Smith Show," heard 5:30-9 a.m. weekdays on News/Talk 760 WJR. She began her career at WJR in 1982 as an intern from Michigan State University and has remained part of the WJR team ever since, working in the news department as a street reporter and anchor before becoming a producer, according to a profile on the station's website. When out of the "golden tower of the Fisher Building," Thomas chairs the Marketing Committee at Loyola High School and serves as the mistress of ceremonies for several charities.
Vince Thomas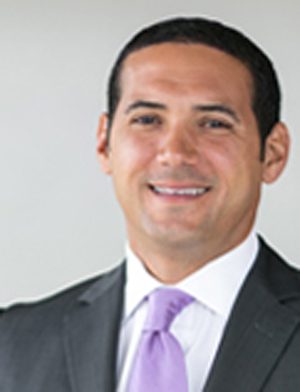 Most Valuable Professional
Chairman and Founder
Billhighway
Vince Thomas says he has always been obsessed with maximizing potential and doing great things at a young age. He was just 21 in 1999 when he decided to launch Billhighway, a Troy-based software technology company that aims to make nonprofits more efficient by not having to devote time and money to handling finances in house. "Starting and growing a company at a young age is extremely gratifying," Thomas said. "I think mainly because when you're young the expectations are lower, no one expects it, which makes it that much more special." Billhighway boasts that it has helped organizations save and redeploy more than $125 toward their causes and missions. Thomas says that he hopes that Billhighway serves as an inspiration for others. "Candidly, everyone has the ability to make an impact, to maximize their true potential while on this planet," he said. "We are blessed to live in the United States where anything is possible, no matter where you started. Life is short, get going." Billhighway expects it workers to take a similar approach to their jobs. "At Billhighway, even though we are a software technology company, we know that we are only as strong as our people, Thomas said. "This is in great part why hiring the right people and supporting them with a culture that is conducive to doing the best work is so important."
Rachel Tronstein
Most Valuable Professional
President
Gardner-White Furniture
After exploring a career in the energy field, Rachel Tronstein decided to join the family business — the Gardner-White furniture chain, which has headquarters in Auburn Hills and 11 stores throughout Southeast Michigan. As head of the company, she is following in her grandfather's and father's footsteps. But she didn't join Gardner-White immediately after graduating from college. Instead she took a job at the Clinton Foundation helping companies boost their energy efficiency and then worked for the U.S. Department of Energy, where her focus was reducing the cost of solar power.
Susan Tukel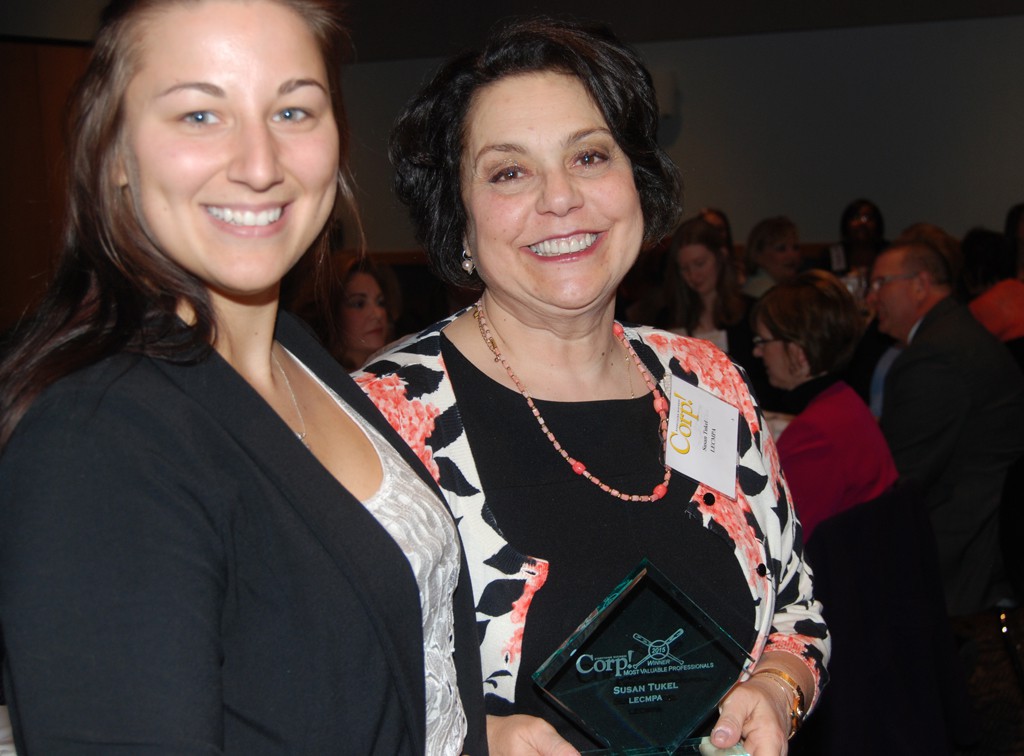 Most Valuable Professional
President
LECMPA
Susan Tukel says the wage loss protection insurance Southfield-based LECMPA provides to unionized transportation workers in all crafts and industries throughout the country is needed even more now than it was when the company was founded in 1910. "Everybody that's on the railroad that's in the union is in danger of getting disciplined," she said in video posted on the company's website. "We have policies for everyone. We have that same coverage available to people who work in other transportation industries." Tukel, who has served as LECMPA president since 2005, was born and raised in the Detroit area and obtained her bachelor's and law degrees from the University of Michigan. Organizations she supports include the Detroit Historical Society and the Juvenile Diabetes Research Foundation, according to her LinkedIn profile.
Matthew J. Westbrook
Most Valuable Professional
General Manager
M.J. Foley Co.
Matthew J. Westbrook figures he has a reputation to uphold. His personal vision as general manager of New Baltimore-based M.J. Foley Co. is to ensure it remains "the No. 1 industry source for industrial sewing and cutting equipment, parts and supplies," he said. "Generations of people have worked very hard since 1922 to earn the reputation we have, and having the opportunity to build on that serves as an everyday inspiration to me," Westbrook said. M.J. Foley is continuing to succeed even in the face of recent economic challenges. "The economic downturn (particularly relating to automotive) was very hard on us," Westbrook said. "We learned a lot from this and made some key changes to ensure we were positioned on top when things began to rebound." He said the company's simple mission to "do what it takes" has served it well over the years. "That might mean wearing several different caps in a day or over the course of the week, but we all understand it is in the best interest of the company and our customers to do 'whatever it takes' on a daily basis," he said. "Our entire team understands that customer satisfaction is what drives future business, and we all take great pride in the products and services we supply."
Nora Arellano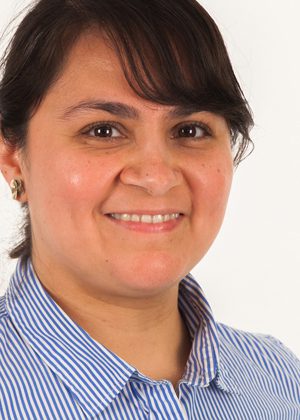 Most Valuable Millennial
Principal Engineer
Toyota Technical Center Inc.
Since a young age, Nora Arellano aspired to understand how things worked and continually asked the question "why?" "I remember asking my dad to explain to me what exactly they did at the steel mill he worked at," she said. "And I begged my mother to take me to the local water treatment plant to see what went on there." Today, Arellano is applying that natural curiosity in her position as principal engineer at the Toyota Technical Center Inc. in Saline. She said she has discovered that clear communication is a key leadership trait. "During an extremely busy time during development, requests that I have received that were clearly explained, whose necessity and value were clear, were investigated most efficiently," she said. "On the other side of the spectrum there have been instances when the request or the targets are not clear, leading to much frustration, disjointed teams and thus inefficient work." To resolve issues, Arellano said she strives to stay positive while maintaining clear expectations and remaining open to others' ideas. Arellano called for aggressive campaigns to promote the STEM fields among Michigan students. "Michigan is such a significant hub of design/manufacturing/technology, not only for the automotive industry," she said. "The challenge will be to develop, attract and retain a skill set needed for these industries."
Rachel Bartels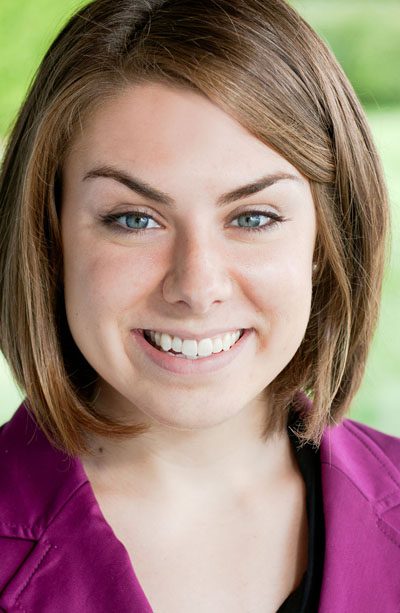 Most Valuable Millennial
Program Manager
Hello West Michigan
Watching her parents operate a small business prepared Rachel Bartels for her current position as program manager at Hello West Michigan, an organization that promotes West Michigan as a place where business thrives and people want to live and work. "You have to be all in to make it happen," she said of operating a small business. "Every day matters to make it a success. Working at a small organization is similar for me. I know my everyday actions either bring us closer or further away from our goal, and I have to decide which way the needle is going to move that day." She said the biggest challenge so far was planning and producing West Michigan Intern Connect, an event for more than 700 people at 20 different venues. "When we started it was just an idea, a blank piece of paper, with four months to plan it and a limited budget," Bartels said. "It was a success and garnered a lot of attention for our organization. We're hosting it again this year on June 11." For Hello West Michigan's stakeholders, it's not enough to say "it's good for the community so you should support us," Bartels said. "What we do is good for the community, but businesses get involved because it makes financial sense for them," she said. "To get them engaged in our mission, I have to have the data to back it up. I make sure our board, committees and members understand the data that builds the foundation of our work, and then find the examples to give it context." Bartels said organizations like Hello West Michigan are helping to change Michigan's image, but they can't do it alone. "People have to speak positively about the state on social media, to their adult children or their college buddies," she said. "When people ask us how we can achieve our mission, that's the first thing I tell them."
Timothy Bassett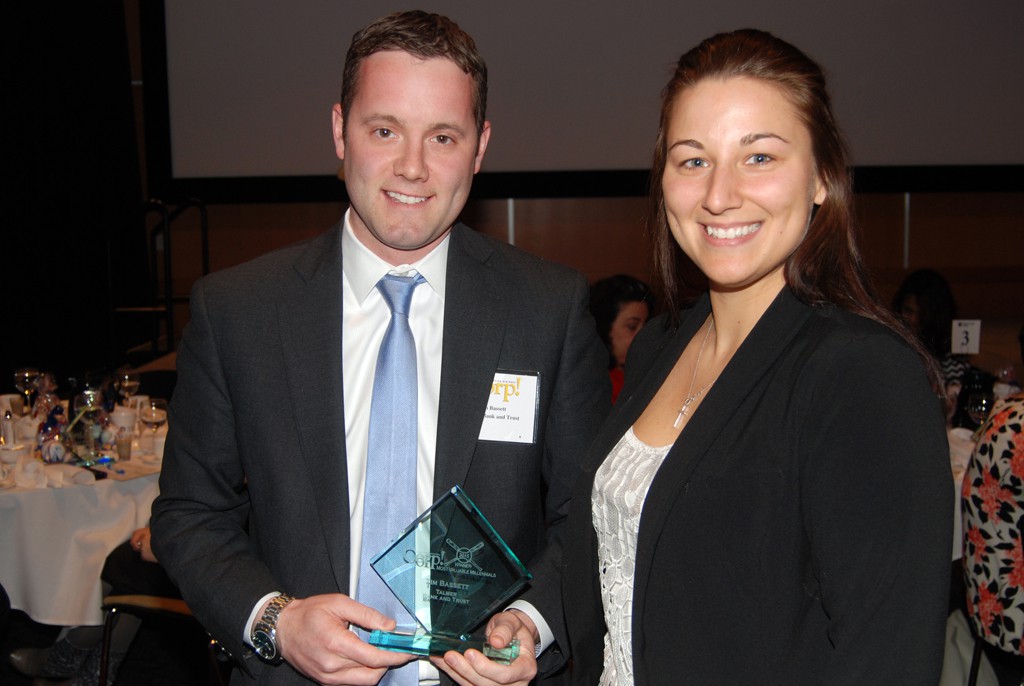 Most Valuable Millennial
Managing Director, Asset Management and Investment Services
Talmer Bank and Trust
Timothy Bassett doesn't buy into the phrase "that's just the way it is," saying it represents a mindset that he has always tried to work around. "My personal vision has been to provide envelope-pushing and innovative techniques and technologies to the asset management industry," said Bassett, managing director, Asset Management and Investment Services, at Talmer Bank and Trust in Troy. He said that most people don't see Michigan as a hub for advanced asset management techniques or new trading strategies — but he believes otherwise. Bassett said he believes strong leaders have discipline but also the willingness to take calculated risks. "Our company mission is to create value for our stakeholders by empowering our teams to do the right thing," he said. "In a world with many investment choices and options, it is necessary for us to do right by the client and secure their interests above all — strong business growth and profits will follow." Michigan still hasn't successfully shed its Rust Belt image, Bassett said. "There is much more to Michigan; we just have not been able to tap or utilize the resources to the fullest extent due to economic ruts," he said. "The downtown metropolitan Detroit area needs continued revival, but can only be supported if logistics allow for it to be the epicenter of business, social and cultural focus. Transportation provides pathways for access — but can only be effective if businesses are supported. Reinvestment in businesses from the community, not just the government, will make sure businesses thrive."
Sarah Cylkowski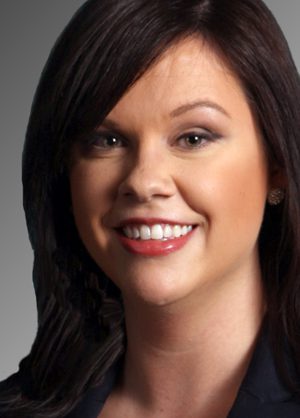 Most Valuable Millennial
Associate Attorney
Bodman PLC
Roots are important to Sarah Cylkowski, an associate attorney at Bodman PLC, a Detroit law firm. "I grew up in a small Michigan town with a tight-knit community of family and friends," she said. "I have sought that same sense of local pride and community investment that I grew up with in my profession, which is why I attended both undergraduate and law school at the University of Michigan. This guiding principle is also why I chose to work at Bodman, a law firm with a longstanding commitment to Michigan businesses and the city of Detroit." Cylkowski said she believes the most important traits of a leader are honesty, commitment and effective communication. Community outreach is also critical to becoming an effective business leader, she said. "Not only does volunteering with local charitable and civic organizations demonstrate a company's commitment to the community, it allows the company to stay apprised of local needs, issues and opportunities," Cylkowski said. "Nowhere is this more evident than the city of Detroit, where partnerships between business leaders, local government, and charitable organizations have spurred the revitalization of the city." In fact, community outreach is so important to Cylkowski and her husband that they started a charitable organization this past year, TechRead. "TechRead partners with community programs to identify a reading need, then raises money to buy technology, such as e-readers and accompanying subscriptions, that gives students access to a wider range of reading materials," she said. "We began a pilot program in January, partnering with Holly High School to provide five Kindles to students in their reading lab."
Ashley Star Fisher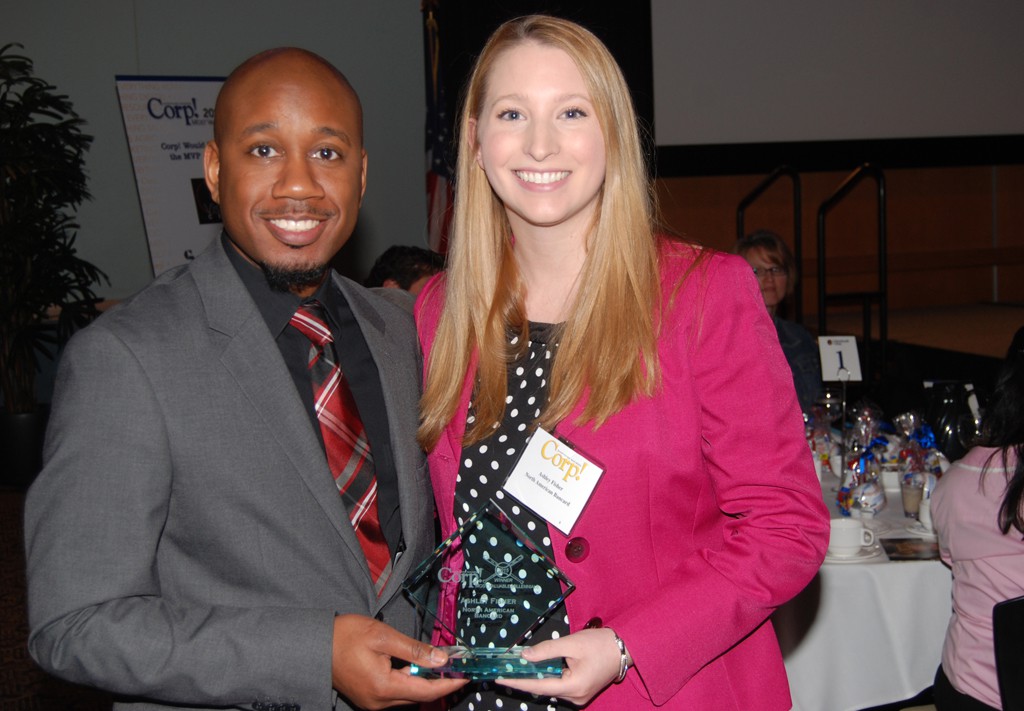 Most Valuable Millennial
Director of Digital Marketing
North American Bancard
One of Ashley Star Fisher's favorite quotes comes from hockey legend Wayne Gretzky, who said, "You miss 100 percent of the shots you don't take." Fisher, director of digital marketing at North American Bancard in Troy, said she always thinks of that advice whenever she's nervous about a new opportunity or adventure. "You can't be so afraid of missing that you don't even take a shot," she explained. "Taking the shot, even if you miss, can teach you valuable lessons and you never truly fail at anything if you can learn from the experience." Millennials face the misperception that youth translates into inexperience, Fisher said. "Millennials bring a lot of value to the workplace because we have a strong drive to succeed and grew up with a lot of the technology that so many companies rely on today," Fisher countered. "My advice to other millennials that have faced this misperception is that regardless of what misperception someone has about you, it all comes down to not believing people who tell you that you can't do something." Fisher said she has found that integrity is the foundation of leadership. "Your level of integrity comes through in every single thing that you do in business," she said. "If you make high ethical standards a pillar of how you do business, then it carries through to your employees and the other stakeholders that you interact with." Michigan's reputation poses an obstacle for business leaders in the state, Fisher said. "I think that Michigan, especially Detroit, gets an unfair reputation," she said. "Michigan is a growing, diverse and vibrant state that has great opportunities for businesses to grow and develop. I would really like people to start discussing the opportunities and unique culture of Detroit as opposed to the potential challenges and viewing Michigan as a state that needs to be changed."
Megan Guastella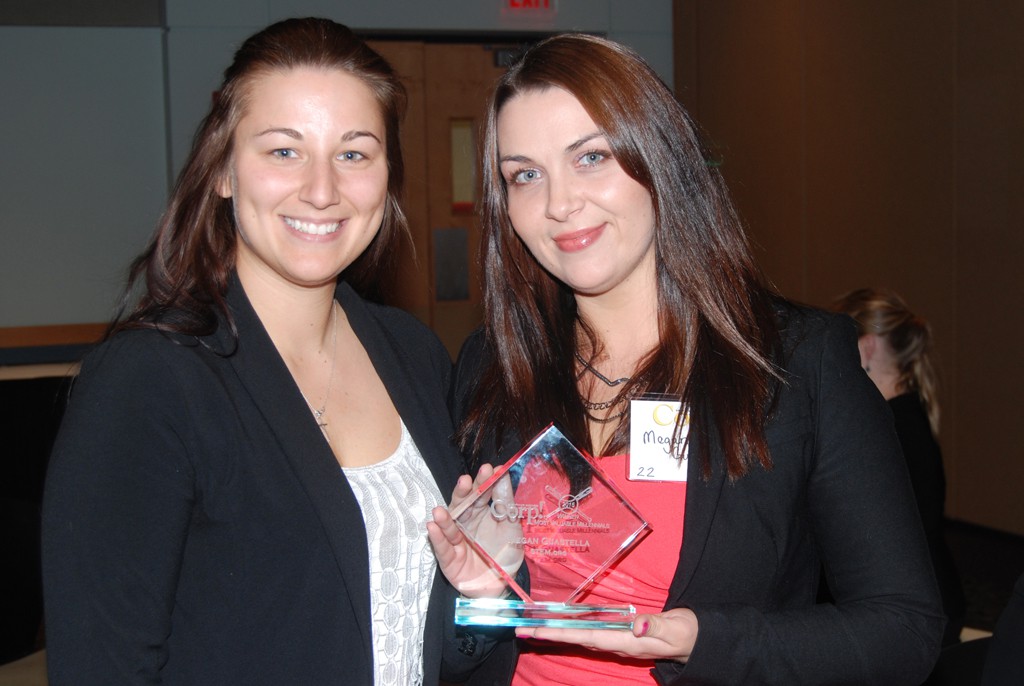 Most Valuable Millennial
Partnership Director
STEM.org
Megan Guastella's vision is to see a diverse Michigan economy emerge from the ashes of the recession, with residents statewide working in unison to create a more sustainable future for all. "By teaching better mentalities to grow businesses and shepherding the ones still standing, we can build sustainable jobs and communities alike for future generations to come," said Guastella, the partnership director for STEM.org, a Southfield organization that promotes STEM (science, technology, engineering, math) education. Guastella said she is a true believer in loving what you do. "I love watching when people feel inspired to have ownership in their work, or feel empowered to take on a piece of owning a greater mission, whatever that may be," she said. When you do more than just provide coworkers, clients and other business leaders with an opportunity to be a part of your company's mission, people get engaged. They want to be engaged and take on the chance to build something greater." Being a successful millennial has its challenges, due to the overwhelming numbers of that generation entering the workforce with a "hand out" attitude, which has "made it difficult for those who should stand out to be seen," Guastella said. Talent development is the key to the state's future, she said. "With the end of the baby boomers coming in the next 10 to 15 years, we as a state are still lacking job growth in certain impact industries that need talent and skilled trades alike," she said. "For a state that produces more engineers than Silicon Valley, our own high school kids are not provided the educational resources to fill the jobs of tomorrow. STEM is at the forefront of building this new economic era and generating buzz around these core disciplines."
Nicole MacMillan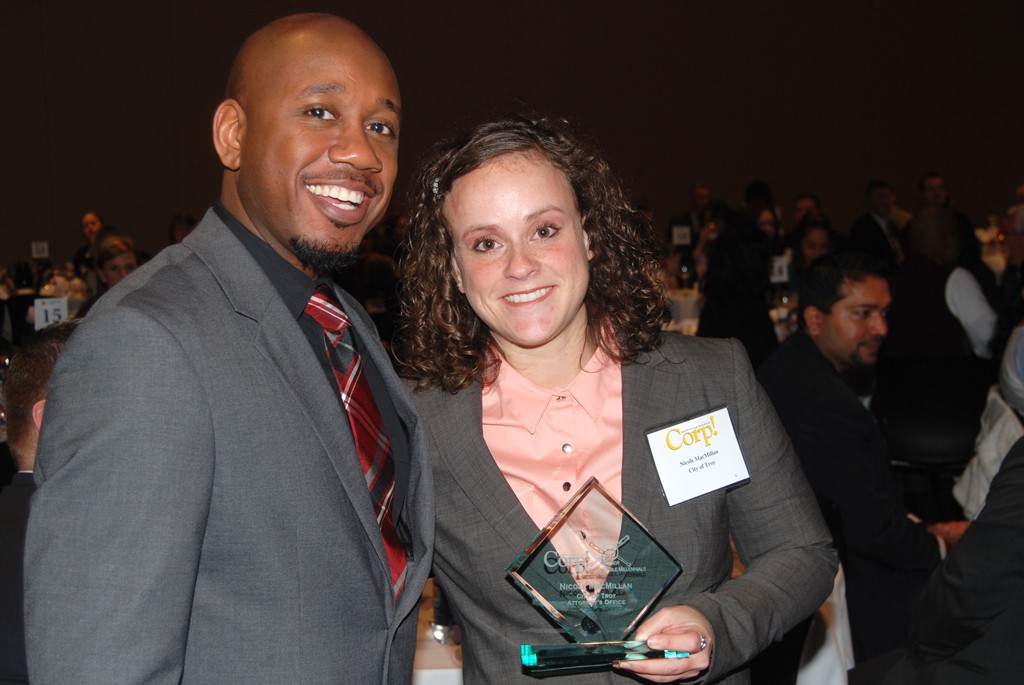 Most Valuable Millennial
City Attorney Assistant
City of Troy
Nicole MacMillan said she prides herself on bringing passion to her position as assistant within the city of Troy's City Attorney Office, which provides legal services to the City Council, city management and various boards and committees. "As an attorney, I am very passionate about justice and equality of the law," MacMillan said. "My passion for equality distinguishes me from others, because I am not afraid to step out of the norm and voice my opinion. By fighting for what I believe, I hope to give courage to others to do the same." MacMillan said she has learned that several traits go into making successful leaders. "I think it is important for a leader to take the time to give others the tools they need to become successful," she said. "I also believe that it is important for a leader to be able to communicate well with others. Finally, I think it is important for a leader to approach their goals with passion, and be willing to roll up their sleeves and delve into the trenches."
Janelle Morck
Most Valuable Millennial
Employee Benefits Adviser
CIA Financial Group
Janelle Morck joined financial services and employee benefits firm CIA Financial Group of Shelby Township in 2008. Morck utilizes a proactive approach to assist CIA clients in designing, developing and maintaining an appropriate benefits program to ensure they attract and retain the best employees, according to the CIA website. Morck is on the board of directors for the Judson Center, a child welfare agency, and is also co-director on the Education Committee for the Society for Human Resource Management. She is a 2010 graduate of Walsh College with a bachelor's of business administration degree in marketing.
Farrah Ramdayal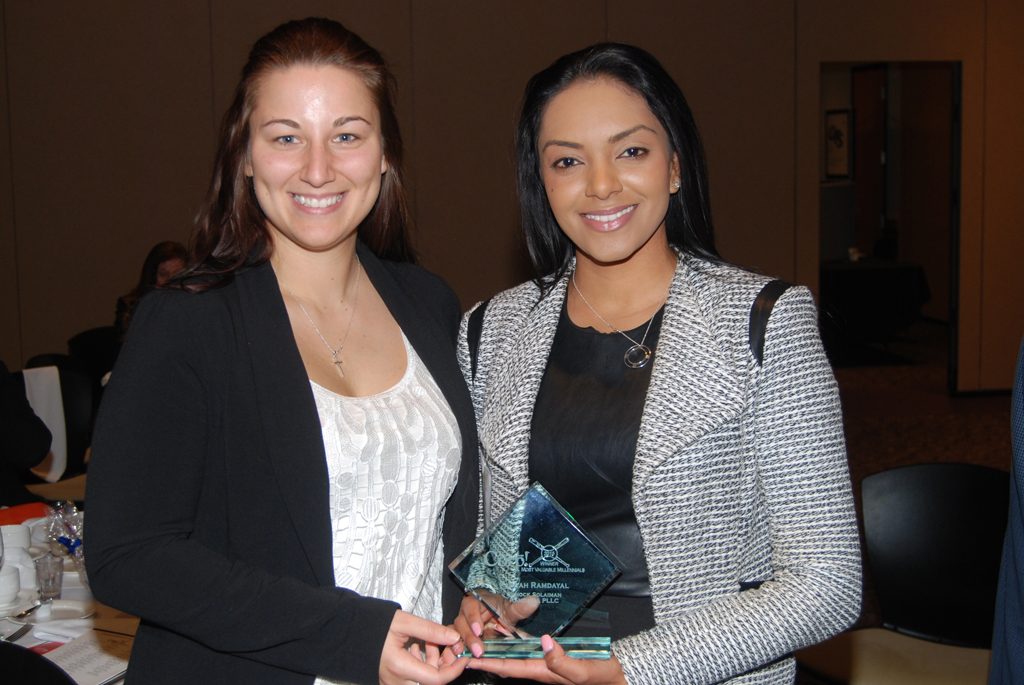 Most Valuable Millennial
Co-Founder
Schock Solaiman Ramdayal PLLC
Farrah Ramdayal, co-founder of Schock Solaiman Ramdayal PLLC, a Macomb County law firm, is an elder law attorney primarily in Wayne and Macomb counties. She focuses on strategic Medicaid planning, VA benefits planning and estate planning. Her sympathetic yet aggressive nature makes her an effective advocate for families, according to the firm's website. The Toronto native, who was admitted to practice in Michigan in 2009 after obtaining her law degree from the University of Detroit Mercy, lives in downtown Detroit. As vice president of the International Law Society, she traveled around the country advocating for veterans and helping process disability claims on their behalf.
Angelique Rodriguez-Edge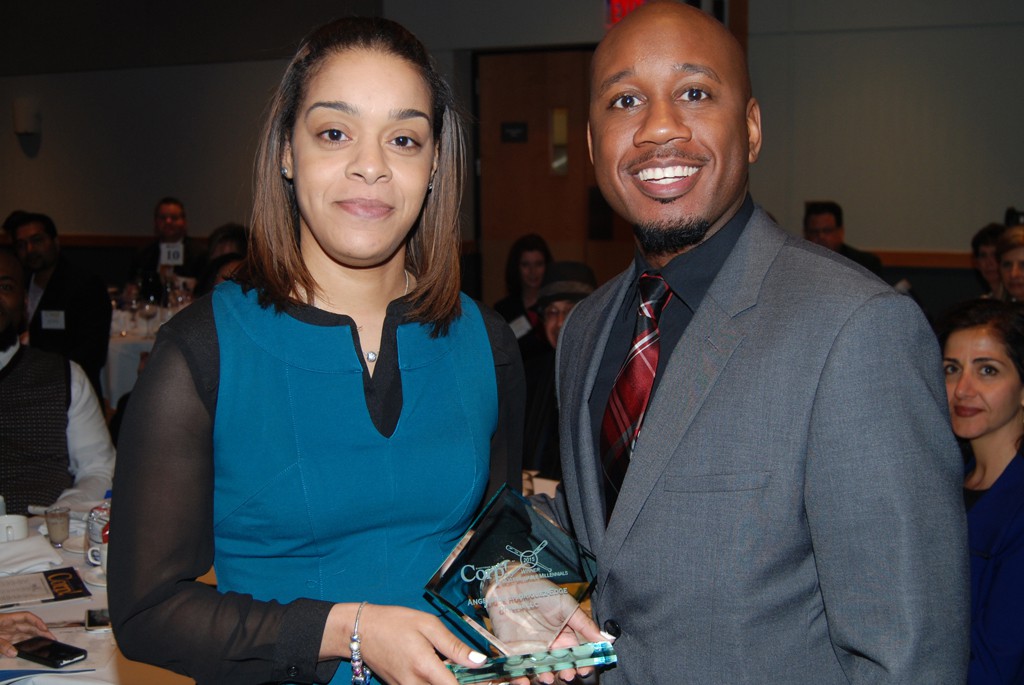 Most Valuable Millennial
Director of Operations
OpTech LLC
Angelique Rodriguez-Edge strives to be a leader, example and teacher to her children, friends and family. "I started my career as a young mother who wanted to balance both a professional career and personal one," said the director of operations at OpTech LLC, a talent acquisition company in Troy. "As I reach different milestones within my life, it is important to me that I am always learning and leading." Rodriguez-Edge said she availed herself of the mentorship available at OpTech. "The professionals at OpTech equate to over 100 years of experience and I liken myself to a sponge, determined to soak up knowledge," she said. "My determination fed my desire to challenge myself and to trust others who have invested in me during my time at OpTech by providing me with opportunities to see my own potential." A commitment to investing in people helps build loyalty and commitment among OpTech's workforce, Rodriguez-Edge said. "I think high spirits are naturally portrayed to our clients and helps project our business principle of being people-centered," she said. "I feel that clients and stakeholders are pretty comfortable with the OpTech team, which boosts communication." Rodriguez-Edge calls herself a proud Michigander. "A way to overcome this issue of negativity is to talk about the positive things happening here in Michigan," she said. "We have amazing schools such as University of Michigan, Michigan State, Wayne State and the list goes on."