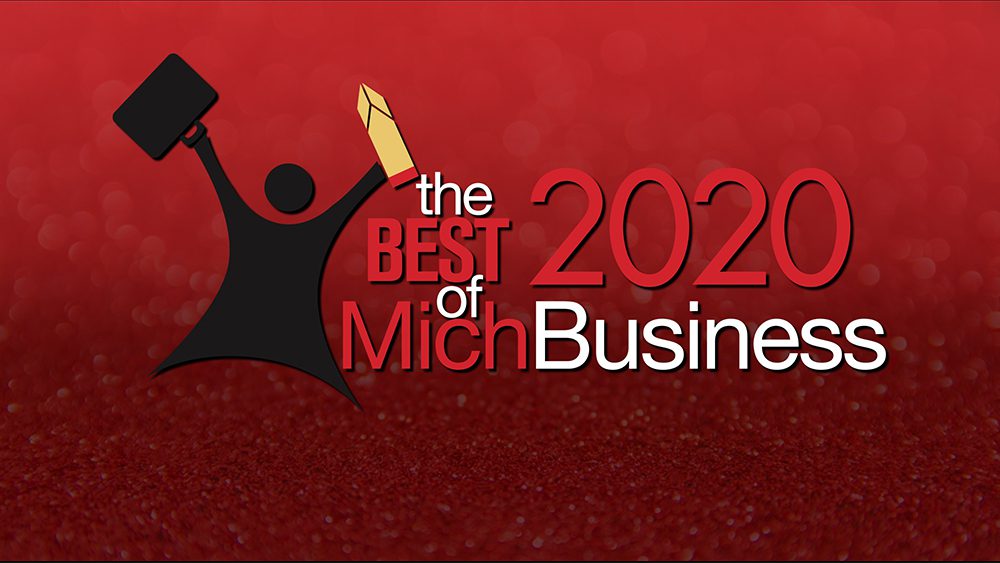 Companies have been hit hard in 2020 by the state's response to the COVID-19 pandemic and, as a result, have had to adapt the way they do business.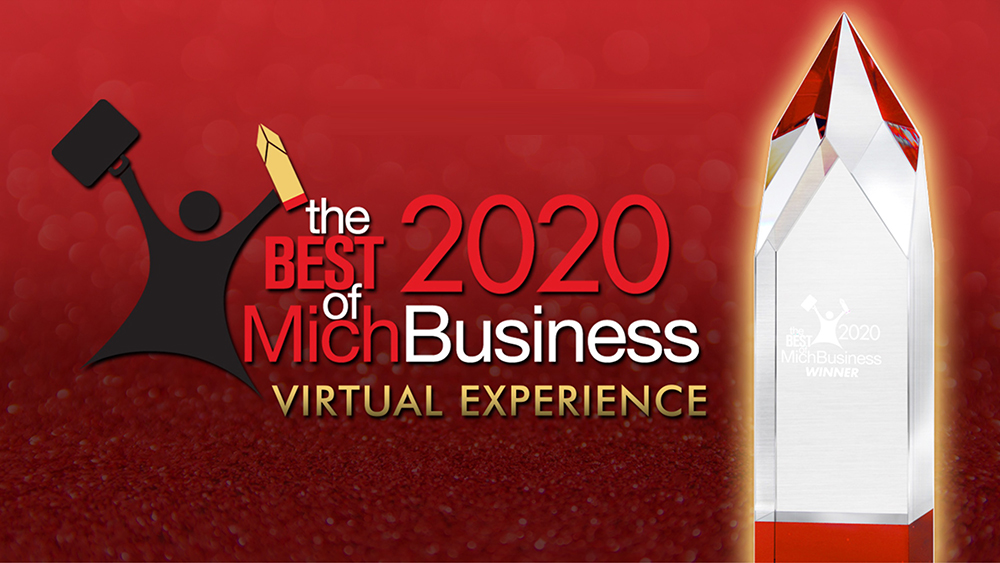 These pivots away from the normal course of business have been the key to survival for businesses. On Wednesday MichBusiness, a business association that supports and celebrates the growth and success of Michigan companies, recognized more than 130 companies who've successfully executed those pivots at their annual Best of MichBusiness Awards Gala.
The gala was conducted virtually this year as MichBusiness made its own COVID-19 pivot. You can download the event program book here.
"What a wonderful display of success and perseverance despite the pandemic," said MichBusiness President Jennifer Kluge. "These businesses inspire all of us that there is much good work that is transpiring and will continue into 2021."
Overall winners were chosen in five categories:
Enterprise companies (with 1,000 or more employees) – ICONMA, a Troy-based global information consulting management firm.
Large businesses (501-999 employees) – MMS Holdings of Canton, a global data-focused clinical research organization and technology enabled clinical research and health data analytics solution company.
Medium businesses (101-500 employees) – Stark Enterprises, LLC, a Livonia-based construction business solutions company.
Small businesses (Fewer than 1,000 employees) – Downtown Boxing Gym of Detroit, which uses education, athletics, mentorship and intervention to empower Detroit students to be positive and productive members of society.
Start-ups (younger than 5 years old) – StartUp Nation, a Birmingham firm that provides free advice and networking for people looking to start and grow successful small businesses.
Businesses were judged by a panel which reviewed nominations in each category and then chose the top honorees. The panel of judges is comprised of members of the MichBusiness Board and people within the business community.
Click here to check out some of the 2020 honorees' best practices in this video.
Here's a shout-out to the rest of the winners honored Wednesday:
START-UPS (younger than 5 years old)
Array of Engineers, LLC
Avalanche Creative
Censys
Claire
Aldin Publications
Detroit Phoenix Center
Dig
HealthBaar
HyVIDA
Mask Market
May Mobility
Nakee & Co.
Sigred Solutions
Velocity Research
Venture HR, LLC
SMALL BUSINESSES (100 employees or fewer)
Aegis Health Perspectives, Inc
Alliance of Coalitions for Healthy Communities
Allied PhotoChemical
Atlas Wholesale Food Company
Baudville Brands
Bromberg & Associates LLC
Brooklyn Outdoor
Chief Financial Credit Union
Degage Ministries
Dessert Oasis Coffee Roasters
Detroit Bus Company
Detroit Sewn
DSDT
Elite Mold & Engineering
Energy Sciences
Envirolite
Fenner, Melstrom & Dooling, PLC – FMD
Fleece and Thank You
Full View Productions, LLC
Gemini Electric Company, Inc.
Goldfish Swim School Franchising, LLC
Grand River Brewery
Great Lakes Sewing
Green Giftz
Hema-Tec Inc.
Home Instead
House of Pure Vin
HRPro/BenePro
J&B Medical
Jim Roberts Enterprises LLC
Jo's Cleaning and Organizing Services Inc.
Joyful Treats CDC
Kaftan Communities
Kids' Food Basket
KIRCO
KMS Designs Inc. TheEcoDryer by GreenGloveDryer
Lambert & Co.
Lighthouse MI
MedNetOne Health Solutions (MedNetOne)
Michigan Legacy Credit Union
Michigan Software Labs
Micro Visions, Incorporated
Milford Spice Company
Miller Media
Mission Point Resort
MS2 (Midwestern Software Solutions)
Ngage Management
Northern Jet Management, Inc.
Official Driving School
Paragon Recruiting LLC
Partners In Action, Inc.
Paws With A Cause
Pennell CPA
Pets Naturally
Rehab Pathways Group, Inc.
River's Bend PC
Rocky Produce, Inc.
Samex LLC
Shoreview Electric
Marsh Construction
The Computer Guy, LLC
The Mitten Brewing Company
Total Security Solutions
Trillium Teamologies, Inc.
Tylar + Company
Vaughan Industries
V-Suites
Weldaloy Specialty Forgings
Xoran Technologies
MEDIUM BUSINESSES (101-500 employees)
AlphaUSA
American Seating Company
Calumet Engineering
CARE of Southeastern Michigan
Clayton & McKervey CPAs
Consumers Credit Union
Detroit Wing Company
Die-Tech & Engineering
Easterseals Michigan
Farbman Group
Gleaners Community Food Bank of Southeastern Michigan
Lake Trust Credit Union
National Food Group
New Holland Brewing Co.
Nichols
Petoskey Plastics
Prefix Corporation
Royal Park Hotel
Services to Enhance Potential
Spalding DeDecker
Tech Defenders
Transtar Autobody Technologies
UHY Great Lakes (CAAS)
United Way for Southeastern Michigan
Woodard Furniture
Yeo & Yeo CPAs & Business Consultants
LARGE BUSINESS (501-999 employees)
Arrow Strategies
Blake's Orchard & Cider Mill
Bradford Co.
Genisys Credit Union
Olga's Kitchen
Service Express
Stefanini Group
Work Skills Corporation
ENTERPRISE BUSINESSES (1,000+ employees)
Jarvis Property Restoration
North American Bancard
POWERHOME SOLAR
United Wholesale Mortgage
Village Green