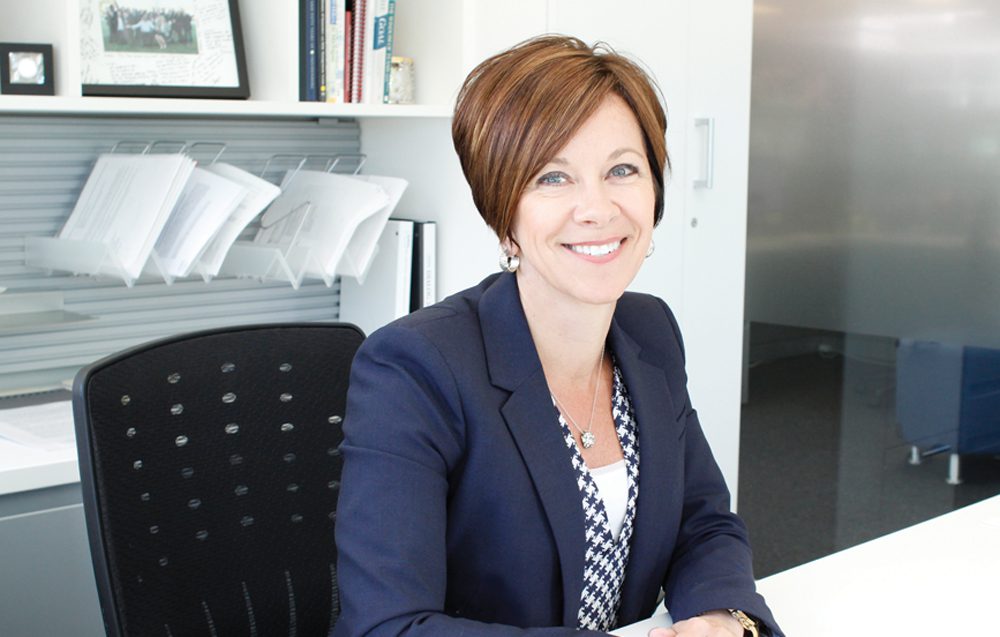 She's new in town and she brings with her the North American headquarters of Freudenberg, staff and all. She's Leesa Smith, a native of New Jersey and the German-based corporation's North American president and regional representative.
It was Smith who made the decision to move the company's Regional Corporate Center from Manchester, N.H., to Plymouth, Mich.
The change was strategic. It put the company, with sales to automotive original equipment manufacturers (OEM) and aftermarket customers at 24 percent of its global business, near the center of the Detroit-based automobile industry. Smith greets a visitor with a warm smile, a stack of handsome volumes of corporate literature, and a willingness to answer questions. She does, however, avoid answering a question about her company's plans for a major announcement to be made sometime in 2014.
She's optimistic about the future. Speaking on behalf of the corporation, she says, "We see growth opportunities in North America." The corporation's 2013 annual report states its goals: "Freudenberg is a globally active technology company offering its customers innovative, sophisticated and tailor-made solutions. Seals, vibration control components, filters, nonwovens, surface treatment products, medical device components, mechatronic products (mechanical, electronic and other technical areas), release agents, specialty lubricants, mechanical cleaning products, software solutions and IT services all make a valuable contribution to thousands of applications in over 30 markets."
One of those product lines, the release agent, is sprayed on as a liquid, its purpose being to allow a product to come out of its mold without sticking.
The report lists remarkable achievements. "Without Freudenberg," the report says, "cars would emit more CO2, indoor air would not be clean and wounds would not heal as fast." The company is the world's largest producer of elastomeric seals and custom-molded products.
In a press release dated April 22, 2014, the Freudenberg North America Limited Partnership announced a 5.9 percent increase in sales for its 12 separate business groups, including aerospace, medical, chemical, oil and gas and construction industries, in addition to automotive. The firm also announced total sales for the previous year at $2.1 billion. An explanatory paragraph accompanying the release revealed that the company is also the successful producer of household products marketed under the O-Cedar, Vileda, Wettex, Gala and SWASH brands.
Smith is the first woman appointed to the worldwide firm's Global Executive Team, where she represents North American operations.
The announcement follows up on a press release from fall 2013 revealing the company was establishing its North American headquarters in Plymouth. The opening event was attended by Mohsen Sohi, a Tehran-born 54-year-old American citizen who serves as the German equivalent of CEO – speaker of the management board of Freudenberg & Co – and works from the company's worldwide base of operations in Weinheim, a quiet town in southern Germany.
In searching for a Michigan location, Smith's goal was to find a national headquarters that has easy access to as many Freudenberg businesses in North America as possible. Some of Freudenberg's largest businesses are in the automotive supply industry. It wasn't an easy task. "I traveled a lot for about a year," she recalls. "Then this site and this building became available," she recalls. "It's ideal because it's close to some of our largest business groups." The location adjoins the regional headquarters of Freudenberg-NOK Sealing Technologies, the corporation's largest business in North America. The company is headed by Theodore C. Duclos, acting president.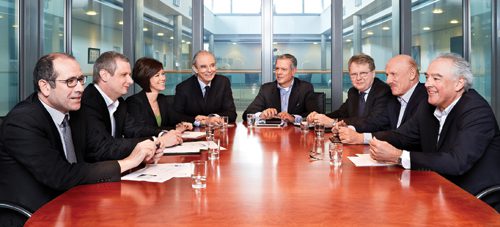 Freudenberg-NOK Sealing Technologies says it's the world's largest producer of elastomeric (rubber-like) seals and custom molded products. In the Americas, they are represented by a joint venture partnership between Freudenberg & Co. in Germany and NOK Corp. in Japan. They claim market leadership in technology, quality and service for automotive applications. They operate 23 manufacturing, research and sales facilities throughout the U.S., Canada, Mexico, Brazil and Malaysia and as recently as 2011 employed 4,700.
Its sealing systems are used in a varety of aplications, including engine, turbocharging, fuel, transmission, driveline, steering, suspension, and climate to electrification, brakes and other applications. Their wide range of products, the company says, is supplied to all major vehicle manufacturers and the independent aftermarket. The company also supplies products and services to medical, chemical, oil and gas and construction industries.
The firm has had a manufacturing presence in the U.S. since the 1960s. "North America is one of the most important regions for Freudenberg," the press release stated. It described the U.S. as a "mature market with a wealth of opportunities for growth in industries such as automotive, aerospace, oil and gas, chemical, medical, construction and alternative energy."
The corporate center at 47774 West Anchor Court represents the parent company's corporate functions in North America. It is responsible for implementation of tax, finance/treasury, human resources, legal, communications and methods, and processes audits and customs. It operates 86 locations employing more than 8,000 people.
Smith's regional perspective
The corporate center has 25 highly specialized employees who provide services to 15 Freudenberg companies in North America. As regional representative, Smith supports the business groups in establishing themselves in North America. She also cultivates contacts and sets up and expands efficient networks in industry and politics.

"This office employs 25 people," says Smith. "We focus on providing traditional corporate functions: legal, communications, human resources, customs, internal audit and employee benefits. I have to make sure these people are representative of Freudenberg group executive management here in America."
"I view my job," she adds, "as representing Freudenberg groups in North America in terms of recruiting, government relations and responsibility for developing a corporate center. I don't have control over the 12 business groups located here. My responsibility is the regional view: working on a regional level, meeting with the executives, making sure we have the right talent. Every year we come together on a management level and discuss the talent."
One of the Freudenberg principles is to provide a career path for employees. "When employees want to advance, they don't have to move to another company," Smith says. "They have the opportunity to work in another one of our companies." When potential employees are interviewed for a job, they understand there are opportunities to grow and progress within the company.
"I like to think that I'm an example of a person who has benefitted from this policy herself," Smith points out.
She's right. In 2003, Smith played a major role in establishing the Freudenberg Group's first regional corporate center in the U.S.
Smith, who joined the Freudenberg Group in 1989, has a bachelor's degree from Plymouth State and a master's degree from the University of New Hampshire. A CPA, she worked for a regional accounting firm in New England before Freudenberg.
In her early assignment as vice president-treasury and financial services for Freudenberg-NOK, Smith helped establish the first shared service center for accounting services in the region and was actively involved in establishing the Freudenberg Group's first regional corporate center in Manchester, N.H.
She returned to the University of New Hampshire, where in 2006 she earned a master's degree in international business administration from its Whittemore School of Business and Economics. "Today you need an international MBA program," she says. "Getting it was a great experience."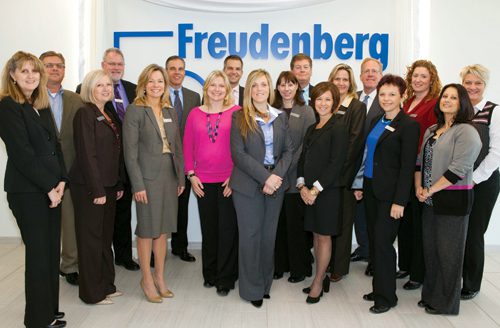 In Michigan, Smith consolidated all corporate services in the new North American Regional Corporate Center in Plymouth. Freudenberg shares the setting with other corporations in the Metro West Beck Road Industrial Park, among them Johnson Controls, AVL and Metaldyne. The new headquarters include Smith's bright, sunny office with two window walls enclosing simple white furnishings.
"We are happy," Smith stated on opening day, "to be able to provide a home away from home to our colleagues from different Freudenberg businesses by offering them state-of-the-art meeting and training facilities and a central location for knowledge and information exchange."
Just one major problem with the move: she and her husband left behind a daughter, who is a nurse in Connecticut, and a son, newly graduated with a bachelor of science degree in marketing communications from the international education department at Endicott College near Boston. Smith and her husband, Brad, a retired fire chief, have settled happily into a condo in nearby Novi.
Asked how she likes living in Michigan after 50 years in New Hampshire, she replies, "I have come to love it here, I find people are friendly and welcoming."
An emphasis on diversity
Smith says she's a firm believer in career preparation that includes a global perspective and a diversified employee body. "Diversity is a particular focus of mine," she says. "I think it's important because it brings better employees and better solutions. It's not just diversity in gender. It's also age and ethnicity. We're finding a wealth of ethnicity in Detroit. It leads to innovation."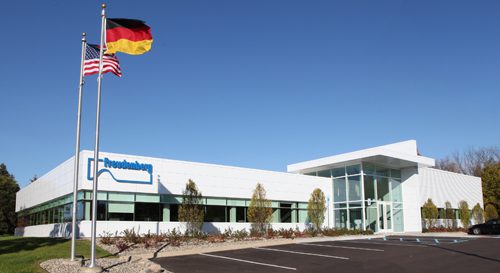 There are two main innovation related activities at Freudenberg. One is the Global Innovation Forum, an annual meeting of R&D teams that includes regional sessions and a global session in which all regions connect via video.
She also believes in reaching out, and has done so through the second innovation activity, an annual competition for employees that focuses on ideas. And in 2013, the idea competition opened its doors to those from outside Freudenberg with an open invitation for submission of business ideas in seven search fields, among them health, water, renewable energy, surface technologies, renewable resources, oil and gas, and railway and general industry vibration control.
The contest attracted more than 600 idea submissions, 150 of them considered for idea Trophy awards, with three quarters of the entries coming from outside Freudenberg and three awards going to U.S. innovators. "The campaign injected additional diversity of thought into our new business development discussions," according to a press release.
"We want to make sure we maintain and increase the diversity of thought," says Smith. "Our company is inherently diverse, starting with the fact that our products span a variety of markets. To maintain our competitive advantage, we need to maximize our creativity and innovation through workforce diversity."
Freudenberg officials anticipate the population entering the workforce will continue to become significantly more diverse.
"Just in 2014, companies of the Freudenberg Group will be hiring nearly 200 professionals in North America. That is why embracing demographic change and maintaining and strengthening a culture of inclusion is a priority at Freudenberg," notes a press release.
The company has introduced an 18-month development program for high-potential employees in North America, emphasizing the competitive advantages of diversity and with an aim of building culturally competent future leaders. The first 20 graduates of the program finished in April 2014, becoming part of a talent pool that individual Freudenberg companies can draw from to fill leadership positions.
With Freudenberg typically acquiring as many as two to three companies a year, the need for new talent will almost certainly continue.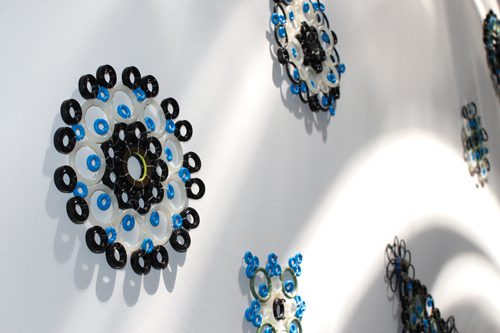 Confidence in the corporation's future is expressed by both Smith and Sohi, Freudenberg's CEO, who visits the U.S. operation two to three times each year and who has a clear strategy: "We measure success by assessing how much our customers gain from what we do," says Sohi. "We have to be thinking all the time about how to spend our R&D money more effectively than the competition. We aim to grow faster than the market. To achieve this, we will offer our customers new, innovative solutions."
In Germany, the company sees that strategy play out through a three-person Board of Management he sits on.
Company roots in leather
The company, established in Germany in 1849 by Carl Johann Freudenberg, has its roots in a leather processing operation that used a new tanning process that used chrome liquor in place of vegetable products. As recently as 2002, the company continued its leather goods production.
Today, some 320 of the founder's descendants remain as owners of the privately held company, a few of whom are even employees.
From 1996 to 2014, through acquisitions, joint venture and product innovation, the company formed its present 12 successful groups, including 15 businesses in North America.
It's a firm that is continually reinventing itself, with 24 percent of current sales coming from products that are less than four years old.
Freudenberg sees growth possibilities coming from new forms of chemical surface treatment, medical devices and filtration technology destined for applications such as clean air. Research and development projects spending is 3.4 percent of annual sales, and almost 2,000 employees work in R&D. The workforce has grown from 32,738 in 2008 to 39,897 in 2013, with more than 8,000 of them in North America.
Such an impact is a typical result of foreign investment in the U.S. Among the 100 largest U.S. metropolitan areas from 1991 to 2011, Detroit had 124,420 jobs tied to foreign-direct investment in 2011. That gives it a national rank of 10th, according to the Washington, D.C.-based Brookings Institution.
In August 2014, Leesa Smith will have been at Freudenberg a quarter century. "After 25 years," she says, "I have been here for so long that the guiding principles of the company resonate with me."