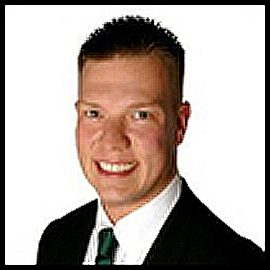 By J.D. Booth
Aug. 1, 2013
Few professions are more important than teaching-"at least from a strategic standpoint as far as future potential is concerned.
Sadly, not nearly enough is being done to celebrate the efforts of individuals in the profession. Or to encourage those who toil daily, year after year, to shape and sow those seeds of inspiration that grow up into a next generation of citizens.
One exception is the Oakland Schools Education Foundation, a nonprofit that works with public schools in the Oakland County system in a strategic effort to both celebrate and uplift in a constructive manner.
The executive director of the OSEF is Ryan Bladzik.
As Bladzik explains, the OSEF works closely with Oakland Schools to take nominees from the annual Outstanding Teacher of the Year program to a next step-"a Business-Teacher Exchange program that has far reaching potential when it comes to enhancing the classroom experience of students throughout Oakland County.
"It's an idea that's absolutely not original to Oakland County," notes Bladzik. "We actually borrowed it from Livonia, where it's been very successful."
Indeed, as Bladzik points out, even then he personally takes little credit from its development in Oakland, pointing out that John Landis, a former president of the OSEF and now vice president of development, was behind the idea.
The real story, however, is how teachers who are already considered among the best of the best in their profession are given another "step up" in participating in the next year's business exchange.
"It occurred to us that instead of reaching out to the general population of teachers, we already have a select group that have been nominated as being among the best in their profession," says Bladzik. "Those are the ones that are encouraged to become involved in the teacher-business exchange.
Trading places
The actual exchange-"with business leaders and teachers switching places-"takes place over an entire business day.
This year's program, with some 18 teacher-business partners from around Oakland County, is up from the 13 that participated last year, says Bladzik.
One of the more notable exchanges included a middle-school English teacher from Ferndale who was able to visit the global headquarters of GM's OnStar program.
Several teachers in Oakland County that were among those competing for "Teacher of the Year" were later selected for a Business Teacher Exchange sponsored by the Oakland Schools Education Foundation.
Business organizations participating in last year's program included Beaumont Health Systems, Automation Alley, Baker College, Business Research Group, the Clark Hill PLC law firm, Matrix System Automotive Finishes, Dedoes industrial, George Auch Company, Integration Systems Management Inc., Interworks, Oakland County Credit Union and Plante Moran.
It's the depth of the exchange that Bladzik says has generated the most potential learning experiences.
"This is not a superficial exchange. They become immersed in the job duties and get a real feel for what's involved in the classroom and in the business environment."
One of the key impacts is the breaking down of stereotypes that have been built up over time in both the business sector and the classroom.
And as Bladzik explains, becoming aware of the similarities that exist can be an eye-opening experience for those involved.
"Many think at first that business and teaching are professions that have nothing in common. But more and more often, they begin to see the similarities that exist."
For example, both require commitment and expertise to succeed.
"What we're hearing over and over again is people coming to the realization of the need for so-called 'soft skills' in the business environment, especially when it comes to problem solving and attention to detail. And now we see evidence that educators are able to incorporate the development of those skills into their lesson plans."
Bladzik, whose spouse is a teacher, says he's seeing evidence of those changes as the OSEF teacher-business exchange program takes hold.
He also spent some time as a substitute teacher, another experience that has fueled his passion for the effort.
"We'd like to see the exchange continue to develop," adds Bladzik. "We see the benefits for the entire community and not just for those who are able to participate in the program."
Expanding its reach
Bladzik says the potential for the exchange program to be a flagship outreach program is significant.
"By dispelling stereotypes that exist and providing a resource for improving the community, both in the classroom and industry, is something that we are absolutely committed to achieving."
The OSEF is also working to expand its reach with the exchange program.
"Being able to connect teachers and businesses throughout southeast Michigan is something that's definitely on our radar," says Bladzik. "As we connect with business professionals that hear about the program, our response is 'welcome aboard.'"
Indeed, Bladzik says the model being used at the OSEF through its connections with Oakland Schools is scalable on the grandest scale.
"There's no reason why another school district couldn't replicate this, perhaps partnering with their local Chamber of Commerce or economic development group. The opportunities are virtually limitless."
For more information, Ryan Bladzik can be contacted at (248) 209-2567 or e-mail: [email protected].