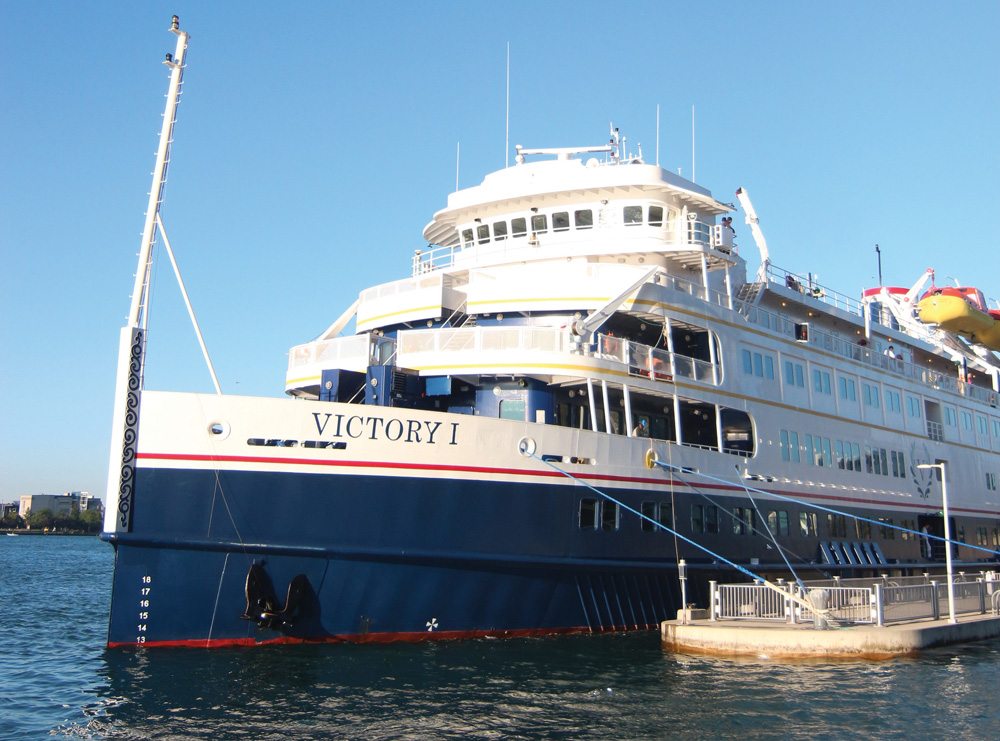 UPDATE: The U.S. Army Corps of Engineers, Detroit District, announced on November 26, 2018 that the New Soo Lock project in Sault Ste. Marie will receive $32,388,000 in the fiscal year 2019 work plan.
As stated in a media release, the funds appropriated to the New Soo Lock project will be used to initiate deepening of the upstream approach channel. The funds, the media release stated, "are sufficient to complete design and allow construction of the upstream channel deepening to begin. Efforts towards deepening the upstream approach channel are the next big step in construction of the new lock."
"Appropriating funds for the New Soo Lock project in this year's work plan demonstrates the federal government's commitment to providing resiliency in the Great Lakes Navigation System," said Lt. Col. Greg Turner, district engineer. "It is fantastic news for the Great Lakes and our nation."
When we think of American industry, it's not hard to imagine that the automotive sector is often one that people will have on a list of iconic economic forces.
After all, it's the automotive industry that brought America a new sense of mobility, which included an eventual shift in population from a largely agrarian economy to one that eventually saw cities becoming more prominent.
But there's another area economic driver that has impacted America's economic well being, not only from a commercial standpoint but also in tourism-related and recreational pursuits, notably in the midwest generally and in Michigan particularly.
It's in Michigan where the dominant geographic feature—the Great Lakes—is most prominent and here that businesses and lifestyle options rely on it for their very existence.
We're talking about water, not only a geographic feature that led us as early as 1968 to put "Great Lake State" on vehicle license plates, but both as a source of transportation and recreation for millions who work or relax throughout Michigan and beyond.
We'll start by focusing on one of Michigan's most significant water-based features from a commercial standpoint, located at Sault Ste. Marie, Mich., and referred to as the Soo Locks, a series of four parallel structures that allow ships to travel between Lake Superior and the lower Great Lakes. While there is a smaller lock on the Canadian side, that is used exclusively for recreational and tour boats.
The history of the commercial locks began in 1855, with the first lock operated by the state until the U.S. Army took over in 1881.

Today, it's the U.S. Army Corps of Engineers (USACE) that manages the Soo Locks operation and David Wright, a civil engineer, is the chief of operations, working out of the Detroit District office, which also oversees commercial harbors on the U.S. side of Lake Huron, as well as Lake Michigan and the state of Wisconsin.
Wright acknowledges that the Soo Locks are the most critical part, being the point where some 67 million tons of cargo travelled in 2016, the largest commodity being the iron ore that's mined in Minnesota and moved by rail to Duluth and then through the locks and down to steel mills in Chicago, Indiana, Michigan and Ohio.
Customers of those products include various integrated steel mills, like AK Steel (the successor to Rouge Steel in Dearborn), as well as appliance makers like Whirlpool in Benton Harbor, Mich., and mills as distant as Alabama.
The Soo Locks also deliver other commodities, including coal, stone and various goods coming from foreign sources, including grain.
A significant problem is that a single lock, the Poe, originally built in 1896 and rebuilt in 1968, is now a "single point of failure" according to an analysis by the U.S. Department of Homeland Security, which predicted in October 2015 that roughly 11 million Americans would become unemployed should that structure be closed, even for six months.
The analysis, which was done by the Office of Cyber and Infrastructure Analysis, pointed to the supply chain, of which the Soo Locks is key, as "potentially one of the least resilient to disruption." A closure, it said, would have "devastating consequences" for industries dependent on shipping through the waterway.
"Depending on what time of year the closure occurred, approximately 75 percent of the U.S. integrated steel production would cease within 2–6 weeks after the closure of the Poe Lock," said the report, which estimates about 80 percent of iron ore mining operations and nearly 100 percent of the North American appliances, automobile, construction equipment, farm equipment, mining equipment, and rail car production would shut down, the effect being a severe recession.
Perhaps even more sobering is the study's statement that "there are no plans or solutions that could mitigate the damage to the manufacturing industries dependent on this supply chain."
Wright of the USACE, while conscious of the impact a shutdown would have, oversees not just the locks, but other parts of the navigation system that are key.
"Great Lakes navigation is a system and we try to talk about it and manage it with that in mind," he said. "In that sense, it's different from a coastal port where you have cargo moving in and out. With the Great Lakes, you have various harbors, some of them smaller, some larger, that are all important and require a certain amount of funding to maintain."
Still, Wright acknowledges both the impact a disruption of the Poe Lock would have on the economy and the escalating cost of a needed replacement—likely to be closer to $1 billion than the $580 million estimated in a study done in 2005.
On the good news side of the ledger is the joint introduction of U.S. Senate Bill 1308 by the state's two senators, Debbie Stabenow and Gary Peters, who on June 7 introduced the Soo Locks Modernization Act, which calls for authorization to take place.
UPDATE: On Tuesday, October 23, 2018, the Soo Lock project reached a new milestone with the signing into law by U.S. President Donald Trump of America's Water Infrastructure Act.
The Act includes authorization for the construction of the new lock, which means the project can now compete with other construction projects throughout the country for appropriations, or funding. The project is authorized to be 100 percent federally funded and will be considered for appropriations in the next funding cycle.
In a Wednesday, October 24 news release, Lt. Col. Greg Turner, district engineer, said the U.S. Army Corps of Engineers stands ready to execute the project.
"We . . . have already begun taking steps to minimize the time from receipt of funding to project completion," said Turner.
The "go forward" decision corrects a decision in 2009 to keep the Soo Locks project off a list for inclusion in the 2009 American Recovery and Reinvestment Act, largely because of a faulty assumption that rail transportation of iron ore could make up the difference caused by a disruption of marine shipping.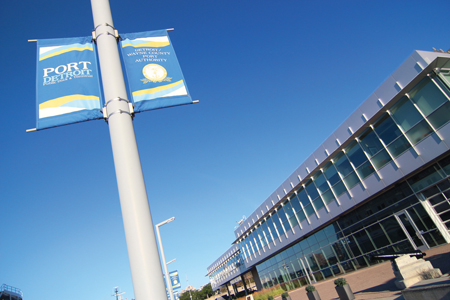 In fact, there was not nearly enough rail car capacity to keep steel mills supplied. "Someone screwed up," says John Loftus, executive director of the Detroit Wayne County Port Authority.
If the authorization goes through, possibly as part of a Trump Administration infrastructure package, the move would be pleasing to people like Loftus, who have links to the maritime industry.
The Port Authority, which has direct involvement with just two terminals, one for passengers, the other for general cargo, also works with a total of 27 privately owned and operated facilities in the area served by the Detroit River.
"We use whatever capability we have to promote the maritime industry in the Detroit area," said Loftus, who came to Detroit three years ago and who has some three decades of experience managing various ports, including in Toledo and Cleveland.
Loftus is well aware of the specter of a shutdown of the Poe Lock, especially from the perspective of the more than 15,000 jobs the maritime industry in Detroit supports.
In the meantime, Loftus remains an advocate for marine shipping as the future of freight that is predicted to grow between 40 and 60 percent over the next 20 years.
"The lower number represents nationwide growth in shipping," says Loftus. "Michigan, which is a huge manufacturing and mining state, will likely see 60 percent growth."
Accommodating those numbers, he adds, would best be accomplished by shifting growth to marine traffic, a solution that is sometimes overlooked by observers.
"It's an underutilized resource," said Loftus.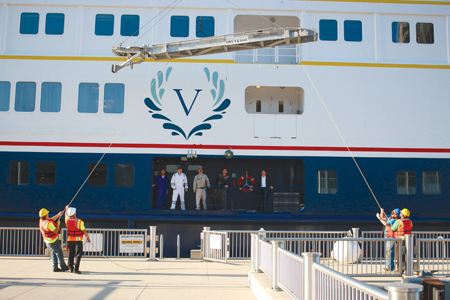 Bruce Burrows, president of the bi-national Chamber of Marine Commerce, agrees with Loftus, citing not only the 60 million tons of freight that plies state waterways, but the ability for the system to handle substantial growth.
"We are probably operating right now at 50 percent capacity," said Burrows, whose membership includes both ship owners and customers.
He also echoes statements made by Loftus that shipping is one of the most environmentally friendly ways to move cargo, with a single ship typically capable of handling up to 30,000 tons of product—the equivalent of 1,000 trucks.
"That alone—that ships are the least expensive mode of transportation—wakes up a lot of people," says Burrows.
As economically enabling as the marine shipping industry may be for the state, there's another sector that rivals the economic impact related to water, that being represented by recreational boaters and the industry that caters to those interests.
With over 3,000 miles of coastline in the state, Michigan's boating industry represents a substantial $7.4 billion in economic impact, in part through the nearly 1 million boaters and some 400,000 unregistered craft, including kayaks and canoes.
Nicki Polan, who heads the Michigan Boating Industries Association, says the state is the third largest marine market in the U.S., behind only Florida and Texas, and is on a seven-year growth run that has it outpacing the national average.
In 2015, boaters in Michigan purchased $843 million worth of new boats, motors and trailers, up 10.5 percent from a year earlier, with similar growth expected when 2016 figures are released in August.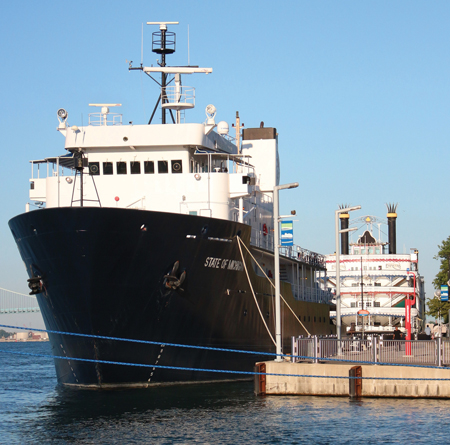 The community of boaters, at least in Michigan, is one that is mostly middle class, with some 85 percent of boats able to be pulled by trailer and with the average household income for a boating family coming in at under $100,000 a year.
"It's definitely not a rich person's sport," said Polan. "The fact is, when boating suffers, the economy suffers."
It's also seen as being a "heritage sport," with families often passing boating experiences to a next generation.
And boating is a pastime that is accessible. Even for those not fortunate enough to live directly on water, Michigan has more than 1,200 public access sites.
Responsibility for those comes in the form of the Michigan State Waterways Commission (MSWC), a seven-member advisory body that is housed within the Michigan Department of Natural Resources, with responsibility for the acquisition, construction and maintenance of recreational harbors, channels, docking and launching facilities. It also administers commercial docks in the Straits of Mackinac.
Gary Marowske, who owns Flame Furnace in southeastern Michigan, and his family consider their 55-foot Viking, which is based at the Grosse Pointe Yacht Club, essentially the equivalent of a seasonal cottage. "We live on it pretty much all summer," he said.
But the boating enthusiast has a bigger interest. He's currently chair of the MSWC (his term expires in September 2017) and says maintaining public boating access sites is a responsibility that's taken seriously.
One of the duties of the MSWC is to ensure there are "harbors of refuge" for boaters that take trips from one area to another, but who need spots to stay along the way.
Many of those rural area harbors, often funded and operated by the state, are among those that contribute to the economy through tourism activity that brings dollars to a community.
While the budget for the MSWC comes at least in part from watercraft registration fees (51 percent to be exact), Marowske points out that those fees have not seen an increase since 1993. (The balance of the fees goes to marine safety in the state.)
But he also takes seriously his duties with the MSWC, advocating for additional funding that would help with the improvement and upgrading of harbors.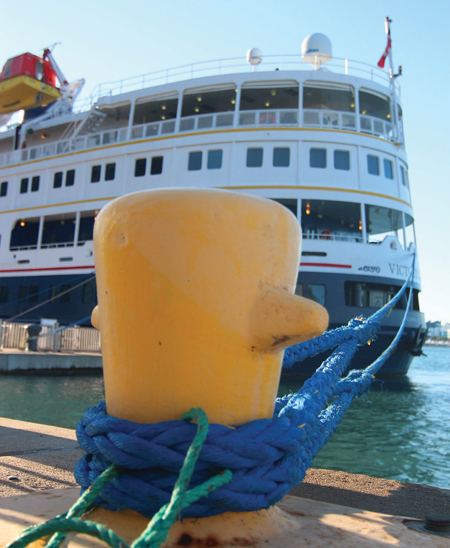 In the current funding formula, the Department of Natural Resources receives 2 percent of revenue from the state's gas tax, with waterways getting some 80 percent of that amount.
Those who actually drive the economic benefit accruing to the state, the boaters themselves, are seeing advances in technology that for many years seemed to be lacking.
That's changing, says Polan of the Michigan Boating Industries Association, who cites innovations like "one touch" joystick devices as well as sensors that make it easier—and safer—to operate a watercraft.
"Prior to those coming to market, one of the barriers to entry was actually operating a boat of a certain size," said Polan.
And the features of today's modern craft extend throughout a boat.
"Typically, they have a much smoother ride," says Polan. "They have bigger, beautiful windows that bring in more light to the cabin area and some have social zones, which appeal to people who are pressed for time and who choose to spend the time they have on day boating, with an open bow rather than sleeping quarters."
Trends like wake surfing are also growing and it's the design and technology that are spurring sales.
One popular feature: having a key fob that allows a wake surfer to manipulate the speed or even direction of a boat from behind the craft, basically working in tandem with the driver so they can take advantage of the wake.
Maia Turek, a statewide recreational programmer with the Michigan DNR, says it would be hard to overemphasize the importance of the marine industry on the state economy, especially when all the "accessory" benefits to boating activity are included.
"When you add in the cost of fuel, the filling of coolers, paying for gear that you need and lodging that's included with boating in the state, it has a huge impact."
This article was updated on October 24, 2018 to reflect new information.